Where are you on your wine journey?
Wine Journey: Beginner · Enthusiast · Connoisseur
Over years of talking to friends and customers, we've noticed that a wine discovery journey lurks in the background of everyone's wine experience. There are many different paths through the world of wine, but the most common limiting factors are often price and access — how much are you willing to spend on a bottle and what kinds of wine stores do you like to shop at?
Our favorite kind of wine store is actually an online wine club, so we're going to focus this article on how your own wine experience correlates to different kinds of wine clubs with the goal of matching you to the perfect wine club for you.
Our general assumption is that people follow this path: Wine (and Wine Club) Beginners become Wine Enthusiasts as their knowledge and comfort-level expands. Later, with more experience, Wine Enthusiasts who can afford to often become Wine Connoisseurs.
Wine Subscriptions for Beginners
For your first wine club, you can choose to focus on either something familiar, to see if you like buying wine through a subscription, or you can set a budget and go on a wine discovery adventure.
We find most first-timers and wine beginners like to stick to wine affordably priced under $15 a bottle. You can also think of these wines as everyday drinkers, as opposed to weekend wines (see wine enthusiasts below) and special occasion wines (see wine connoisseurs below). It's worth noting that buying truly good quality wine at this price is challenging, but since everyone has a different expectation level for quality, you might find this is a good fit for you.
The Wine Enthusiasts
Maybe you've been drinking wine for a while, have discovered your favorite regions and grapes, and prefer to shop in the $20-60 price range. Often these wine lovers are looking for wines rated 90+ points by trusted wine critics like Wine Enthusiast magazine, The Wine Spectator, Jeb Dunnuck, Robert Parker's Wine Advocate, and Alberto Galloni's Vinous Media.
Despite what you may have heard, there are great wine clubs for you wine enthusiasts out there, offering interesting high-quality selections you might be able to find yourself, but often can't. In fact, we think this is the very best way to buy these wines — aside from being members at the wineries' wine clubs — because you often get a Satisfaction Guarantee (which you know your local wine store doesn't offer). When looking to upgrade your wine drinking, this price range typically offers the best value (best quality to price ratio).
If you like a particular variety of wine, you'll find the wine clubs specializing in it typically fall into this price range. Here is a selection of variety-specific wine clubs.
The Wine Connoisseurs
Most luxury-level wine drinkers love the hunt for wines they love, however, we think Connoisseur wine clubs are best suited to wine lovers who are too busy to spend time researching and watching email lists for access to the best wines.
At the $60+ per bottle level, wine clubs take on a different approach. You're no longer getting amazing price discounts, but you're almost always getting access to limited production wines with minimal distribution outside the areas they're produced. These wines are almost always interesting, unique, and superlative.
A Wine Club for Everyone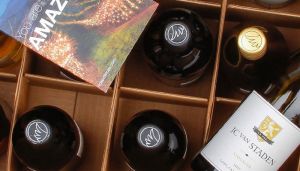 If the different kinds of wine drinkers above don't feel like a perfect match for you, we recommend trying Nakedwines.com — a wine membership suited to most wine drinkers.
While most wine clubs are suited to one type of wine drinker or another, Nakedwines.com appeals to the whole spectrum. Rather than focus on price (Nakedwines.com offers wines from $8.99 to $39.99 a bottle) or a specific wine region (we saw wines made from 70+ wine regions last time we looked) or even a specific grape or blend (we saw wines made from 50+ different grapes last time we looked), they offer a little bit of everything.
There are a lot of reasons we love this company and we encourage you to read our full review of Nakedwines.com.