WSJwine Wine Club Review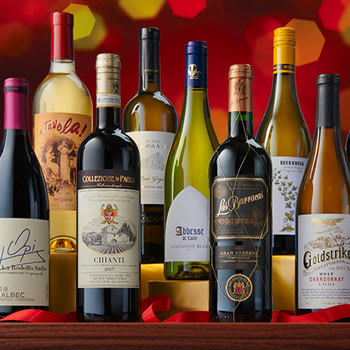 Wine Club Overview & Details
Wine Club Rating:
This wine club is...
Summary
This 12-bottle case of wine club really jumpstarted this type of affordable wine subscription in the US and features value-focused white and red wines from around the world. Their $12 international wine selections typically offer better value in white wine than red.
What I Like
I've received many shipments of wine from the WSJwine Wine Club over the years, but I continue to hold the club in relatively low esteem. It's perfect for a wine lover who wants an inexpensive selection of International wine delivered to their door every quarter. It's not a good fit for anyone who likes wine that sells above $15 at the grocery store.
Improvements
Because of the success of the WSJwine club, many other wine clubs are competing with 12-bottle case clubs priced around $180 per quarter (including shipping costs). Some of them are offering much better quality wine for that price so I know they could, too.
WSJwine Wine Club delivers to
AZ CA CO CT DC FL GA ID IL IN KS LA ME MD MA MI MN MO MT NC ND NE NH NJ NM NV NY OH OK OR SC SD TN TX VT VA WA WI WV WY
Don't see your state? Wall Street Journal Wine does not ship there. Browse wine clubs by state.
Join WSJwine Wine Club
FYI: I find great wine deals so you don't have to. To keep me on the hunt, I earn a commission when you buy wine based on my recommendations.
Coupons & Promo Codes
Deal 14 bottles for $89.99
Join today and save $105. Try 12 bottles wine Plus 2 bonus bottles and 2 stemless crystal glasses for $89.99 (and free shipping). Click for this deal
WSJwine Wine Club Review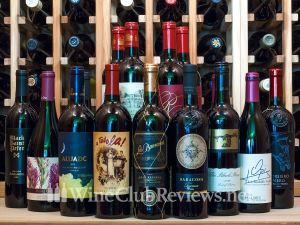 WSJwine was an early entry to the now-booming 12-bottle wine subscription market. By streamlining shipments to send 12 bottles every three months instead of 4 bottles every month, WSJwine has reduced their overall shipping costs, and made getting wine deliveries at home easier.
The Wall Street Journal lent their name, in exchange for a share of the profits, to a huge wine club provider based in the UK — Direct Wines1. The goal was bring the popular wine club operated as The Sunday Times to the U.S. Direct Wines leverages their 750,000-strong2 subscriber base in the UK and their huge (but not disclosed) subscriber base in the US to get unbelievable deals on massive quantities of wine.
How much is the WSJwine club?
The WSJwine club famously offers your first case (often 14 or 15 bottles) for $69.99 + $19.99 for shipping. The ongoing quarterly charges are $169.99 + $19.99 for shipping. This works out to $15 per bottle, including delivery costs. More on the price of WSJwine.
WSJwine Introductory Offers
Something that really stands out about WSJwine is their Introductory Offer program. Whether you find their offers on a web page like this one or receive a voucher in the mail, the offers are always the same: 12 bottles of wine plus a bonus gift for $89.99. While these aren't their regular prices, they're hoping you'll be lured by the $6 a bottle price and give them a try.
Special Offer - Bonus Wine & Wine Glasses
12-bottle Case of Wine + 2 Bonus Wines + 2 Stemless Wine Glasses
Save $105, No Voucher Required
Choose red wine, white wine, or a mix of red and white wine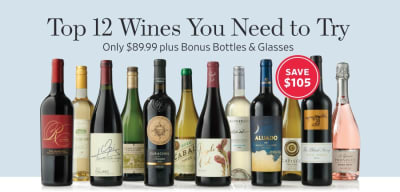 Get the Introductory Offer Case
Important! This introductory offer is $89.99 for the first shipment and shipping is included. This is an introductory offer and after the introductory shipment, you'll receive a case of wine (12 bottles) every quarter for $169.99 + $19.99 shipping until you cancel. If you don't cancel before your next shipment is inbound, you either keep the next case or you are responsible for return shipping costs and a restocking fee.
Compare WSJwine with Other Subscriptions
Thinking about joining WSJwine, but you're not sure if it's the best wine club for you? WSJwine is a curated wine club (as opposed to a personalized wine club). Compare WSJwine with these similarly priced wine clubs to find out which one is right for you or check my guide on wine clubs to see what might work best for you. The most popular wine subscriptions to compare with WSJwine are: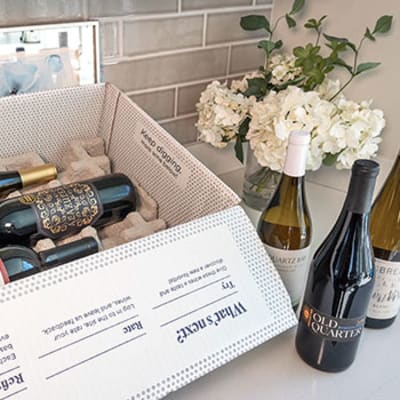 Firstleaf
A huge selection of wine personalized to your tastes. Choose six or twelve bottles and get them delivered whenever you want.

Good to know: the wine from Firstleaf is significantly better than the wine from WSJwine.

Learn more: Firstleaf Review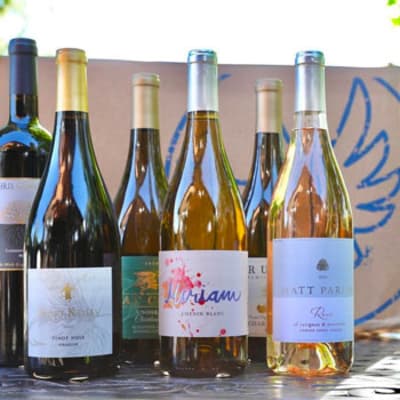 Nakedwines.com
Personalization done by you. You pick every wine you receive. Ship six bottles or more whenever you want.

Good to know: the wine from Nakedwines.com is significantly better than WSJwine.

Learn more: Naked Wines Review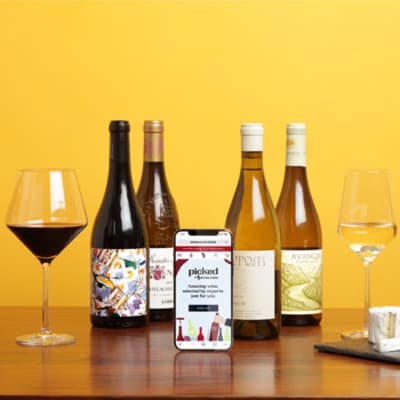 Picked by Wine.com
A sommelier hand picks each wine for you based on what you tell them you like. Six bottles delivered quarterly.

Good to know: You can actually use this membership to learn about wine.

Learn more: Picked by Wine.com
WSJwine Wine Review
My WSJwine Wine Ratings
| | |
| --- | --- |
| Quality of Wine | |
| Price of Wine | |
| Wine Curation | |
One thing that sets WSJwine apart from other wine clubs is their unprecedented buying power. You won't find any boutique, small-production, or even medium-production wines in these shipments. You will find many wines not offered by anyone else because WSJwine has bought up the entire production allotment. You will also find some wines that are available elsewhere, but not at these prices.
It used to be the case that WSJwine couldn't be beat on price. These days there are several wine clubs that are competitive in the $15-17 per bottle range.
We've been drinking WSJwine on a regular basis for 14 years now. We've never been particularly impressed with the quality of their wine. For a while the wines were getting better, but it seems to have plateaued with a recurring selection of popular varietals and regions that have broad appeal for the American wine drinker.
Let's go into a bit of detail about the wine selection at WSJwines. Most of the wines, for which you will pay around $14 per bottle in the future, are of a fair value for the price.
The white wines tend to be one of three things: very bright (acidic), tasting of alcohol, or very plain. This makes them generally food-friendly.
The red wines tend to be medium bodied (even varieties that should be full-bodied), on the sweeter side (think Meiomi Pinot Noir, not dessert wine), and rarely taste like the varieties they are made of.
It's important to note that some of the Wall Street Journal's esteemed wine critic Lettie Teague3 does not have any hand in selecting the wine delivered via WSJwine.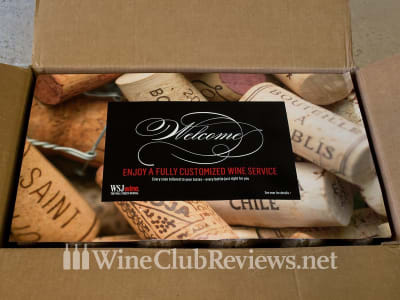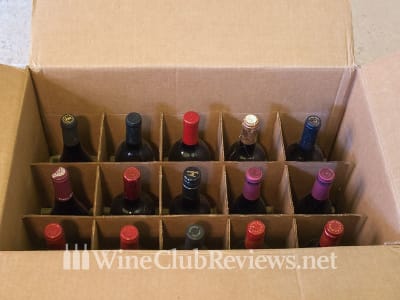 These were the wines available via WSJwine in the introductory shipment last time we checked. Please note, we can not be sure these are the wines you are going to receive. You will receive a similar assortment. Also, these are not the wines we received in our introductory shipment because that was a couple of years ago.
Red Wines
BONUS WINE: R Collection by Raymond Vineyards Cabernet Sauvignon 2017, red wine from California
Camino de Seda 2017, red wine from Spain (Jumilla)
Shroud Mountain Cabernet Sauvignon 2017, red wine from California
J Opi Malbec 2018, red wine from Argentina
The Black Stump Durif-Shiraz 2018, red wine from Australia
Le Prince de Courthézon Prestige 2017, red wine from France (Rhone)
Collezione di Paolo Chianti 2017, red wine from Italy (Tuscany)
Pillastro Primitivo 2016, red wine from Italy (Puglia)
Saracosa 2017, red wine from Italy (Tuscany)
Purple Owl Pinot Noir 2018, red wine from California
Manga del Brujo 2014, red wine from Spain (Calatayud)
Chateau Le Pré du Moine Cuvée Peyrou 2016, Red wine from France (Bordeaux)
Stones & Bones 2016, red wine from Portugal
White Wines
BONUS WINE: R Collection by Raymond Vineyards Cabernet Sauvignon 2017, red wine from California
Farinelli Pinot Grigio 2018, white wine from Italy (Pescara)
Contessa Giovanna Manci Pinot Grigio 2018, white wine from Italy
Butler Hill Pinot Gris 2017, white wine from Oregon (Willamette Valley)
Palacio de Menade 2018, white wine from Spain (Rueda)
A Tavola Pinot Grigio 2017, white wine from California
Les Vivandieres 2017, white wine from France (Ventoux)
Sunday Bay Sauvignon Blanc 2018, white wine from New Zealand
Grande Réserve de Gassac Blanc 2018, white wine from France (Languedoc)
Le Prince de Courthézon Cotes-du-Rhone Blanc 2017, white wine from France (Rhone)
Bees Knees Chenin Blanc Viognier 2018, white wine from South Africa
DeLoach Private Collection Chardonnay 2018, white wine from California
Silver Puffs Sauvignon Blanc 2018, white wine from California
WSJwine Membership Benefits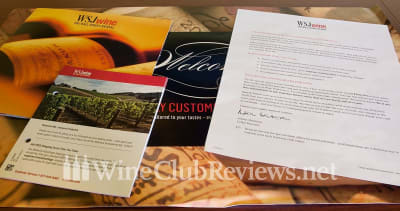 My WSJwine
Benefits Ratings
| | |
| --- | --- |
| Satisfaction Guarantee | |
| Customer Service | |
| Wine Education | |
| Convenience | |
A top-notch Satisfaction Guarantee policy earns top ratings here. Anything wrong, including you just didn't like it, they'll refund the bottle.
"How does your money-back guarantee work?
It's simple. We want you to enjoy every bottle you buy from us. If you are not completely satisfied with any wine, for any reason, just let us know and you'll be refunded in full."
We look at three areas when evaluating the discount opportunities offered by a wine club. Is there an introductory offer to sweeten the deal? Are there discounts available for buying more of the wines you loved in your shipments? Are there special discounts only available to members?
WSJwine Club has one of the top introductory offers available but does not offer discounts on reorders. You do get access to members-only deals at their wine store.
When it comes to convenience, WSJ has made great strides over the years. You can now manage your account online, including vacation holds, and you'll get shipping notifications with tracking numbers when the wine goes out for delivery. Note: You still need to call during business hours to cancel your membership.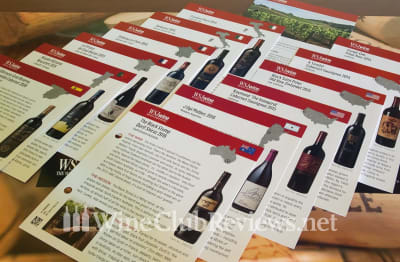 WSJwine sends out glossy color cards with their wine club shipments. Each card contains detailed tasting notes about the wines, the wineries they come from, the winemakers, and the wine regions. They also include food pairing recipes and wine trivia in each issue.
WSJwine, does not have a good customer service record. Most of the complaints fall into two buckets. 1) People didn't understand they were signing up for an ongoing subscription when they ordered the introductory case for $89.99 — you are signing up for an ongoing membership and your credit card will automatically be charged on a quarterly basis until you cancel. 2) People did not cancel until AFTER they were told their next shipment has been prepared and billed, however the terms of service are quite clear regarding these issues:
"I will get a reminder before the above payment method is automatically charged – and will always have at least 10 days' notice to skip, change or delay selections (online or by phone). I can also cancel my membership anytime by contacting customer service."
We chalk both of those sets of problems up to folks not reading the fine print or trying to get a too-good-to-be-true deal and ignoring the other details.
What we can't ignore though is the number of people who complain about delayed or missing shipments, as well as shipments that are prepared and billed after actual cancellations. We see far fewer of these complaints than we used to, but they still come in.
Who should join WSJwine?
WSJwine is best suited to wine drinkers who like a consistent, unintrusive wine selection. Their red wines all taste very similar to me, as do their whites, regardless of the grape they're made from or where they're made. Some people very much like this experience, but I'm not one of them.
Here are some wines that people like that are similar to WSJwine in quality and taste: Barefoot Wines, Yellow Tail, and Apothic Wines. With WSJwine, you'll get a more International selection and a larger variety of grapes than you do buying each of these brands.
In wine clubs, as in the rest of life, you get what you pay for — if you don't normally buy wines at this price point, we don't think this is a good fit for you. You might want to try one of our other affordable wine clubs instead.
Is WSJwine a Good Wine Club Gift?
No, WSJwine does not make a good wine subscription gift. Primarily this is because there is no pre-paid subscription option, you can't include a personalized gift message, and there isn't any gift wrap in the first shipment. Here is a list of our favorite wine clubs for gifts.