Naked Wines F. Stephen Millier Legend Series Santa Barbara Pinot Noir Review
A true Naked wines winemaking collaboration between fan-favorite Stephen Millier and long-time growers the Brothers Miller. Millier cut his teeth at Pinot mainstay David Bruce Winery before moving on to build his wine empire. The Brothers Miller are part of the family who owns and manages the acclaimed Bien Nacido vineyard in Santa Maria.
Wine review by: Jessyca Frederick |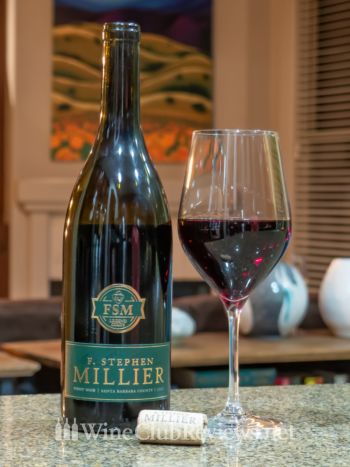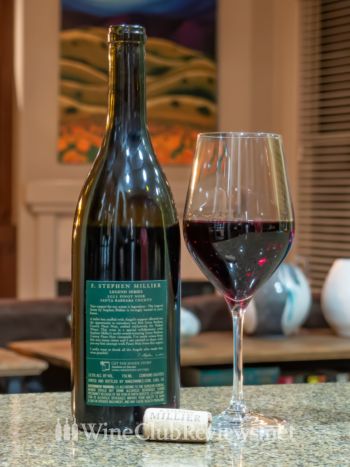 FYI: I find great wine deals so you don't have to. To keep me on the hunt, I earn a commission when you buy wine based on my recommendations.
About this Wine
Wine: 2021 F. Stephen Millier Legend Series Santa Barbara Pinot Noir
Blend: 100% Pinot Noir
Region: Santa Maria Valley, Central Coast, California
Retail price: $26.99
Angel price: $15.99
Angels who would buy again: 93% of 908 would buy again (and sold out)
I consumed it: February 2023
My source: Nakedwines.com
The Back Label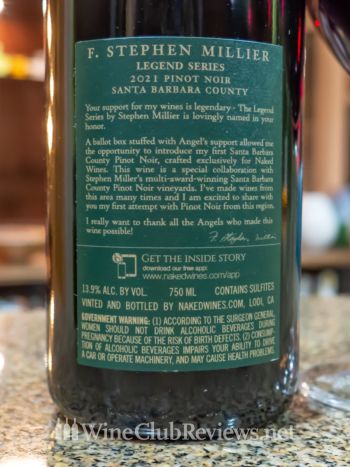 Discover More
F. Stephen Millier Legend Series Santa Barbara Pinot Noir: What I think
I love when I smell a wine and I'm instantly transported to the place the wine was made. There was no doubt I was smelling a Santa Barbara Pinot Noir. In my mouth though, I found the wine underwhelming. There's a story here worth discussing though, and a reason to try the wine anyway.
My husband and I do a lot of wine tasting in the Santa Barbara area. We belong to several winery clubs and are well-acquainted with the local terroir, winemakers, their styles, and what is possible at every price point over $35.
Every once in a while I see some bottle of Pinot Noir from the area at some sub $20 price tag and I have to try it because what if one day we find one we love that doesn't cost $45 or more? That hasn't happened yet. And here's why.
When you start with medium quality fruit, you can't create a magical wine. Period. It's easy enough to ruin perfect fruit with overly wrought winemaking, but it's impossible to make mediocre fruit into a magical wine. That's what's going on here.
Not every block in every vineyard is tended to by a winemaker acting like a helicopter parent (because that makes a wine more expensive, among other reasons). Not every wine gets produced sur lies or matures in expensive new French oak barrels from premium cooperages (because that makes a wine more expensive, among other things). And when you strip those details away, the complexity and the magic fade, too.
But honestly, my love of Sta. Rita Hills and Santa Maria Valley Pinot Noir borders on obsession, and frankly this Naked Wines Pinot Noir was extra good for $15.99 (a price tag that's nearly unheard of for Pinot Noir from anywhere). Definitely better than the Trader Joe's bottle I tried for the same price last year.
Notice: I hold no formal wine credentials. I am a wine geek who has consumed 1000+ of bottles from 100+ different wine clubs and 1000s more bottles that didn't come from those wine clubs. I do not accept payment for wine reviews, and I do not accept payments to influence my opinions. I happily accept free wine (and I buy wine).
Why read my wine reviews: Wine taste is subjective. What I like may not be what you like. I try to leave room for you to form your own opinions, so I don't provide a score or a rating. I do point out wines that are an incredible value or truly not worth the money. I note flaws, wines that don't have typicity (because this matters if you are buying wine without having tasted it yourself), when wines are out of balance, and when wines lack appropriate body.
I don't like wasting money (or anything for that matter). I'm careful about where I spend my money and my mindset as a reviewer is to be careful about where you spend yours. I don't believe a high price tag equals quality and I know for sure there are wines of very good quality that are also a great value.
Learn more about me or get in touch.