Naked Wines Rick Boyer Unoaked Chardonnay Review
Rick Boyer is a veteran winemaker who gave up on winemaking because the business is hard on small wineries. Naked Wines brought him out of "retirement" and now he's focused on making delicate, layered wines from the Central Coast. This is one of my favorite wines and an incredible value.
Wine review by: Jessyca Frederick |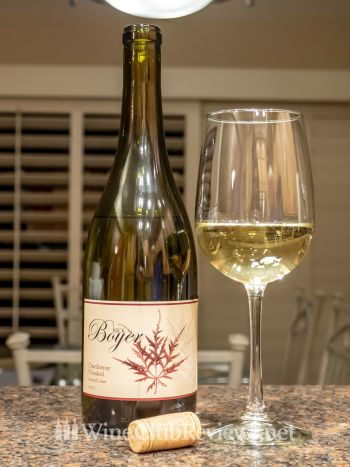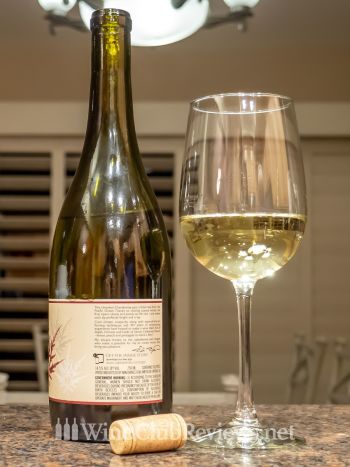 FYI: I find great wine deals so you don't have to. To keep me on the hunt, I earn a commission when you buy wine based on my recommendations.
About this Wine
Wine: 2021 Rick Boyer Unoaked Chardonnay
Blend: 100% Chardonnay
Region: Edna Valley, Central Coast, California
Retail price: $18.99
Angel price: $15.99
Angels who would buy again: 92% of 100
I consumed it: February 2023
My source: Nakedwines.com
The Back Label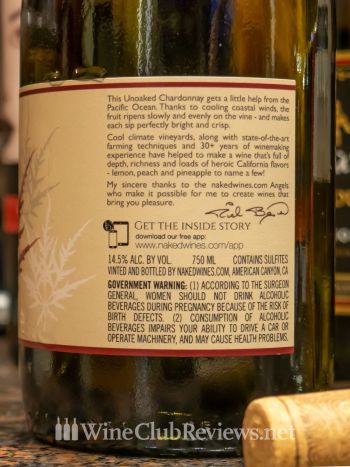 Rick Boyer Unoaked Chardonnay: What I think
Chardonnay's popularity stems, at least in part, from its chameleon-like nature which lets winemakers turn it into a white wine for every palate. The relatively narrow variety of familiar styles consumed in the US are only a slice of what the grape can do.
Just to recap, those styles are: Burgundy's Cotes de Beaunes and Napa Valley where it's all about the oak; Chablis where the limestone soils make racy, citrusy saline Chardonnays, and California's own butter bombs (a flavor which comes from malolactic fermentation using specific kinds of yeasts).
As a pushback from all of that intense flavor, many winemakers are going unoaked (sometimes even called naked, though it has nothing to do with Naked Wines), giving those ABC (Anything But Chardonnay) wine drinkers a reason to reconsider.
If you're going to pick a wine region where it's a great idea to let the fruit shine, it's gotta be Edna Valley on California's Central Coast (though I would also look in Sta. Rita Hills a little further south).
The farther south you go in the northern hemisphere, the fruitier the Chardonnay gets. It gets longer hang-time on the vines, more sun to help produce more sugar in the grapes, and all that sugar helps produce more alcohol in the final product — resulting in more places to stash all the flavor (the alcohol is where most of the flavor of wine lives).
I didn't quite know what to expect when I popped this one open at a party with people who don't like white wine, but even they were impressed — especially people who wouldn't know a Chardonnay from a Sauvingon Blanc if pressed.
Like the 92% of 100 Naked Wines Angels who would order this again — so would I. And what a steal! It's a reason to give Nakedwines.com a try, all on its own. So glad they pulled this master out of retirement!
Notice: I hold no formal wine credentials. I am a wine geek who has consumed 1000+ of bottles from 100+ different wine clubs and 1000s more bottles that didn't come from those wine clubs. I do not accept payment for wine reviews, and I do not accept payments to influence my opinions. I happily accept free wine (and I buy wine).
Why read my wine reviews: Wine taste is subjective. What I like may not be what you like. I try to leave room for you to form your own opinions, so I don't provide a score or a rating. I do point out wines that are an incredible value or truly not worth the money. I note flaws, wines that don't have typicity (because this matters if you are buying wine without having tasted it yourself), when wines are out of balance, and when wines lack appropriate body.
I don't like wasting money (or anything for that matter). I'm careful about where I spend my money and my mindset as a reviewer is to be careful about where you spend yours. I don't believe a high price tag equals quality and I know for sure there are wines of very good quality that are also a great value.
Learn more about me or get in touch.