Camille Benitah Volute Review
Previously a maker of cult wines herself, Camille Benitah was responsible for Merus ($150 back in 2008) and has worked with Paul Hobbs, too. She's got serious chops and she works with Naked Wines because they allow her to focus on the creative side and they take care of the rest of the details.
Wine review by: Jessyca Frederick |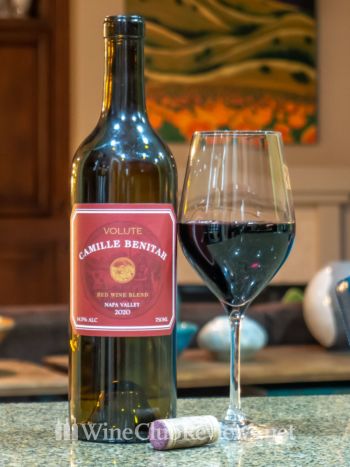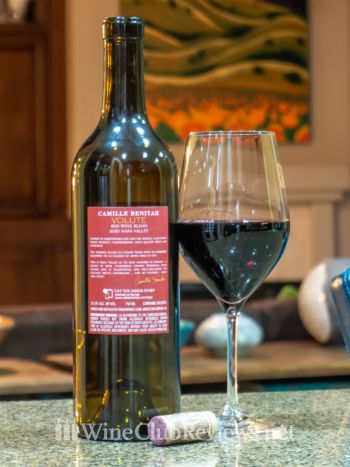 FYI: I find great wine deals so you don't have to. To keep me on the hunt, I earn a commission when you buy wine based on my recommendations.
About this Wine
Wine: 2020 Camille Benitah Volute
Blend: Cabernet Sauvignon (dominant), Merlot (percentages not disclosed)
Region: Napa Valley, California
Retail price: $58.99
Angel price: $24.99
Angels who would buy again: 90% of 109 would buy again
I consumed it: February 2023
My source: Nakedwines.com
The Back Label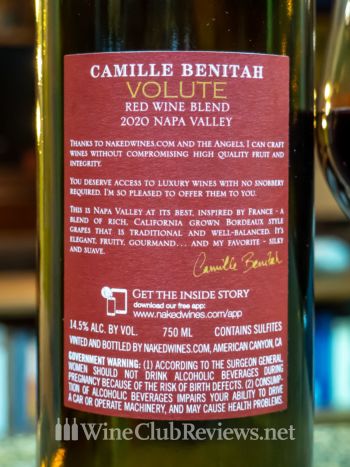 Discover More
Camille Benitah Volute: What I think
A while back Naked Wines invested heavily in a campaign to show how Napa wines cost too much and that customers are paying big mark-ups because of middlemen and to make exorbitant profits. They've backed off the messaging, but it's still their jam.
This Camille Benitah red blend from Napa Valley was just like any other Napa Cab on the nose — black fruits and graphite. On the mid palate the use of oak was prominent with flavors like chocolate, vanilla, and something toasty. Overall it was a drop acidic, not especially fruit forward, and smooth.
I might expect to pay $30-35 for this wine, but definitely not $58.99. Either way, it's heads and shoulders above $25 red wines from the grocery store.
Notice: I hold no formal wine credentials. I am a wine geek who has consumed 1000+ of bottles from 100+ different wine clubs and 1000s more bottles that didn't come from those wine clubs. I do not accept payment for wine reviews, and I do not accept payments to influence my opinions. I happily accept free wine (and I buy wine).
Why read my wine reviews: Wine taste is subjective. What I like may not be what you like. I try to leave room for you to form your own opinions, so I don't provide a score or a rating. I do point out wines that are an incredible value or truly not worth the money. I note flaws, wines that don't have typicity (because this matters if you are buying wine without having tasted it yourself), when wines are out of balance, and when wines lack appropriate body.
I don't like wasting money (or anything for that matter). I'm careful about where I spend my money and my mindset as a reviewer is to be careful about where you spend yours. I don't believe a high price tag equals quality and I know for sure there are wines of very good quality that are also a great value.
Learn more about me or get in touch.