Part V - Where to Buy Aged Wine
Where to Buy Aged Wine: The Best Online Retailers & Auction Houses for Aged Wine
In Part V of this guide:
Other parts of this guide:
Part V: Where to Buy Aged Wine
Ultimately finding the answer to this question is why I decided to write this Useful Wine Guide in the first place — there are some wonderful places to shop for aged wine that might not be obvious to someone just getting their feet wet with older wine.
Common places to buy older wine are: wineries, retailers, high-end restaurants, and auction houses. The most reliable, if you want to be certain of proper storage, are the wineries themselves, followed by wine retailers who are dedicated to long-term aging programs or who acquire aged wine directly from wineries, and lastly the auction houses and restaurants.
Library Wines from Wineries
Library wine, back vintages, and late release are terms wineries use to describe vintages available for purchase after they might normally be released. Some wineries hold back 1-2% of each wine they make for release later to their loyal customers as library wines (they also use these libraries to keep their vintage charts up to date).
Others, particularly in Bordeaux where there's a culture of selling their wine as Futures, will hold back their entire release until it's ready to drink. And still others release wine in regular tranches, often 10 years after their first release, or in the case of Dom Perignon P2 and P3 (P stands for Plenitude), when the Champagne has taken an evolutionary step forward in its aging process.
For aged American wine, sometimes you'll find these library selections on wineries' websites, and sometimes you'll only hear about them in the tasting room, if you're on their email list, or if you're a wine club member (for wineries which offer wine clubs).
Aged Wine from Retailers
There are different kinds of wine retailers and which ones are worth buying aged wine from requires a closer look.
For starters, I would not buy aged wine from just any old wine shop (or grocery store) because odds are good the conditions for storage/aging were not appropriate. How many wine stores have you been into that have big, bright picture windows streaming UV light into the store? Or wine stores that aren't 55 degrees inside? Most of 'em, right? Hopefully these places have proper storage in the back or the basement, but you really can't be sure how a bottle you're looking at was treated or how long it's been on the shelf.
So which retailers should you buy aged wine from? Let's start with the difference between aged wine and back vintages. While technically the same thing, there's an important difference between the two.
Back vintages are wines that are not the current release. A retailer who has older wine in inventory may have purchased more than he was able to sell through before the new release came out. He may keep these back vintages indefinitely until they sell out (a great opportunity for you to try older wine!), but I wouldn't expect to see something more than 5 years old kicking around.
Shop my trusted selection of back vintages or aged wine by region and grape from online retailers. Here is a preview:
Pomar Junction Vineyard & Winery Paso Robles Picnic Pinot Noir 2019
Variety: Pinot Noir / Sold by: The California Wine Club
Tasting Notes: Pale ruby in color, this dry Pinot Noir is bright and fruit-forward. Flavors of tart cherry and plum are rounded out with subtle hints of vanilla and allspice. Final Blend: 100% Pinot Noir Case Production: Only 1,157 cases produced Pair With: Garlicky pork tenderloin, barbecue chicken, or pizza Hold Time: Enjoy now Alcohol by Volume: 13% Cheers to another uniq
$19.00 24.00
Buy This
Shannon Ridge Red Hills Lake County Appellation Series Home Ranch Cabernet Sauvignon 2020
Variety: Cabernet Sauvignon / Sold by: The California Wine Club
Tasting Notes: True to its appellation, this is a full-bodied wine with dark fruit flavors resembling black cherry and blackberry. It also has savory hints of spices and black pepper. The aroma includes notes of vanilla, chocolate, and a hint of red bell pepper. An impressive wine to drink for any occasion. Final Blend: 94% Cabernet Sauvignon, 6% Petite Sirah Pair With: Beef Stroganoff Hold Time: Enjoy now or hold up to 10 years Alcohol by Volume: 14.5% Cheers to another uniq
$21.99 25.00
Buy This
Myka Cellars Sierra Foothills Barbera 2020
Variety: Barbera / Sold by: The California Wine Club
Tasting Notes: Deep inky purple in color with a bright magenta rim. Jammy notes like raspberry jam, blackberry, and cherry pie waft out of the glass, with hints of smoke and sandalwood. Tart and juicy, with smooth tannins. Richly flavorful but not heavy in body. Final Blend: 100% Barbera Case Production: Only 1,000 cases produced Pair With: Tomato-sauced dishes, mushroom pizza with a drizzle of truffle oil, mushroom risotto, grilled Italian sausages as a pizza topping, hearty lentils or flavorful cheeses such as blue cheese or aged Gouda Hold Time: Enjoy now or hold up to 5 years Alcohol by Volume: 13.9% Cheers to another uniq
$26.99 36.00
Buy This
E. Guigal Crozes-Hermitage 2020
Variety: not specified / Sold by: Wine Access
Guigal's 2020 Crozes-Hermitage is a perfect example of why we keep coming back to the iconic producer. It's got power. It's got impeccable balance, too. It's got the myriad savory elements that make Northern Rhône Syrah some of the most distinctive and sought-after red wine in the world—and it comes for a paltry price of admission.
$32.00
Buy This
Chateau Le Boscq Saint-Estephe Bordeaux 2018
Variety: not specified / Sold by: Wine Access
Château Le Boscq, which sits next to Third Growth Calon-Ségur and close to Meyney and Montrose, has long been a sleeping giant of Saint-Estèphe. The château was recently promoted to one of just 14 Crus Bourgeois Exceptionnels in all of Bordeaux—an honor that neatly coincided with the release of this 2018, which is a triumph. Decanter praised its "brilliant purity" in their 95-point review.
$50.00
Buy This
Domaine des Senechaux Chateauneuf-du-Pape 2020
Variety: not specified / Sold by: Wine Access
Wine Access members crowned the last vintage of Domaine des Sénéchaux with a member-rating that put it up with some of the most expensive and exclusive wines we offer. From the Cazes family behind Bordeaux Château Lynch-Bages, the 2020 delivers the powerful fruit of Southern France in a polished, ageworthy package. 94pts from Jeb Dunnuck, who called it "beautifully balanced, elegant, and nuanced."
$50.00 80.00
Buy This
Aged Wine Specialist Wine Stores
There are also retailers who specialize in aged wine — wine they either purchase at release with the intention of aging it themselves, or wine they acquire after release from a winery or other trusted source. These specialty merchants are usually the best non-winery option for acquiring aged wine (by my standard, anything more than 5 years old).
There are three online retailers I recommend for acquiring aged wine based on how they source their wine, how they store their wine, and the selection of wines they carry.
Millesima — The Fine French Wine Superstore
Particularly for Bordeaux and Champagne, I recommend Millesima — a négociant headquartered in Bordeaux who carries a massive inventory of wine.
I spoke with Michael Peltier, Senior Fine Wine Specialist at Millesima, who told me they purchase everything as Futures or when it's released directly from the winery and immediately transport it to le chais, their storage facility in Bordeaux. There, in perfect conditions, they age their inventory until someone orders it. These wines are sold as "Pre Arrival" because they don't ship them to the US until someone has ordered them.
The selection of back vintages at Millesima is a bit mind-boggling, with significant Bordeaux inventory back to 1995 (and sparse inventory further back than that, too). With a site like Millesima, you can explore how wine ages on your own by purchasing a vertical from one particular Château.
Another reason to choose Millesima when exploring aged wine is they have one of the largest collections of large-format Bordeaux & Champagne in the world. In Part I of this guide, I pointed out that large-format wine bottles (those larger than 750 mL) are better suited to longer aging of wines. According to Peltier, the best format for very long aging of wine is 3L bottles, commonly called a Double Magnum and also known as a Jeroboam.
Unsurprisingly, when you're doing everything right in a couple of areas, you scale your operation. In addition to supplying you with Champagne and Red Bordeaux wines, Millesima also carries an excellent selection of fine Burgundy, Rhone, Italian, and American wines.
Browse Millesima's selection of carefully-aged Bordeaux and Champagne.
Wine Access — The Insider's Wine Store
Wine Access is a special kind of online wine store. They procure limited amounts of special and hard-to-find wines (in the US) and sell them as a limited time offer or until they sell through their inventory.
What's really different about Wine Access is that their team writes all of their own tasting notes. That's because their team is led by a Master of Wine (Vanessa Conlin) but includes several other top-ranking sommeliers and Master of Wine candidates.
This extra level of detail is super critical if you're looking at purchasing aged wine. Relying on the tasting notes provided by the winemaker at the time of release is a gamble, but relying on professional tasting notes written when you're going to buy and drink the wine is just plain smart.
Here's a great example of how tasting notes can change over time using the 2010 Larkmead Vineyards Solari Cabernet Sauvignon from Napa which you can purchase at Wine Access for $250.
2010 Larkmead Vineyards Solari Cabernet Sauvignon Napa Valley
Former Larkmead winemaker Andy Smith's original tasting notes when the wine was released:
"Very dark ruby purple color. Simultaneously bright yet dark, fresh yet profoundly rich with a deep core of aromatic complexity – menthol, tar, black cherry, blackcurrant, smoky iodine richness, dried herb and classic Larkmead minerals. Dense, chewy, powerful palate with great depth and structure but always lively and energetic. Aromas carry through to the palate - powerful dark fruit, succulent and brooding. Multi-layered mid-palate with wave after wave of flavor. Extraordinary length and persistent finish. The wine has great enveloping flavor – deep intense black fruits, full & round, interwoven with many subtle savory elements – dried herbs, cedar & sweet tobacco supported by broad, rich, chewy tannins."
Wine Access tasting notes in 2020:
"Showing a beautifully deep brick-garnet color. Wonderfully alive on the nose, featuring dried and fresh blackberry and currants, mocha, allspice, toasted vanilla, and hints of tertiary leather, mature tobacco, and black truffle complexity. Perfectly structured, with a touch of supple give to the firm tannins from maturation, while maintaining a dense mid-palate and full body. Fresh black cherry and cherry pie notes on the palate yield to notes of earth, leather, and spice, swirling in a complex dance throughout an incredibly long finish. A stunning Cabernet, making a convincing argument that a decade is a good sweet spot for Napa Cabs, but clearly with plenty of life ahead. Drink now - 2033."
What changed?
The color unsurprisingly went from "dark ruby purple" to "deep brick-garnet." This type of color shift is a normal part of aging wine, specifically related to oxidation.
Aromas of "menthol, tar, black cherry, black currant, dried herb, and minerals" are now "dried and fresh blackberry and currants, mocha, allspice, toasted vanilla."
Mouthfeel. "Dense, chewy, powerful" tannins are now "firm tannins with a supple give, while still dense."
Flavors. "Deep intense black fruits" "interwoven" with "dried herbs, cedar, and sweet tobacco" have become "Fresh black cherry and cherry pie notes" with "earth, leather, and spice."
My favorite part of this comparison? The original drinking window according to the winemaker was 12-18 years, Antonio Galloni (then at The Wine Advocate) suggested 10-30 years, but Wine Access's 10-year check-in pinpoints the range to 23 years.
Another reason to consider making your aged wine purchases with Wine Access is that they go the extra mile. Not long ago they offered an aged Barolo. After their assessment of the wine, and the condition of its corks, they sent out a free Ah-So cork puller with every purchase to make sure their customers fully enjoyed the whole wine experience.
Browse the aged wines at Wine Access.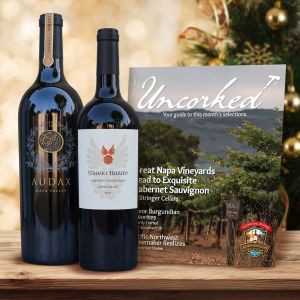 Join for ~$235 per shipment
The California Wine Club
While The California Wine Club is perhaps best known for their two-bottle wine of the month club featuring affordable selections from small family wineries in California, they also offer a unique wine club featuring Aged Cabernet Sauvignon.
If you want a low-effort way to get started with aged wine quickly, I recommend joining this wine club. They offer premium Cabernet Sauvignon aged 7-12 years, primarily from Napa Valley, but some Sonoma sneaks in there from time to time.
Membership benefits include: Access to a Personal Wine Consultant; Discounts when you reorder your favorite wines; A "Love It" 100% Guarantee; VIP Touring and Tasting invitation at any of the artisan wineries we feature.
Aged Wine from Auction Houses
& Others Who Source from Third Parties
Last on my list of places to acquire aged wine are auction houses and other organizations who acquire aged wine from private third parties. There are always exceptions to every rule, but the biggest issue with these groups is with verification of provenance. Unlike a painting whose condition is clear before you buy it, the condition of an aged wine is not. Auction houses have been guilty of selling counterfeit wine, too (not intentionally, but it still happens). Some places have trusted sources and stand behind the wine you purchase. Others do not.
If you're willing to risk third-party purchasing in the US, I recommend buying your aged wine here.
WineBid
WineBid is a Seattle-based company with locations in Napa and Hong Kong. Auctioning wine online since 1996, WineBid offers an online wine auction platform lets collectors place bids, buy instantly or sell their wine. They also have their own import subsidiary, Peloton Imports, to offer wines directly from Europe.
WineBid doesn't require people to buy or sell full cases and they hold 52 auctions a year with thousands of new bottles added each week. They have two sommeliers on staff and an expert tasting team. They inspect and place every bottle by hand in our temperature-controlled warehouses.
Learn more about WineBid on their website.
Benchmark Wine Group
Benchmark Wine Group (BWG) is a Napa-based company that sources and stores aged wine for its clientele. They are very serious about provenance, and they have an inside track on a lot of aged Napa wine.
Much of the wine that they carry was purchased directly from the winery and transferred in climate-controlled conditions to BWG's cellar for permanent storage. Their customers who wish to sell their wine at a profit can sell it through BWG's website. From what I've researched, I would consider these sales as safe as buying directly from the winery, but I am not guaranteeing anything personally, though BWG guarantees the provenance of the wine they sell. Like Millesima, they also offer Pre-Arrival sales for wines from Europe.
Learn more about the extensive operations at BWG on their website.
Vinfolio
Vinfolio — on the surface — looks very much like BWG. They offer the same type of winery-to-cellar-to-sale service that BWG does. I imagine that there are some differences between the two services, but again, they guarantee the provenance of every wine they sell, so your risk is mitigated.
Learn more about Vinfolio on their website.