Coravin Pivot: A Useful Wine Guide
Is the Pivot the right Coravin for me? Probably!
Coravin overview
Coravin — the company that invented an industry-standard wine preservation system — has expanded their product line, adding an affordable version called The Pivot and a special version for sparkling wine and champagne.
It used to be that new models retained the same basic functionality of the original — insert a needle through cork to access wine while preventing exposure of oxygen to the wine. These new models mostly featured upgraded finishes, shiny colors, improved clamps, etc. making shopping for a Coravin kind of confusing. The Pivot is a whole new approach to the Coravin concept.
My original Coravin Guide will help you sort through the variety of available Coravin systems, as well as help you decide which Coravin is right for your wine habit, but this guide is designed to highlight the new Pivot specifically. Compare Pivot to existing Coravin models or jump ahead to read my review of the Coravin Pivot.
What is a Coravin Pivot?
The Coravin Pivot is a simpler preservation experience designed for "everyday wine," likely to be finished within a few weeks of opening. The Pivot allows you to open a bottle of wine with minimal oxygen exposure and then easily pour a glass or two. When you're done drinking for the day, you put it in the fridge and access that same bottle up to four weeks later.
How does the Coravin Pivot work?
The Coravin wine preservation system replaces oxygen in a wine bottle with 100% pure argon. The older models use a needle which punctures the cork to access the wine, but The Pivot works a little differently.

How to use the Pivot. First, you remove the cork from the bottle and quickly replace it with a Coravin Pivot Stopper. Then you pop the top of the stopper, insert the Coravin unit into the stopper, tip the bottle over, press the button, and start pouring. When you're done pouring your wine glass(es), you remove the Pivot and close the stopper in the bottle. That's it!

1. Remove the cork

2. Insert the Coravin stopper

3. Insert the Coravin Pivot

4. Pour your wine

Bonus: Because you remove the original cork or screw cap completely, the Coravin Pivot works with any kind of wine bottle (but not sparkling wines, you need this for that).
What are Coravin capsules?
Branded as Coravin Pure Capsules, these are the workhorse of the preservation system. As you pour wine out of the bottle, the Coravin pumps argon gas from the capsules in, pressurizing the bottle so wine can flow freely out of the system and protect the remaining wine from oxygen.
Like everything in life, there are different levels of quality of argon gas, and Coravin's capsules are called Pure because they undergo a proprietary purification process (say that one five times fast!). The Coravin system requires you to use Coravin Pure capsules (there are no capsule alternatives).
How long do Coravin capsules last in a Pivot?
Interestingly, the Coravin Pivot is more efficient at using gas than some of its more expensive counterparts. Your mileage may vary, but you can expect to pour roughly 20 5-oz glasses (approximately four standard 750mL bottles) of wine per capsule.
Tips: Extend the life of your Coravin Capsules. Only use Coravin when you're specifically planning not to finish a bottle and don't use the Coravin Pivot to pour the bottle's last glass(es).
Learn more about Coravin Capsules in my Coravin Accessories guide.

Photo by Thomas Hawk found at Flickr
Compare the Pivot to other Coravin models
The primary differences between the Pivot and other Coravin models are twofold: you can preserve wine longer with the needle-based models, but the Pivot is easier to use and more practical for most wine drinkers. The other major difference between the Pivot and Timeless models is that the Pivot is 33% more efficient in its use of argon, reducing the cost of capsules over time.
If you plan to age wine at home and want to check in on it as it develops over time, or if you plan to drink very expensive wine at any later date, the needle-based models are a better choice as they offer more stringent protection against oxidation than the Pivot does. Compare needle-based Coravin models in my guide.
If this doesn't sound like how you'll use your Coravin, I recommend the Pivot or Pivot+ compared to all needle-based Coravin models, but here are some details to consider.
Coravin Pivot vs Pivot+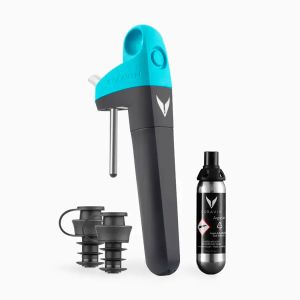 Buy it for $119.00
Pivot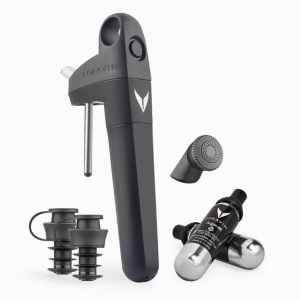 Buy it for $149.00
Pivot+

The Coravin Pivot+ is the same basic model as The Coravin Pivot, but it comes bundled with a special aerator and an extra Coravin Pure Capsule of argon gas. An aerator is a must-have accessory when enjoying wine by the glass. Aeration brings wine to life by "waking up" the aromatic components while exposing the wine to air between the bottle and the glass. The effect of aeration is like that of decanting, but it happens more quickly and is employed by the glass.

Pivot+ also comes in an even further-upgraded Premium Bundle which includes the Pivot Aerator, two Pivot stoppers, a universal base, and eight argon capsules for $219.
Coravin Pivot vs Model Three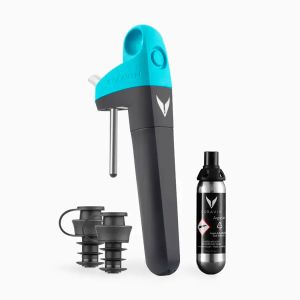 Buy it for $119.00
Pivot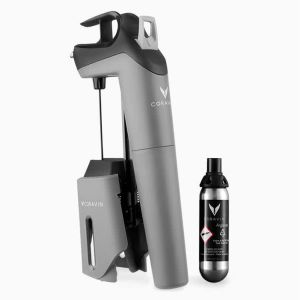 Buy it for $179.00
Timeless Three SL

There are two kinds of Coravin Model Three wine preservation systems. The Timeless Three SL is similarly priced to the Pivot but which one you should choose really comes down to the kind of wine you drink and how you want to use it. If you want to preserve wine for less than a month, get the Pivot. If you want to drink a glass and put the wine back in the cellar for longer than that, get the Timeles Three SL.

Worth noting, the Pivot is 25% more efficient with the argon gas than Timeless models, so in the long run you'll save a lot more by choosing a Pivot.
Coravin Pivot vs Timeless Six+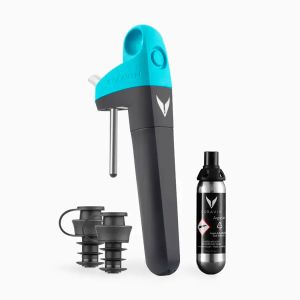 Buy it for $119.00
Pivot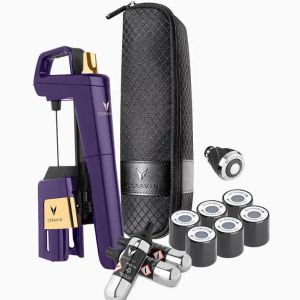 Buy it for $329.00
Timeless Six+

Coravin Model Six is now called Timeless Six+. The Timeless Six+ is a needle-based Coravin designed to better protect wine from oxidation. If you aren't drinking pricey wine or don't intend to keep bottles around more than a few weeks, the Model Six is probably overkill for your needs.
Coravin Pivot review
After years of hype, friends who swear by Coravin, and some pros who say "meh," I just had to know for myself what all the fuss was about and if it was warranted. As we rarely have something called "leftover wine" in my house, there wasn't much urgency to get my hands on one. When I learned about the new affordable Coravin Pivot, apparently that was the shove I needed.
I was sent a Pivot to review courtesy of Coravin, I did not purchase my own. I will most likely earn a commission if you purchase a Coravin Pivot after reading this review.
About this review
To help give this review some context, I want to take a moment to explain my household's wine habits. We have two wine drinkers in our house — my husband (the cellarmaster) and myself. We typically like the same wines, though to varying degrees, and we almost always only drink one bottle of wine per day between the two of us (exceptions are when we're at parties or when we have company). This is why we don't have "leftover wine."
Most of our wine comes from two sources: wineries where we belong to the wine club or have been to their tasting rooms and the wine of the month clubs we review for this site. We age the wine we buy from wineries in our small built-in cellar (it holds ~370 bottles in the racks). Conversely, we usually drink the wine we get from retail wine clubs within a few months of receiving it.
We carefully selected a wine from our cellar to test out the Coravin Pivot's ability to preserve wine — a 2018 Roussanne/Chardonnay blend from Stolpman Vineyards. We chose this wine because it usually handles some aging very well (up to five years), it benefits from decanting making some short-term limited oxygen exposure possibly a benefit, and it's easy to tell when this wine isn't fresh (it loses its bright, fruit-forwardness when it is open too long).
About the 2018 Stolpman Vineyards Estate Roussanne
Stolpman Vineyards is in Ballard Canyon, an American Viticultural Area (AVA) within the larger Santa Ynez Valley AVA in Santa Barbara County on California's Central Coast. The white wine is a blend of 88% Roussanne and 12% Chardonnay. During vinification there was no skin contact. The wine underwent a light oak program*, fermented and matured in 70% used oak and 30% new oak 500L puncheons. The wine was released in April 2020, roughly a year and a half before this test was conducted. Total production: 1600 cases.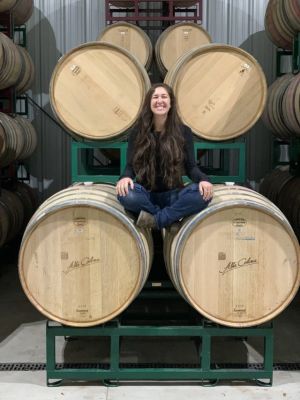 Molly Lonborg, winemaker at Alta Colina sitting atop 500L puncheons. Photo credit: Alta Colina Winery. Their wines are amazing — you should order some!

* A standard American oak barrel is 60 gallons (roughly 300 bottles of wine) while a 500L puncheon is 132 gallons and produces roughly 660 bottles of wine. The larger volume means a smaller portion of the wine comes in direct contact with the oak, allowing for less oakiness than if a standard-sized barrel had been used. Also, "used oak" imparts less oakiness than a new oak barrel, but more than a "neutral" oak barrel (which shouldn't impart any oakiness at all). The oak in this white wine adds a tiny bit of vanilla and some needed structure to the wine, which allows it to age.
Our first time using the Pivot
The cellarmaster is in charge of managing inventory, opening and decanting wine, and recommending wines that are ready to drink when we work out the pairing for our dinners for the week. Naturally he was the guinea pig for the Pivot while I happily stood by providing creative direction and photographing the whole adventure.
You rarely see it used in videos demonstrating the Coravin, but every Coravin wine preservation system (not just the Pivot) comes with a cloth sleeve. Its purpose is to protect you in case something you can't see is wrong with your wine bottle. It's not sexy, but their product safety guide clearly says "Damaged or flawed wine bottles may break when pressurized. The Coravin Wine Bottle Sleeve is provided to reduce the risk of injury from broken glass."
A naturally cautious individual, the cellarmaster employed the cloth sleeve on the first pour. Once we determined the bottle was fine with a little bit of Argon gas pressure, he poured the remaining glasses without it.
Finally it was time to drink that lovely wine! As always, it offered up aromas and flavors of tropical fruits like ripe pineapple. Barely perceptible oak provided a smooth counterpart to the gentle brightness of this white wine.
When the last glass of the day was poured (three total came out of the bottle), the cellarmaster closed the Pivot stopper and stuck the bottle in the fridge. In two weeks, we will compare a fresh bottle of the same wine to this one which received the Pivot treatment.
Two weeks later...
Continuing with the test, we brought both bottles out of the fridge so they'd come up in temperature a bit before pouring a tasting. This is because when a wine is very cold (fridge cold) a lot of the more subtle and elegant characteristics are muted. By letting the wine come up to 55 (ish) degrees, its true character could be detected more easily.
Here are the two bottles side by side before we poured and the two glasses of wine on a white background so I could see the color differences (if there were any) more easily. The cellarmaster set it up as a blind tasting so I wouldn't know which wine was which.
It turns out I chose the wine correctly for this test. It was instantly obvious to me, based on the color of the wine alone, which glass came from the Pivot bottle, as it was darker and perhaps duller. A smell test confirmed my selection because the Pivot wine was missing the floral aromatics that the fresh wine exhibited. And, the final confirmation was the taste test — it tasted as if it had been open a couple of days without the use of a Pivot. The tropical fruit flavor was diminished, as was the brightness. A slight funkiness that characterizes older Roussanne had started to develop.
We finished the fresh bottle over the course of a few hours, and then revisited the glass we poured from the Pivot bottle earlier. At that point, they were virtually indistinguishable — either because our palates were no longer fresh or because whatever amount of oxidation had occurred in the bottle would normally have occurred within a few hours of opening a bottle.
Bottom line: The wine was still good, we happily drank it after we finished the fresh bottle, it just wasn't the same and it definitely showed signs of oxidation. The promise of keeping a wine for four weeks seems like an overstatement since at two weeks I could easily detect degradation. At one week, I might not have been able to tell the difference.
How you plan to use it should determine A) whether you need a Coravin at all or B) whether you should consider buying a Timeless Model Three SL $179.00 | guide instead (it's still affordable but does not expose the wine to any oxygen).
Where to buy a Coravin Pivot?
Like the capsules, Coravin Pivots are sold at most wine stores and some home goods stores. You can find them online at department stores like Bloomingdales and Macy's, as well as superstores like Bed Bath and Beyond (sorry, you can't use your 20% off coupons on Coravin), Best Buy, and Amazon.
Why Buy at Coravin.com
All orders over $75 come with free shipping at Coravin.com.
Coravin uses the MRP pricing model (this means their retailers all agree to charge the same price as a condition of being allowed to sell Coravin). This is common practice with many well-known brands — like Apple, COACH, and Ralph Lauren. It also means you can shop till you're blue in the face and you won't find better prices from an authorized seller than on Coravin.com. Because it's Coravin's own website, they can offer discounts and specials their retailers can't.
If you buy your Coravin System at Coravin.com, you get a 30-day money back guarantee. Good luck returning a Coravin product to some discounter that offered you a better price against the rules.
If you're buying Coravin Pure Capsules, join Club Coravin. You'll get special pricing on capsules, a one-year extension on your warranty, and free shipping on orders over $50.
Other Places to Buy Coravin