What is Macy's Wine Shop?
Macy's Wine Cellar (which was managed by Direct Wines) is now Macy's Wine Shop (managed by DRINKS). Macy's does not manage their own wine club because they aren't licensed to do so.
I have replaced my old Macy's Wine Cellar review with my review of Wine Insiders which is approximately the same as the new Macy's Wine Shop subscription. When I receive and review a shipment of the Macy's Wine Shop, I will updated this review.
How much does a Macy's Wine Shop subscription cost?
The Macy's wine subscription costs $159 (shipping is free) for 12 bottles shipped quarterly. The introductory offer is significantly discounted — just $49.99 for 6 bottles, and it ships free!
Macy's Wine Shop Introductory Offer
Like many other wine clubs, Macy's Wine Shop invites you to try their wine at a discounted price. This makes it easier to see how much value you'll get out of a subscription.
Their introductory offer is $49.99 for a half-case of 6 bottles of wine. This offer includes free shipping, but sales tax might apply. That's $8.33 a bottle. No promo code or coupon code is needed to get this offer.
Important: When you buy this introductory half-case of wine, you are signing up for a recurring wine subscription. They ship six full 12-bottle cases of wine each year: one roughly every 12 weeks, plus a bonus case in the winter and a bonus case in the summer. Each case costs $159 + applicable sales tax (shipping is included). You can cancel at any time, but if you wait until after your credit card is billed, you will be charged a restocking fee unless you keep the wine.
Macy's Wine Shop Wine Review
I've substituted Martha Stewart review information here — Wine Insiders is the same company and most of the wines they offer are the same (there are some differences, but they're negligible).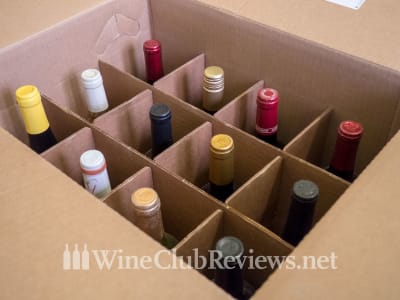 My Macy's Wine Shop
Wine Ratings
| | |
| --- | --- |
| Quality of Wine | |
| Price of Wine | |
| Wine Curation | |
Macy's Wine Shop stocks a broad portfolio of wines. Hailing from 40+ wine regions around the world — including California, Washington, France, Italy, Argentina, and Australia — they offer a selection of red, white, rosé, sparkling, and sweet wine.
The price range of the wines they offer is $10-30, with more than two-thirds of the selection in the $15-20 range. Here is a breakdown of what was available in their wine store on October 11, 2021.
| Price Range | Number of wines | Description |
| --- | --- | --- |
| $10-15 | 81 bottles | A good mix of colors, regions, and styles; in general these are table wines from large, lesser-known regions known for producing wine labeled under a mix of brands. |
| $15-20 | 340 bottles | A good mix of colors, regions, and styles; in general these wines are from more specific regions with specialties and are often produced by wineries under their own brand. |
| $20-30 | 52 bottles | Red and white wine; Estate-bottlings and premium regions |
The wine is acquired through relationships with wineries and vineyards around the world. They've been in business since 1982 and have access to large-production wineries offering better grapes and wine that some of their competitors can't offer. The selection of what's available to members is further curated by their expert tasting panel (which includes at least a sommelier and a chef).
A key differentiator here is that many of the wineries they work with are family wineries, as opposed to bulk wine producers. Bulk wine is produced nearly anonymously and rebranded for multiple retailers (think of it like factory farming for wine). I believe their wine is better than their competitors because they choose wineries that sell their wares under their own name and reputation.
I have previously reviewed both Wine Insiders and the Martha Stewart Wine Club, another Wine Insiders brand. These are the last wines I received from Wine Insiders. The prices listed below are the non-member prices. As part of a subscription you'd pay a flat $13.25.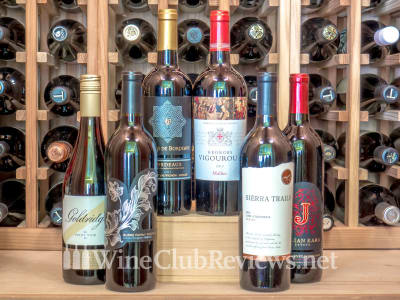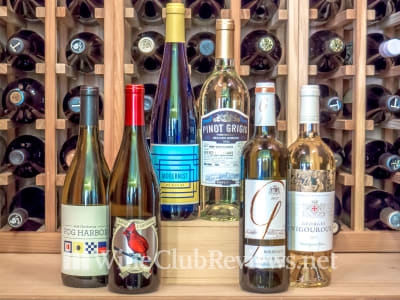 Red Wine from Wine Insiders
2017 Burke Family Cabernet Sauvignon, $14.99 (California)
2017 Georges Vigouroux Hommage Malbec, $16.99 (I.G.P. Pays d'Oc, France)
2018 Goldridge Reserve Pinot Noir, $17.99 (Marlborough, New Zealand)
2016 Sierra Trails Tannat, ~$18.99 (Lodi, California)
2015 Secrets de Bordeaux Rouge, $27.99 (Bordeaux, France)
2018 Jillian Kara Estate Cabernet Sauvignon, $29.99 (Paso Robles, California)
White Wine from Wine Insiders
2018 Roncalla Organic Pinot Grigio, $12.99 (I.G.T Sicily, Italy)
2018 Fog Harbor Chardonnay, $12.99 (California)
2017 Lone Cardinal Chardonnay, $13.99 (Lodi, California)
2017 Georges Vigouroux Hommage Sauvignon Blanc, $14.99 (white wine from I.G.P. Pays d'Oc France)
2018 The Modernist Riesling, $14.99 (Rheinhessen, Germany)
2017 Cuvée Eva Sauvignon Blanc, $15.99 (Bordeaux, France)
While some of these wines met my expectations, I was surprised by a number of them. My favorite wines of the bunch showed great balance, typicity (the wine tasted like the grapes it was made from), and finish. Likewise, a few left me uninspired.
The best value and quality wines were the: Sierra Trails Tannat, Goldridge Pinot Noir, and the Lone Cardinal Chardonnay.
Better than average for wine clubs at this price: The Modernist Riesling, Fog Harbor Chardonnay, Burke Family Cabernet Sauvignon, and the French Malbec.
These wines leave something to be desired. Jillian Kara's Cabernet Sauvignon was only okay — I found it acidic and watery. The Georges Vigoroux Sauvignon Blanc was basic and the Roncalla Pinot Grigio had an odd taste that I couldn't quite put my finger on.
An important caveat about the wine: I did not receive an actual introductory case. Instead I received a specially-selected case to try. Since they didn't ask us what I wanted or what I like, it was still pretty randomized. I were told these wines were picked to represent a normal case members would receive, which typically consists of their better quality and higher priced wines.
Membership Benefits
My Macy's Wine Shop
Benefits Ratings
| | |
| --- | --- |
| Satisfaction Guarantee | |
| Customer Service | |
| Wine Education | |
| Convenience | |
Membership comes with benefits. Macy's Wine Shop offers an array of perks to make membership worth it. In addition to a risk-free subscription, you can also cancel online at any time or by calling their Customer Service department.
My favorite benefit of joining a wine club is always the Satisfaction Guarantee. If you're going to rely on other people to pick your wine, you want a known course of action when the selections don't meet your expectations. This will likely happen as it's impossible to please everyone all the time.
The guarantee from Macy's Wine Shop is among the best around — any wine you don't like, for any reason, can be replaced with something you'll like better. There are sometimes restrictions to prevent customers from abusing the guarantee.
One expects a wine subscription service to be convenient — after all, part of what you're paying for is not having to lug those heavy bottles home from the store yourself. In addition to being able to cancel online, they go to great lengths to make delivery easier.
A really quick overview. Wine shipments require an adult signature. Most people aren't at home during the day to receive/sign for wines so most clubs recommend shipping to your office.
That doesn't work for a LOT of wine lovers, so Macy's Wine Shop partnered with FedEx to set an alternative delivery location to a FedEx retail partner — right when you set up your subscription. This means you won't need to redirect every shipment. Convenient wine shipment pickup is available at FedEx locations and stores like Walgreens, Duane Reade, Albertsons or Safeway.
Members-only discounts are another great reason to join a wine club, but for Macy's Wine Shop, the discounts are limited to an introductory offer and discounted pricing on your regular wine shipments.
The Wine Insiders customer service record is impressive. Honestly, we've never seen a large wine club like this have so few customer complaints. They brag about their 4.5-star customer rating on Google (which I verified) for a good reason — most of their competitors have bad customer service. I assume the same level of service for the Macy's Wine Shop club.
The wine education component of Macy's Wine Shop is about average for the services which provide this information online. Members can go online to their account to see the details for all of the wines they've received. This information includes some basics about the grapes and the wine region, tasting notes, basic food pairing suggestions, and alcohol percentage.
Tasting notes and food pairing suggestions are provided by Sommelier Christopher Hoel and Chef Tim Hollingsworth, both of who worked for The French Laundry in Napa. Hoel also does video tasting notes that are for members only.
Who Should Macy's Wine Shop?
Even with so many quarterly wine clubs out there at a similar price, it's not hard for us to tell you who is best suited to a Macy's Wine Shop membership: Wine lovers who want to explore the world of wine, wine lovers who prefer to spend around $15 a bottle, folks who are new to wine who want to see what they like in an affordable, risk-free way, and wine lovers who have tried other subscriptions at this price but weren't impressed with the quality or taste of the wine might find Macy's Wine Shop a better fit.
Macy's Wine Shop as a Gift
Macy's Wine Shop is one of the few subscriptions like it who offer to customize a regular membership as a gift membership. Unlike some wine subscription gifts, you don't pay up front for a fixed number of shipments, you pay as you go and cancel when you've given what you want. The gift recipient gets the delivery notifications, the gift giver gets the billing notifications.
They offer both a gift message via email and one in the first box of wine. Note: the email gift message is sent immediately upon signing up for the service, so wait until you're ready to let them know to order. Shipments are processed within 3-5 days of the order.
Macy's Wine Cellar Wine Club