90+ Wine Club Review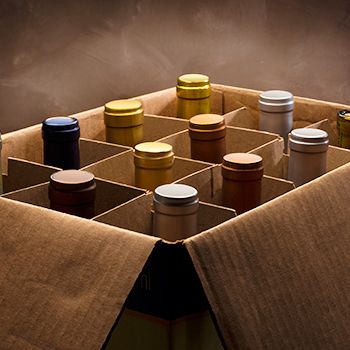 Wine Club Rating:
Summary
Among all of the case clubs (12 bottles, typically shipped quarterly), this 90+ International wine club is among the best two deals. The other focuses only on California wine, but this one takes you on a journey around the world. Enjoy eclectic wines at the best prices you'll find.
What We Liked
It's so easy to get into a wine rut and stick with what you know. Wired For Wine ® helps you break out of that rut in a low-cost, satisfaction guaranteed way so you can find new wines to love. Also, when compared with similarly-priced case clubs, this one stands out for wine quality in a big way.
Improvements
Normally I'd ask for a deal for this club, but it's already priced as low as it can go, so it's nearly perfect as is! I'd love to see a little bit of customization available and also monthly clubs for people who drink more than a bottle a week.
Wine Club Shipped to
AZ CA CO CT DC DE FL GA IA ID IL IN KS LA MA MD ME MN MO NC NE NJ NM NV NY OH OR PA RI SC TN TX VA VT WA WI WV WY
Don't see your state? Wired For Wine ® did not ship there.
Wine Clubs by State
This wine club is no longer available
Try one of these top-rated wine clubs instead?
A Perfect Wine Club for Foodies
Maybe you're a wine club veteran always on the hunt for great value and great wine. Maybe you've never joined a wine club but you're ready to jump in. Either way, you're probably looking for three things: 1) Great prices 2) Convenient wine buying and 3) Someone to tell you what's good. You should also be looking for a 100% satisfaction guarantee since you're trusting someone else to pick out your wine for you.
The 90+ Wine Club from Wired For Wine® checks all of the boxes, and then some. As we tasted our way through the June 2017 shipment (Wired For Wine® is a quarterly wine club that ships 12-bottle cases), we were surprised at how good these "$14 wines" were, and delighted by the mercurial selection of grapes, regions, and styles.
There's some kind of magic juju going on here. As self-described foodies who only sell acclaimed wine at a discount, they're clearly their own perfect customers, so they buy for what they want to drink and pair with meals, seasonally. A delightful mix of wines from around the world, from top wine producing areas and lesser known regions, in a variety of styles, and a broad selection of grape varieties and blends. Something for a special meal every week.
90+ Wine Review
My 90+ Wine Club
Wine Ratings
| | |
| --- | --- |
| Quality of Wine | |
| Price of Wine | |
| Wine Curation | |
Most wine clubs are really focused on the wine, finding two bottles a month that will have universal appeal, and some clubs then ask chefs to prepare recipes to go with the wines. More often than not, the recipe pairings are sort of generic "Chardonnay goes with chicken pasta" and "Cabernet Sauvignon goes with a great rib-eye steak." Not at the 90+ Wine Club… here are two of our favorite suggested pairings from the shipment we received:
Montepeloso a Quo 2013 (92 points by Robert Parker's Wine Advocate and James Suckling, too). Suggested pairings all complemented THIS wine's tasting notes: Rack of lamb with gremolata, Roast pork tenderloin with bacon and fresh herbs, and herb-crusted standing rib roast. Why red meat and herbs? Because all of the meats (especially the pork) complement the "cherry, currant, and red plum" flavors. My favorite selection? The pork tenderloin because the bacon stands up to the "fine-grained tannins" and the herbs enhance the "creamy oak on the finish."
Loimer Lois Kamptal Gruner Veltliner 2015 (90 points and Best Buy by Wine Enthusiast). Suggested pairings: Shooters of creamy asparagus soup, Classic Austrian Wiener Schnitzel, and Thai shrimp red curry over fluffy jasmine rice. While any Gruner's bright acidity would complement creamy, fried, or spicy, these pairings go a step further to highlight other characteristics of this Gruner like green pear, pepper, and yeastiness.
What's more, the quarterly shipments are designed to complement seasonal foods for Spring, Summer, Fall, and Winter, helping home chefs make the most of locally-grown in-season produce and flavors. Wired For Wine® has a great seasonal selection of wine that goes beyond what ships in their wine club, too. This month we saw a few rosés, including one from the Ott family (Domaine Ott was/is one of the premier chateaux of Provence) and a trendy rosé in a can called The Drop.
We think Wired For Wine®'s 90+ Wine Club is the perfect antidote to Pinot Noir and Cabernet Sauvignon, and standard Chardonnay and Sauvignon Blanc — though the Landmark Overlook Chardonnay we received in our shipment was excellent and we wish we had paired it with the suggested bite-sized crab cakes with dijon aioli. Ah, next time...
But they kill it on price, too. This wine club is priced to be competitive with big name wine clubs offering quarterly case clubs. But we've heard through the industry rumor mill that those companies are paying 1 euro per bottle for the wine they deliver at the same price you're getting 90+ wines from Wired For Wine®. There is no comparison in quality, for the same price. Also, Wired For Wine® is a deal site, so their regular pricing is far below retail. It's important to note, not every bottle in the box costs $14… In the shipment we received retail pricing ranged from $17-32 and the prices Wired For Wine® charged ranged from $10.97-$19.97. Overall, we were very pleased with the mix of quality and value that arrived in our box of wine.
We were quite surprised by the general quality of the wines we received in the June 2017 shipment. They don't get 5 stars here because we reserve that for wines that typically sell over $40 a bottle. The point ratings systems offered by most wine critics are useful for consumers, but differ greatly in their expectations from publication to publication. What one author considers 90 points might be someone else's 88 or 92 points. This can lead to confusion about what level of quality you can really expect from a 90+ wine club. Unless you're Wired For Wine® and you also care deeply about curating excellent wine… and then the ratings are just validation for your excellent decision-making. They don't just rely on one or two well-crafted shipments which they publish and then send whatever's convenient the rest of the time. They even have (137x12) archived wine selections they've offered since 2009 right on their website under Past Deals… they're proud of their history of picking awesome wine!
Membership Benefits
My 90+ Wine Club
Benefits Ratings
| | |
| --- | --- |
| Satisfaction Guarantee | |
| Customer Service | |
| Wine Education | |
| Convenience | |
Wired For Wine® has one of the of the more comprehensive satisfaction guarantees we've seen. You can return anything you're not 100% satisfied with, within 30 days. Many wine clubs don't accept returns so there's no discussion of how the wine gets back to the company or what it costs, and some do accept returns but charge return shipping and restocking fees. Since Wired For Wine® is a wine retailer first and a wine club second, they handle things differently. They make arrangements for your return shipping and it won't cost you anything. Once they have your wine back at their warehouse, they process the refund. Please refer to their Return Policy for more details.
Because this is a tiny company with two people whose livelihood is completely dependent on keeping their customers happy and ordering more wine, you get top notch customer service. We couldn't find any complaints online and we suspect you won't find anything to complain about yourself.
When it comes to conveniences, Wired For Wine® has you covered. The most important convenience is getting text and/or email notifications when your wine club shipment has gone out. Since Wired For Wine® ships four times per year it's easy enough to know when to expect your wine, roughly. Nowadays most wine clubs offer this service, and if they don't you can sign up for it directly via FedEx Delivery Manager and UPS MyChoice. For all other account-related inquiries and activities, you can email Evans or Tanya for a quick reply or dispatch of your request.
No introductory offers, no discounts on reorders, and no special members-only deals... in other words, you're already getting the best price and they've made that as easy as possible for you.
When it comes to wine education we really want wine clubs to tell it all. We want to know about the wine region, the grapes, the winery, the winemaker, and how they all relate to each other. We'd even like to know about the importer if there's a story to tell. We get very little of that from Wired For Wine®. They do provide excellent pairing selections for each wine (not genericized for the grape variety, but also not a full recipe) and better still, serving temperature recommendations! When we look up the wines on their website, we get thorough tasting notes and all of the critical praise, in addition to a very food-focused write-up on why the wine was picked for their service. This puts their education emphasis squarely on taste and how you experience the wine, making it a perfect subscription for foodies.
90+ Wine Club Gifts
Wired For Wine® is not set up for gift giving (all memberships are ongoing until you cancel, no gift wrapping, shipments go out on a schedule, not when you order), however if you want to give it as a gift you can, and they'll even include a handwritten note in the box. This would make a great wedding gift (a year of wine for home cooked meals).