Wine Club Rating:
Summary
As soon as you say "wine education" some people's eyes roll back in their heads. No matter how schooled you want to get, this Wine Folly subscription will get you there. Every shipment is themed to help you learn varieties, styles, regions, producers to trust, and winemaking techniques to give yourself a foundation of great wine knowledge.
What We Liked
It can be a challenge to fit four wines to a theme, for example Pinot Four Ways, but every wine selection is really well thought out to support the lessons on offer. Plus, there's loads of content to support you at your own pace.
Improvements
I have no complaints. I wish they offered gift memberships so you can give others this amazing wine.
Wine Club Shipped to
AK AZ CA CO CT DC FL GA HI ID IL IN IA KS LA ME MD MA MN MO MT NE NV NH NJ NM NY NC ND OH OK OR PA SC TN TX VT VA WA WV WI WY
Don't see your state? Wine Access did not ship there.
Wine Clubs by State
This wine club is no longer available
Try one of these top-rated wine clubs instead?
What is the Wine Folly Wine Club?
Wine Folly has become one of the most prominent sources for wine education on the planet. One thing that really stands out, beyond the approachable and fun way the knowledge is doled out, is that the information is completely free (no subscription required). If you're not already familiar with Wine Folly, please go check them out!
Delivered every other month, each $120 shipment of four bottles (shipping is included) fits a wine education theme. Past themes have included Bold Red Wines, Aging Vessels, Blends, Off the Radar, Warm Climate Wines, and Pinot Four Ways. The latest shipment, the one I received, is called Repertoire Builders. I go into more detail on this in the Wine Review section.
Who is behind the Wine Folly Wine Club?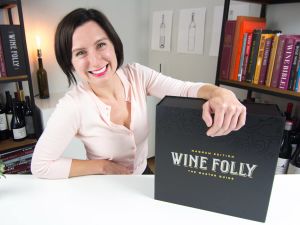 Madeline Puckette — the friendly and quirky sommelier who brought the WineFolly.com empire to life — has at long last curated a wine club she feels is worthy of her outstanding reputation. Madeline Puckette is a winner of the International Wine and Spirit Competition "Wine Communicator of the Year," a James Beard award-winning author, and the co-founder of Wine Folly. Madeline creates the wine club's curriculum goals and helps select each shipment's wines.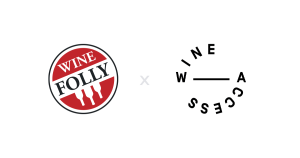 The Wine Folly Wine Club was created through a partnership with Wine Folly and Wine Access. Your club purchases will be managed on wineaccess.com.
Wine Access, helmed by Vanessa Conlin, a Master of Wine, and her team of amazingly qualified sommeliers and Master of Wine candidates, is one of our favorites! Vanessa offers exceptional guidance in the tasting videos provided with each shipment. She also sources interesting wines around the world to offer the club.
How does the Wine Folly Wine Club work?
In addition to an overview of the selection and descriptions of each wine which arrive in the box, there is a wealth of detailed information online. Wine Access produces video tasting notes for every wine in every one of their wine clubs. Pssst… You can enjoy these videos for free on YouTube without a membership.
Wine Folly being all about wine education produces their own accompanying content to complement the details provided by the Wine Access tasting notes.
Lastly — and this one's for the wine geeks — even more detail about each wine is available through Wine Folly's website. These pages, powered by Global Wine Database (a part of Folly Enterprises), include growing conditions, harvest information, winemaking details, aging/maturation, pairing suggestions, and a full breakdown of the nose, palate, and appearance.
About this Wine Folly Wine Club Review
The Wine Folly Wine Club is relatively new and so far I have reviewed one four-bottle shipment of the subscription. I am actively reviewing their service and most recently received a shipment in May of 2022. This review incorporates my Wine Folly Wine Club experiences and my experience with more than 100 other wine clubs.
Any wine subscription service is about more than just the wine and this review covers all aspects of the service. The key things I look for in a wine club are: How was the wine sourced? Is the wine selection personalized or curated? How often does it ship? How well does the company communicate about shipping and billing? Do they offer a satisfaction guarantee? Are the shipment sizes and wine selection flexible?
I also examine what kind of wine education they offer with their bottles and whether or not a service is set up for good gifting. These aspects are not core to a wine club being worthwhile, but they are important for many would-be members.
Wine Folly Wine Review
My Wine Folly Wine Ratings
| | |
| --- | --- |
| Quality of Wine | |
| Price of Wine | |
| Wine Curation | |
The shipment I received is called Repertoire Builders. I was keenly interested to try a shipment themed like this because I believe this is the core value of a club like Wine Folly — to teach me fundamental knowledge about classic wine styles that I can use in the real world.
This selection of four wines was designed to express what any particular grape or region is most classically known as (the wine industry calls this typicity and it's part of the wine ratings system used by critics, and me).
Something I really love about the selection of wine I received is how perfectly they were curated: an old-vine Sancerre (Sauvignon Blanc), a Chablis-like Chardonnay from Chile, a prototypical high-quality Pinot Noir from Monterey, and a perfect Cabernet Sauvignon for those who prefer something other than Napa cabs.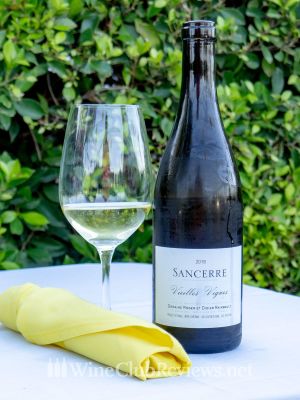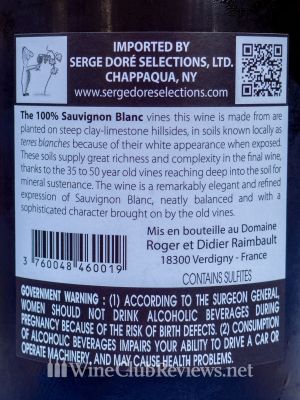 2018 Roger et Didier Raimbault Vieilles Vignes Sancerre, France
Blend: 100% Sauvignon Blanc
Retail price: $20-25 | Video Tasting Notes | Wine Access Write-up
We brought this wine out to dinner to celebrate our wedding anniversary. I wasn't sure what I'd be ordering, but I had a pretty good idea it would involve seafood, so I thought this would be the perfect wine from the shipment to bring along.
One of the joys of fine dining in the desert is that as soon as the wine comes out of the bottle (from the chiller), it starts warming up. You don't have to wait long for aromas to start popping and complex flavors to emerge from a high-quality wine.
Key takeaways:
When you see a wine labeled Sancerre, that means it is Sauvignon Blanc from the Sancerre wine region in France. This particular Sancerre is typical (in a good way) of what you'd expect for Sauvignon Blanc from this region — it's fruity and bright, featuring a lemony essence on the palate with a touch of minerality.
Vieilles Vignes translates to "old vines." In this case, the vines range from 35-50 years old and have roots sunk 20-30 feet underground. The old vines add a complexity to the wine's character that is absent from much "new world" Sauvignon Blanc. (New world means everywhere that isn't Europe or western Asia.)
Sur lies translates to "aged on the lees" — the lees are a byproduct of fermentation which includes leaving the wee yeasties in with the wine while it matures. This particular aspect of winemaking leads to my favorite wines because they always offer a round, smooth mouthfeel and typically add a lot of nuance and finish to a wine.
Back vintage. This wine is a 2018 (having spent two to three years in the bottle after 12-18 months maturing sur lies in stainless steel). Any wine that is older than the current release vintage would be considered a back vintage. For people who lack the means or patience to age their wine, buying back vintages is a great way to experience what all the fuss is about. Wine Access does a marvelous job of finding back vintage wines to sell on their site.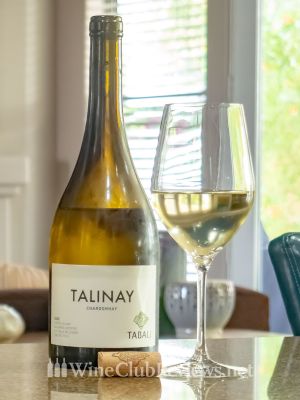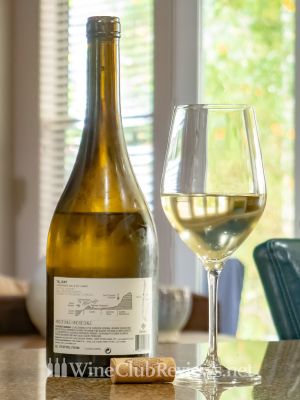 2020 Tabalí Talinay Chardonnay Limarí Valley, Chile
Blend: 100% Chardonnay
Retail price: $21
Video Tasting Notes | Wine Access Write-up
I already experienced this wine as I received it in Wine Access' Decanter Magazine wine club. I had so many mixed thoughts about it (read the sanitized version in my review), but I was curious to see what the husband thought as he unfortunately missed this wine on the first go around. (He liked it.)
What surprised me was how different it tasted than the first time I had it — specifically what had been mouth-puckering and bracing acidity had mellowed into what, I believe, had Decanter Magazine so enamored they gave it 96 points and called it a Wine of the Year. Which leads to the key takeaways for this wine:
Not every bottle from the same vintage is identical. The more you try the same wines from the same vintages, that weren't mass-produced to be identical every year, the more obvious this becomes. This phenomena is part of the adventure of wine, brought on by the handcrafted nature of a product made from produce. It's totally normal and something you'll likely only ever notice if you're buying more than one bottle of a given wine at a time.
Chalky, limestone soils make for food-friendly Chardonnay. In the case of this Chilean stunner, the ancient marine soil which lies under the vineyard imparts subtle lemon, floral, and mineral flavors on the palate, propped up by racy acidity. If you read this description but didn't know the wine hailed from South America, you might just assume it is Chablis. Another new world region embracing this style of Chardonnay shares this soil profile — Sta. Rita Hills in Santa Barbara County, California.
Whole cluster. A winemaking technique generally only available to wineries who harvest by hand, fermenting wine using whole clusters of grapes, stems and all, leads to complexity, balanced acidity, addition of tannins for structure and ageability, and a range of fruit and spice notes that wouldn't come from the grapes alone.
Restrained use of oak. Chardonnay from California often gets a bad rep for being too oaky. That "classic" Napa Chardonnay style of Rombauer, Far Niente, and Trefethen is actually the classic Côte de Beaune style (premium white Burgundy). While Chardonnay generally gets a lot of oak if the fruit is of poor quality or the winemaker's intention is to age it for decades, some oak can enhance any Chardonnay. This one saw 10 months in new French Oak barrels, but the oak influence was quite subtle, mostly adding body and not an oaky or vanilla flavor.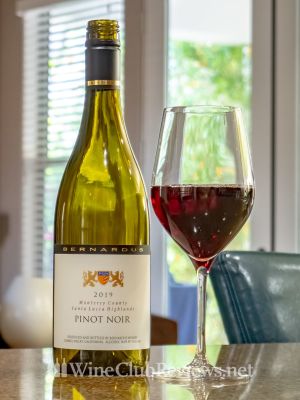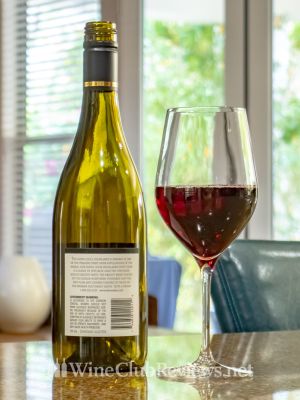 2019 Bernardus Winery Pinot Noir Santa Lucia Highlands Monterey County, California
Blend: 100% Pinot Noir
Retail price: $45
Video Tasting Notes | Wine Access Write-up
Like Chardonnay, Pinot Noir hails from Burgundy and the Burgundian style is what a lot of wine connoisseurs seek. The new world versions tend to be fruitier, more full bodied, and sometimes spicier depending on where it came from and what the winemaker's style preference is. Keeping all that in mind, it's difficult to quantify a "classic" Pinot Noir, but somehow Wine Folly & Wine Access found a wine that checks all the boxes, making it perfect for this "lesson."
Key Takeaways:
There is great value in Pinot Noir from Monterey's Santa Lucia Highlands (SLH). The Bernardus Winery is in Carmel Valley, California, but the grapes in this wine hail from SLH. Monterey is a go-to affordable source for Pinot Noir for major wine brands like Meiomi, La Crema, Estancia, etc. Despite the mass-produced crowd, a lot of boutique production quietly happens with high-quality SLH fruit, like at Bernardus.
Flavor profiles. Pinot Noir has a set of flavors that make it distinctive and typically easy to identify no matter the style in which it was produced. Most common are cherries (red, black, or dried), other red fruit (cranberry, strawberry, raspberry), and baking spice or a smokiness. There's a whole market for earthier Pinot Noir, too, which features mushroom, or the strangely named but apt "forest floor." The Bernardus in this case was strong on the red fruit and well-balanced.
Blending. Despite nearly all Pinot being 100% Pinot Noir, it's usually blended from multiple vineyards. Single-vineyard Pinot Noir is fickle and decidedly not "classic." But when the winemakers start blending, using fruit from different vineyards because it has different flavor profiles, a consistent and round, red-fruit with spice style emerges. Again, the Bernardus really shows the power of blending for Pinot Noir, with a roundness and balanced flavor profile, especially pulling in nice acidity.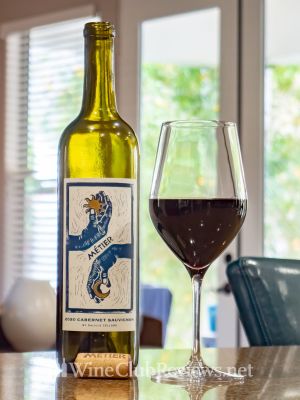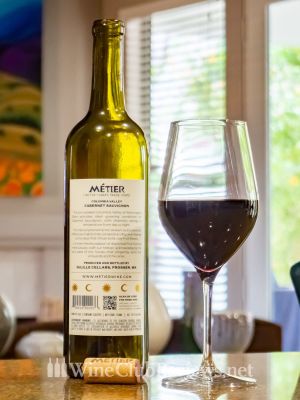 2020 Métier by Delille Cellars Cabernet Sauvignon Columbia Valley, Washington
Blend: 100% Cabernet Sauvignon
Retail price: $30 | Video Tasting Notes | Wine Access Write-up
Cabernet Sauvignon is yet another example of a grape whose classic style is defined by its French origin, this time in Bordeaux. A key distinguishing factor between new world and old world Cabernet is that in the old world, it's typically blended with something else (Merlot in France or Sangiovese in Italy), but in the new world, we tend to bottle it on its own. As Pinot Noir benefits from blending, so does Cabernet Sauvignon, and also like Pinot Noir, most single-vineyard Cabernet does a good job of expressing its terroir and climate.
Key Takeaways:
Trusted producers. This isn't the first Delille Cellars wine to come my way via Wine Access. I'm beginning to understand this as a trusted producer of high quality wines. Perhaps more than any other reason, this type of thinking (find trusted, somewhat under the radar producers to share with your members) is what makes all of the Wine Access clubs a great value.
Washington wines straddle old world and new world styles — they usually show balance in acidity and structure and are more subtly fruity than California. This Cabernet is a perfect example of how new world reds can be better than their old world counterparts without being, as the snobs like to say, "overripe."
This wine is from a great AVA to know — Horse Heaven Hills in Columbia Valley. Long known as one of Washington's best Cab regions, Horse Heaven Hills now produces quaffable Cabs at a variety of price points. Some mass-produced selections include H3, Columbia Crest, and 14 Hands, but boutique producers still abound like Quilceda Creek, Alexandria Nicole, and of course, Delille Cellars. Expect strongly concentrated flavors and intensity from Horse Heaven Hills wine.
Some of the grapes in this blend come from a new AVA. Designated in 2020, Candy Mountain is Washington's newest AVA. Its sand and gravel soils resemble Bordeaux's Left Bank. If you're familiar with Red Mountain (another premium Cab region tucked into Washington's Yakima Valley), you should note Candy Mountain is similar (same soil, same high winds).
Who Should Join the Wine Folly Wine Club?
My Wine Access
Benefits Ratings
| | |
| --- | --- |
| Satisfaction Guarantee | |
| Customer Service | |
| Wine Education | |
| Convenience | |
The Wine Folly club is accessible enough for a wine newbie and, uniquely, advanced enough for anyone not already enrolled to become a Master Sommelier themselves. Educators Vanessa Conlin (a Master of Wine) and Madeline Puckette (a Certified Sommelier) are tops in their field and access to their knowledge is worth more than the cost.
I recommend Wine Folly for most wine drinkers, particularly those who would prefer to be presented with a point of view/lesson in each shipment rather than go out and find their own wines.
Wine Folly's club would be especially useful for anyone who earnestly wants to learn more about wine but doesn't really know how to go about doing it without shelling out a lot of dough (and committing a lot of time) to start working on a WSET Diploma or Sommelier certification.
Is Wine Folly Wine Club a good gift?
At this time the Wine Folly Wine Club is not set up for gift memberships. If you want to give this as a gift you'll instead need to sign up and make the payments until you decide it's time to cancel.