Decanter Magazine Wine Club Review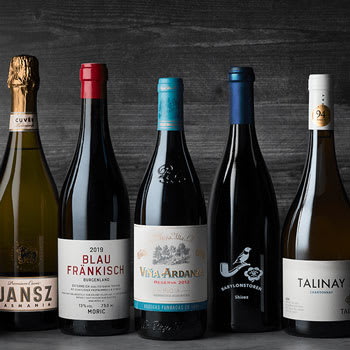 Wine Club Overview & Details
Wine Club Rating:
This wine club is...
Summary
Decanter Magazine wants to bring their favorite wines to an American audience, so they partnered with Wine Access to make it so. Discover six amazing wines from around the world in each shipment. The focus is on quality and value.
What I Like
I was blown away by this shipment. Wine Access impresses more with every single shipment I receive from them. These wines were interesting, relatively unique, and utterly delightful. Between Wine Access and Decanter Magazine, you get a truly excellent wine experience in every box.
Improvements
I have no complaints. Don't hesitate to join this club.
Benefits
Top picks from Decanter Magazine

Unusual, interesting wines

Video tasting notes and producer backstory for every wine

Luxury version available
Drawbacks
Not customizable

No gift option
Decanter Magazine Wine Club delivers to
AK AZ CA CO CT DC FL GA HI ID IL IN IA KS LA ME MD MA MN MO MT NE NV NH NJ NM NY NC ND OH OK OR PA SC TN TX VT VA WA WV WI WY
Don't see your state? Wine Access does not ship there. Browse wine clubs by state.
Join Decanter Magazine Wine Club
FYI: I find great wine deals so you don't have to. To keep me on the hunt, I earn a commission when you buy wine based on my recommendations.
Coupons & Promo Codes
Deal Save $50
Get $25 each of your first two shipments when you join a Decanter Magazine Club. Click for this deal
Decanter Magazine Wine Club Review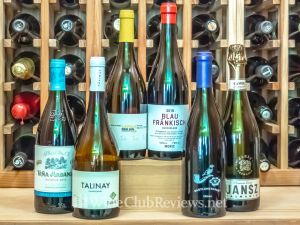 What is the Decanter Wine Club?
Decanter Magazine is Europe's leading wine magazine, with esteemed critics providing a different perspective on wine than their American counterparts. It always feels very formal to me, and I always feel like they know exactly what they're talking about.

The Decanter team tastes thousands of wines each year and the best of them get rated and reviewed for their members-only audience. The team wanted to bring their favorites to a wider (i.e. American) audience and enlisted the help of esteemed wine store and subscription service Wine Access to do so.
Important Update: There were previously two levels of Decanter Wine Club and I received and reviewed the Everyday Excellence level. They have since merged the two versions into one and the quarterly price is $250-300 per shipment for ongoing subscriptions and $300 per shipment for gifts.
When I receive an updated shipment, I'll replace this review with new content altogether. In the meantime, I don't believe any of the substance of this review is now outdated, except my assessment of the Rare Luxuries option (which I didn't receive).
There are two subscription levels for the Decanter wine club. I cover the differences more thoroughly elsewhere in this review, so please keep reading.
Everyday Excellence — Get six bottles of mixed red and white (and sometimes sparkling) wine per shipment, ranging in price from $180 to $225 ($30-37.50 per bottle average), shipping included. Delivered quarterly, cancel or skip a shipment at any time. Shop it
Rare Luxuries — Get six bottles of mixed red and white (and sometimes sparkling) wine per shipment, ranging in price from $475 to $525 ($80-87.50 per bottle average), shipping included. Delivered quarterly, cancel or skip a shipment any time. Shop it
With a lot of wine clubs I review, mostly the ones under $20 a bottle, I put as much of an emphasis on the subscription service itself as I do on the wine. This is because, in this price range, what you're probably really seeking is the convenience of someone else picking the wines you'll drink and auto shipping them to you within your wine budget. It's vital these services offer all the convenience-related bells and whistles, in addition to offering a satisfaction guarantee and of course, good quality for the price range.
That's not what this wine club is about. Side note: Wine Access manages wine subscriptions for several other well-known wine companies (Wine Folly, Sunset Magazine, and The Michelin Guide) and they have the whole convenience thing down pat. So what does that leave? The wine! This wine club is about the dang wine, and with every bottle you open, you'll know it.
How does the Decanter Wine Club work?
Since Decanter is a publisher and not a wine seller, their wine club is a partnership between Decanter and Wine Access. Your club purchases will be managed on wineaccess.com.
The Wine Access wine team is helmed by Vanessa Conlin, a Master of Wine. Her handpicked cadre of amazingly qualified sommeliers and Master of Wine candidates is why Wine Access is a go-to for everything wine for me. Vanessa offers exceptional guidance in the tasting videos provided for every bottle in each shipment and the team has an uncanny ability to source very interesting wines at relatively affordable prices.
About this Decanter Wine Club Review
The Decanter Wine Club is a brand new wine subscription and so far I have reviewed one six-bottle shipment of their Everyday Excellence subscription. I am actively reviewing their service and most recently received a shipment in March of 2022. This review incorporates my Decanter Wine Club experiences and my experience with more than 100 other wine clubs.
Any wine subscription service is about more than just the wine and this review covers all aspects of the service. The key things I look for in a wine club are: How was the wine sourced? Is the wine selection personalized or curated? How often does it ship? How well does the company communicate about shipping and billing? Do they offer a satisfaction guarantee? Are the shipment sizes and wine selection flexible?
I also examine what kind of wine education they offer with their bottles and whether or not a service is set up for good gifting. These aspects are not core to a wine club being worthwhile, but they are important for many would-be members.
Decanter Magazine Wine Review
My Decanter Wine Ratings
| | |
| --- | --- |
| Quality of Wine | |
| Price of Wine | |
| Wine Curation | |
The bulk of this wine review pertains to the Everyday Excellence subscription, which is the shipment I received. At the end of this wine review, I also offer my thoughts on the inaugural Rare Luxuries shipment, but please note I did not taste five of the six wines from that shipment.
The Everyday Excellence club curation is driven by Decanter Magazine's editorial calendar. For example, this shipment focused on wines from a Decanter Top Wines of the Year issue (some were from the 2020 list, some were from the 2021, and without a membership at Decanter Magazine's website, I wasn't able to identify the lists the others came from). In general, you can expect the wines you receive to have been rated highly by Decanter Magazine and are related to the themes presented in their magazine.
Here are the wines I received.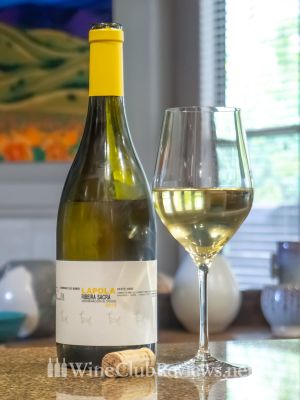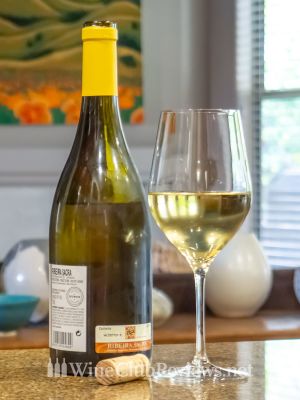 2019 Dominio do Bibei Lapola
Region: Ribeira Sacra, Galicia, Spain
Blend: 75% Godello, 20% Albariño, and 5% Doña Blanca
Retail price: $36
93 pts from Decanter | Video Tasting Notes | Wine Access Write-up
What an interesting wine! Initial impressions of stone fruit and floral notes on the nose made me think of Viognier, but there's very little about how this wine tasted that resembled Viognier. Instead of that honeyed character, there was another (new to me) sensation that could best be described as "waxiness" (Wine Access' word, not mine).
After it opened up for a while, I detected more citrus on the nose and the other aromas faded back. It was bright, but not abrasive, and surprisingly complex for such a young wine. The complexity was significantly influenced by resting on the lees during maturation. The mix of grapes was compelling as I teased out both the Godello (the source of the waxiness) and Albariño, leaving what I assume was the local native, Doña Blanca to sort of fill in the blanks.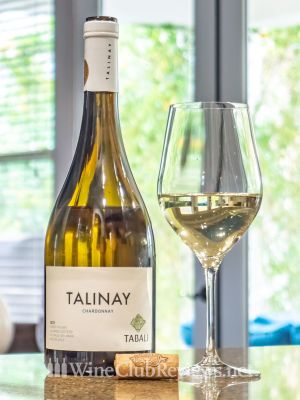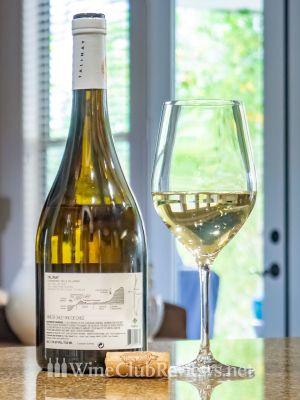 2020 Tabalí Talinay Chardonnay
Region: Limarí Valley, Chile
Blend: 100% Chardonnay
Retail price: $21
96 pts from Decanter | Video Tasting Notes | Wine Access Write-up
This wine is a Chardonnay made in a Burgundian style, but within Burgundy there are different styles. It is a Chablis-style wine characterized by mineral-driven, saline, lemony citrus bursts, bracing acidity, and a light body. The Chablis style is in stark contrast to the "opulence" of excessive oak and butter popular in Côte de Beaune (also Burgundy) and Napa. There are parts of Santa Barbara County where the geographical and geological makeup reflect that of Chablis (limestone soils, cooler temperatures), and now I've learned how the Limarí Valley in Chile is also one of these regions.
Tired of the same old same old, the wine cognoscenti (critics and sommeliers) have turned their attention, and their praise, to this leaner Chablis style (because minimal intervention is also hot and trendy right now). Among other reasons, it is more food friendly.
Food friendly is a good goal for a Chardonnay, but I don't think we need to sing 96-point hosannas for this one — I'm thinking more like 92. It's not balanced enough to be "exceptional." I do love that I learned about a wine region in Chile with limestone soils at the coast — these are the regions my favorite wines often come from.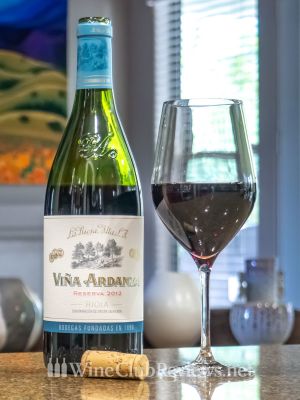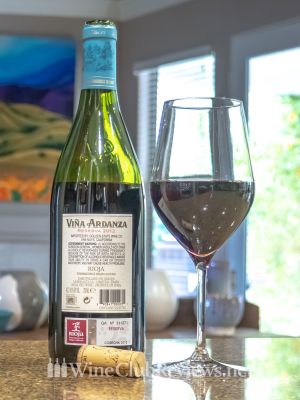 2012 La Rioja Alta Viña Ardanza Reserva
Region: Rioja Alta, Rioja, Spain
Blend: 78% Tempranillo and 22% Garnacha (Grenache)
Retail price: $36
94 pts from Decanter | Video Tasting Notes | Wine Access Write-up
An interesting experience, to be sure. Rioja is an area in Spain with strict definitions about how a wine is labeled — different requirements for time spent in oak barrels and in bottle before release. Rioja Alta (both a region and the winery which produces this wine) is an insider favorite, typically because it offers such great drinking value and ageability.
One of the great things about any of the wine clubs from Wine Access is that you frequently receive wines that have already been aged a little — this wine is an example of what we call a "back vintage" because the 2015 vintage is the current release for this wine. For people unfamiliar with older wines, or those who lack the patience or space to cellar wines themselves, Rioja is a great way to experience aged wine.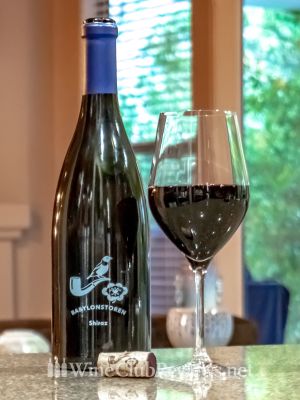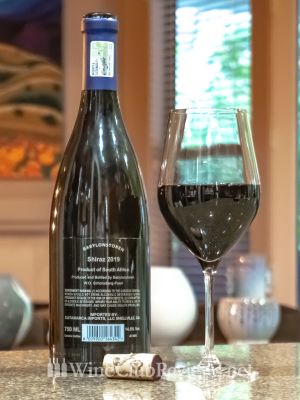 2019 Babylonstoren Shiraz
Region: Simonsberg-Paarl, South Africa
Blend: 100% Shiraz (also called Syrah and Durif)
Retail price: $26
94 pts from Decanter | Video Tasting Notes | Wine Access Write-up
A well balanced wine, this was a rich, deep, beautiful fruit-forward Shiraz — an excellent sipping wine. Brambly black fruit was dominant, with some subtle raspberry fruit in the background. A long slightly vanilla finish was supported by fine-grain tannins. It probably would have been even better in 2-3 more years.
The other imbibers didn't think it tasted like Shiraz, at least compared to what they're familiar with. It was definitely less juicy than California Central Coast Syrah and more fruit forward than Washington, but less smokey/meaty/spicy than Rhône.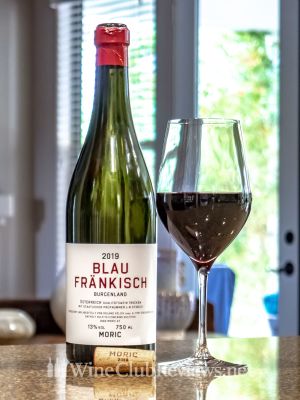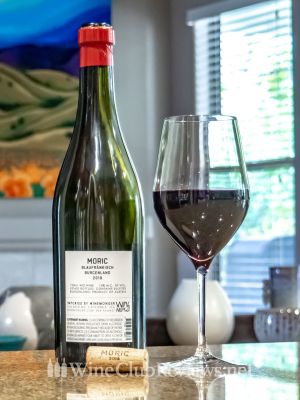 2019 Moric Blaufränkisch
Region: Burgenland, Austria
Blend: 100% Blaufränkisch
Retail price: $32
93 pts from Decanter | Video Tasting Notes | Wine Access Write-up
If you're not already familiar with Blaufränkisch, and who could blame you, it is a medium-bodied red wine that tastes a bit like Pinot Noir had a love child with Mourvèdre (red fruit forward, especially black cherry, mixed with violets and a little spice), and it tends to be brighter than either of those imaginary progenitors. Despite my crude mashup, Blaufränkisch is actually one of the parent grapes for Gamay Noir (which also tastes quite a bit like Pinot Noir). With Pinot Noir and Mourvèdre being two of my four favorite red wine grapes, you can imagine I rather enjoyed this twist on something I'm super familiar with.
The producer refers to this wine as his "entry level" Blaufränkisch, but it's far more sophisticated than what I think of as entry level red wine produced in the new world. Like many of the wines in the Decanter subscription, it is a classic example of this grape, produced in a classic style in its native home, the Burgenland. That's the sort of experience an enthusiastic wine explorer is looking for in a wine club curated by Decanter Magazine and Wine Access.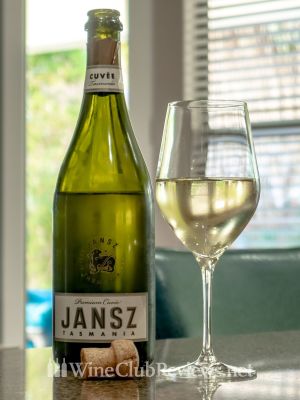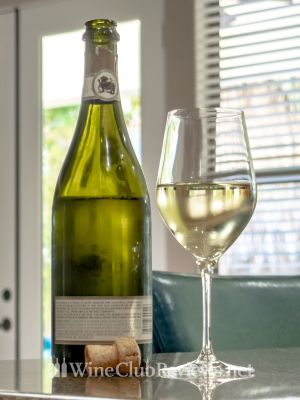 2019 Jansz Premium Cuvée Brut
Region: Tasmania, Australia
Blend: 60% Chardonnay, 40% Pinot Noir
Retail price: $26
94 pts from Decanter | Video Tasting Notes | Wine Access Write-up
A lot of people really love the story of a wine — Wine Access is all about those people. I'm not one of them, but I love Wine Access because, no matter what the backstory, the wine is always great. This sparkler from down under was no exception.
I think what really sucked me in was the 24 months on the lees before bottling. In my experience, wines matured sur lies (on the lees) are always the most interesting to drink — aromatic, complex fruit combinations, strong floral notes, with incredibly long and creamy finishes. This wine was produced in the Méthode Champenoise, however being Tasmanian, they call it Méthode Tasmanoise so as not to confuse the future drinker into thinking it's going to taste like Champagne.
The Rare Luxuries Wine Opinions
For an upgraded experience, Decanter Magazine offers their Rare Luxuries experience. The focus in this subscription, according to Wine Access, is to offer well-known, highly-rated wines that are produced in limited quantities or not widely available. Producer reputation is as much a factor in the selections as is the rating by Decanter.
I asked to see the list of wines shipped at the same time as my Everyday Excellence wines, and I was surprised at what I saw. For starters, I was surprised to find the quite affordable Moric Blaufränkisch ($32) was also shipped in the Rare Luxuries box. Confused by this, I dug into the list of wines included in more detail to better understand what else they'd included.
The shipment was anchored by superstar Champagne Billecart-Salmon's 2008 Brut Rosé Millésimé Champagne Cuvée Elisabeth (retail price $200-250). Decanter gave this just-released Vintage Rosé, already 14 years old, 98 points. This particular Champagne would be among those I would most like to try some day. I love rosé Champagne, I love Billecart-Salmon, and I'm beyond curious about how older Vintage Champagne ages. I don't know if you can call it rare though… When I wrote this review it was available at 54 different American wine sellers. Learn more
The rest of this shipment, in my opinion, could just be called "things we don't drink enough of in the US." Between the aforementioned Austrian Blaufränkisch, a high-end Rioja, Finger Lakes Riesling, an offbeat Super Tuscan, and a South African Cabernet Sauvignon, the list is almost complete. Just tack on some Canadian and Swiss wine (which apparently is nearly 100% consumed within Switzerland) and you could open a new wine store just for underrepresented wine regions.
One wine included in this shipment is certainly a favorite of r/wine Redditors (generally frequented by self-professed wine snobs who work in wine shops) — the Rioja 904. A higher-end wine made by the same producer as the Viña Ardanza included in the Everyday Excellence shipment (La Rioja Alta, S.A.). Their famous Gran Reserva 904, a blend of 89% Tempranillo and 11% Graciano, is only produced in exceptional vintages (the French use the word Millésimé for "very good year"). The one in this shipment is their 2011 vintage, retailing for $55-70, was rated 97 points by Decanter Magazine. Again, I'm not sure we can call this wine rare when I can purchase it from 76 different American wine stores. Learn more
Most Americans don't know it, but the Finger Lakes region in New York produces exceptional Riesling. We don't drink enough Riesling in general, so it's no surprise Finger Lakes flies under the radar outside the northeast. At any rate, Decanter and Wine Access included the 94-point 2016 Red Newt Cellars The Knoll Lahoma Vineyards (retail price $35-40) in their Rare Luxuries box. Now this one strikes me as actually rare — it's already six years old and it's hard to find farther afield than driving distance to the Finger Lakes region. Learn more
Unlike some of the even more well-known high end Italian producers like Sassicaia or Ornellaia, this San Leonardo from the Vigneti Delle Dolomiti IGT (retail price $60-80) is not a typical powerhouse Super Tuscan — it's 60% Cabernet Sauvignon mixed with 30% Carménère and 10% Merlot. And it earned 93 pts from Decanter and it is the winery's flagship wine (usually called a grand vin in France). Learn more
Another harder to find bottle — because as I said earlier we don't drink enough South African wine in the US —the 2019 Vilafonte Seriously Old Dirt Red from Paarl has an interesting backstory (most Wine Access wines do). The team who produces this Cab-dominant Bordeaux blend is Napa royalty (a winemaker from Mondavi in the 1970s who also mentored Paul Hobbs, and partner who designed the first Opus One vineyards). Retail price is $35-40. Learn more
Who Should Join the Decanter Wine Club?
My Decanter
Benefits Ratings
| | |
| --- | --- |
| Satisfaction Guarantee | |
| Customer Service | |
| Wine Education | |
| Convenience | |
Frankly, I think any adventurous wine drinker who appreciates high quality, unique wines and is able to afford $35 per bottle every other week should join. I was positively blown away by the selection and the quality-to-price ratio. Specifically:
If you want to try what the critics think are the best wines and the best values
If you want to try wines that are unusual in the US because they're just not produced in large quantities or not frequently imported
If you want to pair great wine with your homecooked masterpieces
I'm not sure I understand who the right audience for the Rare Luxuries club is. I can think of a few other options that are more what I'd expect from a luxury wine club.
Decanter Wine Club Pros & Cons
There are no cons. Only pros. Okay, maybe one con… six bottles every three months isn't going to sustain your wine drinking habit if you end up loving this club as much as I do.
Pros for the Everyday Excellence Club
Six bottles of wine you'd be hard-pressed to research and procure on your own
A compelling backstory for most of the wines
Real tasting notes and tasting videos for every wine in every shipment, featuring Master of Wine Vanessa Conlin (cheat: you don't need a membership to get schooled, just check out their YouTube channel)
10% off all other purchases at Wine Access (trust me, you'll be excited to shop there)
"If any wine fails to impress, we'll credit that bottle" is their published satisfaction guarantee
Cons for the Decanter Rare Luxuries Wine Club
The selection doesn't seem coherent to me (at least in this first shipment). It's not priced consistently (wines range from $36 to $230) and most of the included wines aren't that rare. If they were shipping more wines like the Finger Lakes Riesling and the South African Cab, I'd be more enthusiastic.
Is Decanter Wine Club a good gift?
Yes! All of the Wine Access memberships are now available as gifts — among the best wine club gifts on the market. The Decanter Magazine Wine Clubs make wonderful gifts for wine enthusiasts of all levels.
One of those weird, behind-the-scenes aspects of wine clubs is that the shipment prices for the better wine clubs typically vary. The companies don't want to be beholden to a specific price and would rather curate the right shipment. This makes gift-giving complicated because you're prepaying for a number of shipments, even when the company hasn't priced out some of those future shipments.
To deal with this, Wine Access has, unsurprisingly, enacted something unique and honorable in their wine club gift program. As the gift-giver, you pay the maximum expected price range, but at the end of the gift membership, the giftee will receive a gift card for the remaining balance (the difference between the maximum possible price and the actual price a member would have paid). Every dollar you spend on your gift goes to the recipient (especially since shipping is included).
For the Decanter Club, you can give the following gift subscriptions, delivered every three months:
Two Everyday Excellence shipments for $440; Two Rare Luxuries shipments for $1050
Four Everyday Excellence shipments for $880; Four Rare Luxuries shipments for $2100
Six Everyday Excellence shipments for $1320; Six Rare Luxuries shipments for $3150
Eight Everyday Excellence shipments for $1770; Eight Rare Luxuries shipments for $4200
Additionally, you can choose the date your gift recipient receives notice (via email) of their incoming gift. This date can be selected up to twelve weeks ahead of time (in case you're proactively gift shopping).
This detail is especially important because the gift recipient's membership doesn't start until they receive the gift notice email AND sign up for a Wine Access account to redeem the subscription. The gift recipient has six months to establish that account and claim the gift.
Decanter Magazine Wine Club