Decanter Magazine Wine Club Review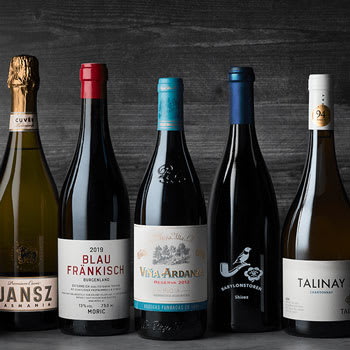 Wine Club Overview & Details
Wine Club Rating:
This wine club is...
Summary
Decanter Magazine wants to bring their favorite wines to an American audience, so they partnered with Wine Access to make it so. Discover six amazing wines from around the world in each shipment. The focus is on quality and value.
What I Like
I was blown away by this shipment. Wine Access impresses more with every single shipment I receive from them. These wines were interesting, relatively unique, and utterly delightful. Between Wine Access and Decanter Magazine, you get a truly excellent wine experience in every box.
Improvements
I have no complaints. Don't hesitate to join this club.
Benefits
Top picks from Decanter Magazine

Unusual, interesting wines

Video tasting notes and producer backstory for every wine

Luxury version available
Drawbacks
Not customizable

No gift option
Decanter Magazine Wine Club delivers to
AK AZ CA CO CT DC FL GA HI ID IL IN IA KS LA ME MD MA MN MO MT NE NV NH NJ NM NY NC ND OH OK OR PA SC TN TX VT VA WA WV WI WY
Don't see your state? Wine Access does not ship there. Browse wine clubs by state.
Join Decanter Magazine Wine Club
FYI: I find great wine deals so you don't have to. To keep me on the hunt, I earn a commission when you buy wine based on my recommendations.
Coupons & Promo Codes
Deal Save $50
Get $25 each of your first two shipments when you join a Decanter Magazine Club. Click for this deal
Decanter Magazine Wine Club Review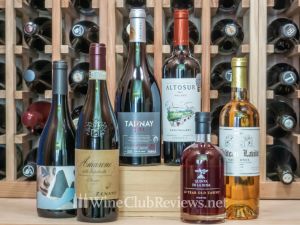 With a lot of wine clubs I review, mostly the ones under $20 a bottle, I put as much of an emphasis on the subscription service itself as I do on the wine. This is because, in this price range, what you're probably really seeking is the convenience of someone else picking the wines you'll drink and auto shipping them to you within your wine budget. It's vital these services offer all the convenience-related bells and whistles, in addition to offering a satisfaction guarantee and of course, good quality for the price range.
That's not what this wine club is about.
Sidebar: Wine Access manages wine subscriptions for several other well-known wine companies (Sunset Magazine, Wine for Normal People, and The Michelin Guide) and they have the whole convenience thing down pat. So what does that leave? The wine!
This wine club is about the dang wine, and with every bottle you open, you'll know it.
How does the Decanter Wine Club work?
Since Decanter is a publisher and not a wine seller, their wine club is a partnership between Decanter and Wine Access. Your club purchases will be managed on wineaccess.com.
The Wine Access wine team is a cadre of amazingly qualified sommeliers and Master of Wine candidates is why Wine Access is a go-to for everything wine for me. These exceptional wine professionals provide guidance in the tasting videos for every bottle in each shipment and the team has an uncanny ability to source very interesting wines at relatively affordable prices.
About this Decanter Wine Club Review
So far I have reviewed two six-bottle shipments of the Decanter Wine Club. I am actively reviewing their service and most recently received a shipment in March of 2023. This review incorporates my Decanter Wine Club experiences and my experience with more than 100 other wine clubs.
Any wine subscription service is about more than just the wine and this review covers all aspects of the service. The key things I look for in a wine club are: How was the wine sourced? Is the wine selection personalized or curated? How often does it ship? How well does the company communicate about shipping and billing? Do they offer a satisfaction guarantee? Are the shipment sizes and wine selection flexible?
I also examine what kind of wine education they offer with their bottles and whether or not a service is set up for good gifting. These aspects are not core to a wine club being worthwhile, but they are important for many would-be members.
Decanter Magazine Wine Review
My Decanter Wine Ratings
| | |
| --- | --- |
| Quality of Wine | |
| Price of Wine | |
| Wine Curation | |
Roughly a year after I reviewed my first shipment of the Decanter Magazine wine subscription, Wine Access updated the format of the club. The first shipment contained interesting wines that I was glad to have tried.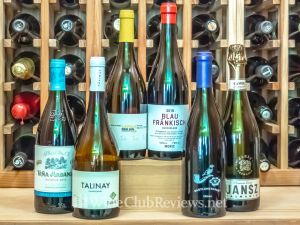 The second shipment, under the reorganized structure, blew me away. I loved every single wine in the shipment, and each was an incredible example of the diversity of winemaking and viticulture around the world.
In the reimagined version of this Decanter Wine Club, wines are sourced from the Decanter organization's favorite picks. These come from both their magazine and their eponymous Decanter World Wine Awards. While the Decanter team considers anything 92 points or higher as top-scoring, the club shipments typically include wines scoring 94 points or more. Several of the wines I received were 97 points.
In 14 years of reviewing wine clubs, I have never said what I'm about to: I honestly wish I could get two of each bottle in my shipments — I need one to try now and one to lay down until it is properly aged. These wines were all exceptional to drink now, but several of them have significant aging potential and would be amazing to try again 5, 10, or even 15 years from now.
Here are the wines I received.
The first six are from the second shipment, and the last five are from the first shipment. Get even more info about each wine in my full wine reviews or by clicking the links below. The sixth wine from my first shipment was an amazing Chardonnay.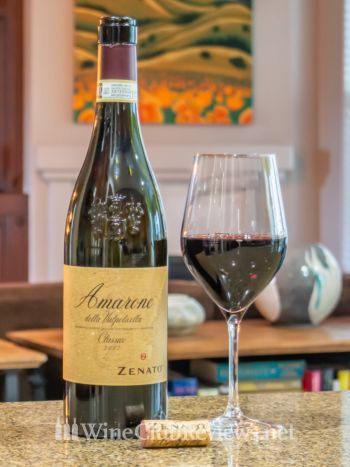 Wine: 2017 Amarone Classico della Valpolicella
Blend: 85% Corvina Veronese, 10% Rondinella, 5% Oseleta and Croatina
Region: Amarone della Valpolicella DOCG (Classico), Veneto, Italy
Retail price: $69.99
Wine Access price: $57
Decanter score: 96 points (Decanter Magazine)

This wine was magnificent and has made me completely rethink what I know of Amarone. The critics were mesmerized and so was I.

The wine was intense, complex, bold, smooth, just bordering on tannic. It reminded me of Syrah, but offered even more to think about.

My full review of: Amarone Classico della Valpolicella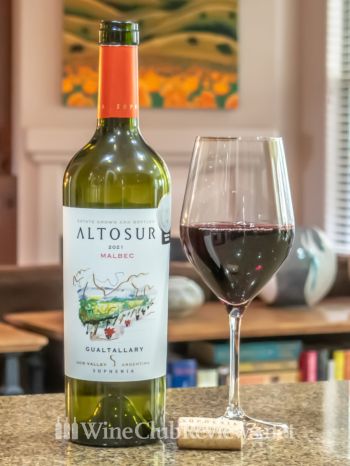 Wine: 2021 Sophenia Altosur Malbec
Blend: 100% Malbec
Region: Gualtallary, Uco Valley, Argentina
Retail price: $15
Wine Access price: $18
Decanter score: 97 points (Decanter World Wine Awards) & 94 points (Decanter Magazine)

It is really rare I find a red wine under $15 I like. This Malbec — not cloying, flabby, or oaky — proves you can make great red wine at this price.

I found this Malbec to be food-friendly, not oaky or sweet, it was very bright, slightly dusty but with smooth tannins, and well balanced. The 2021 Sophenia was not especially fruity.

My full review of: Sophenia Altosur Malbec
Wine: 2018 Talinay Pai
Blend: 100% Pinot Noir
Region: Talinay Vineyard, Limarí Valley, Coquimbo, Chile
Retail price: $65
Wine Access price: $65
Decanter score: 97 points (Decanter Magazine)

Talinay is like Bourgogne in Chile, but with a fruit forward, new world sensibility. This is a winery to know if you like Pinot Noir (or Chablis-style Chardonnay)

I loved this wine. The nose offered eucalyptus and black cherry, and flavors of cherries, berries, and subtle spice. A light-bodied wine with an incredibly long finish, it was bright, had smooth tannins, and coated my mouth in the most delightful way.

My full review of: Talinay Pai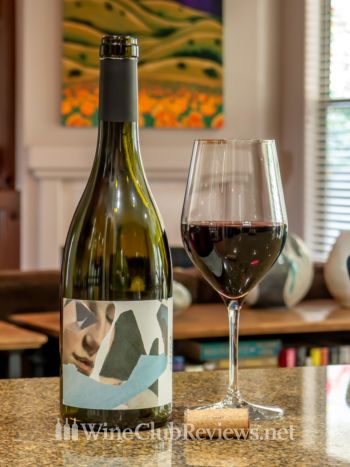 Wine: 2019 Milo
Blend: 70% Syrah, 10% Carignan, 10% Grenache, 10% Mourvèdre
Region: Minervois La Livinière, Minervois, Languedoc-Roussillon, France
Retail price: $24
Wine Access price: $24
Decanter score: 97 points (Decanter World Wine Awards)

This delightful, balanced, and unique red wine offered savoriness and tart cherry, after slightly sweet butter cookies. Wrapped up with a cherry bomb at the back of the mouth.

A quirky, delightful, not-quite-Rhône blend reminiscent of the Northern Rhône valley (relatively far away from Minervois), this Syrah-dominant blend will quench the thirst of anyone who loves the signature savoriness those wines offer.

My full review of: Milo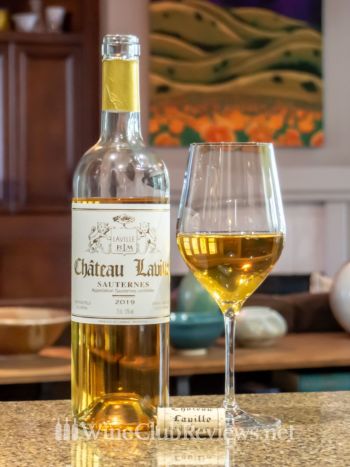 Wine: 2019 Château Laville Sauternes
Blend: 85% Sémillon, 13% Sauvignon Blanc, 2% Muscadelle
Region: Sauternes, Bordeaux, France
Retail price: $44
Wine Access price: $44
Decanter score: 97 points (Decanter World Wine Awards)

From the moment we opened this bottle containing orange-colored and even orange-smelling wine (not the same as the "orange wine" fad), I knew we were in for something different.

There was a creaminess and a complexity that floated around my mouth with this viscous wine. The orange/tangerine marmalade dream was accompanied by butterscotch and honey.

My full review of: Château Laville Sauternes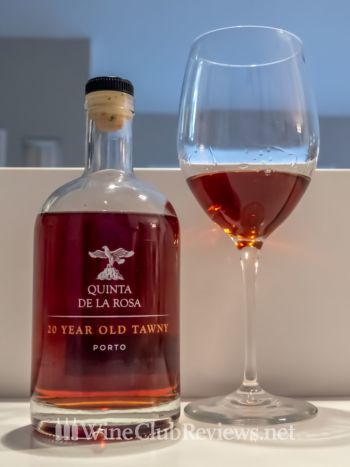 Wine: NV 20-Year Old Tawny Port (500mL)
Blend: Touriga Nacional, Touriga Franca, Sousão, Tinta Roriz (in undisclosed volumes)
Region: Vale do Inferno Vineyard, Douro, Portugal
Retail price: $50
Wine Access price: $45
Decanter score: 95 points (Decanter Magazine)

This wine has changed my mind about whether or not I want to explore Port wine.

For all of us in the tasting group, there was a strong taste of maple. It was not overly sweet, but definitely had a sweetness to it. I'd happily drink this again.

My full review of: 20-Year Old Tawny Port (500mL)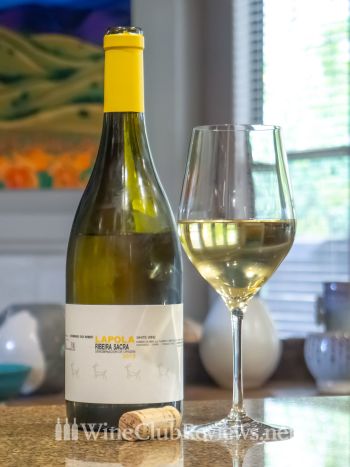 Wine: 2019 Lapola
Blend: 75% Godello, 20% Albariño, and 5% Doña Blanca
Region: Ribeira Sacra, Galicia, Spain
Retail price: $36

What an interesting wine! Initial impressions of stone fruit and floral notes on the nose. The honeyed character made me think of Viognier, but it was different... "waxiness."

The mix of grapes was compelling as I teased out both the Godello (the source of the waxiness) and Albariño, leaving what I assume was the local native, Doña Blanca to sort of fill in the blanks.

My full review of: Lapola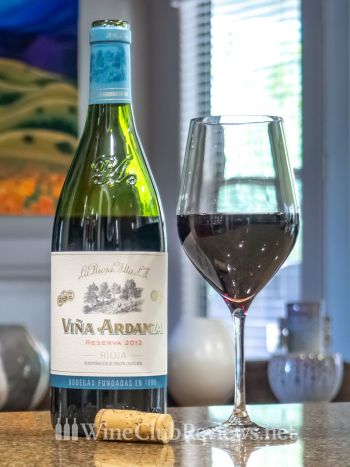 Wine: 2012 Viña Ardanza Reserva
Blend: 78% Tempranillo and 22% Garnacha (Grenache)
Region: Rioja Alta, Rioja, Spain
Retail price: $36

Rioja Alta (both a region and the winery which produces this wine) is an insider favorite, typically because it offers such great drinking value and ageability.

The 2015 vintage is the current release for this wine. For people unfamiliar with older wines, or those who lack the patience or space to cellar wines themselves, Rioja is a great way to experience aged wine.

My full review of: Viña Ardanza Reserva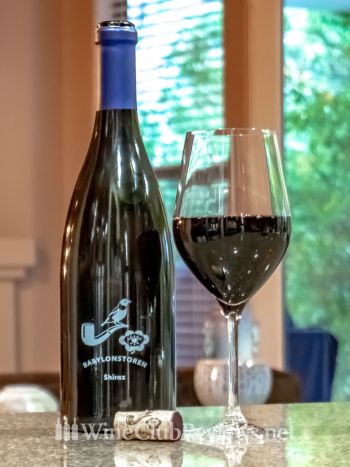 Wine: 2019 Babylonstoren Shiraz
Blend: 100% Shiraz (also called Syrah and Durif)
Region: Simonsberg-Paarl, South Africa
Retail price: $26

Well-balanced, rich, deep, beautiful fruit-forward Shiraz — an excellent sipping wine. Brambly black fruit was dominant, with some subtle raspberry fruit in the background. A long slightly vanilla finish was supported by fine-grain tannins.

The other imbibers didn't think it tasted like Shiraz, at least compared to what they're familiar with. It was definitely less juicy than California Central Coast Syrah and more fruit forward than Washington, but less smokey/meaty/spicy than Rhône.

My full review of: Babylonstoren Shiraz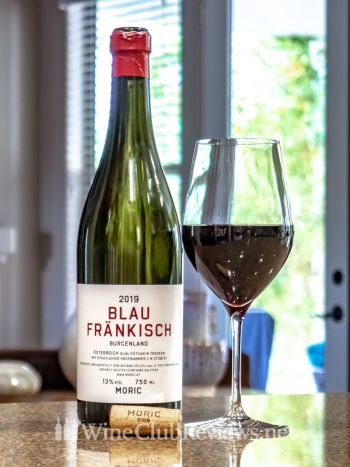 Wine: 2019 Moric Blaufränkisch
Blend: 100% Blaufränkisch
Region: Burgenland, Austria
Retail price: $32

A medium-bodied red wine that tastes a bit like Pinot Noir had a love child with Mourvèdre (red fruit forward, especially black cherry, mixed with violets and a little spice), and it tends to be brighter than either of those imaginary progenitors.

The producer refers to this wine as his "entry level" Blaufränkisch, but it's far more sophisticated than what I think of as entry level red wine produced in the new world.

My full review of: Moric Blaufränkisch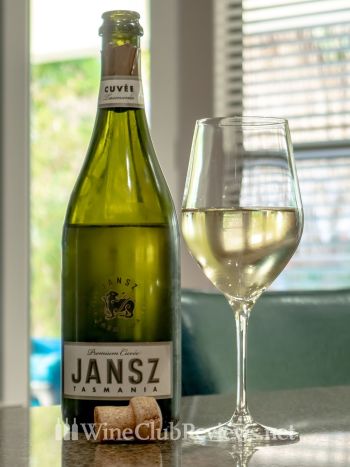 Wine: 2019 Premium Cuvée Brut
Blend: 60% Chardonnay, 40% Pinot Noir
Region: Tasmania, Australia
Retail price: $26

Wines, like this one, matured sur lie (on the lees) are always the most interesting to drink — aromatic, complex fruit combinations, strong floral notes, with incredibly long and creamy finishes.

This wine was produced in the Méthode Champenoise, however being Tasmanian, they call it Méthode Tasmanoise so as not to confuse the future drinker into thinking it's going to taste like Champagne.

My full review of: Premium Cuvée Brut
Who Should Join the Decanter Wine Club?
My Decanter
Benefits Ratings
| | |
| --- | --- |
| Satisfaction Guarantee | |
| Customer Service | |
| Wine Education | |
| Convenience | |
Frankly, I think any adventurous wine drinker who appreciates high quality, unique wines and is able to afford a $50 per bottle every other week should join. I was positively blown away by the selection and the quality-to-price ratio. Specifically:
If you want to try what the critics think are the best wines and the best values
If you want to try wines that are unusual in the US because they're just not produced in large quantities or not frequently imported
If you want to pair great wine with your homecooked masterpieces
If you want wines you can just sip on and remark about their complexity
Decanter Wine Club Pros & Cons
There are no cons. Only pros. Okay, maybe one con… six bottles every three months isn't going to sustain your wine drinking habit if you end up loving this club as much as I do.
Pros
Six bottles of wine you'd be hard-pressed to research and procure on your own
A compelling backstory for most of the wines
Real tasting notes and tasting videos for every wine in every shipment (cheat: you don't need a membership to get schooled, just check out their YouTube channel)
10% off all other purchases at Wine Access (trust me, you'll be excited to shop there)
"If any wine fails to impress, we'll credit that bottle" is their published satisfaction guarantee
Cons
I honestly don't have any. It's not customizable? But, um, the curation is the whole point!
Is Decanter Wine Club a good gift?
Yes! All of the Wine Access memberships are now available as gifts — among the best wine club gifts on the market. The Decanter Magazine Wine Clubs make wonderful gifts for wine enthusiasts of all levels.
One of those weird, behind-the-scenes aspects of wine clubs is that the shipment prices for the better wine clubs typically vary. The companies don't want to be beholden to a specific price and would rather curate the right shipment. This makes gift-giving complicated because you're prepaying for a number of shipments, even when the company hasn't priced out some of those future shipments.
To deal with this, Wine Access has, unsurprisingly, enacted something unique and honorable in their wine club gift program. As the gift-giver, you pay the maximum expected price range, but at the end of the gift membership, the giftee will receive a gift card for the remaining balance (the difference between the maximum possible price and the actual price a member would have paid). Every dollar you spend on your gift goes to the recipient (especially since shipping is included).
For the Decanter Club, you can give the following gift subscriptions, delivered every three months:
Two shipments for $600
Four shipments for $1200
Six shipments for $1800
Eight shipments for $2400
Additionally, you can choose the date your gift recipient receives notice (via email) of their incoming gift. This date can be selected up to twelve weeks ahead of time (in case you're proactively gift shopping).
This detail is especially important because the gift recipient's membership doesn't start until they receive the gift notice email AND sign up for a Wine Access account to redeem the subscription. The gift recipient has six months to establish that account and claim the gift.
Decanter Magazine Wine Club