Quinta de la Rosa 20-Year Old Tawny Port (500mL) Review
For all of us in the tasting group, there was a strong taste of maple. It was not overly sweet, but definitely had a sweetness to it. I'd happily drink this again.
Wine review by: Jessyca Frederick |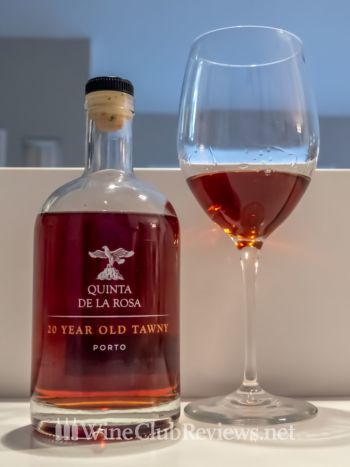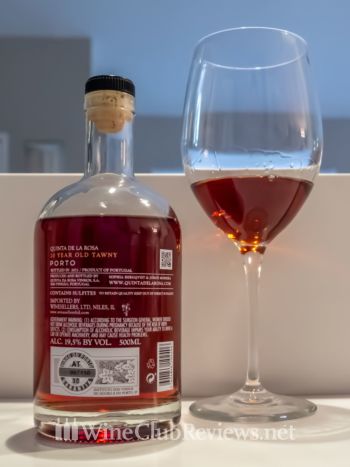 FYI: I find great wine deals so you don't have to. To keep me on the hunt, I earn a commission when you buy wine based on my recommendations.
About this Wine
Wine: NV 20-Year Old Tawny Port (500mL)
Blend: Touriga Nacional, Touriga Franca, Sousão, Tinta Roriz (in undisclosed volumes)
Region: Vale do Inferno Vineyard, Douro, Portugal
Retail price: $50
Wine Access price: $45
Decanter score: 95 points (Decanter Magazine)
I consumed it: March 2023
My source: The Decanter Magazine Wine Club by Wine Access
20-Year Old Tawny Port (500mL): What I think
It's fairly unusual to receive dessert wine in a wine club shipment — there aren't even any Dessert Wine Clubs to join! So that we received two in this Decanter shipment surprised us. Since our limited experiences with Port have been subpar (though we like late harvest wines), we weren't sure what to expect from this experiment.
I should have known better. Wine Access doesn't disappoint and all of the other wines from this shipment were exceptional, I really should have known better. This wine has changed my mind about whether or not I want to explore Port wine.
Port has more alcohol in it than wine, this one was around 19.5% ABV, and therefore almost tastes like a sherry or a mild whisky. For all of us in the tasting group, there was a strong taste of maple (which is a good thing, three out of the four of us are Canadian) and specifically brought to mind a maple-infused Amber Liqueur from The Macallan which three of the four of us had been obsessed with 15 years ago. It was not overly sweet, but definitely had a sweetness to it.
While I can't wax poetic as I lack enough experience with Port to do it justice, I'd happily drink this again.
There is a lot information floating around the Interwebs regarding how long you can leave a port open once you've cracked the seal. Quinta de la Rosa offers some information specific to their own wines (which I found confusing), but we kept it around a few days after opening (with the cork in it) and it was not as good as it was when first opened.
Notice: I hold no formal wine credentials. I am a wine geek who has consumed 1000+ of bottles from 100+ different wine clubs and 1000s more bottles that didn't come from those wine clubs. I do not accept payment for wine reviews, and I do not accept payments to influence my opinions. I happily accept free wine (and I buy wine).
Why read my wine reviews: Wine taste is subjective. What I like may not be what you like. I try to leave room for you to form your own opinions, so I don't provide a score or a rating. I do point out wines that are an incredible value or truly not worth the money. I note flaws, wines that don't have typicity (because this matters if you are buying wine without having tasted it yourself), when wines are out of balance, and when wines lack appropriate body.
I don't like wasting money (or anything for that matter). I'm careful about where I spend my money and my mindset as a reviewer is to be careful about where you spend yours. I don't believe a high price tag equals quality and I know for sure there are wines of very good quality that are also a great value.
Learn more about me or get in touch.