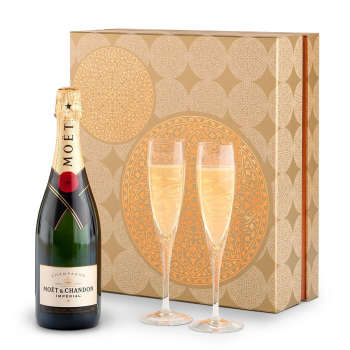 Moët & Chandon Champagne & Flutes Gift Set
A bottle of popular Champagne with two crystal flutes in an elegant gift box
$109.95
Buy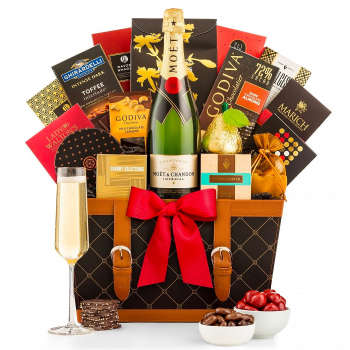 Champagne Wishes Gift Basket
A lovely gift basket with a bottle of Moet & Chandon Imperial Champagne and tasty treats
$179.95
Buy
Six Bottle Moët & Chandon Grand Vintage Collection
A wonderful way to discover the variety of Champagne produced by Moët & Chandon
$453.00
Buy
Moët & Chandon Champagne & Flutes Gift Set
$109.95 plus shipping
Why This Gift
A bottle of popular Champagne with two crystal flutes in an elegant gift box
True Champagne is usually quite expensive, but this Moet & Chandon Imperial gift set isn't just affordable, it's elegant. The genuine crystal champagne flutes are a nice touch, and make this gift of champagne ready for a toast at any time.
About the Wine
NV Moët & Chandon Impérial Champagne

"An elegant color, golden straw yellow with green highlights. A sparkling bouquet. The vibrant intensity of green apple and citrus fruit. The freshness of mineral nuances and white flowers. The elegance of blond notes (brioche, cereal, fresh nuts)." — Information provided by Moët & Chandon
Delivers To
GiftTree.com delivers wine gifts to
AK, AZ, CA, CT, DC, HI, ID, IL, MI, MN, MO, NH, OH, OR, SC, VA, WA, WY
Champagne Wishes Gift Basket
$179.95 includes shipping
Why This Gift
A lovely gift basket with a bottle of Moet & Chandon Imperial Champagne and tasty treats
This gift basket in a reusable leather serving tray comes chock full of delicious snacks to accompany this popular Champagne. They'll enjoy dried fruits, chocolate wafers, camembert cheese, crostini, fresh almonds, and more.
About the Wine
NV Moët & Chandon Impérial Champagne

"An elegant color, golden straw yellow with green highlights. A sparkling bouquet. The vibrant intensity of green apple and citrus fruit. The freshness of mineral nuances and white flowers. The elegance of blond notes (brioche, cereal, fresh nuts)." — Information provided by Moët & Chandon
Delivers To
GiftTree.com delivers wine gifts to
AK, AZ, CA, CT, DC, HI, ID, IL, MI, MN, MO, NH, OH, OR, SC, VA, WA, WY
Six Bottle Moët & Chandon Grand Vintage Collection
$453.00 plus shipping
Why This Gift
A wonderful way to discover the variety of Champagne produced by Moët & Chandon
Moët & Chandon Champagne reflects a faith in simplicity and nature based on respect for the grape.

Included in this premium Moët & Chandon Collection:
Moët Chandon Impérial
Moët Chandon Rosé Impérial
Moët Chandon Nectar Impérial
Moët Chandon Nectar Impérial Rosé
Moët Chandon Grand Vintage Blanc
Moët Chandon Grand Vintage Rosé

Vintages vary by location. The current vintage in stock will be shipped. All items will be shipped together. Bottle Size: 750ml
About the Wine
NV Moët & Chandon Impérial Champagne

"An elegant color, golden straw yellow with green highlights. A sparkling bouquet. The vibrant intensity of green apple and citrus fruit. The freshness of mineral nuances and white flowers. The elegance of blond notes (brioche, cereal, fresh nuts)." — Information provided by Moët & Chandon
NV Moët Chandon Rosé Impérial

"A glowing color, pink with amber highlights. A bewitching bouquet. A lively, intense bouquet of red fruits (wild strawberry, raspberry, cherry). Floral nuances of rose. A slight hint of pepper." — Information provided by Moët & Chandon
NV Moët Chandon Nectar Impérial

"An intense color, bold yellow with golden highlights. A rich bouquet. A burst of exotic fruits (pineapple, mango). The roundness of stonefruits (mirabelle plum, apricot). A slight hint of vanilla." — Information provided by Moët & Chandon
NV Moët Chandon Nectar Impérial Rosé

"A bright color, coral color with intense rose gold reflections. An intense nose. The intense fruitiness of mature red fruits, strawberry soup, raspberry, pomegranate. Notes of sweet spices (vanilla, brown sugar). Hints of fresh mint." — Information provided by Moët & Chandon
2012 Moët Chandon Grand Vintage Blanc

"A shimmering color: Bright, pale yellow with glints of green, and fine, persistent bubbles. A bouquet characterized by freshness. The first impression is that of an obvious and reassuring maturity. Initial notes of fresh white flowers evolve towards sweet, fragrant pastries, with occasional scents of fresh walnuts, hazelnuts and biscuits. In parallel, the fruit is crisp, freshly ripened, with aromas of pear, white peach and nectarine." — Information provided by Moët & Chandon
2012 Moët Chandon Grand Vintage Rosé

"A shimmering color: Coral pink with glints of orange, and fine, persistent bubbles. A bouquet characterized by freshness. Initially offering refreshing notes of pink grapefruit and blood orange, followed by small red stone fruit such as morello cherries, finishing with more vegetal notes of wild strawberries and rhubarb." — Information provided by Moët & Chandon
Delivers To
Reserve Bar delivers wine gifts to
AZ, CA, CO, CT, DC, FL, ID, IL, IA, LA, MD, MA, MI, MO, NE, NV, NH, NJ, NC, ND, OH, RI, SC, TX, VT, VA, WA, WI, WY