Michi Lorenz Sausaler Klassik Zweigelt Review
When I think about an acidic red, I immediately think of Italian food, particularly the types with a lot of tomatoes. It was perfect with my homemade pasta sauce, but if you're more casual, it might have gone well with a red-sauce pizza, too.
Wine review by: Jessyca Frederick |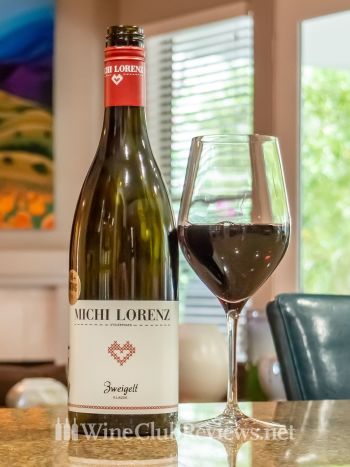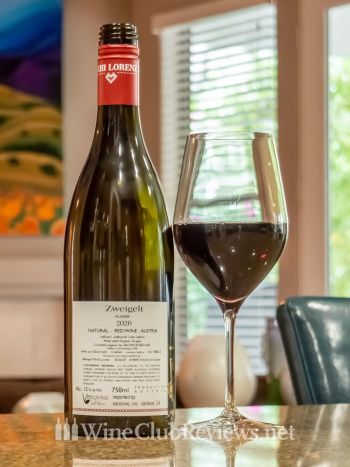 FYI: I find great wine deals so you don't have to. To keep me on the hunt, I earn a commission when you buy wine based on my recommendations.
About this Wine
Wine: 2020 Michi Lorenz Sausaler Klassik Zweigelt
Blend: 100% Zweigelt
Winery: Michi Lorenz
Region: Styria (Steiermark), Austria
Cases produced: 160
Retail price: $42
I consumed it: September 2022
My source: The International Series of The California Wine Club
Where to Buy It
Save 50% on membership
Save 50% on your first shipment. Use code WCRHALF at checkout.
Bonus Bubbly
Gift a give of 3 months or more and they'll receive a bonus bottle of Sparkling Wine ($55 value) in their first shipment. Get this deal
Save 10%
Save 10% on wine club gifts. Use code YES10 at checkout.
Free Gift Crate Presentation
Give any gift of two months or longer and their first shipment will arrive in an upgraded wooden crate. Use code CRATE at checkout.
Discover More
Region: Austria
Wine color/style: Red wine
Grape variety or blend: Sauvignon blanc
Tasting notes: Fruity, Blackberry, Cherry, Vanilla, Bright
Other characteristics: Small production, Organic, Organically farmed, Natural
Michi Lorenz Sausaler Klassik Zweigelt: What I think
Michi Lorenz isn't just the winery's name, he's the winemaker, too. His family has been growing wine grapes in this area of Austria (Sausal, a small, hilly part of southern Styria in the Südsteiermark region) for more than 500 years — and in 1524 the winemaker paid his taxes with wine! The vineyard is biodynamically farmed and is Demeter certified. And as far as I can tell, there's pretty much nowhere in the US to buy this wine, except from The California Wine Club and the wine's importer Vero Vino.
Styria (known as Steiermark in Austria) is having a moment in the wine world. The region is becoming well-known among natural wine enthusiasts, a group known for coveting anything unusual in addition to wines that adhere to the loose principles of what it means to be natural wine.
One of the reasons Styria is getting popular is that importers, restaurants, and retailers all want to get the attention (and serve) those natural wine customers. According to natural wine importer Jenny Francois, "These growers are very serious about how they work their vines: the level of attention to detail, to nature, to winemaking — their precision and the way they push themselves to do better every year."
This was not my first Zweigelt and I was excited to see it appear in this shipment. I love Pinot Noir and Zweigelt has similar characteristics, but is more acidic. It was as expected. The palate was "fruity with blackberry, cherry," and a hint of vanilla from the oak.
When I think about an acidic red, I immediately think of Italian food, particularly the types with a lot of tomatoes. Tomatoes are acidic on their own and need a bright wine to stand up to them, otherwise the wine tastes flat. We paired it with a spinach and ricotta ravioli for which I made a topping from canned tomatoes (and lots of garlic and herbs). It was perfect with that dish, but if you're more casual, it might have gone well with a red-sauce pizza, too.
Notice: I hold no formal wine credentials. I am a wine geek who has consumed 1000+ of bottles from 100+ different wine clubs and 1000s more bottles that didn't come from those wine clubs. I do not accept payment for wine reviews, and I do not accept payments to influence my opinions. I happily accept free wine (and I buy wine).
Why read my wine reviews: Wine taste is subjective. What I like may not be what you like. I try to leave room for you to form your own opinions, so I don't provide a score or a rating. I do point out wines that are an incredible value or truly not worth the money. I note flaws, wines that don't have typicity (because this matters if you are buying wine without having tasted it yourself), when wines are out of balance, and when wines lack appropriate body.
I don't like wasting money (or anything for that matter). I'm careful about where I spend my money and my mindset as a reviewer is to be careful about where you spend yours. I don't believe a high price tag equals quality and I know for sure there are wines of very good quality that are also a great value.
Learn more about me or get in touch.