Naked Wines Franc Dušak Viognier Review
Franc Dušak is a third-generation Slovenian winemaker working with Sonoma grapes and Slovenian grapes. This wine was uninspiring, but still a solid alternative to mass-market white wines available around $15.
Wine review by: Jessyca Frederick |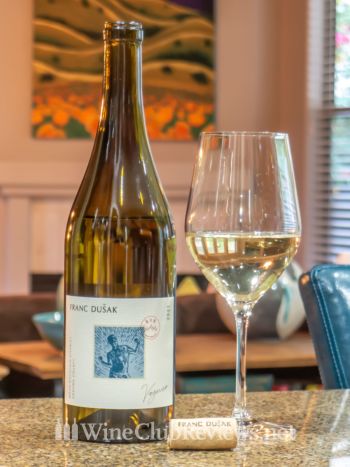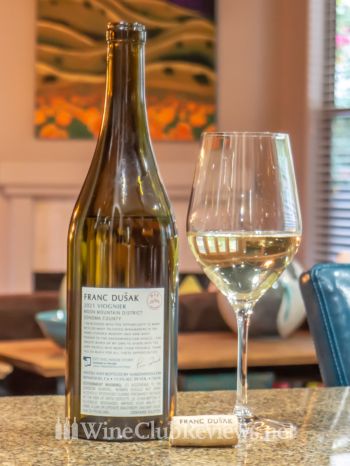 FYI: I find great wine deals so you don't have to. To keep me on the hunt, I earn a commission when you buy wine based on my recommendations.
About this Wine
Wine: 2021 Franc Dušak Viognier
Blend: 100% Viognier
Region: Moon Mountain District, Sonoma Valley, California
Retail price: $28.99
Angel price: $15.99
Angels who would buy again: 93% of 164
I consumed it: February 2023
My source: Nakedwines.com
The Back Label
Franc Dušak Viognier: What I think
Viognier, one of the primary white wine varieties of the Rhône Valley in France, has a bit of a polarizing reputation. I've heard people say "I've never understood what the fuss is," to which I respond, "then you've never had a good Viognier."
I like my Viognier richly flavored, full-bodied, viscous, floral, and honeyed. Most of the Viognier I drink comes from Paso Robles or Ballard Canyon in Santa Barbara County. Sometimes it has bitter notes and sometimes it's pure magic. Either way, Viognier makes you think about the wine a little, encouraging you to contemplate what makes a great wine.
Or at least it should. This one could best be described as Viognier-light. It was light in color and body compared to a typical sample, especially from California. For me, it's a perfect example demonstrating the difference between high-quality fruit and lesser-quality fruit. A top-notch California Viognier retails from $25-45, but this one was just $16.
I don't think this was cheap fruit, I think it was probably purchased at a discount from a top tier producer in an off year. My bet is on Kamen Estate as they're the only other producer who bottles one from this tiny AVA more than 2000 feet above sea level. Kamen primarily uses their Viognier to blend in small amounts with their Syrah (as is the Australian tradition) and they seem to only make a single-variety bottling in years where the crop is excellent (which is a common practice).
Regardless of how I think this wine compares with other Viognier wines that ring my bell, I think this one might be a gentler introduction to the variety for cautious wine drinkers looking to branch out. The 100% money-back guarantee offered at Nakedwines.com makes it a no-brainer to try — 93% of 164 Nakedwines.com members would buy it again.
Notice: I hold no formal wine credentials. I am a wine geek who has consumed 1000+ of bottles from 100+ different wine clubs and 1000s more bottles that didn't come from those wine clubs. I do not accept payment for wine reviews, and I do not accept payments to influence my opinions. I happily accept free wine (and I buy wine).
Why read my wine reviews: Wine taste is subjective. What I like may not be what you like. I try to leave room for you to form your own opinions, so I don't provide a score or a rating. I do point out wines that are an incredible value or truly not worth the money. I note flaws, wines that don't have typicity (because this matters if you are buying wine without having tasted it yourself), when wines are out of balance, and when wines lack appropriate body.
I don't like wasting money (or anything for that matter). I'm careful about where I spend my money and my mindset as a reviewer is to be careful about where you spend yours. I don't believe a high price tag equals quality and I know for sure there are wines of very good quality that are also a great value.
Learn more about me or get in touch.