Camaraderie Cellars Pinot Gris Yakima Valley Review
This blend is 15% Roussanne. In the United States, a wine must be at least 75% of a single varietal to be labeled with that grape name. If this is the first time you try a US Pinot Gris, know this is an atypical (but delicious) presentation.
Wine review by: Jessyca Frederick |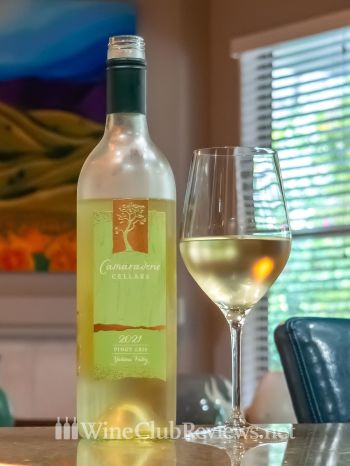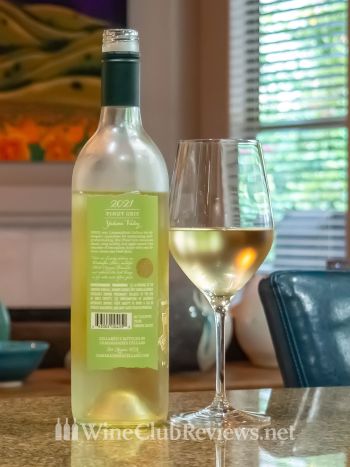 FYI: I find great wine deals so you don't have to. To keep me on the hunt, I earn a commission when you buy wine based on my recommendations.
About this Wine
Wine: 2021 Pinot Gris Yakima Valley
Blend: 85% Pinot Gris, 15% Roussanne
Winery: Camaraderie Cellars
Region: Yakima Valley, Washington
Cases produced: 100
Retail price: $26
I consumed it: September 2022
My source: The Pacific Northwest Series of The California Wine Club
Pinot Gris Yakima Valley: What I think
Camaraderie is a great example of a winery that produces craft wine but doesn't grow their own fruit. Founded by Don and Vicki Corson in 1992, the winery is located in Port Angeles, a coastal part of northern Washington (a full day's drive away from where most Washington wine is produced. The location was selected for barrel-friendliness (marine humidity helps keep barrels airtight) and naturally-appropriate cellaring temperatures.
Winemaker Don Corson says this about where his grapes come from, "One of the benefits of being a 'senior' winery in the state is that we know where the good vineyards are." His general philosophy is to carefully make food-friendly wines that are "fruit driven, but not 'fruit bombs.'"
Something I find fascinating about this winery is the number of different wines they produce, all in very small batches. When you buy your fruit, you can pick what's good from vintage to vintage, and sometimes you get great deals. I also love that this winery has extremely reasonable prices and doesn't mark up library bottles just because they've been aging in their cellar.
A few general notes before I discuss my experience with this wine:
Pinot Gris and Pinot Grigio are the same thing. Grigio is the Italian word for gray, and Gris is the French word. The use of Grigio and Gris is because the grape skins are actually grayish. Pinot Gris is a natural mutation of Pinot Noir cultivated for its unique characteristics, primarily in the Alsace region (which shares more with German and Austrian wine culture than with France).
This blend is 15% Roussanne. In the United States, a wine must be at least 75% of a single varietal to be labeled with that grape name. In this case, I'm pointing out the blend because if this is the first time you've had a Pinot Gris produced in the United States, you should know this is an atypical (but delicious) presentation.
The Roussanne balances some of Pinot Gris' natural acidity and adds depth and complexity. Roussanne is most often used as a blending grape for reasons just like this, though once in a while you may encounter a magical, single-varietal Roussanne (like those of Stolpman Vineyards in the Ballard Canyon AVA — American Viticultural Area, or wine region — of Santa Barbara and Tablas Creek in the Adelaida District in the Paso Robles AVA).
Notice: I hold no formal wine credentials. I am a wine geek who has consumed 1000+ of bottles from 100+ different wine clubs and 1000s more bottles that didn't come from those wine clubs. I do not accept payment for wine reviews, and I do not accept payments to influence my opinions. I happily accept free wine (and I buy wine).
Why read my wine reviews: Wine taste is subjective. What I like may not be what you like. I try to leave room for you to form your own opinions, so I don't provide a score or a rating. I do point out wines that are an incredible value or truly not worth the money. I note flaws, wines that don't have typicity (because this matters if you are buying wine without having tasted it yourself), when wines are out of balance, and when wines lack appropriate body.
I don't like wasting money (or anything for that matter). I'm careful about where I spend my money and my mindset as a reviewer is to be careful about where you spend yours. I don't believe a high price tag equals quality and I know for sure there are wines of very good quality that are also a great value.
Learn more about me or get in touch.