Delille Cellars Métier Cabernet Sauvignon, Columbia Valley Review
This isn't the first Delille Cellars wine to come my way via Wine Access. I'm beginning to understand this as a trusted producer of high quality wines and looking forward to trying more.
Wine review by: Jessyca Frederick |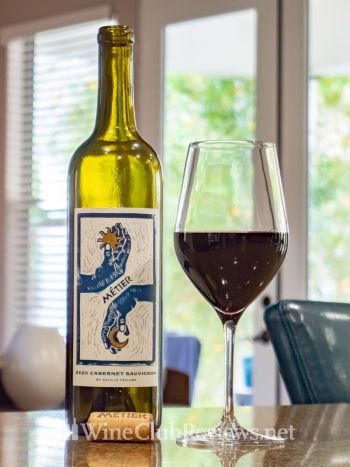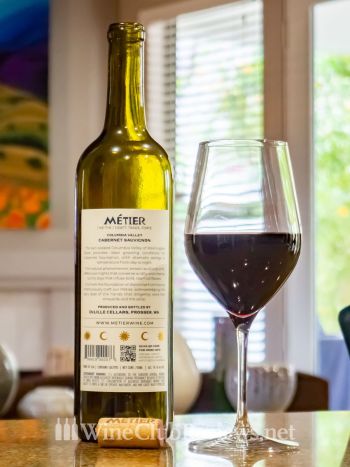 FYI: I find great wine deals so you don't have to. To keep me on the hunt, I earn a commission when you buy wine based on my recommendations.
About this Wine
Wine: 2020 Métier Cabernet Sauvignon, Columbia Valley
Blend: 100% Cabernet Sauvignon
Region: Columbia Valley, Washington
Retail price: $30
I consumed it: May 2022
My source: The Wine Folly Wine Club when it was managed by Wine Access
Métier Cabernet Sauvignon, Columbia Valley: What I think
Cabernet Sauvignon is an example of a grape whose classic style is defined by its French origin (Bordeaux). A key distinguishing factor between new world and old world Cabernet is that in the old world, it's typically blended with something else (Merlot in France or Sangiovese in Italy), but in the new world, we tend to bottle it on its own.
Washington wines straddle old world and new world styles — they usually show balance in acidity and structure and are more subtly fruity than California. This Cabernet is a perfect example of how new world reds can be better than their old world counterparts without being, as the snobs like to say, "overripe."
This wine is from a great AVA to know — Horse Heaven Hills in Columbia Valley. Long known as one of Washington's best Cab regions, Horse Heaven Hills now produces quaffable Cabs at a variety of price points. Some mass-produced selections include H3, Columbia Crest, and 14 Hands, but boutique producers still abound like Quilceda Creek, Alexandria Nicole, and of course, Delille Cellars. Expect strongly concentrated flavors and intensity from Horse Heaven Hills wine.
Some of the grapes in this blend come from a new AVA. Designated in 2020, Candy Mountain is Washington's newest AVA. Its sand and gravel soils resemble Bordeaux's Left Bank. If you're familiar with Red Mountain (another premium Cab region tucked into Washington's Yakima Valley), you should note Candy Mountain is similar (same soil, same high winds).
Notice: I hold no formal wine credentials. I am a wine geek who has consumed 1000+ of bottles from 100+ different wine clubs and 1000s more bottles that didn't come from those wine clubs. I do not accept payment for wine reviews, and I do not accept payments to influence my opinions. I happily accept free wine (and I buy wine).
Why read my wine reviews: Wine taste is subjective. What I like may not be what you like. I try to leave room for you to form your own opinions, so I don't provide a score or a rating. I do point out wines that are an incredible value or truly not worth the money. I note flaws, wines that don't have typicity (because this matters if you are buying wine without having tasted it yourself), when wines are out of balance, and when wines lack appropriate body.
I don't like wasting money (or anything for that matter). I'm careful about where I spend my money and my mindset as a reviewer is to be careful about where you spend yours. I don't believe a high price tag equals quality and I know for sure there are wines of very good quality that are also a great value.
Learn more about me or get in touch.