Laetitia Winery Sweet Sparkling Rosé Review
It has been a fun ride discovering so many wines from Laetitia, including this one. It's too bad I can't find it anywhere, because this wine was really enjoyable and I'd happily buy more.
Wine review by: Jessyca Frederick |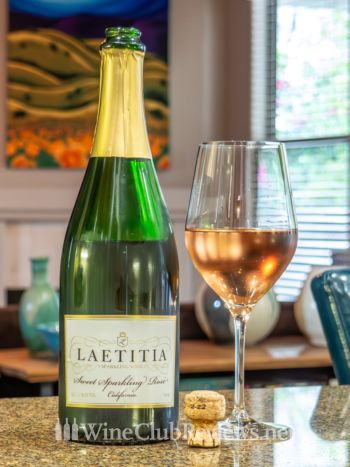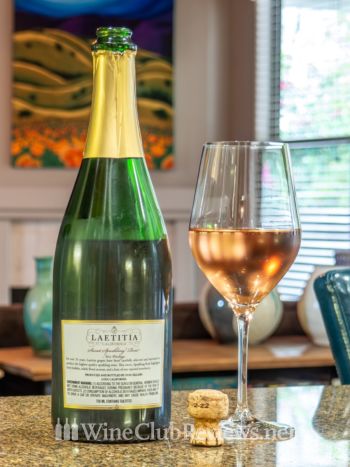 FYI: I find great wine deals so you don't have to. To keep me on the hunt, I earn a commission when you buy wine based on my recommendations.
About this Wine
Wine: NV Sweet Sparkling Rosé
Blend: Probably Pinot Noir
Region: California
I consumed it: April 2023
My source: Vinesse Sparkling Wine Club
The Back Label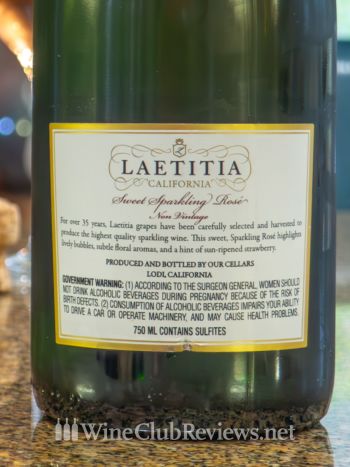 Discover More
Sweet Sparkling Rosé: What I think
The influence that the business world has on the wine industry is sometimes quirky. Laetitia Winery is a (mostly) sparkling wine producer on California's famed "Central Coast." Their winery is a town called Arroyo Grande and is worth a visit (a perennial favorite of winery-hopping Californians).
Laetitia Winery was acquired by Vintage Wine Estates, a now publicly-held company with some serious financial problems. I think the idea was to gather a portfolio of good wineries and make them household brands. They also purchased BR Cohn, Close Pegase, Girard, Qupé, and a handful of less expensive brands you'd probably recognize.
The also acquired Vinesse — a wine club best known for its partnerships with airlines and other companies with loyalty programs. Their flagship wine club (now just the Vinesse Wine Club, but previous called American Cellars Wine Club) was never one I could endorse, for myriad reasons. But they also always offered their existing members the opportunity to join "specialty" wine clubs. Many of which were quite good. One of my favorites has always been their Sparkling Wine Club. Each shipment contained one true Champagne, one high-end sparkling from somewhere else, and one "cheap and cheerful" sparkling like a Cava or a Prosecco.
Sadly, as part of a cost-cutting measure, the Sparkling Wine Club is no more. I can't really blame them as sourcing international wines isn't really what Vintage Wine Estates is all about. But for a while, after they acquired Vinesse and before they cancelled the Sparkling club, they were sourcing almost all of their bubbles from Laetitia Winery. Lucky me! It has been a fun ride discovering so many wines from Laetitia, including this one, which I can't find any information about (anywhere). Which is why this review is light on facts like retail price (Vinesse says it was $38), grapes, and AVA/vineyard info.
That's also too bad, because this wine was really enjoyable and I'd happily buy more. It's safe to assume this wine is mostly Pinot Noir. Laetitia grows Pinot Noir and Chardonnay (with the intention of making world class sparkling wine to rival Champagne). But they also label it as "California" so I have no idea where the grapes were sourced.
The nose was subtle (I expected cloying with the way the wine was labeled). I tasted redcurrant and pomegranate, sweet black cherry. This was fruity and balanced and seemed more Demi-Sec than straight up sweet as the label suggests, but that could be because the wine had enough acid.
Notice: I hold no formal wine credentials. I am a wine geek who has consumed 1000+ of bottles from 100+ different wine clubs and 1000s more bottles that didn't come from those wine clubs. I do not accept payment for wine reviews, and I do not accept payments to influence my opinions. I happily accept free wine (and I buy wine).
Why read my wine reviews: Wine taste is subjective. What I like may not be what you like. I try to leave room for you to form your own opinions, so I don't provide a score or a rating. I do point out wines that are an incredible value or truly not worth the money. I note flaws, wines that don't have typicity (because this matters if you are buying wine without having tasted it yourself), when wines are out of balance, and when wines lack appropriate body.
I don't like wasting money (or anything for that matter). I'm careful about where I spend my money and my mindset as a reviewer is to be careful about where you spend yours. I don't believe a high price tag equals quality and I know for sure there are wines of very good quality that are also a great value.
Learn more about me or get in touch.