Roger et Didier Raimbault Vieilles Vignes Sancerre Review
We brought this wine out to dinner to celebrate our wedding anniversary. I wasn't sure what I'd be ordering, but I had a pretty good idea it would involve seafood, so I thought this would be the perfect wine to bring along. (It was.)
Wine review by: Jessyca Frederick |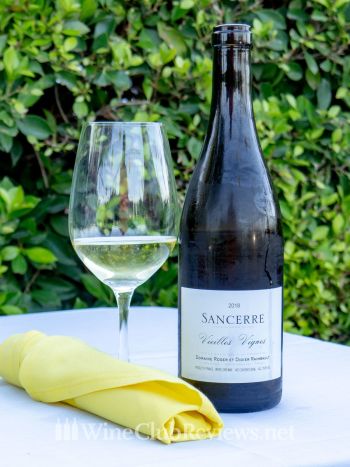 I did not photograph the back of this bottle.
FYI: I find great wine deals so you don't have to. To keep me on the hunt, I earn a commission when you buy wine based on my recommendations.
About this Wine
Wine: 2018 Roger et Didier Raimbault Vieilles Vignes Sancerre
Blend: 100% Sauvignon Blanc
Region: Sancerre, France
Retail price: $25
I consumed it: May 2022
My source: The Wine Folly Wine Club when it was run by Wine Access
The Back Label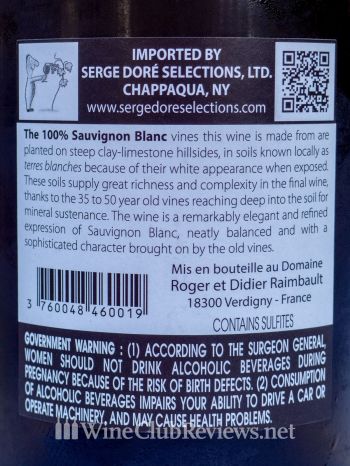 Roger et Didier Raimbault Vieilles Vignes Sancerre: What I think
We brought this wine out to dinner to celebrate our wedding anniversary. I wasn't sure what I'd be ordering, but I had a pretty good idea it would involve seafood, so I thought this would be the perfect wine from the shipment to bring along.
One of the joys of fine dining in the desert is that as soon as the wine comes out of the bottle (from the chiller), it starts warming up. You don't have to wait long for aromas to start popping and complex flavors to emerge from a high-quality wine.
When you see a wine labeled Sancerre, that means it is Sauvignon Blanc from the Sancerre wine region in France. This particular Sancerre is typical (in a good way) of what you'd expect for Sauvignon Blanc from this region — it's fruity and bright, featuring a lemony essence on the palate with a touch of minerality.
Vieilles Vignes translates to "old vines." In this case, the vines range from 35-50 years old and have roots sunk 20-30 feet underground. The old vines add a complexity to the wine's character that is absent from much "new world" Sauvignon Blanc. (New world means everywhere that isn't Europe or western Asia.)
Sur lies translates to "aged on the lees" — the lees are a byproduct of fermentation which includes leaving the wee yeasties in with the wine while it matures. This particular aspect of winemaking leads to my favorite wines because they always offer a round, smooth mouthfeel and typically add a lot of nuance and finish to a wine.
Back vintage. This wine is a 2018 (having spent two to three years in the bottle after 12-18 months maturing sur lies in stainless steel). Any wine that is older than the current release vintage would be considered a back vintage. For people who lack the means or patience to age their wine, buying back vintages is a great way to experience what all the fuss is about. Wine Access does a marvelous job of finding back vintage wines to sell on their site.
Notice: I hold no formal wine credentials. I am a wine geek who has consumed 1000+ of bottles from 100+ different wine clubs and 1000s more bottles that didn't come from those wine clubs. I do not accept payment for wine reviews, and I do not accept payments to influence my opinions. I happily accept free wine (and I buy wine).
Why read my wine reviews: Wine taste is subjective. What I like may not be what you like. I try to leave room for you to form your own opinions, so I don't provide a score or a rating. I do point out wines that are an incredible value or truly not worth the money. I note flaws, wines that don't have typicity (because this matters if you are buying wine without having tasted it yourself), when wines are out of balance, and when wines lack appropriate body.
I don't like wasting money (or anything for that matter). I'm careful about where I spend my money and my mindset as a reviewer is to be careful about where you spend yours. I don't believe a high price tag equals quality and I know for sure there are wines of very good quality that are also a great value.
Learn more about me or get in touch.