Thacher New Routine Review
So big and intense I guessed grapes like Petite Sirah, Tannat, Zinfandel, and Carignan. A magical concoction typical of Sherman Thacher's laser-focused style of producing wines of place, but showcasing something unique.
Wine review by: Jessyca Frederick |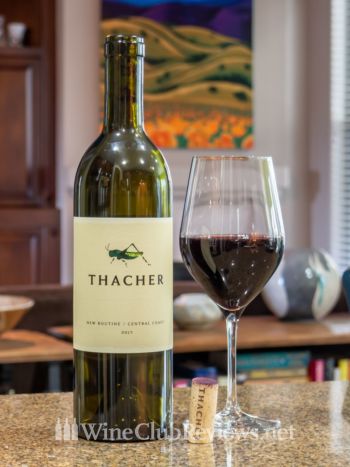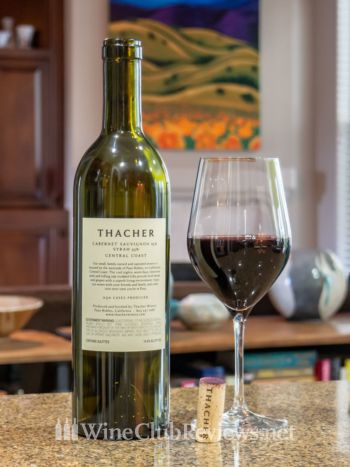 FYI: I find great wine deals so you don't have to. To keep me on the hunt, I earn a commission when you buy wine based on my recommendations.
About this Wine
Wine: 2017 Thacher New Routine
Blend: 65% Cabernet Sauvignon, 35% Syrah
Region: Central Coast, California
Retail price: $60
Cases produced: 230
Bottled: August 2019
I consumed it: March 2023
My source: Thacher Winery Tasting Room
The Back Label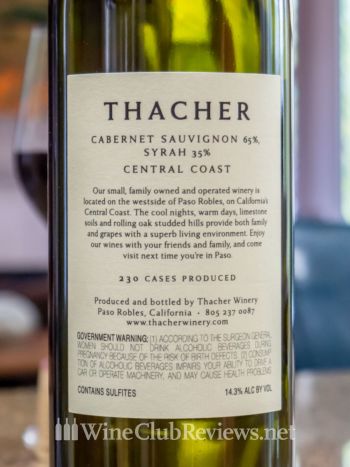 Thacher New Routine: What I think
Thacher Winery in Paso Robles (California's Central Coast) is an overlooked gem. It is situated in what used to be called "The Far Out Wineries" but is now known as the Adelaida District, nestled in among more famous wineries like Justin, Tablas Creek, and Denner. I think most people notice the red barn with initials KR (for Kentucky Ranch) and keep on driving. That's too bad for them, because the wines at Thacher are exceptional.
Winemaker Sherman Thacher likes to come up with quirky names for most of his wines — and he has a knack for it. One of my favorites is Approximately Perfect (a white blend) which was indeed, approximately perfect. Oddly Natural, Original Copy, and Controlled Chaos are can't miss elixirs, too.
This one, New Routine, is a familiar concept — a Cabernet Sauvignon blend — but instead of the expected blending partner, a Merlot or other Bordeaux red grape, he has paired it up with Syrah — something that would NEVER happen in Bordeaux or the Rhône.
I inevitably tried this for the first time in the tasting room, though I wasn't keeping notes that far back. When we cracked it open for drinking, Mitch and I were still playing this game where he knows what the wine is (one of us must) and I was to guess what it was. I tired quickly of this game because I'm terrible at it. Here's a demonstration:
It was so intense I guessed it contained Petite Sirah, Tannat, Zinfandel, or Carignan. I didn't even consider Cabernet Sauvingon but suspected there was some Syrah in there. Once I knew there was some Cab in there, all of a sudden the blue fruits, dusty graphite, and spearmint surfaced. They joined other delightful flavors like dark red fruits, black currant, white pepper, cedar, and a touch of anise.
Truly enjoyable.
Notice: I hold no formal wine credentials. I am a wine geek who has consumed 1000+ of bottles from 100+ different wine clubs and 1000s more bottles that didn't come from those wine clubs. I do not accept payment for wine reviews, and I do not accept payments to influence my opinions. I happily accept free wine (and I buy wine).
Why read my wine reviews: Wine taste is subjective. What I like may not be what you like. I try to leave room for you to form your own opinions, so I don't provide a score or a rating. I do point out wines that are an incredible value or truly not worth the money. I note flaws, wines that don't have typicity (because this matters if you are buying wine without having tasted it yourself), when wines are out of balance, and when wines lack appropriate body.
I don't like wasting money (or anything for that matter). I'm careful about where I spend my money and my mindset as a reviewer is to be careful about where you spend yours. I don't believe a high price tag equals quality and I know for sure there are wines of very good quality that are also a great value.
Learn more about me or get in touch.