Eater Wine Club Review
Wine Club Rating:
Summary
Eater, a popular food and beverage website focused dining and drinking, showcases wine professionals from around the country. Each month a new sommelier or wine pro picks four bottles they're excited about. There's a focus on natural and organic wines, but the selections are not 100% of either.
What We Liked
This is a style- and grape- agnostic discovery-oriented wine subscription. Each bottle offers a unique perspective on what wine can be, not just what we're used to. I love that wine pros pick what they're vibing on, which adds relevance to the shipments.
Improvements
The club is still quite new, but I'd love to see them add larger shipment options, longer gift options, and the ability to select red wine only or white wine only (though I understand why they don't — see below).
Wine Club Shipped to
AZ AR CA CO CT DE DC FL GA ID IL IN IA KS LA ME MD MA MI MN MO MT NE NV NH NJ NM NY NC ND OH OK OR PA RI SC SD TN VT VA WA WV WI WY
Don't see your state? Eater did not ship there.
Wine Clubs by State
This wine club is no longer available
Try one of these top-rated wine clubs instead?
What is Eater?
If you're not familiar with Eater, it is a widely-read online publication focused on food and beverages. They have city-based editorial staff which gets to know the restaurants, wine shops, and bars in each city they work in, then rates and reviews them and discusses that city's trends.
To further support these distinct communities, Eater developed a wine club to offer their readership a selection of wines beyond what you'll find at the grocery store or most wine shops. Each month a new wine professional from a different city in the US chooses the wines which will be included in the shipment based on what they're currently excited to drink.
Eater Wine Review
My Eater Wine Club Wine Ratings
| | |
| --- | --- |
| Quality of Wine | |
| Price of Wine | |
| Wine Curation | |
The Eater Wine Club is managed by MYSA Natural Wine, but the selection is not strictly natural, organic, or biodynamic. The goal of the wine club is to prefer these farming and winemaking methods, but they want to give the local wine pros a chance to show us what's great without strict adherence to these limits.
The shipment we received was curated by Miami-based sommelier Bianca Sanon. The celebration-themed shipment contained two natural wines (the Pampaneo Ancestral and the Premier Jus red) along with an organic selection (the Bolet Cava) and a chemical-free, minimal intervention red wine (the Cardedu Caladu).
---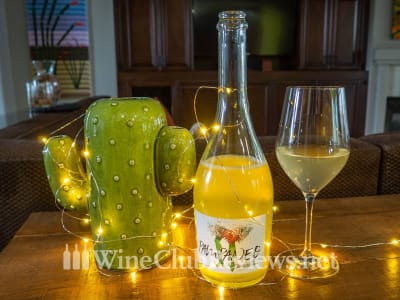 Pampaneo Ancestral
I joined the monthly Eater Wine Club Virtual Hang (more on this in the Membership Benefits section) where we enjoyed Bianca Sanon's take on wine and the wines she picked. We did a group tasting of the Pampaneo Ancestral — which I found delightful.
A pét-nat (properly called Pétillant-Naturel), this sparkling wine from Castilla-La Mancha in Spain was made in the ancestral method — bottled before fermentation was complete.
Made from an indigenous Spanish grape called Airen, grown on vines that are more than 100 years old, this wine was lively, yeasty, and really fun to drink. I'd happily take more of this beauty.
Premier Jus
The other natural wine in the shipment, the Premier Jus, was less exciting. It rang all of the natural wine bells it needed to: organic grapes, minimal intervention, bright red (served chilled), etc.
It was also "glou glou" — a French term to describe a wine that's chuggable. My first experience with a glou glou wine left me unimpressed.
My biggest issue with the wine is that it was boring — it tasted like cherry Koolaid and lacked body, finish, or any sort of complexity. A mix of two grapes I like, Carignan and Grenache, aged in barrel for six months should have had more going on — especially at 12.5% alcohol.
I guess this is the style of glou glou wine, but it left me shrugging my shoulders about why this kind of wine is popular right now. That said, I'm glad to have had the experience of drinking it. It gives me something to compare future glou glou to, other than more traditional wine to which I'm accustomed.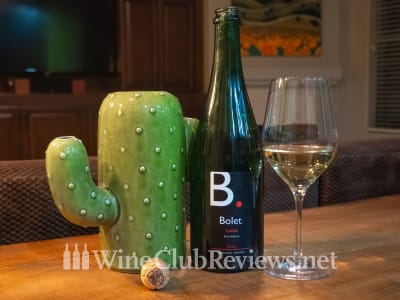 Bolet Cava Brut Nature
Like the pro who picked it, I don't usually reach for a Cava when picking a sparkling wine, but this one was excellent. This Brut Nature Cava, from Penedès in Spain, was made in the traditional method (the way they do it in Champagne). Brut means dry but Brut Nature means there was no sugar added during the production step called Dosage. This Cava is made of the traditional Cava grapes: Xarel-lo, Parellada, and Macabeo. Bolet is 100% organic by EU standards (they add minimal sulfites).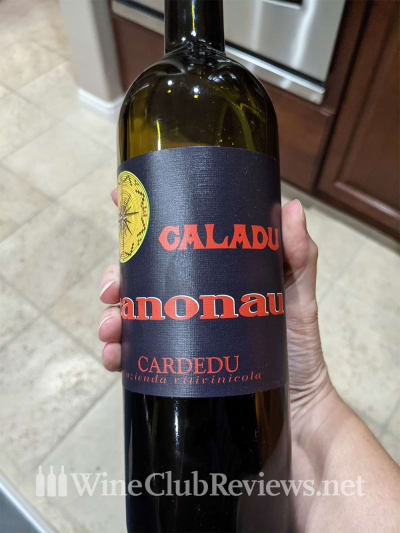 Cardedu 'Caladu' Canonau
The Canonau from Cardedu was also super interesting. Canonau (usually spelled Cannonau) is Grenache, and has been present on Sardegna long enough they consider it their own. A low-key red wine with enough complexity to keep me interested.
The Cardedu estate is practicing organic according to their importer, Portovino. With native yeasts and minimal intervention, this wine qualifies as natural in some groups (it's filtered though, so it may not be vegan).
The Eater Wine Club is new: in January they'll ship their third box. This makes it hard to do an extensive wine review beyond the wine I received. They did share with me both the November and January wine selections.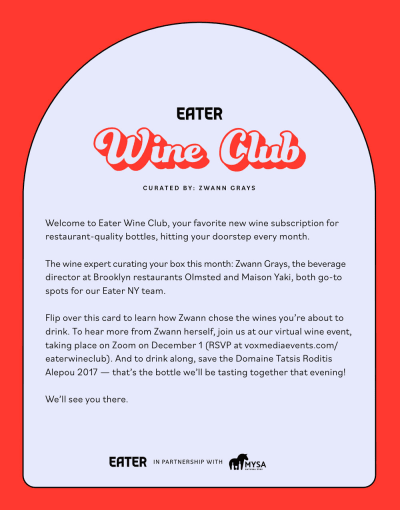 November 2020 Shipment
The introductory wine club shipment was curated by Zwann Grays, the beverage director at Brooklyn restaurants popular with the Eater NY staff.
The theme of the shipment was "a trip to Greece," a favorite place of Grays. Aside from someone who loves Greece, Grays wanted to showcase the diversity of Greek wine — often overlooked in the American wine marketplace.
The featured wine, tasted during the Virtual Hang, was Domaine Tatsis Roditis Alepou 2017. This was a dry white, skin contact wine from Macedonia.
This wine is featured on RAW Wine, which means it's a natural wine.
Also included in the shipment:
Papras Bio Wines 'Melanthia' 2019, a sparkling white wine, made from organic Black Muscat grapes.

Oenogenesis Mataroa Amber 2018, a skin contact white wine made from Sauvignon Blanc.

Oenogenesis Mataroa Red 2018, a red wine made from Cabernet Sauvignon. It's bright (acidic) and was not aged in oak barrels, so it's not a typical Cab.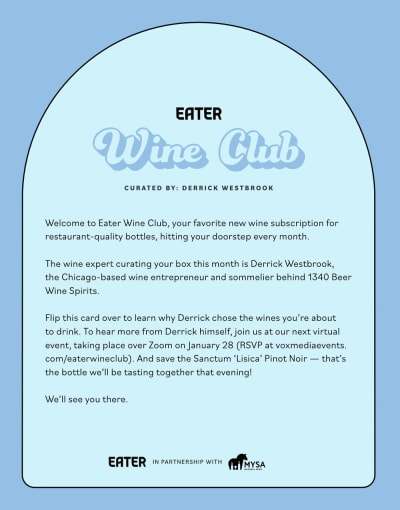 January 2021 Shipment
The January 2021 shipment is curated by Derrick Westbrook, a Chicago-based wine entrepreneur and sommelier at a popular wine shop there.
The theme of the shipment is to highlight Central and Eastern European wines — where wine was invented 8,000 years ago. These wines are often of excellent quality, but aren't the focus of the modern wine world.
The featured wine, to be shared at the next Virtual Hang on Jan 28, 2021, is the Sanctum 'Lisica' Pinot Noir, a red wine from Slovenia. These grapes are dry-farmed and hand-harvested, but their organic status is Lutte Raisonee (organic except when the vines or crop is in danger). Native yeasts make the wine unique, and the wine is not filtered.
Also included in the shipment:
Malat 'Crazy Creatures', a white wine from Austria made of Grüner Veltliner grapes.

Domaine Ciringa 'Fosilni Breg' (Fossil Mountain), a white wine from Slovenia made of Sauvignon Blanc.

Carpinus Furmint, a white wine from Hungary (the grape is Furmint), traditionally made into sweet/dessert wines in Tokaj, this particular example is slightly sweet, but also rich and creamy.
Membership Benefits
My Eater
Benefits Ratings
| | |
| --- | --- |
| Satisfaction Guarantee | |
| Customer Service | |
| Wine Education | |
| Convenience | |
Curation. This is one of two areas where the Eater Wine Club really shines (the other is Wine Education). Eater doesn't curate wine — they curate the curators and then let the curators do their thing. This is a unique approach which ensures interesting wine shipments forevermore. It's also pretty cool because if you don't like one curator's point of view, you'll get a whole new bite at the apple in the next month.
Wine Education As an online publication dedicated to excellent food and beverages, this is an area I'd expect Eater to excel at — and they do. They don't want to just give you the basics about what you're drinking, they want you to experience the wine in such a way that it sparks interest for you to learn more.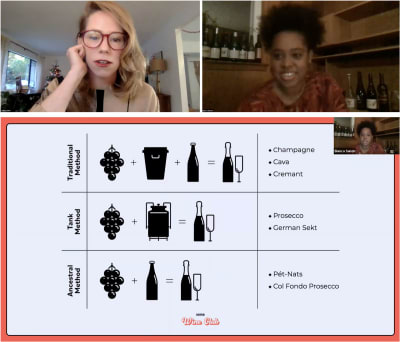 Each month there is an online "Virtual Hang" so that you can get to know the curator and why they've selected their wines. You'll taste a featured wine during the event, so you can connect what you're drinking with what you're learning — the very best way to learn about wine. The virtual hang I attended was fun, included lively moderation courtesy of Lesley Suter (an Eater author), and the group even broke out for a quick group pop culture wine trivia game (no prizes).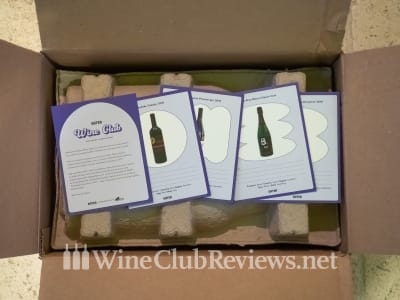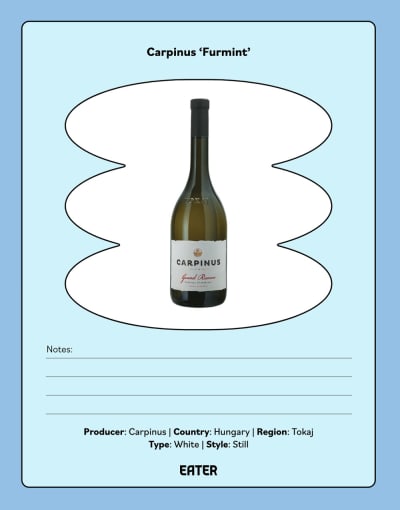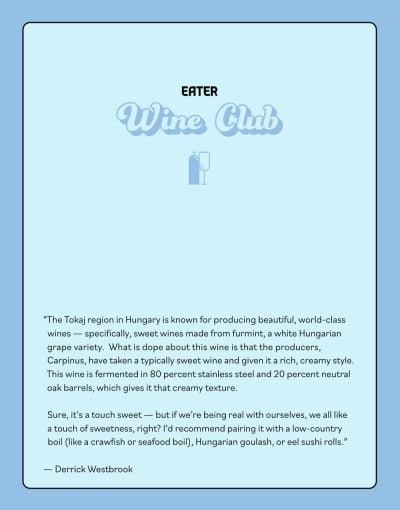 Each shipment includes wine cards written the monthly curator. One card describes the shipment's concept and includes a brief curator bio. Each wine also has its own card. These cards include basic information about the wine (like the producer, origin, and grapes) as well as the story of the wine and why the curator selected for the shipment.
Satisfaction Guarantee. Per Eater Wine Club, they are focused on highlighting the curation skills of their featured wine professionals, and their goal is to take you on a wine journey, so they don't really offer a satisfaction guarantee. Like any proper wine business, if the bottles arrive damaged they'll send you new ones or issue a full refund, depending on the situation. If you don't want the wine but haven't opened it, you can send it back for a restocking fee.
From their FAQ "We want you to be satisfied with your wine purchase. If you are dissatisfied with any product you receive from us, email us at hello@eaterwineclub.com within 30 days of delivery. We will work with you to resolve the problem to your complete satisfaction. Note that customers are responsible for covering the cost of return shipping and any pickup fees associated with their order size and location."
Convenience. Unlike some wine clubs which require you to call or email to make changes, the Eater Wine Club website allows you to adjust your bottle count, pause, or cancel shipments at any time. They say you can adjust your delivery frequency. This is true, but it's not a setting. Instead you pause and skip shipments as desired. To support this "skip whenever you want" concept (and to build excitement), they send out emails to their members letting them know what the month's theme is. If the theme doesn't ring your bell (though I can't imagine why not), just hit that skip button and you're good till the next one rolls around. You'll also receive order notification emails and tracking info.
Personalization. This is not an especially personalizable wine club. Your only choice for personalization is to upgrade or downgrade the number of bottles you receive in each shipment. According to Eater, here's why: "We've chosen our amazing expert curators because we're excited to taste their personal wine selections, and we hope you're excited to try them, too!"
Discount opportunities. At this time the wines shipped by Eater are not priced at a discount from retail. There are no discounts when you order your favorite Eater wines at MYSA (the company that manages the Eater Wine Club). Eater club shipments do include free shipping and if you want a little deal-sweetener, you can save 10% off your first shipment with promo code THIRSTY.
Customer Service. This service is new. I have not had any customer service issues, nor am I aware of any. I'll update this section if needed.
Who Should Join the Eater Wine Club?
The Eater Wine Club is for adventurous wine drinkers. A never-ending variety of unique wine styles, grapes, and wine regions is expected, but you shouldn't expect to love every wine you receive. The idea is to learn about wine, not just drink it.
Because the wine club tends toward organic or natural wine selections, I also recommend joining if you're interested in exploring the worlds of organic wine and natural wine.
I also think this might be a good wine club for beginning wine drinkers. In addition to learning useful information about the wines you drink, you'll get a much broader sense of what's out there — it's not just all Cabernet and Chardonnay.
Eater Wine Club Gift Review
I think the Eater Wine Club makes a great gift — for the right wine drinkers! Please read the "Who Should Join" section above.
There are some things to know about the Eater Wine Club gift that are a little bit different than some other wine club gifts, if you're comparing. First, there is no gift message in your shipments, but your confirmation email includes a link for you to send to your gift recipient when you're ready (this is super handy). Your recipients can register their own email address to get the shipment newsletters and the invitation to the monthly virtual hang (easily done through the gift notice). These emails will stop coming when their gift membership of 1, 2, or 3 months is complete. Your recipient will *not* receive shipping notices, you will. You'll want to forward these to your recipient each month.