Nocking Point Wine Club Review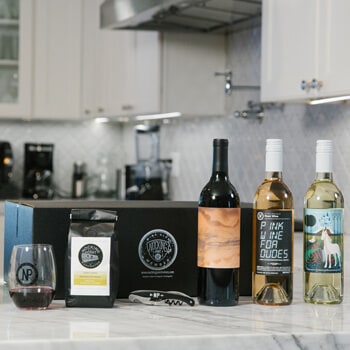 Wine Club Rating:
Summary
A super-fun Pacific Northwest wine and coffee subscription featuring artful labels born of celebrity and tastemaker collaborations. Each quarterly shipment also includes a t-shirt with extra goodies around the holidays.
What We Liked
Among other things, we love the uniqueness factor. This isn't a wine club where a celebrity slaps his or her name on the marketing. This is a winery that collaboratively produces with celebrities, and then lets the celeb pick the art for the bottle. Sometimes the celebs even design the labels themselves. This all adds up to a lot of personality and a feeling of being on the inside of the Hollywood industry.
Improvements
This wine club does not yet offer everything we expect from a top-rated wine subscription box. We'd like to see more information about what's in the bottle to accompany the quirky insider anecdotes, the ability to personalize shipments (choose a wine color), gift subscriptions, and an end to the two-shipment minimum (there's a $40 early cancellation fee).
Wine Club Shipped to
AK AZ CA CO CT DC FL GA ID IL IN IA KS LA MD MA ME MI MN MO MT NV NH NJ NM NY NC OH OR PA SC TN TX VA WA WI WY
Don't see your state? Nocking Point Wines did not ship there.
Wine Clubs by State
This wine club is no longer available
Try one of these top-rated wine clubs instead?
If you're looking for a fun wine club, you've found it. Founded by Stephen Amell (star of CW's Arrow) and Andrew Harding (Drew) five years ago, Nocking Point Wines mixes a love of wine with a little celebrity flair.
Each $99 quarterly shipment is chock full of fun: three bottles of wine (one is a celebrity collaboration), a package of fair-trade coffee beans from the Walla Walla Roastery, and a "butter soft" t-shirt.
Members get first access to the new celeb-curated releases before they're available to the masses and naturally, since it's an LA thing, swag (an acronym for "stuff we all get").
You might be wondering, who are these Hollywood peeps and how do they know anything about winemaking? Let's take a step back and learn Nocking Points Wine's own origin story.
"Stephen Amell and Andrew Harding were driving through California's wine country on their way to a baseball game in Oakland when Amell confessed he had never been to a wine region. A few days – and several glasses of wine later – they conceived their idea for Nocking Point. Founded in 2012, NP has grown from a tiny warehouse in Walla Walla, Washington into a global wine company, producer & tasting room."
The Celebrity Wine Thing
After setting up shop in Walla Walla (Drew's home town), Nocking Point decided to share all the fun they were having learning about wine and winemaking with their friends.
They leverage their Hollywood friendships to create wine collaborations where their celeb friends to curate wines, produce the art on the label, and enjoy the fun of being a part of the wine business.
A previous box features Aisha Tyler's collaboration: Night Ender. This is a bold red, "a 50/50 blend of Malbec and Cabernet Sauvignon and combines notes of plum, black cherry and white pepper with a profile that is dry and robust, with soft tannins." We didn't pick the best pasta dish to pair the wine with (our bad!) but we really enjoyed finishing the bottle after dinner was done.
The previous box featured Jason Momoa's collaboration: Dirtbag. It's a "big, bold, spicy red blend" worthy of a dude like Jason Momoa (recently announced as the new Aquaman). Jason is one of the celebrity collaborators who not only curated his wine, but also created the artwork that was used for the label.
We're excited about next quarter's collaboration, but we can't tell you who it is yet!
A previous collaboration was with Emily Bett Rickards, Jason's co-star on the Arrow. Emily curated the Pacific Coast Pink Sparkling Rosé and her swag was a black t-shirt with a skull and rose embroidered on the front.
We were super impressed with this pink sparkler. We'll tell you more about where Nocking Point's sparkling wines come from later in this review, but let's just say this one is dry, slightly fruity, and really well balanced. And at only 12% alcohol, we had no trouble finishing the bottle in one sitting.
Other past collaborators include Zachary Levi, Colton Haynes, and Cody Rhodes.
Tip: The only way to buy the celebrity collaborations is to be a member.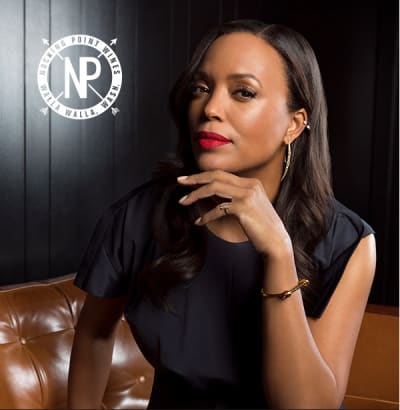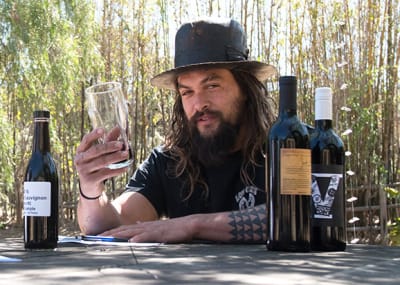 Nocking Point Wine Review
My Nocking Point Wine Ratings
| | |
| --- | --- |
| Quality of Wine | |
| Price of Wine | |
| Wine Curation | |
Outside of California, Washington and Oregon represent the U.S. largest wine-producing regions, and they are seriously underrepresented among wine clubs. This mostly Pacific Northwest wine subscription typically ships Columbia Valley wines with a dash of Willamette Valley (Oregon) and New Mexico.
Since Drew and Stephen aren't winemakers, they had to partner with some in order to produce their wine (this happens all the time in the wine industry). Nocking Point chose Precept wines (prominent producer in Washington) to help create many of the wines under the Nocking Point label. You may have never heard of Precept wines, but the wineries and brands they own are among Washington's most successful — Browne, Waterbrook, and House Wines, to name a few.
The Sparkling wines are produced by Gruet Winery (also a Precept Wine company) in New Mexico. Yes, New Mexico! Gruet is an award-winning winery that only makes sparkling wines. Their wines deservedly appear on fine dining wine lists around the country.
Additional winemaking partnerships include Sean Boyd from Rotie Cellars, Justin Wylie from Va Piano Vineyards, and Marie-Eve Gilla of Forgeron Cellars.
For our palates, the wines were a bit of a mixed bag. We really liked the sparkling rosé, the Origins 2014 Willamette Valley Pinot Noir, and the WW Valley 2014 Red Blend. A new wine director, Katie Owens, is already hard at work on next year's vintages. Based on her past experience, we think this will be a huge win for Nocking Point Wines and their loyal fans.
While most of the early wine selections followed Stephen and Drew's tastes (big red wines), they've done a really great job sourcing wines that suit a broader audience. They've done this by talking to winemakers who know what people are looking for and by asking their very loyal membership for feedback, which they get.
We think the quality of wine from Nocking Point is solid. It's not the most amazing artistic expression of the most pristine grapes on earth, but it's well-crafted wine made from a variety of grapes in a variety of styles, which is what you should expect from a wine subscription. We are increasingly impressed with the quality being delivered for $25 average retail, especially in the reds (so unusual for us!).
The pricing structure around Nocking Points wine club is a little different than some other wine clubs. First, shipping is included and should cost around $25 on average for a box of three wines. Second, you also get fair-trade coffee beans and a t-shirt in every shipment. Third, there's a celebrity fun factor that costs a little money to make happen. And the wines are definitely discounted for members from what you'd pay if you just purchased their wine directly. All in all, we think you're getting a good deal on the wine.
Membership Benefits
My Nocking Points Wines
Benefits Ratings
| | |
| --- | --- |
| Satisfaction Guarantee | |
| Customer Service | |
| Wine Education | |
| Convenience | |
It's not published anywhere (yet), but if you have any problems with your wine, please contact their customer service team and Nocking Point will replace the bottle or send something more suitable.
We're not surprised we haven't found any complaints about their customer service out on the interwebs — Nocking Point boasts an EXTREMELY loyal following because they take care of their members.
Nocking Point has all of the modern subscription box conveniences you'd expect: You get emails regarding upcoming shipments, deliveries en route, and you can skip shipments or request vacation holds via email (soon to be self-serve on the website).
We look at three areas when evaluating the discount opportunities offered by a wine club. Is there an introductory offer to sweeten the deal? Are there discounts available for buying more of wines you loved in your shipments? Are there special discounts only available to members?
We think one of the most important aspects of a wine club, right after the wine and the Satisfaction Guarantee, are the discount opportunities. After all, you're committing to buy wines on a regular basis so you should be rewarded for your loyalty. Nocking Point earns top marks in this category because they offer a $20 discount on your first shipment, at least 10% off all wine reorders, and free shipping on any purchases you make outside of your wine club (which already includes shipping).
This is an area where we feel Nocking Point could be stronger. In some cases we get good information about how the wines were made and what's in the bottle, but at other times there's more fun story than wine information.
Gift Review
This wine club is not a suitable gift. There is no pre-paid subscription option, you can't include a personalized gift message, and there isn't any gift wrap in the first shipment.
In case you were wondering, "nocking point" is an archery reference that describes the spot on the bow where the nock (a stopper) is placed to stop the arrow from moving around while aiming. Given that Amell's claim to fame is starring in the long-running show Arrow, we think the tongue-in-chic reference nicely sums up the winery's personality.