Wine Club Rating:
Summary
A Champagne and sparkling wine sampler, The Sip Society helps its members taste bubbly from around the world. The selection is upscale and for the less-experienced wine lover, most of these wines will be all new.
What We Liked
This unique subscription packs fun into every box and I'm a firm believer everyone needs a little more bubbly in their lives.
Improvements
Two of the five wines I received were not in prime condition, which slightly detracted from the overall experience. They were still quite drinkable, but when the color has faded, so has some of the flavor.
Wine Club Shipped to
AL AZ CA CO CT DE DC FL GA ID IL IN IA KS LA ME MD MA MN MO MT NE NV NH NJ NM NY NC ND OH OK OR PA RI SC SD TN TX VT VA WA WV WI WY
Don't see your state? The Sip did not ship there.
Wine Clubs by State
This wine club is no longer available
Try one of these top-rated wine clubs instead?
What is The Sip Society?
The Sip Society is the delightful name of the wine club at The Sip. The Sip is an online wine store featuring only sparkling wine (a mix of Champagne and bubbly from other regions). The women who founded The Sip — Erica Davis and Catherine Carter — want to make the good stuff more accessible. The Sip definitely has a woman-centric vibe, but that shouldn't stop anyone from joining and just having fun with sparkling wine.
The Sip was recently featured on The Today Show (March 22, 2022). Naturally I watched the segment and among other things, I learned that they have more than 15,000 customers!
How does The Sip Society work?
It's expensive to discover new Champagne when all you buy are full-size bottles, so The Sip Society sends out a variety of small bottles every other month — mostly 187mL "splits" which serve roughly one glass of wine, sometimes you'll get a "demi" which is 375mL. Shipments either have three splits or one demi and one split (adding up to 3/4 of a bottle of wine).
The "no commitment" membership is $59.95 every other month and includes shipping. Shipping months are January, March, May, July, September and November. These memberships can't be canceled until after the second billing cycle, so despite the messaging, you're committing to two boxes. There's also an annual subscription, which includes some perks for the commitment (outlined below).
The Extras
If you find something you love, The Sip stocks full size (750mL) bottles for you to buy with a $10 discount. They're available in the online store two weeks after the shipments are sent out for delivery.
Each month The Sip Society invites members to a virtual tasting with the co-founders and other Sip Society members. The gatherings have an educational side and are meant to be fun and social.
Take a Sip, Give a Sip is The Sip's charitable component. For every purchase at The Sip, they provide access to clean water for women and children in need through the East Oakland Community Project.
Society Perks
Unlike some other wine clubs, The Sip Society isn't only about your regular shipments, and they reward you for committing to a year of fun.
"No Commitment"
$59.95 per box, skip a box any time
$10 credit towards a full size bottle
25% off your first box ($15 value)
Annual Subscription
$329.70 at the beginning of the six-shipment subscription (save $5 per box)
$75 credit toward a full-size bottle (that translates to at least one free bottle of your favorite Champagne)
Customize (a little) your boxes. Each shipment, they give you the choice of either picking one of the wines, among two, or the free gift you get.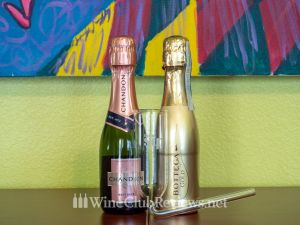 Sparkling Wine Primer
If you're not already knowledgeable about Champagne and Sparkling wine, here are a few helpful ideas to keep in mind. If you want to do a deeper dive, check out my Useful Guide to Champagne.
All sparkling wine has bubbles, but not all sparkling wines are called Champagne. Champagne is a designation referring to the region in France where the grapes were grown, but also to a number of other regulations including grapes used, farming practices, and the exact method used to get the bubbles in there.
Some other sparkling wines include Crémant (from various regions in France), Prosecco and Spumante (from Italy), Cava (from Spain), and a whole whose of sparkling wine styles from "new world" regions like the United States, Australia, and South America.
Sparkling wines come in a range of styles from sweet to completely dry (no sugar remains or is added). It also comes in different colors like Rosé and even Sparkling Red. It comes in a variety of flavor profiles, too, which are mostly determined by the kind of grapes used and how it is produced. Rosé sparklers tend to be fruitier (think berries, not apples and peaches).
There are three common methods for making sparkling wine: the Champagne Method (the most expensive), the Tank or Charmat Method (simplified version of the Champagne method), and the Ancestral Method (the least expensive way). You'll often find wines made from a variety of grapes and regions labeled "Méthode Champenoise" or "Traditional Method" (or "Metodo Classico") which indicates these wines are made in the same way as Champagne. It is possible, but very rare, that a wine is straight up "carbonated."
A "Champagne flute" is not a necessary accessory for enjoying sparkling wine. In fact, it reduces the olfactory experience and prevents the wine from opening up. I drink all of my bubbly out of my "universal" wine glasses.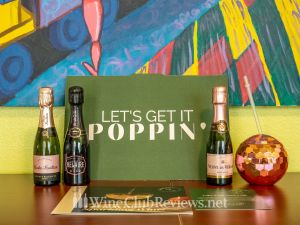 About this Sip Society Review
So far I have reviewed two shipments of sparkling wines. I was sent their "media box," which included two splits of sparkling wine and their signature Sip Shooter. I also received their January Rosé box which included three splits and a fun disco ball party cup (note, I do not advise drinking wine out of plastic containers; it messes with the taste). I am actively reviewing their service and most recently received a shipment in February of 2022. This review incorporates my Sip Society experiences and my experience with more than 100 other wine clubs.
Any wine subscription service is about more than just the wine and this review covers all aspects of the service. The key things I look for in a wine club are: How was the wine sourced? Is the wine selection personalized or curated? How often does it ship? How well does the company communicate about shipping and billing? Do they offer a satisfaction guarantee? Are the shipment sizes and wine selection flexible?
I also examine what kind of wine education they offer with their bottles and whether or not a service is set up for good gifting. These aspects are not core to a wine club being worthwhile, but they are important for many would-be members.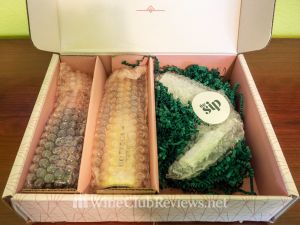 The Sip Wine Review
My The Sip Society Wine Ratings
| | |
| --- | --- |
| Quality of Wine | |
| Price of Wine | |
| Wine Curation | |
There are two parts to this wine review. The first is about the kinds of sparkling wine you'll receive through The Sip and the second is about my experiences with the actual wines I received.
What kind of wine does The Sip send?
There are, broadly, four kinds of sparkling wine in the world: mass-produced Champagne like Veuve Clicquot Yellow Label and Moet & Chandon Imperial, premium Champagne from those same types of producers, grower Champagne handcrafted in small quantities, and everything else.
The Sip Society membership is huge, which by definition, means you will not be receiving premium Champagne from big producers or grower Champagne because they are not produced in sufficient quantities to support a large membership. Often these wines are also not produced in small bottles, which is another barrier to The Sip selecting Champagne from those categories.
That means that most of what you'll get from The Sip is high-volume Champagne and other sparkling wines that are widely available elsewhere (even your local grocery or big box store). On the flip side, these ladies have good taste and you won't find J. Roget, Cook's, or Barefoot in the line-up.
The Wine I Received
As noted earlier, I received two shipments from The Sip, totalling five different wines. The "media box" had one rosé and one white, while my regular Society shipment contained three rosés (it was their "rosé shipment").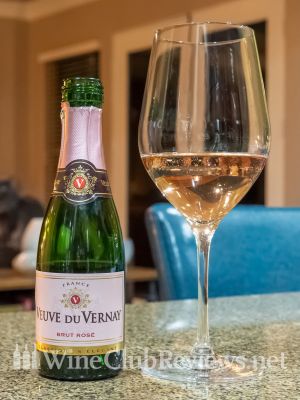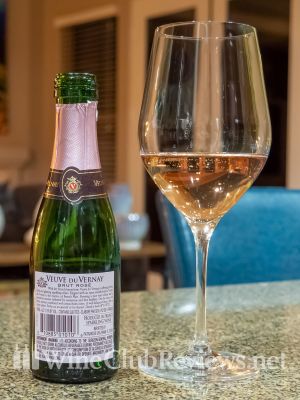 Veuve du Vernay, Crémant de Bourgogne
Blend: Syrah, Pinot Noir, Cinsault; Charmat method
Retail price: $35 (750 mL); The Sip Society price: $30 (750 mL)
Source: The Rosé Box
My favorite selection by far happened to be the first one I opened. The Veuve du Vernay is a sparkling wine from Burgundy, France made with a blend of Syrah, Pinot Noir, and Cinsault grapes. It was first made by the patent-holder for what is now known as the Charmat Method — a simplified process for producing sparkling wine.
The wine was fruity and dry and an absolute delight to drink, and only 11% alcohol. It was nicely balanced (no one aspect of the wine stood out from the others) and when I compare it to Rosé Champagne, I'd choose this any day.
This wine is what sold me on the value of The Sip Society, even for those of us who know a bit about sparkling wine — there's always something new to try and we usually need a trusted advisor to tell us what that is.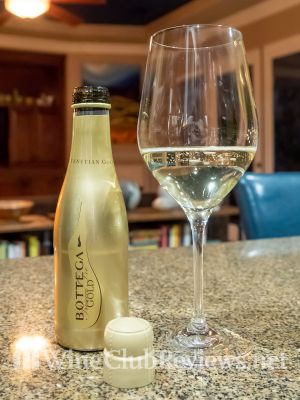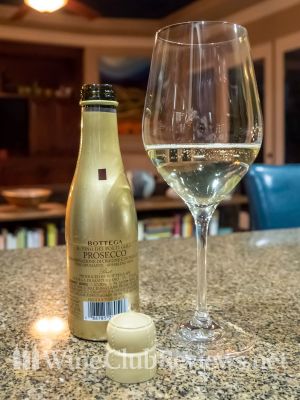 Bottega Gold, Prosecco di Valdobbiadene DOC
Blend: 100% Glera; (the production method was not disclosed by the producer, likely Charmat)
Retail price: $40 (750 mL); The Sip Society price: $35.95 (750 mL)
Source: The Media Box
My next favorite came in the most unique packaging, though that's not why I liked it. (Italians are great at sleek design, aren't they?) This Prosecco, Bottega Gold from Valdobbiadene in Treviso (part of Veneto), was part of the "media box" I received. It is made from 100% Glera grapes (native to Italy and typically used for Prosecco) and has a flavor profile more like Champagne — apple, pear, and spice. Unlike most Prosecco which most Americans are familiar with that is sweeter, this one was dry (brut).
This lesser-known brand is at the forefront of what's changing about Prosecco. Tired of being thought of as "cheap Champagne" the Prosecco makers of Italy banded together and have upped their game, even earning prestigious DOCG (Controlled and Guaranteed Destination of Origin) designations to indicate great quality is available in those regions. The Bottega Gold shows off what Prosecco can be, changing expectations one journalist at a time.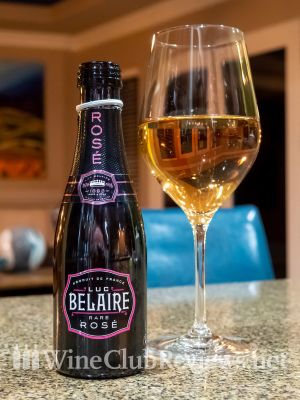 Luc Belaire Rare Rosé
Blend: Syrah, Grenache, and Cinsault; Charmat Method
The grapes were grown in Provence, but the wine was bottled in Burgundy where Luc Belaire is located.
Source: The Rosé Box
This was my least favorite of the bunch. It wasn't until I was processing photos for my review that I realized why. The color, a light-medium salmon color, is not the expected color for this wine, which is a deep magenta-like pink.
I suspect this bottle was older and past its prime (most wine in the world is produced to be consumed within a year or two, despite a reputation for ageability). As a wine ages, its color changes, which is one of the main reasons wine professionals evaluate the color of a wine before tasting it. The color can tip you off to aromas and flavors to expect, thereby making it easier to identify quality issues.
In particular, NV (non-vintage) sparkling wine generally should be consumed within one year because it is produced with wines from various vintages, some of which are already aged.
Also, wine ages faster in the tiny bottles as there is a greater ratio of oxygen to wine, giving these little lovelies an even shorter shelf life.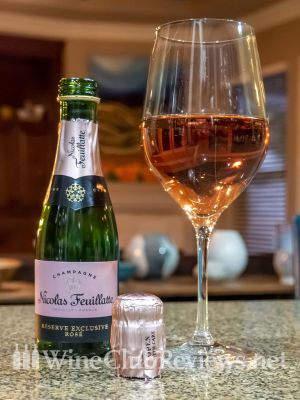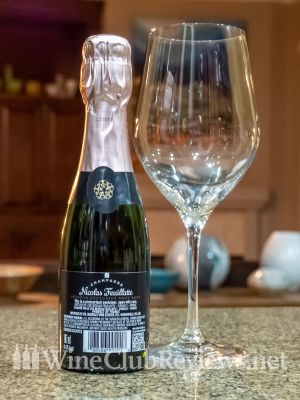 Nicolas Feuillatte Réserve Exclusive Rosé
Blend: Chardonnay, Pinot Noir, Pinot Meunier; Traditional Method
Retail price: $55 (750 mL); The Sip Society price: $50 (750 mL)
Source: The Rosé Box
I already knew the Nicolas Feuillatte was excellent — it's my go-to for lunch in a café or dinner in restaurants when I'm out of town (I tend to bring my own wine to restaurants in California where it's allowed, if not always encouraged). I received it as part of the Rosé Box.
This true Champagne is reliably fruity, balanced, and just a touch yeasty. Prolonged skin contact between the free-run juice and the Pinot Noir grapes makes it a Rosé. The Pinot creates red fruit characteristics like raspberry and strawberry alongside the more floral characteristics from the Chardonnay.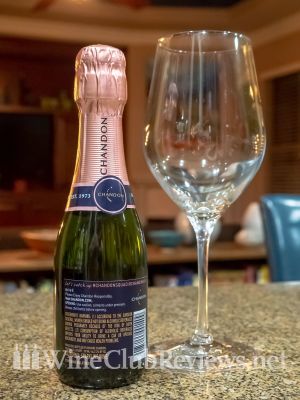 Chandon Brut Rosé
Blend: Chardonnay, Pinot Noir, Pinot Meunier; Traditional Method
Retail price: $30 (750 mL); The Sip Society price: $25.95 (750 mL)
Source: The Media Box
Chandon is the American branch of the infamous Moet & Chandon house in Champagne. They've changed the packaging since this bottle was produced, so I suspect it was last year's release. Regardless, unlike the Luc Belaire, it held up despite a limited expected aging window.
While this isn't my favorite sparkling brut rosé, I would never turn it down. Absent the Nicolas Feuillatte, I would choose this one off most wine lists. Chandon is a serious wine that offers a substantial discount from true Champagne, especially Rosé Champagne.
Who should (and shouldn't) join The Sip Society?
My The Sip Society
Benefits Ratings
| | |
| --- | --- |
| Satisfaction Guarantee | |
| Customer Service | |
| Wine Education | |
| Convenience | |
Much of the messaging from The Sip references how, as Black women, Erica and Catherine were always told to order pink or sweet wines instead of dry wines. It is true that many wine drinkers start out with sweeter wines (pink wines are often fruity, which is not the same as sweet, but more approachable in general). Sweet wines aren't for everyone, but if you're struggling to find other kinds of wine to enjoy, sparkling is a great place to start.
If you can afford little luxuries, this qualifies. I very much enjoyed having a few different glasses of bubbles hanging out in the fridge for those nights when my spouse was out and I wasn't going to open a full size bottle. That's another market who is perfect for The Sip Society — light drinkers or those who want to drink less in general. The subscription feels indulgent while still embracing moderation.
If you're a deal hunter, The Sip may not be for you. The full price on full-size bottles, while below retail, does not represent a great bargain. I spot-checked the Moet & Chandon Nectar Imperial Rosé Champagne and found it only a buck cheaper at Total Wine but $5 cheaper at ReserveBar (not known for great prices), and I quickly found it at Plum Market for $20 less than that. The Sip is offering a tasting service, not a discount wine buying service — the economics are not the same (they provide more than just a bottle of wine on a shelf).
If you want access to rare wines, this might not be a wine club membership for you. There's a lot of great sparkling wine made in large volumes, but it can't be called rare or hard to find.
Pros & Cons of The Sip Society
Pros
It's one of a kind. One of the things that never fails to surprise me is how much of the wine club industry is derivative. Everyone thinks they do the best job sourcing, curating, and shipping wine — but much of what's out there is quite similar. The Sip is unique. Not only is it the only wine subscription featuring single-serve bottles produced by someone else (The Usual is single-serve but they make their own wine), it's the only one offering all sparkling wine and Champagne.
It's a woman- and BIPOC-owned (Black, Indigenous, and People of Color) company which gives back to its local community.
More than most other wine clubs, they reward annual subscriptions.
It's a fun way to discover more types of Champagne without splurging on full size bottles.
It's a fun way to enforce a little discipline for moderating your alcohol intake.
Cons
It's not "value priced." There's an argument to be made about whether all companies should engage in a race to the bottom on profit margins, and certainly you can't pay living wages on narrow margins, so unless your budget is tight, this isn't that big of a drawback.
I received at least one, if not two, wines that were maybe a little too old. The Luc Belaire clearly was older than "fresh" and I suspect the Chandon was, too (it's challenging to find pictures of the wine in a glass to see what the color was supposed to be, but the Chandon Instagram shows photos with a deeper-colored wine).

Primarily this is a concern because you may not be experiencing some of their wines in their best form. It's generally difficult to be sure how "fresh" any given wine is if you haven't procured it directly from the winery, but even more so with mass-produced wines like Chandon. I asked The Sip about this, and they verified their purchase dates and how long they retain wine in the warehouse (not long), so this is a problem at the distributor level or just a part of the small-format wine experience. It's not a deterrent, but something you should be aware of.
Their "return policy" is not standard. It's in quotes because it's hard to call it a return policy. It comes in two parts. For lost, stolen, and damaged items you can file a claim with the Sip Insurance program (all shipments are insured). If your order was stolen and was over $100, you'll need to file a police report. If you didn't like your wine, or it was a bad bottle, you're out of luck, all sales are final.
Is The Sip Society a good gift?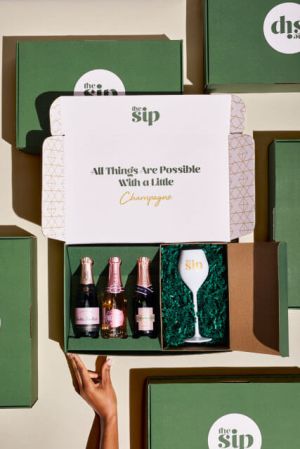 If ever there was a wine subscription that makes a great gift, this is it. You can gift a single box, or you can gift a 3-, 6-, or 12-month subscription (remember, it gets delivered every other month, so a 12-month subscription lasts for 2 whole years).
It's important to note the gift is announced via email, the first shipment doesn't just arrive at their door. Your recipient redeems their gift online, and then their subscription will begin. This streamlines the fulfillment side of The Sip to help keep managing different kinds of subscriptions more, well, manageable.
A couple of important caveats: your gift recipient will need to provide a credit card in order to redeem their gift; gift memberships are auto-renewed (to your recipient's credit card), but they'll get an email before the charge is made.
Love the idea but just want to send the gift once? They've got you covered with a great selection of one-time gift boxes ranging from $50.95 to $120.95.