VineBox Review
In this review · What is VineBox? · Wine Review · Current Edition · Past Editions · 12 Nights of Wine · Membership Benefits · Gift Review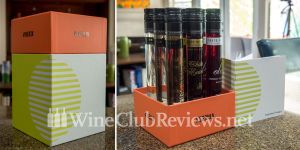 VineBox is a different kind of wine subscription service, perfect if you like exploring new wine, like tasting expensive wine, or tend to drink a glass at a time — calorie counters and weeknight drinkers, we got you. Each quarter you receive nine glasses (3.3 ounces) filled with perfectly-preserved premium wine.
We love the VineBox experience. The quality of the wine is exceptional, and all of the wine is selected by sommelier Tyler Kennedy. The packaging is a compact box containing glass tubes of wine. Except for the fact that you pour it yourself, it's like visiting a wine tasting room with a selective inventory of mostly European wines.
Note: More than a year ago VineBox switched from 3 glasses monthly to 9 glasses quarterly. The wine program is now themed and offers a more complete tasting experience.
VineBox now ships quarterly so you have more time to spread out the tasting experience, decide on your favorites, and then take advantage of the store credits which accompany each club shipment. If you really like what you tasted, you can buy full-size bottles of the wine (prices vary) or 3-12 more glasses (prices vary, shipping included on 6 or more glasses). You must be a logged-in member to do this, as the wine store is based on your order history.
The store credits work like this: $15 quarterly credit for subscription box customers who are billed quarterly; $30 quarterly credit for customers who are billed annually. That's up to $120 of free wine!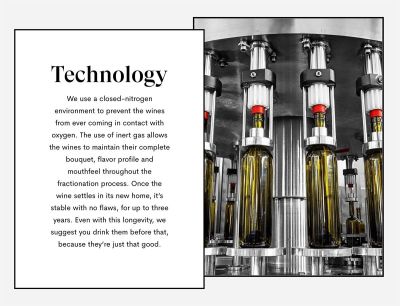 How VineBox Gets the Wine Into those Tubes
Wine preservation systems have come a long way in the last 10 years. We now have dozens of options available to us at home. VineBox uses a commercial-grade system that works (more or less) like Coravin or a EuroCave. A "closed nitrogen system" prevents wine from coming in contact with air, thus preserving it without flaws for up to three years. They're essentially re-bottling wine, with permission from the wineries and with respect provided to the liquid art contained therein.
VineBox Wine Review
Our VineBox Wine Ratings
| | |
| --- | --- |
| Quality of Wine | |
| Price of Wine | |
| Wine Curation | |
We think they say it much better than we could... "You won't find anything mass produced here. We are about the little guys, the stories behind the wine, the towns and the terroirs. After all, that's what makes good wine great. It's the details, the passion, and the people. We combine old-world access with our patented fractioning technology to bring the experience to you, our member. Life is too short to drink bad wine. We're here to help."
We found the quality of the wine we received from VineBox to be excellent. We have received 11 shipments as of October 2019, including both Shades of Summer and 12 Nights of Wine. The current Vintages & Verticals shipment includes:
2013, 2014, and 2015 Giovanni Abrigo Barolo Ravera. 100% Nebbiolo from Piedmont, Italy
2010, 2013, and 2015 Chateau Hourbanon Bordeaux. Cabernet Sauvingon and Merlot from Medoc, France
2014 Giovanni Abrigo Barolo Ravera. 100% Nebbiolo from Piedmont, Italy
2015 Giovanni Abrigo Barolo Ravera. 100% Nebbiolo from Piedmont, Italy
2018 De Andre Sisters 'Alegra.' 100% Verdejo from Rueda, Spain
2018 El Modernista Blanc. Garnacha Blanc and Macabeo from Terra Alta, Spain
2018 Lagar de Costa. 100% Albariño from Rias Baixas, Spain
Given the unique experience, VineBox is free to set any price they want for their wines. We find the price to be on the high side for the equivalent of roughly 1.5 bottles of wine, but unlike with other wine subscriptions, you're also paying for specialized packaging, the ability to buy tastes of wine instead of bottles, and you also get credits toward additional wine purchases.
This Quarter's Themed Wine Tasting — Hidden Gems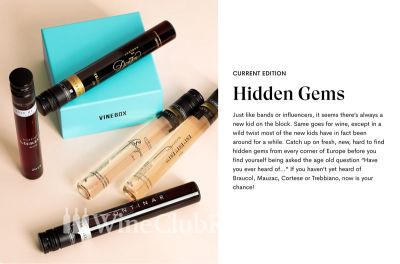 "Est! Est!! Est!!! One of the craziest names of a wine appellation in the world, this historically prominent white wine region offers intense and persistent wines worth a taste.
Braucol - 2 Ways. Sample one of France's hottest new and obscure red wine grapes in both a chillable intense red as well as a fruit filled crisp rosé perfect for those warmer days ahead.
Big Wine, Small Village. Enjoy an award winning red blend from the tiny town of Corella in Spain's Navarra region that's big in the glass even though the village has less than 8,000 residents!
$87 for a 1-time box or $79 if you get a subscription.
Previous Editions Include...
Vintages & Verticals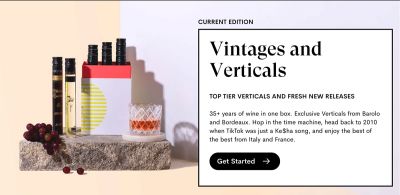 "35+ years of wine in one box. Exclusive Verticals from Barolo and Bordeaux. Hop in the time machine, head back to 2010 when TikTok was just a Ke$ha song, and enjoy the best of the best from Italy and France." Piedmont, Bordeaux, and Spain.
Organic Wine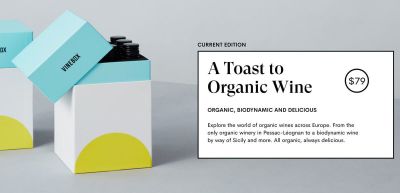 Have an organic wine tasting experience at home. "Explore the world of organic wines across Europe. From the only organic winery in Pessac-Léognan to a biodynamic wine by way of Sicily and more. Sustainably sourced, organic, and delicious.
Winter Wines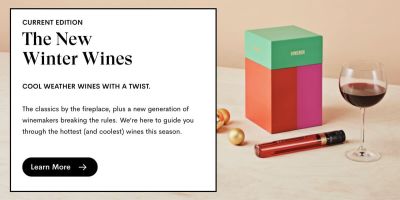 Try a historically-relevant wine tasting experience. "Taste wines 100 years in the making. 6th generation estate owners. "Recipes" invented by Barons in the middle of the 19th century. Paleozoic era soils. 100+ year old vines. In short, history in a glass."
Hot Days, Cool Nights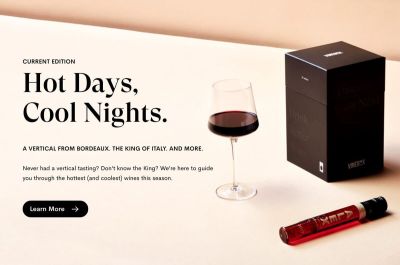 The Barolo wine tasting experience. "Taste Barolo, the most expensive area permitted to grow nebbiolo, along side a nebbiolo from neighboring Alba and see what the hype's all about."
The Bordeaux wine tasting experience. "Ever experienced a tasting of the same wine across different vintages? We're bringing Médoc, Bordeaux to you with a 2010, 2011, and 2012 glass — all from the same vineyard."
Holiday Special — 12 Nights of Wine aka a Wine Advent Calendar
One very cool side of VineBox is their curated box shipments (which subscription members get first access to). This season, the it-box is their 12 Nights of Wine box. This is the third year offering this wine tasting box and it always sells out quickly.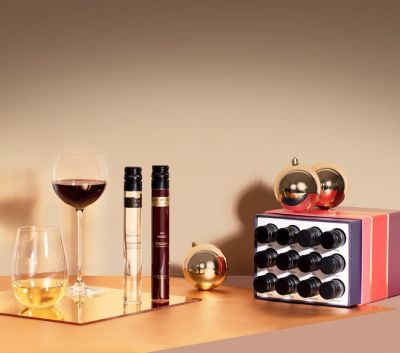 Membership Benefits
Our VineBox
Membership Benefits Ratings
| | |
| --- | --- |
| Satisfaction Guarantee | |
| Discounts | |
| Customer Service | |
| Wine Education | |
| Convenience | |
VineBox's satisfaction guarantee is not as inclusive as some other monthly wine clubs. They'll gladly replace any damaged shipments at no cost to you, but you need to send photos of the damage. If you don't like the wine they won't replace it. We believe that you're not going to like every wine from any wine club and with VineBox the risk is spread out over nine different wines in each shipment.
VineBox has really stepped up their game on offering price breaks. They embrace the "buy more, save more" pricing model, rewarding their best customers with their best discounts. They also offer their subscription members a quarterly credit toward bottles or additional glasses of your favorites.
Here's a breakdown (all prices include shipping):
| Billing Frequency | 1-Person Price per Box | 2-People Price per Box | Bottle/Glass Credits |
| --- | --- | --- | --- |
| One-time shipment | $87 | n/a | n/a |
| Quarterly billing | $79 (9% savings) | $71.10 (18% savings) | $15 per quarter |
| Annual billing | $72 (17% savings) | $64.80 (25% savings) | $30 per quarter |
VineBox is no longer new, but we still haven't received any customer complaints. We also couldn't find any online. If issues arise, we'll update this review.
Normally we're in favor of a light touch when it comes to wine education. The reality is that most wine drinkers don't remember grapes and wine regions, much less winemakers and vineyards, so it's usually overkill. In the case of VineBox, where they have a sommelier choosing unusual premium wines, we feel there ought to be a greater emphasis on educating their customers about these amazing wine finds.
Gift Review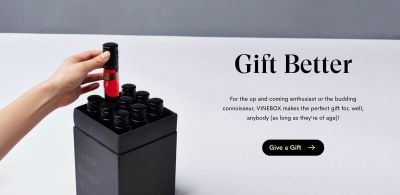 When you order VineBox as a gift, you'll schedule the day you want an email to be sent to the recipient. There is an email announcement because the gift is presented as a redeemable gift voucher. We like when wine subscription services work this way because it puts the recipient in charge of the account and deliveries. It also makes it easy for you to give VineBox as a last-minute wine gift, especially around the holidays.

The presentation of the package when the wine arrives is high-quality and creates delight (what we think should be true for any gift unboxing). It's worth noting there isn't any special gift wrap or gift packaging with the first shipment, but honestly, that package of nine glasses of wine speaks volumes about the care you took to pick the gift in the first place.