VineBox Review
Last Update: February 8, 2019; Original Review: November 17, 2017
by
WineClubReviews.net
In This Review: What is VineBox? · Wine Advent Calendar · Current Edition · Past Editions · VineBox Ratings
Overview of VineBox Wine by the Glass Club
VineBox is a different kind of wine subscription service, perfect if you like exploring new wine, like tasting expensive wine, or tend to drink a glass at a time — calorie counters and weeknight drinkers, we got you. Each quarter you receive nine glasses (3.3 ounces) filled with perfectly-preserved premium wine.
We love the VineBox experience. The quality of the wine is exceptional, and all of the wine is selected by sommelier Tyler Kennedy. The packaging is a compact box containing glass tubes of wine. Except for the fact that you pour it yourself, it's like visiting a wine tasting room with a selective inventory of mostly European wines.
Please Note: Several months ago VineBox switched from 3 glasses monthly to 9 glasses quarterly. The wine program is now themed and offers a more complete tasting experience.
VineBox now ships quarterly so you have more time to spread out the tasting experience, decide on your favorites, and then take advantage of the store credits which accompany each club shipment. If you really like what you tasted, you can buy full-size bottles of the wine (prices vary) or 3-12 more glasses (prices vary, shipping included on 6 or more glasses). You must be a logged-in member to do this, as the wine store is based on your order history.
The store credits work like this: $15 quarterly credit for subscription box customers who are billed quarterly; $30 quarterly credit for customers who are billed annually. That's up to $120 of free wine!
How VineBox Gets the Wine Into those Tubes
Wine preservation systems have come a long way in the last 10 years. We now have dozens of options available to us at home. VineBox uses a commercial-grade system that works (more or less) like Coravin or a EuroCave. A "closed nitrogen system" prevents wine from coming in contact with air, thus preserving it without flaws for up to three years. They're essentially re-bottling wine, with permission from the wineries and with respect provided to the liquid art contained therein.
Current Edition - $79 (club price)
A Toast to Organic Wine - $87 for a 1-time box (or member pricing if you join the club)
For your first VineBox, if you order from this link, you can have an organic wine tasting experience at home. "Explore the world of organic wines across Europe. From the only organic winery in Pessac-Léognan to a biodynamic wine by way of Sicily and more. All organic, always delicious." This Organic Wine Edition includes 9 wines for this season (6 red, 2 white, and 1 rosé), by the glass. Sustainably sourced, organic, and delicious. Each 10 cl pour is perfectly preserved as if directly from the vineyard.
Sustainably Farmed. "Ox-driven plows, onsite compost, and no harmful pesticides. Farming today with an eye for tomorrow, both ethically and environmentally."
No Additives. "No industrial sulfites, flavoring agents, GMOs or coloring doses. Just organically grown grapes and time for them to naturally shine."
Naturally Delicious. "What's in the bottle is what nature intended, with minimal guidance and oversight from the winemakers and vineyard crews." Get the Organic Box today!
---
Previous Editions
Viva La Revolución! (The New Winter Wines) - $87 (or member pricing if you join the club)
For your first VineBox, if you order from this link, you can try a historically-relevant wine tasting experience. "Taste wines 100 years in the making. 6th generation estate owners. "Recipes" invented by Barons in the middle of the 19th century. Paleozoic era soils. 100+ year old vines. In short, history in a glass."
Seasonal Pairings. "Rich and spicy reds to warm you after the cold. Whites with a little added "winter weight." And dinner options from Grenache with turkey to Chardonnay with latkes (applesauce or sour cream approved)."
The Spice of Life. "Winter doesn't always mean big, spicy reds by the fireplace. Try a light bodied Beaujolais with spicy food and let the food do the warming, or drink a glass of Cab Franc just because. Roast chicken optional."
"Le Paria and Préjugés, from aptly named The Dissenters, are the beginning of a wine revolution in France; letting the grapes dictate how the wine is made and not the République Française. Taste two de-classified single-varietal wines from an area that prohibits single-varietal wines and join the revolution!"
Hot Days, Cool Nights (King of Italy) - $87 (or member pricing if you join the club)
For your first VineBox, if you order from this link, you can try the Barolo wine tasting experience. "Nebbiolo is more than the noble grape of Italy, being planted as far away as California. But nothing compares to the King. Taste Barolo, the most expensive area permitted to grow nebbiolo, along side a nebbiolo from neighboring Alba and see what the hype's all about."
Nebbiolo is the only grape permitted in a wine labeled Barolo in Piedmont. While Barolo is a premier growing region for this grape, it's next-door neighbor Alba produces world-class wines, too. Alba also borders Barbaresco, yet another famed producer of Nebbiolo. In this box you'll taste wine like a sommelier would, comparing the finer points of the two regions in an in-depth lesson sure to leave you more confident in selecting these wines at restaurants.
Hot Days, Cool Nights (Bordeaux Vertical) - $87 (or member pricing if you join the club)
For your first VineBox, if you order from this link, you can try the Bordeaux wine tasting experience. A vertical is three or more vintages of the same wine. The purpose is to learn the subtle differences weather has on a bottle of wine each year. "Ever experienced a tasting of the same wine across different vintages? We're bringing Médoc, Bordeaux to you with a 2010, 2011, and 2012 glass — all from the same vineyard."
Médoc is the "Left Bank" Bordeaux wine region known for Cabernet Sauvignon dominant blends. It includes Médoc, Haut-Médoc, Saint-Estèphe, Pauillac, Saint Julien, Listrac-Médoc, Moulis, and Margaux. According to Wine Spectator, 2010 was a 99-point vintage and this vertical tasting will show you how each year is really quite different than the next when it comes to growing wine grapes. This type of vertical tasting is rare and quite a treat that many sommeliers would sign up for, too.
---
VineBox Wine by the Glass Club Ratings
At WineClubReviews.net we take an objective approach to our star ratings system. Our written reviews are very much subjective, based on our 10+ years of wine club review experience and our own ideas about what good wine and good value mean. The star ratings are based on 11 attributes that we feel define what a wine club should be. Here is how VineBox Wine by the Glass Club stacks up on these traits.
Note: This rating is our objective analysis of VineBox's satisfaction guarantee—not our assessment of whether or not you're guaranteed to be satisfied with their wines.
VineBox's guarantee is not as inclusive as some other monthly wine clubs. They'll gladly replace any damaged shipments at no cost to you, but you need to send photos of the damage. If you don't like the wine they won't replace it. We believe that you're not going to like every wine from any wine club and with VineBox the risk is spread out over nine different wines in each shipment.
We found the quality of the wine we received from VineBox to be excellent. We have received nine shipments as of December 2018, including both Shades of Summer and the Wine Advent Calendar, and the shipments included (and many more):
2016 Rosé of Cinsault, Grenache, Syrah - Château de Brégançon, Côtes de Provence, France
2017 Rosado of Cabernet Sauvignon - Castillo de Benizar, La Mancha, Spain
2016 Sauvignon Blanc - Domaine de la Renne, Touraine, Loire Valley, France
2016 Chenin Blanc - Domaine de la Roche Moreau, Couteaux du Layon, Loire Valley, France
2016 Chardonnay - Domaine du Meix Guillaume, Rully A.O.C., Burgundy, France
2016 Grenache Blanc, Marsanne, Macabeo - Cellier des Demoiselle, Corbières, Languedoc-Roussillon, France
2016 Grenache, Syrah, Mourvedre - Domaine de la Roncière, Côtes du Rhône, France
2017 Grignolino (Light Red) - Ca de Lion, Asti, Piedmont, Italy
2015 Syrah, Grenache, Cabernet Sauvignon - Château de Brégançon, Côtes de Provence, France
2018 Tempranillo - Bodegas Vinos Alex, Navarra, Spain
Given the unique experience, VineBox is free to set any price they want for their wines. We find the price to be on the high side for the equivalent of roughly 1.5 bottles of wine, but unlike with other wine subscriptions, you're also paying for specialized packaging, the ability to buy tastes of wine instead of bottles, and you also get credits toward additional wine purchases.
Sometimes people like to say something is "very unique." Unique means singular, there is only one, so we say VineBox is truly unique — there are no other wine clubs like it, and nothing even comes close.
We think they say it much better than we could... "You won't find anything mass produced here. We are about the little guys, the stories behind the wine, the towns and the terroirs. After all, that's what makes good wine great. It's the details, the passion, and the people. We combine old-world access with our patented fractioning technology to bring the experience to you, our member. Life is too short to drink bad wine. We're here to help."
This is an area where VineBox is really stepping up their game. They embrace the "buy more, save more" pricing model, rewarding their best customers with their best discounts. They also offer their subscription members a quarterly credit toward bottles or additional glasses of your favorites.
Here's a breakdown (all prices include shipping):
| Billing Frequency | 1-Person Price per Box | 2-People Price per Box | Bottle/Glass Credits |
| --- | --- | --- | --- |
| One-time shipment | $87 | n/a | n/a |
| Quarterly billing | $79 (9% savings) | $71.10 (18% savings) | $15 per quarter |
| Annual billing | $72 (17% savings) | $64.80 (25% savings) | $30 per quarter |
VineBox is no longer new, but we still haven't received any customer complaints. We also couldn't find any online. If issues arise, we'll update this review.
As personalization goes, VineBox is now a little more limited. You can choose red wine, white wine, or a mix of both.
VineBox has all of the standard expected conveninences of a subscription box service.
Normally we're in favor of a light touch when it comes to wine education. The reality is that most wine drinkers don't remember grapes and wine regions, much less winemakers and vineyards, so it's usually overkill. In the case of VineBox, where they have a sommelier choosing unusual premium wines, we feel there ought to be a greater emphasis on educating their customers.
When you order VineBox as a gift, you'll schedule the day you want an email to be sent to the recipient. There is an email announcement because the gift is presented as a redeemable gift voucher. We like when wine subscription services work this way because it puts the recipient in charge of the account and deliveries. It also makes it easy for you to give VineBox as a last-minute wine gift, especially around the holidays.

The presentation of the package when the wine arrives is high-quality and creates delight (what we think should be true for any gift unboxing). It's worth noting there isn't any special gift wrap or gift packaging with the first shipment, but honestly, that package of nine glasses of wine speaks volumes about the care you took to pick the gift in the first place.
---
VineBox Special Offers
One very cool side of VineBox is their curated box shipments (which subscription members get first access to).
Wine Advent Calendar - 12 Days of Christmas Wine
Last year VineBox's ingenious wine advent calendar — which pre-dates the now-infamous and comparatively unimpressive Aldi Wine Advent Calendar — sold out in just 4 weeks. This year they've sweetened the deal! In addition to counting down to Christmas with 12 Nights of Wine, 10 of these delicious wine boxes contain a "golden" glass tube. If you're one of the lucky recipients of the golden tube, you win a free year of VineBox (furnished by VineBox).
---
Shades of Summer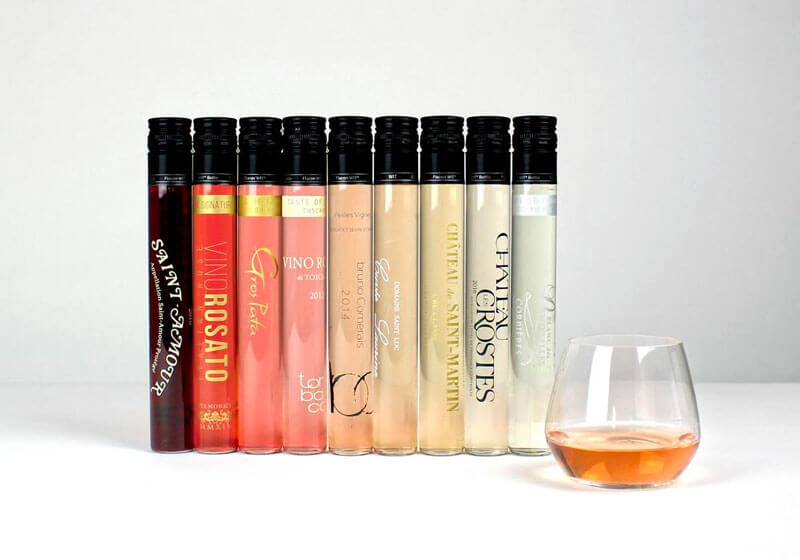 This box includes six rosés of various shades, two chillable reds, and one crisp white. You're guaranteed to have the perfect glass of wine on hand for any meal you eat this summer. Notice how the Chateau les Crostes rosé is practically the same color as the white wine? That's a common practice in Provence, the home of rosé.