Every Wine That's Pink to Drink:

Your guide to the best rosé wines in 2017
Rosé is hot!
If you can't believe how much you're hearing about rosé all of a sudden, well, neither can we! We discovered the joy of pink wine while tasting our way through wine country in California in 2014. Back then it was something small-production wineries were tinkering with, not something they were committed to — they weren't sure American consumers would make the leap from cloyingly sweet White Zinfandel to drier rosé.
After two sell-out summers, they discovered we were thirsty for light wines for summer than weren't our usual go-to whites. They planned ahead for 2016, and all of a sudden sommeliers and wine writers everywhere took notice of the hot trend among boutique winemakers.
Now, in 2017, we've seen an utter explosion of rosé produced in the U.S. and imported, mostly from France. To help you make sense of it all, we've assembled this handy guide to everything (wine) that's pink.
One of this summer's hottest sellers is Summer Water by Winc (photo at top of page). You might be able to find it in a wine store near you, but the best way to get the year's vintage before it's gone is to join Winc. Membership price for Summer Water is $15 ($18.99 retail) and they've got 4 more great rosés to try. Free shipping on boxes with 4 or more bottles.
What is rosé, anyway?
Rosé, a light wine perfect for summer, is made from many different kinds of grapes, comes in every shade of pink and pale orange imaginable, and can range anywhere from sweet to bone dry. In other words, there's something for every kind of wine drinker. Typically we think of rosé as dry, even when it's fruity, and we should never mistake rosé for White Zinfandel, which it is not.
There are a few primary ways rosé is produced, the first two begin with red grapes being allowed to rest on their skins when they are being pressed. Quick note: red grapes often have white flesh, so red wine made from those grapes gets its color from contact with the skin.
Method 1 (Maceration): Here the purpose of the pressing is to make rosé. The grapes rest on their skins for just a short time, then the skins are removed, and the wine is produced with a now light-pink juice (it hasn't fermented yet, so it's still just grape juice). Different rest periods produce different depth of colors.
Method 2 (Saignée): Here the rosé is a second wine made while producing a red wine. The lighter colored juice from the first press is "bled off," collected, and turned into rosé while the rest of the batch continues on to become a now more-intense red wine.
Method 3 (Blending): The third way to make rosé is to blend small amounts of red wine and a signficant portion of white wine (we know you're tempted, but we don't recommend trying this at home unless you have a great bottle of Vermentino and an eyedropper for titrating Cinsault and Grenache into your glass).
As with most things wine, we recommend you check out Wine Folly's take on Rosé if you want a deeper dive.
How to drink and store rosé
When to Drink: Nearly all rosé is meant to be drunk the year it is released. For 2017 that means you should be drinking 2016 rosé and that you should try to finish everything you buy this year before the calendar flips February 1, 2018 (when the new releases start to make it to market). While rosé can be consumed any time of year, there seems to be a preference to enjoy it when it's hot outside. So, our suggestion, if you make it to Labor Day and haven't depleted your stash, set aside your two favorites (for those random hot days in early Fall) and bring the rest to your Labor Day BBQ.
Storage: You can keep rosé in your regular refrigerator, or any other cool and dark location. Like most light-colored wines, it is recommended you drink rosé when its temperature reaches 45-55 degrees Fahrenheit. Your fridge is typically under 40 degrees, so let the rosé sit out in the bottle for 10-15 minutes to come up to ideal temperature. A fridge-cold wine loses its nuance and complexity because some of the elements which deliver flavor don't activate until they're warmer.
Wine Glasses for Rosé: Many people serve rosé in a standard white wine glass. This is totally fine. If you happen to be drinking a Rosé of Pinot Noir and you happen to have tulip glasses, we recommend using those. It's also fun to drink rosé out of champagne flutes.
If you must go stemless, we suggest something like these glasses which separate your hot hands from your cool wine. We strongly recommend avoiding the following materials: stainless steel, plastic, rubber, and acrylic as they will change the way your wine tastes, and not in a good way.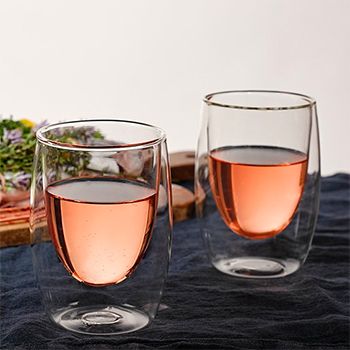 Different kinds of rosé
Today most of the world's supply comes from southern France, including Provence (Provençal is the adjective we use to describe things from Provence) and Languedoc-Roussillon; rosé has become popular with winemakers around the world and is made in many different styles these days.
Here is a selection of different rosés, each with a description of what to expect and where to buy some of our favorites.
Rosés of Provence (and nearby)
The first rosé I had in Provence was from Domaine de Valdition and oh, was it divine. Like Champagne, it could be paired with almost anything, but it complemented our fresh French cheeses and salads perfectly. That example was made from 60% Grenache, 25% Cinsault, and 15% Vermentino (a blend of red and white grapes), but other commonly used grapes for rosé from Provence include: Mourvèdre, Carignan, and sometimes Syrah, Counoise, and Muscardin.
Fun fact: Provençal rosé is often sold in unusually-shaped bottles. This is a tradition going back to the 1930s when wineries first started bottling their own wines and wanted to compete with each other on presentation. Today you'll find a plethora of bottle shapes designed to stand out on the shelf at the store and still fit in your modern refrigerator or wine cellar. We think it's charming. More detail at ElizabethGabay.com.
Rosés from California, Oregon, and Washington
Not to be left out from all the fun, many Rhone-producing wineries in the U.S. have started making their own rosés. Boutique wineries from Paso Robles and Santa Barbara are especially prolific, because hot summer Southern California afternoons go perfectly with fruity, dry rosé made of Pinot Noir (not a Rhone grape, but makes a great rosé), Syrah, Grenache, Mourvedre, Cinsault, and all kinds of blends. We've seen rosés of Merlot, Sangiovese, and Zinfandel, too. (Boutique winemakers are creative!)
Not burdened with a century of traditional winemaking rules, U.S. winemakers are free to test the boundaries. You'll notice a great variety in depth of color, flavor profiles, and preferred grapes as compared to Provence. You'll also notice a lack of critical ratings on the U.S. rosés — we can only presume this is because most of them are produced in small batches and the caché of U.S. rosé hasn't caught on yet.
While a great number of excellent west coast wineries have jumped on the rosé bandwagon, some questionable large-scale producers have also jumped in. We'd like to bring your attention to White Girl Rosé, best described as a strawberry/watermelon Jolly Rancher. You can read about sommelier opinions of it at VinePair.
Rosés in a Can!
The other day when my hairdresser asked, "Okay, so… wine in a can?!" And I said, "Yes! If it's good wine!" The truth is, there are many reasons winemakers are turning to cans to present their wares, here are a few.
Cans are hipster-cool. Whether it's La Croix, Pabst Blue Ribbon, or Pinot Noir, it comes in a can.
Cans are very portable. You can take cans of wine all kinds of places you would never bring bottles: the beach/pool, parks (because cops can't see it's booze from their car when it's in a can), concerts (see note about cops), and anywhere a corkscrew may not be handy.
Cans are actually great for wine. As a general rule we want to keep light and air out of our wine until we're ready to drink it. Aluminum doesn't let in any light or air. Also, the cans are lined with an epoxy (like all other beverage and food cans) so the aluminum doesn't interact with the wine.
Cans are lighter weight, so fuel costs associated with shipping are lower (hooray for the environment and the price of the wine).
And... they're a great way to start a conversation about wine!
Some of our favorite places to buy wine online
One quick look at wine-searcher.com and you'll probably notice there are a bazillion places to buy wine online. Many times wine merchants don't have the wines listed in stock, they order them when you do. Frequently they'll list low prices on sites like wine-searcher, and then charge you a lot for shipping, eroding the discount value.
So, we're sharing with you some of our favorite places to buy rosé online, and why you want to shop at those stores. Also, we've sprinkled in some cool deals on rosé to keep you well-informed. Happy shopping!
Quick notes: when buying wine online, don't forget to verify the store can send wine to your state (we have complex shipping laws regarding alcohol in the U.S.). Also, an adult 21-years or older must sign for all alcohol deliveries, so we recommend shipping to your workplace if possible. If not, try the FedEx Delivery Manager and UPS MyChoice services to manage your deliveries.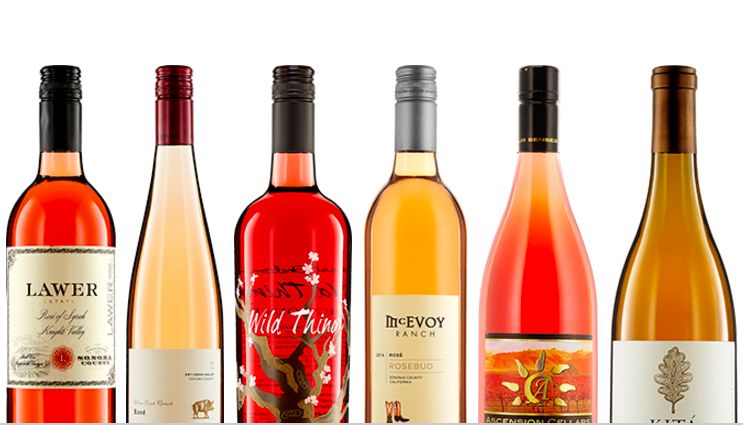 California's Best Rosé
This is a wonderful collection of Six different styles & varietals of Rosé produced by top winemakers in California. It's fun to taste the differences. This is a true horizontal taste treat. Each selection has won an award(s) or has ratings above 90 Points. Don't miss out on this selection of the best of the best.
$115 for 6 bottles, free shipping
at Gold Medal Wine Club
Rosé at Wired For Wine®
Wired For Wine® is terrific place to get wine at a good price. They offer an interesting, well-curated selection of wine from around the world, all priced below retail. Buy any six bottles and get free shipping. Buy something you didn't like? They'll take care of you (either a refund or an exchange).
Wired For Wine® is located in New Jersey and cannot ship outside the U.S. To verify they can ship to your location within the U.S., check the shipping destination options at checkout.
Discover rosé at WiredforWine.com.
Bounty Hunter Wine & Spirits
We think their explanation is perfect:
"We are dedicated and experienced merchants offering exceptional wines, spirits and the best of Wine Country with a fun, authentic approach and uncompromising standards. In business since 1994, our motto is: "If it's not great, we don't sell it."
"As merchants, negociants and vintners, we are afforded special access to a treasure trove of great wine and spirits. We live in the Napa Valley and taste between five and six thousand wines every year. We have longstanding relationships with some of the world's best grape growers, wineries and winemakers in the valley not to mention spirit distilleries worldwide. We often get the early scoop on what's really happening in the wineries, vineyards, cellars and distilleries, which means we have access to the truly "great stuff" long before most other sources even know about it. The fact is, we stay ahead of the curve and find the wine and spirits our customers want before they know they want them."
Bounty Hunter Wine & Spirits is located in Napa, California and cannot ship outside the U.S. To verify they can ship to your location within the U.S., please "call our Wine Scouts at 800.943.9463 or email us and a Wine Scout will assist you. Bounty Hunter Wine Scouts are available from 7am-6pm (PDT). Monday-Friday and 10am-4pm Saturday."
Visit BountyHunterWine.com, choose Wine from the header and then Rosé on the left for a highly curated selection.
Rosé at Saratoga Wine Exchange
At last check Saratoga Wine Exchange had 512 rosé wines from around the world in stock. Saratoga Wine Exchange frequently shows up among with the cheapest prices on Wine-searcher.com and they have an Instant Ship program which means "This product is available for immediate shipping, if ordered before 3pm daily Monday - Friday it will ship the same day as long as ordered with other products that qualify for instant ship."
Saratoga Wine Exchange is located in upstate New York and cannot ship to Alabama, Illinois, New Hampshire, Massachusetts, Mississippi, Indiana, Iowa, South Dakota, Kentucky, Maine, North Dakota, Texas, Nevada and Utah or outside the U.S.
Check out the selection of rosé at Saratoga Wine Exchange.
Rosé at Wine.com
At last check Wine.com stocked 239 different rosé wines from around the world and in every price range. As the leading online retailer of wine, there are perks to buying from Wine.com, namely selection. They have a Wine Stewardship program for $49 a year (kind of like Amazon Prime) which gets you free shipping on every order. Given that a case of wine costs anywhere from $20-60 to ship, even occasional orders will save you money.
Check out the selection of rosé at Wine.com.
Same Day Delivery Services
Apparently there's an epidemic of "I want my booze now!" out there because same-day delivery services are starting to crop up all over the place! Here are ones worth noting:
Drizly: The largest same-day delivery service with most major U.S. cities covered and even a couple in Canada. They rely on "local" wine/liquor stores who run their own delivery services (not UPS, etc.) to list their products and prices, and then fulfill orders. We're pretty impressed with what's available to us in California via Hi-Time Cellars, but you may not get as many options in your local delivery area.
Saucey: A newer service that offers 30-minute alcohol delivery to Los Angeles, San Francisco, Chicago, San Diego, & Sacramento. Their rosé section includes several mentioned on this page! Get free delivery + 10% off your first order or $10 off your first order.
Flash Sale Sites
While we can't guarantee deals on rosé, we do like to remind our readers that there are some great deals out there to behold. Here are a few of our favorite Flash Sale sites (one-day or "until it's gone" sales)
Last Bottle: An unusual, eclectic, and highly-curated selection of wines for enthusiasts and connoisseurs. Notifications via email or app.
Wine at woot!: A cheeky wine-buying service focused on getting you unbelievable prices on popular wines. Best part about woot is that they have a community of wine drinkers who discuss each offered wine, so you can get other people's opinions before you buy! Notifications via email.
Lot18: Lot18 carries an interesting selection of wine, often at great prices, but beware of buying their house brands... our advice is to make sure you check that someone else produced the wine before you buy it. Notifications via email.