French Wine & Cheese Pairings
FYI: I find great wine deals so you don't have to. To keep me on the hunt, I earn a commission when you buy wine based on my recommendations.
When I close my eyes and think of France, I envision walking down a cobblestone street carrying a bottle of wine, a hunk of cheese, and a fresh baguette. That may be a little cliche, but it's one of my happy thoughts. The association of France with wine and cheese is strong because they have a renowned, well-developed culture of enjoying life's finer delicacies. Where better to turn to assemble wine and cheese pairings than the traditions of the French?
About the Wine & Cheese in this Guide
When it comes to all things French, my first phone call is always to Laurent Yung, the founder and CEO of SomMailier. SomMailier is a wine club focusing exclusively on boutique French wine. Laurent is a 5th generation member of the Yung wine family from Bordeaux. Working with his family partners in France, he imports unique and (mostly) exclusive French wines to the United States. He sells these wines on his website and through his delightful wine club. My own experience with the wines from SomMailier is that they are little treasures, distinct from widely available French wines I've tried.
To create a readymade French wine and cheese pairing experience accessible to most people, I chose to work with the pre-selected cheese assortments at iGourmet. They have a rather impressive selection of cheese collections grouped under the heading "Cheese for Wine" that make a great jumping off point. Most of these assortments are grape variety-specific, but their French Cheese Assortment (pictured in this guide) is terrific.
I tried the French Cheese Assortment from iGourmet with three of Laurent's wines which were already en route to my home when the cheese arrived. It's worth noting that the wines I tasted the cheese with in these photos are not the wines his team ultimately recommended for these cheeses, but the experience was fun anyway (an important lesson with wine and cheese pairing: have fun!).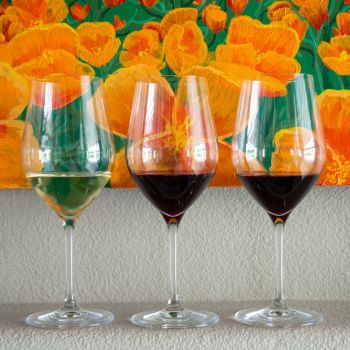 The Cheese
There are four classic French cheeses in the iGourmet assortment. If you want to get familiar with French cheese, this is a great place to start. Even if you already know a bit about French cheese, these selections will help solidify your basic knowledge, especially for wine pairing purposes. One thing to note, most of these cheeses would be unpasteurized in France, but most cheese imported to the US from France is made with pasteurized milk.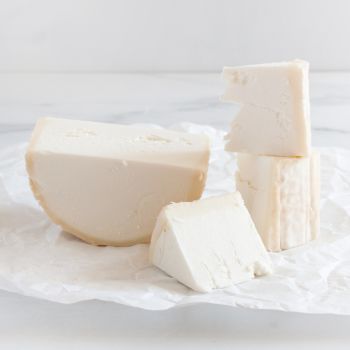 Bûche de Chévre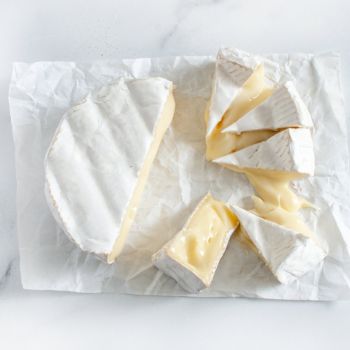 Camembert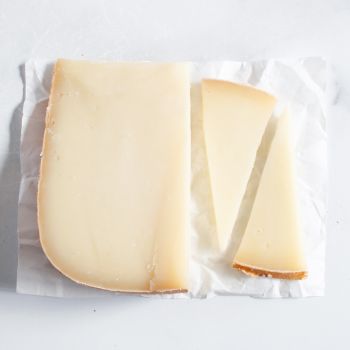 Istara Ossau-Iraty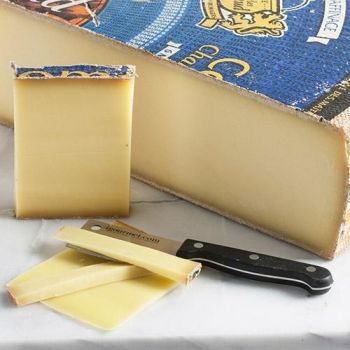 Aged Comté
Bûche de Chévre — This Bûche de Chévre is from Poitou in the Loire Valley. It is aged for two months, during which time it develops a hard, edible crust complete with a bloomy, white mold coating. It is sharp and tangy (funky) near the rind and gets progressively richer and creamier toward the center. When enjoying this cheese, you savor a delightful combination of flavors and textures in each bite. Bûche de Chévre is a true delicacy that begs for a warm, crusty French baguette and a glass of perfectly paired wine.
Camembert — A similar cheese to brie, Camembert (from Normandy) is formed into smaller wheels and may have a slightly more robust flavor than its larger cousin (brie). Firm when chilled or runny at room temperature, there are many ways to enjoy this wonderful cheese. The Bellerive is a mild tasting Camembert despite its pungent odor.
Ossau-Iraty Istara — From the same company that makes the ever-popular P'tit Basque. The generic name for this cheese is Ossau-Iraty, which refers to two rivers in the Basque region of France — the homeland of this spectacularly delicious cheese. Also called Brebis Pyrenees, which is simply French for Sheep Cheese from the Pyrenees, Istara has a smooth, slightly oily texture and a wonderfully sweet flavor with hints of olive, hazelnut and fig. Aged for 90 days. If you've tasted Manchego, you'll recognize the sheepy qualities immediately.
Comté — Comté is widely available in the US (Costco and Trader Joe's both carry it). This Comté is aged for six months, where it develops a tight-knit texture and satiny body. On the palate, one can detect notes of fruits, hay, and a slightly nutty, smoky flavor gained during the process when the curd is cooked.
The Wine
There is a large array of French wines that pair well with an equally sizable selection of French cheeses. With a general preference toward more subtle flavor profiles, both are well-suited companions to each other. Regardless, it is still the case that some cheeses do better with white wines and others excel with red wines. Another option is Champagne which goes with most cheeses.
I asked Laurent and his team to curate a selection of wines specifically for this cheese assortment. There are a total of five recommended wines for you to choose from. Since SomMailier has a minimum order of three bottles (it's more efficient to ship this way), they have also curated three-bottle sets to make things easier.
The wines selected by the SomMailier team were chosen to complement these cheeses and bring out the best pairing experience from both elements. Most of what SomMailier sells is connected to the Yung family and Laurent's brother Patrick selected the wines for these cheeses (along with his assistant Pierre Guillemin).
Continue reading to discover each of these wines and which cheeses they pair with, or skip ahead to the curated three-bottle sets.
French White Wines for Cheese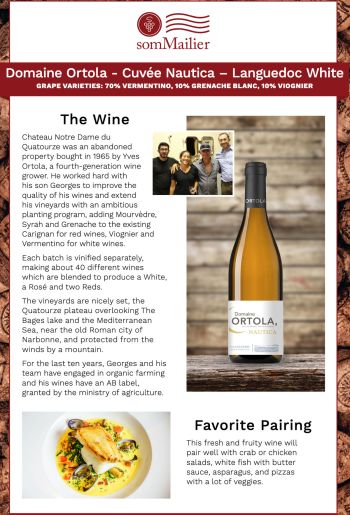 Domaine Ortola – Cuvée Nautica white Languedoc 2021
Blend: 70% Vermentino, 20% Grenache blanc, 10% Viognier
$29 at SomMailier

Tasting Notes: aromas of peach and flower with flavors of peach, apricot, slightly woody, with a final of toasted hazelnut.
Pair with: Comté. One of the rare "if it grows together, it goes together" examples in wine and cheese that actually works.
"The Romans planted vines in Languedoc 2000 years ago. It is still the largest wine region in the world, where a new generation of vignerons work to improve quality over quantity. Located in the most southern region of France, next to Spain and the Mediterranean Sea, it is dry and sunny. It can be very hot, but the sea breezes alleviate the stress of the vines. The soils of clay, limestone and rolled pebbles, and the perfect climate maintain very strong and healthy vines."
White wine blends from warmer climates tend to be fruity and aromatic, while staying light and balanced. This one sounds like a dream.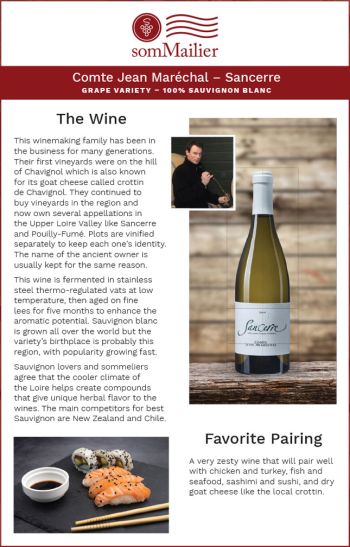 Sancerre Comte Jean Maréchal 2019
Blend: Sauvignon Blanc
$47 at SomMailier

Tasting Notes: aromas of citrus and exotic fruit, freshly cut grass. Subtly powerful and persistent. Sharp fruitiness typical of Sauvignon grapes. Sweet grapefruit.
Pair with: Bûche de Chévre and Camembert. The acidity (freshness) of Sancerre will counterbalance the salinity of the cheese.
Winemaker's Notes: "This is a quintessential expression of sauvignon blanc from Sancerre. The nose is highly perfumed and intense, with classic notes of cut grass, limes and the tell-tell hint of flint. The palate is more restrained than the nose would initially indicate - and all the better for that - with a lovely fresh, balanced and clean character. The flavors are citrus fruits wrapped around a very precise and elegant structure. A long finish completes this very good wine."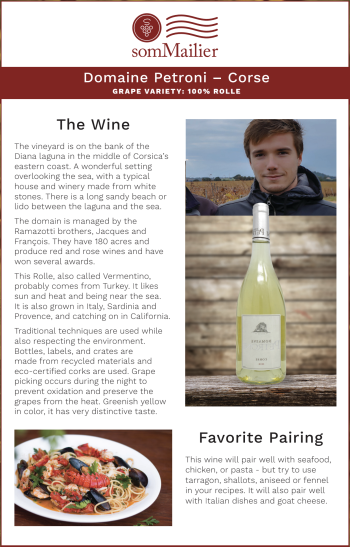 Domaine Petroni 2021
Blend: 100% Rolle (Vermentino)
$33 at SomMailier

Tasting Notes: fresh, balanced, fruity, and peachy. A mineral aftertaste, and a touch of anise seed.
Pair with: Bûche de Chévre. The acidity (freshness) of Rolle will counterbalance the salinity of the cheese.
French Red Wine for Cheese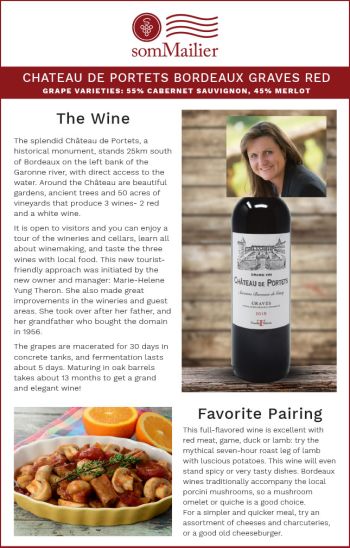 Château de Portets 2016 Graves Bordeaux Rouge
Blend: 55% Cabernet Sauvignon and 45% Merlot
$35 at SomMailier

Tasting Notes: nose of blackcurrant and sweet chocolate. Strong and fruity body, balanced by freshness and silky tannin.
Pair with: Camembert and Ossau-Iraty. The robustness of Château de Portets will harmonize with the power of soft cheeses like Camembert. The melted and delicate tannins of Château de Portets will marry wonderfully with the smoothness and finesse of the Ossau-Iraty.
"Graves is a sub-region of Bordeaux, which takes its name from its gravelly soil. It is where Bordeaux vines were first planted over 2,000 years ago and is situated along the sunny left bank of the Garonne river. In the past, wine was not put into bottles, but into barrels of wine so it could be carried downriver to the port of Bordeaux."
Champagne for Cheese
Champagne Duc de Chancay NV
Blend: 45% Pinot Noir, 30% Chardonnay, 25% Meunier
$45 at SomMailier

Tasting Notes: aromas of violet, lime blossom. Luminous yellow gold color. Fine and lively bubbles. The palate is light and melted with notes of citrus and exotic fruits as well as a delicate finish of honey and brioche bread.
Pair with: all of the cheeses in this assortment. Champagne has a reputation for going with everything, especially fatty and salty foods. This Champagne will bring out unique flavors from each cheese.

Curated Wine Sets
Because everyone's preferences are different, there are four different three-bottle sets of wine to pair with this cheese assortment. My pick is the Champagne, Graves, and Sancerre combo. Here is a breakdown of each set and why it's a good choice.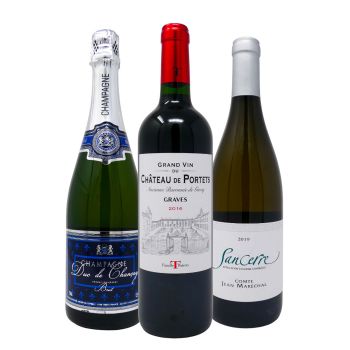 Buy it for $128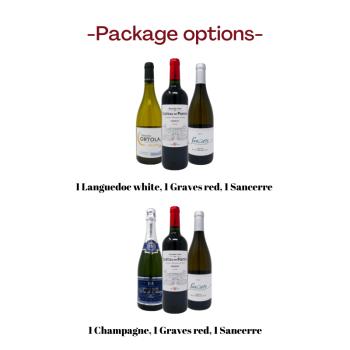 From $111
Champagne + Sancerre + Graves Red
This set of three wines has the most versatility with the four cheeses and makes it easy to explore how each pairs with the cheeses, one wine style at a time.
Sancerre + Rolle + Graves Red
These bright, rich white wines pair beautifully with the creamier cheeses in the French wine collection.
Sancerre + White Blend + Graves Red
The white blend in this set will go incredibly well with the goat cheese. Seeing how the Sancerre and the blend pair differently with the cheese will be educational.
Champagne + White Blend + Sancerre
If you're not enamored with red wine, choose this set. There's much to learn from the Portets about cheese pairing, but red isn't for everyone.
Or, you can build your own set of wines to your taste.
Want to add on a dessert pairing? Check out Laurent's Roquefort & Sauternes pairing, too!
More French Cheese Assortments
Maybe this assortment of French cheese wasn't exactly what you had in mind? Here are some other great choices from iGourmet.
Buy it for $49.99
French Cheeses for the Connoisseur Assortment at iGourmet
Cheeses Included: Pont L'Eveque, Comte Réserve, Buche de Chèvre, Fourme d'Ambert
Buy it for $34.99
Champagne Cheese Assortment at iGourmet
Cheeses Included: Chévre by Vermont Butter and Cheese (Vermont), Ivy's Cheddar (Somerset, England), Camembert (France), Fromage d'Affinois (France)