Silver Oak Napa Valley Cabernet Basket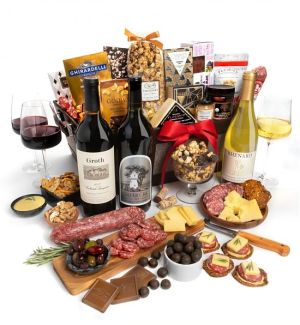 Buy This Gift
Why This Gift
Silver Oak Napa Valley Cabernet Sauvignon is the centerpiece of this abundant gift, served side by side with Archery Summit Oregon Pinot Noir and Stags Leap Chardonnay. The three wines are paired with a rich assortment of gourmet sweets and savory snacks, creating a menu that won't soon be forgotten.

Included in this Gift
One Bottle of Silver Oak Napa Valley Cabernet Sauvignon.
Option: Choose Silver Oak Alexander Valley for $50 less.
One Bottle of Archery Summit Willamette Valley Pinot Noir.
One Bottle of Stags Leap Napa Valley Chardonnay.
Camembert Cheese, Olive Oil Crostini, Manzanilla Olives.
Gardettos Snack Mix, Sweet Peanut Brittle, Toffee Popcorn.
Caramel Stroopwafel, Mango Candies and more.

Included in Every GiftTree Basket
Decorated with Ribbon, Tied by Hand.
Attached Card with Your Personal Message.
Convenient Scissors to Easily Open the Gift.
Securely Arranged to Protect During Shipping.

Personalization
Personalize It! Add your own message to ribbon! One line, max 45 characters. Text repeats across the ribbon. Specify the occasion and customize at checkout.
About the Wine
2009 Dom Perignon Champagne

Produced from Pinot Noir and Chardonnay grapes from the finest growths and vineyards, Dom is created only in years in which the harvest is precisely suitable. Fragile, timeless, and immeasurably enjoyable with aromas of almond, powdered cocoa, and dried flowers leading to a precise, chiseled palate. Toasty notes give a rounded finish and denote a fully realized maturity, while on the palate, the wine instantly traces an astoundingly fine line between density and weightlessness. Its precision is extreme, tactile, and dark while the full taste lingers with the utmost elegance on a sappy, spicy note. Information provided by GiftTree.
Archery Summit Estate Pinot Noir Dundee Hills

This seductive Willamette Valley wine leads with vibrant floral notes of lilac and violet. These floral components are joined by touches of cherry, red raspberry, blood orange, and a hint of cocoa powder. Secondary notes of black licorice, berry bramble, and rosemary complement the leading fruit flavors. The flavors are persistent and saturating, enveloping the palate and lingering through a refined, balanced finish. Information provided by GiftTree.
Silver Oak Alexander Valley Cabernet

This Sonoma California wine is laden with deep garnet colors, flavors of black currant jam, rose petals, and chocolate, with an enticing nose of cassis, blueberries, tobacco, tarragon and roasting coffee. The seamless palate begins with ripe berries, follows with a full-bodied mid-palate, and ends with a long, savory finish with fine grained, well integrated tannins. With proper cellaring, this wine will give drinking pleasure through 2031. Pairs perfectly with grilled salmon, roasted duck, veal, venison or mushrooms. Information provided by GiftTree.
GiftTree.com delivers wine gifts to
AZ, CA, CO, CT, DC, FL, GA, HI, ID, IL, IN, IA, KS, LA, ME, MD, MA, MI, MN, MO, MT, NE, NV, NH, NJ, NM, NC, ND, NY, OH, OR, PA, SC, TN, TX, VA, VT, WA, WV, WI, WY
$399.95 includes shipping
Buy This Gift