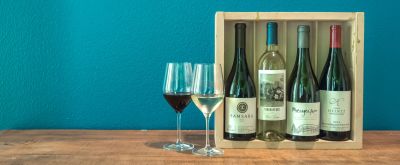 The Best


Corporate Gifts


in 2021
Nearly everyone who receives a corporate wine gift is touched by the delivery. They have the desired effect of making your partners, clients, and employees feel appreciated. They're also a great opportunity to put your brand in front of customers and impress your most important contacts.
Not all corporate wine gifts are created equal. This page contains a selection of gifts from services who handle corporate gifting well, but for a free consultation about corporate wine gifts, please contact us.
Please note: if you buy a gift after clicking links on our site we might earn a commission.
What kind of wine gift?
Choosing the right wine gift may be overwhelming, but we've got your back. There are four basic types of wine gifts.
What kind of wine?
We've got you covered with a variety of wine colors, styles, and regions to choose from. Shop Wine to Give to get all of the options, or narrow your selection to one of these categories.
How much do you want to spend?
Not all wine is expensive, and not all wine gifts break the bank. We have a selection in every price range so you stick to your gift budget (if you have one).