Camaraderie Cellars Washington Cabernet Sauvignon Review
I appreciate that The California Wine Club sometimes sends out back vintages in their wine clubs. For people who don't have the ability to cellar their own wine, shipments like this are learning opportunities.
Wine review by: Jessyca Frederick |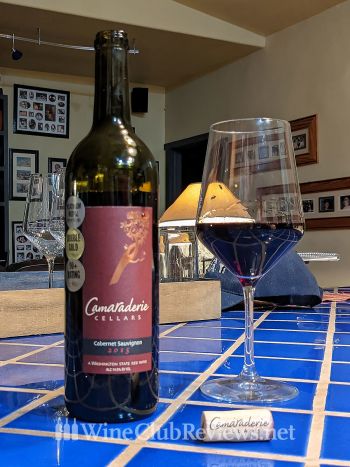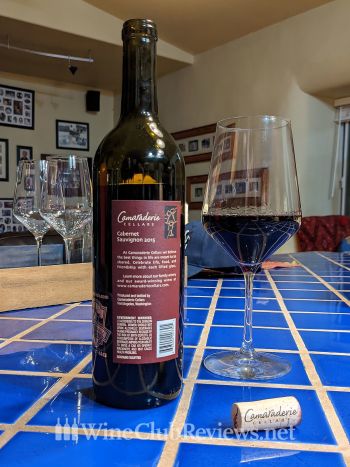 FYI: I find great wine deals so you don't have to. To keep me on the hunt, I earn a commission when you buy wine based on my recommendations.
About this Wine
Wine: 2015 Washington Cabernet Sauvignon
Blend: 85% Cabernet Sauvignon, 15% Merlot
Winery: Camaraderie Cellars
Region: Columbia Valley, Washington
Cases produced: 1,092
Retail price: $37
I consumed it: September 2022
My source: The Pacific Northwest Series of The California Wine Club
Washington Cabernet Sauvignon: What I think
Camaraderie is a great example of a winery that produces craft wine but doesn't grow their own fruit. Founded by Don and Vicki Corson in 1992, the winery is located in Port Angeles, a coastal part of northern Washington (a full day's drive away from where most Washington wine is produced. The location was selected for barrel-friendliness (marine humidity helps keep barrels airtight) and naturally-appropriate cellaring temperatures.
Winemaker Don Corson says this about where his grapes come from, "One of the benefits of being a 'senior' winery in the state is that we know where the good vineyards are." His general philosophy is to carefully make food-friendly wines that are "fruit driven, but not 'fruit bombs.'"
For me, this is generally the role of Washington wine — the styles typical of this state lie somewhere between the bigger, fruit-forward California or Oregon wines and the often austere, mineral-driven wines of France (especially Bordeaux and Burgundy). There isn't a right or wrong way to do things, and the beauty of wine is that everyone can drink what they like.
Something I find fascinating about this winery is the number of different wines they produce, all in very small batches. When you buy your fruit, you can pick what's good from vintage to vintage, and sometimes you get great deals. I also love that this winery has extremely reasonable prices and doesn't mark up library bottles just because they've been aging in their cellar.
I appreciate that The California Wine Club sometimes sends out "back vintages" in their wine clubs. One of my favorite things about wine is seeing how it ages. At this point, we've experimented enough with aging wine in our own cellar to know that I like my wine fruity and I'm not a fan of the "tertiary flavors" common to aged wine (I'm super sensitive to the taste of raisin that can develop, which some people love). For people who don't have the ability to cellar their own wine, shipments like this are learning opportunities.
I enjoyed this Cabernet Sauvignon, which I often don't. I agree with the tasting notes which described "classic black cherry notes that Washington Cabernet Sauvignons are known for." This is probably because it is a blend of grapes from four different Columbia Valley AVAs and six different vineyards, including 15% Merlot. I tend to prefer blends to single-vineyard wines because I like the balance that comes from blends. In this case, each Cabernet vineyard, further enhanced by the Merlot, contributes different characteristics like acidity, tannins, fruitiness, etc.
Notice: I hold no formal wine credentials. I am a wine geek who has consumed 1000+ of bottles from 100+ different wine clubs and 1000s more bottles that didn't come from those wine clubs. I do not accept payment for wine reviews, and I do not accept payments to influence my opinions. I happily accept free wine (and I buy wine).
Why read my wine reviews: Wine taste is subjective. What I like may not be what you like. I try to leave room for you to form your own opinions, so I don't provide a score or a rating. I do point out wines that are an incredible value or truly not worth the money. I note flaws, wines that don't have typicity (because this matters if you are buying wine without having tasted it yourself), when wines are out of balance, and when wines lack appropriate body.
I don't like wasting money (or anything for that matter). I'm careful about where I spend my money and my mindset as a reviewer is to be careful about where you spend yours. I don't believe a high price tag equals quality and I know for sure there are wines of very good quality that are also a great value.
Learn more about me or get in touch.