Dragonette Cellars Happy Canyon Sauvignon Blanc Review
This is their "entry level" Sauvignon Blanc (i.e. it's their least-expensive one) but it, like Dragonette's other Sauv Blancs, changes what you think is possible from this fruit — all while respecting the beauty of the Happy Canyon AVA terroir.
Wine review by: Jessyca Frederick |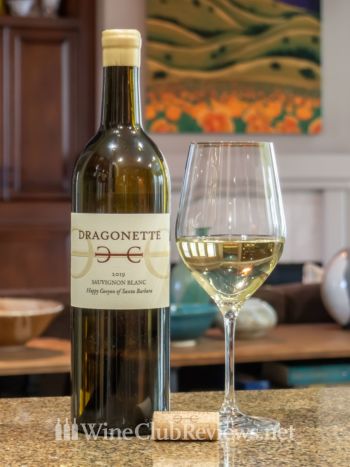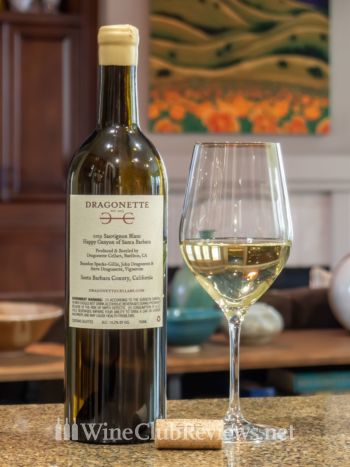 FYI: I find great wine deals so you don't have to. To keep me on the hunt, I earn a commission when you buy wine based on my recommendations.
About this Wine
Wine: 2019 Dragonette Cellars Happy Canyon Sauvignon Blanc
Blend: 100% Sauvignon Blanc
Region: Happy Canyon, Santa Barbara, Central Coast, California
Vineyards: 60% Grassini Family, 34% Vogelzang, 6% Grimm's Bluff
Retail price: $35
Cases produced: 1000
I consumed it: March 2023
My source: Dragonette Cellars Tasting Room
The Back Label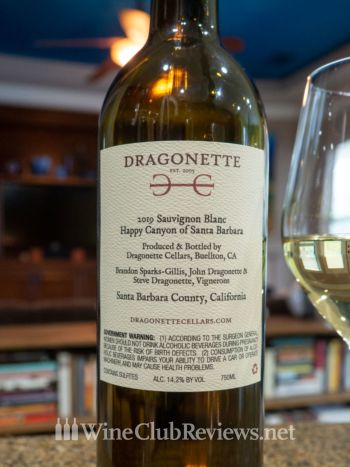 Discover More
Dragonette Cellars Happy Canyon Sauvignon Blanc: What I think
We've been wine club members at Dragonette Cellars for a very long time. There has never been a single bottle we've opened that we didn't love. We call them wizards. This is because the winemaking team at Dragonette has a habit of treating wine differently than most — nearly everything ages on the lees, they oak things like Sauvignon Blanc when no one else does, and they only source immaculate fruit.
One of my favorite things about opening a bottle of their Happy Canyon Sauvignon Blanc is that with the first whiff I am instantly transported back to happy times standing in their tasting room in Los Olivos. Happy because their staff is always welcoming and knowledgeable, but also happy because when we're there, we're in heaven.
I love when I open a bottle of wine and I can identify the aromas and flavors with specificity. A lot of times you'll see "tropical fruit" and it might be really hard to pick out which fruits are really in there. This time, it was immediately obvious — bruléed pineapple and guava. I don't normally get as fussy as "bruléed pineapple" in my wine tasting notes, but if you've ever had one, it was unmistakable and specifically different than simply "ripe pineapple." Also of note was an intense caramel flavor (from the oak) which starts the experience before the dreamy viscosity coats your tongue in the bright, tropical fruits.
The tech sheet (PDF) for this wine.
About Dragonette Cellars. Brothers John and Steve Dragonette partnered with Brandon Sparks-Gillis to create truly handcrafted, ultra premium wines. They are (and I can vouch for this from years of experience with their winery) committed to precision farming, low yields in the vineyards, the highest-quality oak, and creating wines of distinction. Check out Dragonette Cellars and enjoy the Insta feed.
Notice: I hold no formal wine credentials. I am a wine geek who has consumed 1000+ of bottles from 100+ different wine clubs and 1000s more bottles that didn't come from those wine clubs. I do not accept payment for wine reviews, and I do not accept payments to influence my opinions. I happily accept free wine (and I buy wine).
Why read my wine reviews: Wine taste is subjective. What I like may not be what you like. I try to leave room for you to form your own opinions, so I don't provide a score or a rating. I do point out wines that are an incredible value or truly not worth the money. I note flaws, wines that don't have typicity (because this matters if you are buying wine without having tasted it yourself), when wines are out of balance, and when wines lack appropriate body.
I don't like wasting money (or anything for that matter). I'm careful about where I spend my money and my mindset as a reviewer is to be careful about where you spend yours. I don't believe a high price tag equals quality and I know for sure there are wines of very good quality that are also a great value.
Learn more about me or get in touch.