Naked Wines Derek Rohlffs Pinot Gris Review
Derek Rohlffs, one of very few Native American winemakers, has worked with Naked Wines for a long time. He is known for other projects, too, like his highly-rated Bravium wines lauded by several critics and Master Sommelier Ian Cauble.
Wine review by: Jessyca Frederick |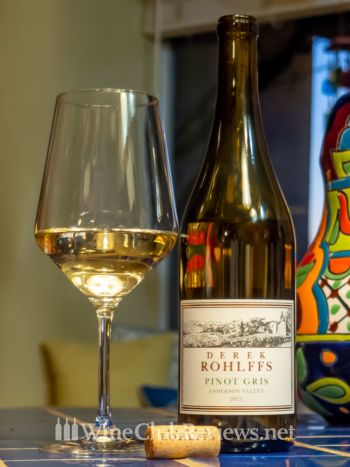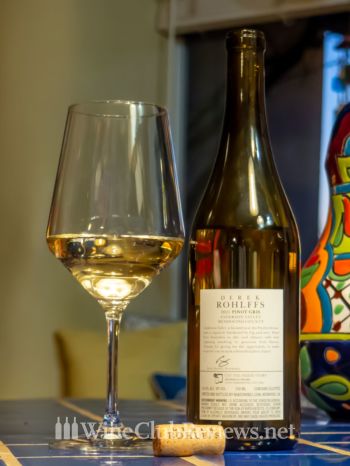 FYI: I find great wine deals so you don't have to. To keep me on the hunt, I earn a commission when you buy wine based on my recommendations.
About this Wine
Wine: 2021 Derek Rohlffs Pinot Gris
Blend: 100% Pinot Gris
Region: Anderson Valley, Mendocino County, California
Retail price: $26.99
Angel price: $16.99
Angels who would buy again: Too soon to tell
I consumed it: February 2023
My source: Nakedwines.com
The Back Label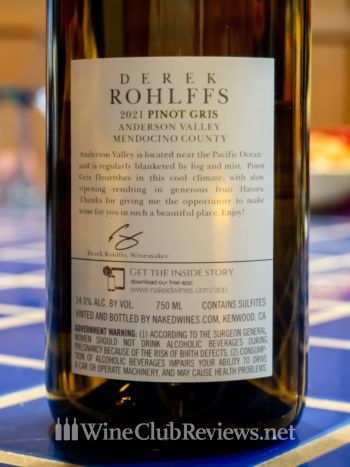 Discover More
Derek Rohlffs Pinot Gris: What I think
Pinot Gris and Pinot Grigio are the same grape, both words mean gray in their respective languages, and the name comes from the grayish pink tint the grape's skin has. As with most white wine grapes, there are fruitier styles and more austere styles, and this one lies somewhere between the two.
Anderson Valley is known for its Pinot Noir rather than its Pinot Gris, but they are companions in Burgundy so it makes sense they'd do well growing together here, too. The climate in this pocket of Mendocino County on California's North Coast is known for cool, foggy nights.
This wine wasn't a thriller, and I didn't love that it came on a little hot, but it was embraced by our tasting companions who prefer their wines a little more staid than I do. Either way, at $16.99 this was another solid value from Naked Wines.
Notice: I hold no formal wine credentials. I am a wine geek who has consumed 1000+ of bottles from 100+ different wine clubs and 1000s more bottles that didn't come from those wine clubs. I do not accept payment for wine reviews, and I do not accept payments to influence my opinions. I happily accept free wine (and I buy wine).
Why read my wine reviews: Wine taste is subjective. What I like may not be what you like. I try to leave room for you to form your own opinions, so I don't provide a score or a rating. I do point out wines that are an incredible value or truly not worth the money. I note flaws, wines that don't have typicity (because this matters if you are buying wine without having tasted it yourself), when wines are out of balance, and when wines lack appropriate body.
I don't like wasting money (or anything for that matter). I'm careful about where I spend my money and my mindset as a reviewer is to be careful about where you spend yours. I don't believe a high price tag equals quality and I know for sure there are wines of very good quality that are also a great value.
Learn more about me or get in touch.