Story of Soil Duvarita Vineyard Pinot Noir Review
When wine geeks go off about terroir, what they're really talking about is a sense of place reflected in the bottle. This Duvarita Pinot Noir, like most other wines from both Story of Soil and from this vineyard, are an ode to the vineyard.
Wine review by: Jessyca Frederick |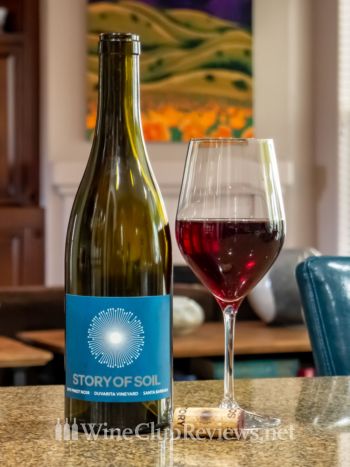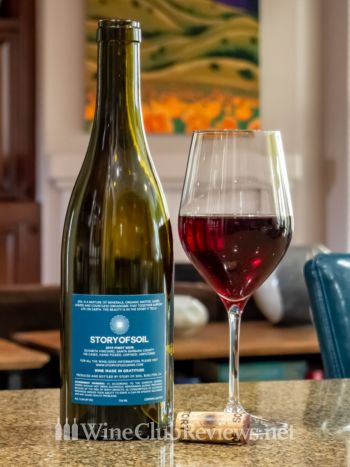 FYI: I find great wine deals so you don't have to. To keep me on the hunt, I earn a commission when you buy wine based on my recommendations.
About this Wine
Wine: 2019 Story of Soil Duvarita Vineyard Pinot Noir
Blend: 100% Pinot Noir
Region: Sta. Rita Hills, Santa Barbara, Central Coast, California
Vineyard: Duvarita
Retail price: $65
I consumed it: March 2023
My source: Story of Soil Winery Tasting Room
The Back Label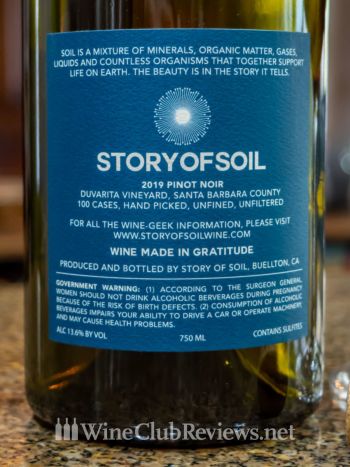 Discover More
Story of Soil Duvarita Vineyard Pinot Noir: What I think
Before Jessica Gasca set out on her own with Story of Soil, she worked at Dragonette Cellars. That's where I met her, in their tasting room, where she showered us with wisdom and eventually disclosed she had started her own winery.
We patiently waited years to see what she would do on her own (partially because it took her a while to get her tasting room open, but also partially because things like COVID got in our way). Our first visit to her Los Olivos tasting room was on October 26, 2021 and it was wonderful to taste through her Carbonic Grenache, Gold Coast Pinot Noir, Grenache from Stolpman Vineyards fruit, and a Syrah also from Duvarita Vineyards.
This was the first day of our first post-COVID wine tasting trip, visiting a whopping 21 wineries in total, so we limited our purchases to two bottles of the Duvarita Vineyard Pinot Noir. We love this vineyard, and Jessica really did the fruit and the vineyard justice.
At the tasting room I made these notes: 50% stem inclusion, the clone was Estrella, the wine spent 22 months in barrel, and I tasted meaty/smokiness, Kirsch, and mild black pepper.
We age most of our wine (the stuff we buy via wine tasting at least), and so 2+ years later it was time to open our loot and see how it was tasting.
This time around the smokiness was still present, but the Kirsch had mellowed into more of a cherry cranberry sort of thing — eventually I decided it was like a cranberry tart (in a good way). The wine had a medium to long finish, and was quite smooth but just slightly toothy (in a good way).
We have one more bottle stashed in the cellar, so I'll update this review again when we crack it open later this year.
About Story of Soil. Our first visit on this tasting trip was to Sanguis — a new to us winery in Santa Barbara. Reading the "Story" of the Story of Soil, I see Jessica apprenticed there for three years, learning their precision method of, well, everything and the rhythms of intentional winemaking. Check out Story of Soil and enjoy the Insta feed.
About the Duvarita Vineyard. Long one of our favorite Santa Barbara vineyards, we became familiar with it via Dragonette Cellars and Ken Brown Wines. Duvarita is out in the western part of the AVA called Sta. Rita Hills (the abbreviation is official). They are Demeter-certified biodynamic (since 2014) and employ regenerative farming practices to tend to their 28 acres of Chardonnay, Pinot Noir, Syrah, and Viognier. Learn about the vineyard and enjoy their Insta feed.
Notice: I hold no formal wine credentials. I am a wine geek who has consumed 1000+ of bottles from 100+ different wine clubs and 1000s more bottles that didn't come from those wine clubs. I do not accept payment for wine reviews, and I do not accept payments to influence my opinions. I happily accept free wine (and I buy wine).
Why read my wine reviews: Wine taste is subjective. What I like may not be what you like. I try to leave room for you to form your own opinions, so I don't provide a score or a rating. I do point out wines that are an incredible value or truly not worth the money. I note flaws, wines that don't have typicity (because this matters if you are buying wine without having tasted it yourself), when wines are out of balance, and when wines lack appropriate body.
I don't like wasting money (or anything for that matter). I'm careful about where I spend my money and my mindset as a reviewer is to be careful about where you spend yours. I don't believe a high price tag equals quality and I know for sure there are wines of very good quality that are also a great value.
Learn more about me or get in touch.