Le Grand Verre Reviews
Le Grand Verre Wine Club Review
In this review · What is Le Grand Verre? · How it Works · Wine Review · Who Should Join? · Pros & Cons · Gift Review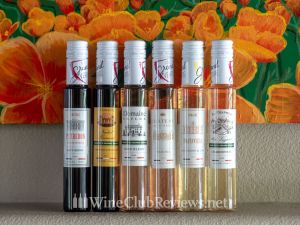 What is Le Grand Verre?
Le Grand Verre, which translates to "The Big Glass," is an innovative wine importer specializing in small-scale wineries from France. Instead of importing full-size bottles, they embrace the idea of wine tasting "by the glass" and all of the flexibility this affords. In addition to working only with small wineries, they have an emphasis on women-led wineries and they offer a good selection of organic wine, too.
Their novel packaging is 187 mL (roughly 6.3 oz, this is one quarter of a bottle, commonly called a "split" in the wine industry) and made from recycled, shatter-proof PET (food-safe plastic). These wines aren't meant for aging but will last up to two years in this packaging.
Their PET is lined (on the wine side) to protect the wine from plastic leaching. If you're still on the fence about plastic, consider this: plastic is lighter weight than glass (reducing their wines' overall carbon footprint).
Deal Save $50
Get your first bundle for $9.99 — a $50 savings off the retail price. Shipping is included. Click for This Deal.
Read Our Le Grand Verre Wine Club Review