Wildcrafted Wines Club Review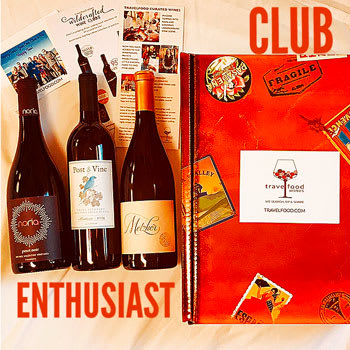 Wine Club Overview & Details
Wine Club Rating:
This wine club is...
Summary
A wine club featuring hand-picked tiny-production wines from Napa, Sonoma, and other northern California wine regions. This "mom and pop" wine seller focuses on wines produced by well-known winemakers and made of grapes from premium vineyards.
What I Like
Their wine selection is a veritable who's who of famous winemakers, especially their creative side projects. There aren't many wine clubs featuring this "new California" ethos and they're as rare as the wines they ship.
Improvements
As they're still new, I expect some of these features will appear over time, but I'd really like to see gift subscriptions and a 100% satisfaction guarantee.
Wildcrafted Wines Club delivers to
AK AL AR AZ CA CO CT DC DE FL GA HI ID IN IA KS LA ME MD MA MI MN MO MT NE NV NH NJ NM NC ND NY OH OR PA RI SC SD TN TX VA WA WV WI WY
Don't see your state? Travelfood Curated Wines does not ship there. Browse wine clubs by state.
Join Wildcrafted Wines Club
FYI: I find great wine deals so you don't have to. To keep me on the hunt, I earn a commission when you buy wine based on my recommendations.
Wildcrafted Wines Club Review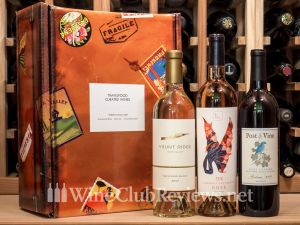 Travelfood Curated Wines is a small wine seller focussed on bringing the tiny wine producers in the Napa and Sonoma Valleys to more wine lovers. They also include special wines from other Northern California wine regions like Mendocino County, Yolo County, Sonoma Coast, and more.
The proprietors, Laura and Terry, have spent years cultivating relationships with wineries and winemakers in Napa and Sonoma. They are fond of wines that tell a good story and wines that pair well with food they love. They believe in good wine curation, not algorithmic wine selection, typically choosing wines that are of high quality, sustainably produced, and unique. They choose wines from small lot vineyards and passion projects from famous winemakers. It takes a lot of legwork to get access to these wines, whether you're an avid consumer or a professional.
Wildcrafted Wines Club Options
Their Wildcrated Wines clubs offer their unique selection of wine on a subscription basis.
There are several choices for how you subscribe to Wildcrafted. All prices include shipping. You can opt to pay a temperature-controlled shipping fee (just $10) and sales tax where applicable. Also, most of their wine clubs ship twice a year, but you can request more frequent shipments.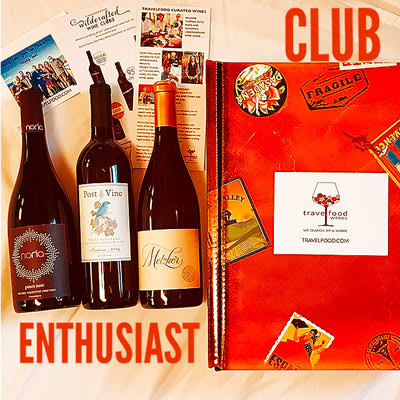 Wildcrafted Enthusiast
This is the shipment we received for review. Their easy-going subscription, this one sends out three bottles twice a year for $115 per shipment. It includes one white, one red, and one rosé (which is delicious all year round, not just in the summer).
Wildcrafted Collector
These wines represent the best available selections in Napa and Sonoma. Two to three bottles are shipped twice a year for $195 per shipment. The focus here is on very rare and highly-rated wines, always from a limited production.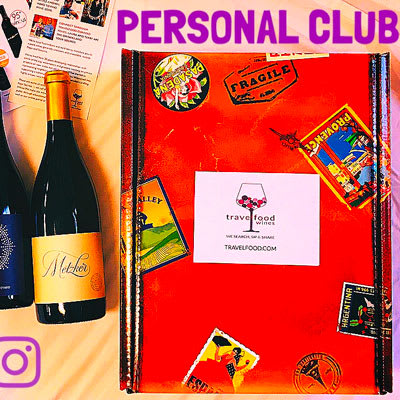 Wildcrafted Personal
This wine club is listed at $75 per shipment, but really you'll work with Laura to set up the perfect wine club for you. You'll choose which varietals and styles you like, you'll choose your budget, and you'll receive wine handpicked just for you. Naturally your choices will yield different prices.
Wildcrafted Wines Wine Review
My Wildcrafted Wine Ratings
| | |
| --- | --- |
| Quality of Wine | |
| Price of Wine | |
| Wine Curation | |
Unlike other wine clubs where price and bells and whistles are the focus, the wine really is the star of the show here.
Starting with the wines we received, we'll walk you through the incredible selections offered up by Travelfood in these Wildcrafted Wines clubs. The focus here was really on exceptional fruit and exceptional winemakers.
2017 Yount Ridge Cellars Sauvignon Blanc
This Oakville, Napa Valley Sauv Blanc was a delight. Organically farmed, this wine included one-third of the obscure Sauvignon Musque clones, with lovely aromatics. The winemaker, Celia Welch, was the 2018 Winemaker of the Year at Vivino, 2008 Winemaker of the Year at Food & Wine magazine, and is in the Winemaker Hall of Fame. Aged 6 months in new French Oak, only 150 cases produced.
2018 Kanpai Rosé of Cabernet
Rosé is not typically made from Cabernet Sauvignon, but when in Napa… Kanpai is a winery with an interesting story. This particular rosé came from fruit grown at Meadowbrook Farm, and was affected by the fires during harvest. $20 from the sale of each bottle was donated to the Sonoma and Napa wine communities to help rebuild. But the feel-good aspect is only part of the story of this wine. The winemaker is sommelier-favorite Steve Matthiasson, San Francisco Chronicle's 2014 Winemaker of the Year. This wine was whole cluster pressed and fermented in stainless steel and is 100% Cabernet Sauvignon.
2016 Post & Vine Old Vine Field Blend
Okay, so Mendocino isn't technically part of Sonoma, it's its own wine region, but Sonoma County's neighbor to the north makes great wines and a lot of the Napa/Sonoma winemakers have side projects using Mendocino fruit, so it fits right in like a kissing cousin. In this case the renowned winemaker is Rebeka Wineburg (the winemaker at cult producer Quintessa and Rudd Estate). These hand-harvested clusters were destemmed and went straight into the tank without crushing. Unfined and unfiltered, this wine aged 10 months on the lees and then spent another eight months in neutral French Oak.
Some of the other amazing wines shipped out by Travelfood via their Wildcrafted Wines clubs include:
Metzker Family Estates. Travelfood has shipped Spring Mountain Cabernet Sauvignon, Sonoma Coast Pinot Noir, and Russian River Valley Chardonnay, and Sonoma Coast Rosé. Winemaker is Melissa Apter Castro (also at Antinori).
Godspeed Vineyards. Travelfood has shipped Malbec, Chardonnay, Amen Late Harvest Chardonnay, and Cabernet Sauvignon, all from their Mt. Veeder vineyard.
Van der Heyden Late Harvest Petite Sirah. We're big fans of late harvest wines, as opposed to fortified dessert wines.
Rock Wall Blanc de Blanc Sparkling. This affordable bubbly from Clarksburg, Yolo County is super food-friendly and low alcohol at just 10.5%. It's dry with great aromatics.
Membership Benefits
My Wildcrafted Wines
Benefits Ratings
| | |
| --- | --- |
| Satisfaction Guarantee | |
| Customer Service | |
| Wine Education | |
| Convenience | |
Satisfaction Guarantee. Like most wine clubs, Travelfood stands behind the quality of their wines. They don't replace bottles you simply didn't like, but given the personal nature of their wine club, you should email them to tell them if you didn't like something anyway. Regarding wines with faults (like being corked/TCA-taint), they want to replace it or issue a refund depending on if they have more of the wine on hand.
Customer Service. Laura and Terry handle everything themselves. Anything you need, you reach out to them and it will get taken care of. We haven't seen any online reviews indicating late shipments, overbilling, or any of the other service-related issues plaguing mass-market wine clubs.
Convenience. A low-tech wine club focused mostly on bringing you great quality wine, they're not chockablock with modern ecommerce convenience. You can always email Laura or Terry to skip a shipment, hold a shipment until after a vacation, or cancel. You will get an email before each shipment to check in with you, verifying you want the next shipment and asking for any address or credit card updates. Your shipments may arrive via UPS or FedEx depending on which state you live in. Within California, some shipments go out via GSO. You will receive an email with a tracking number no matter which service you're on.
Personalization. You can personalize all of their wine clubs. Let Laura and Terry know if you have favorite varietals, wines to avoid, etc. and get exactly what you want in each shipment.
Discount Opportunities. Normally we go into a lengthy discussion about wine pricing in our reviews. We think their pricing is fair given the nature of their business and the very hands-on approach that goes into selecting every bottle, but it's not budget-minded. There are no discount opportunities.
Who Should Join Wildcrafted Wines?
There all kinds of wine clubs out there, offering all kinds of wine for all kinds of wine drinkers. This is a very specific wine club for a very specific type of wine drinker.
Wine Geeks. If you love to geek out on how different grapes take on different characteristics based on their terroir and winemaking methods, this club is well suited to your preferences. It's also good for winemaker groupies. If you're considering becoming a sommelier or already have deep wine knowledge, you'll enjoy the unexpected selections from known wineries and side projects, as well as the variety of wine in each shipment.
Napa & Sonoma Lovers. If you love the Napa and Sonoma wine regions, but maybe are tiring of the tried-and-true Napa Cab, Russian River Chardonnay, Alexander Valley Cabernet, etc. you can explore the variety of other grapes being produced by the same skilled winemakers via these wine clubs.
Small Business Supporters. If buying from small businesses is something you strive for, you might find it more difficult to do so with wine than other types of products. This is because only the biggest wineries get excellent distribution. Small production wines are rarely distributed outside the region where they were produced, with most allotments going to local fine-dining restaurants and local wine collectors. This wine club is a small business that only works with small wineries, so you get a twofer on small business support.
Wildcrafted Wines Gifts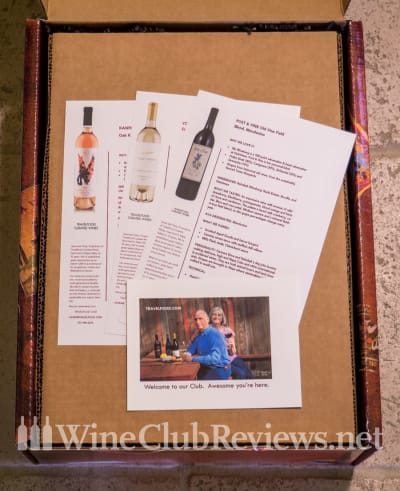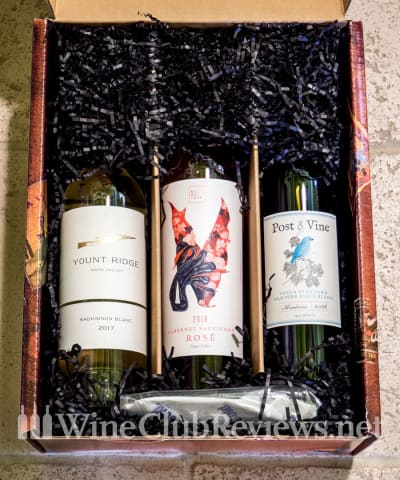 Travelfood doesn't, at present, specifically offer prepaid gift subscriptions. You can change the quantity of memberships in the shopping cart. If you order more than one, you'll get an email or a call from Laura asking whether you meant to order 3 shipments for one person or 3 subscriptions for 3 different people. Like we said earlier, they're very hands-on and want to provide great service. Alternatively, you can sign someone else up for a subscription and manage the cancellation date yourself.
The initial shipment comes in a delightful box and makes a great presentation. If you're buying a wine gift for a real wine connoisseur (who prefers California wine) this is an EXCELLENT choice. It's very hard to buy wine for a true wine enthusiast, but this is a club any knowledgeable wine lover would be pleased to join.