Diamond Series Wine Club Review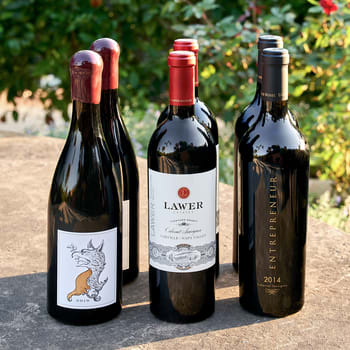 Wine Club Overview & Details
Wine Club Rating:
This wine club is...
Summary
This quarterly wine club features true luxury wines rated 93+ and finds California wines so exclusive that the club is limited to 500 members. You get collector-level access without the hassle of doing your own research. A lot of wines (and wine clubs) call themselves "super premium" but most of them fail to live up to the hype, this one does.
What I Like
This wine club ships mostly red wine and occasionally a stunning white at prices well below retail. I love seeing superstars like Blackbird Red Blend from Calistoga, Odette Estate Cabernet Sauvingon from Stag's Leap District, and the 97-point Matetic Syrah from Chile. You can shop these luxury wines online at their store.
Improvements
As a general rule, I think Gold Medal Wine Club has little they can do to improve. Whether you're buying for yourself or as a gift, they've really done a lot to create a wine club worth joining.
Benefits
93+ rated wines

Small California wineries

Wines rarely available outside the winery

Buy more, save more
Drawbacks
Shipping is extra

Most wines would benefit from aging
Diamond Series Wine Club delivers to
AL AK AZ AR CA CO CT DE DC FL GA HI ID IL IN IA KS LA ME MD MA MN MO MT NE NV NH NJ NM NY NC ND OH OK OR PA RI SC SD TN TX VT VA WA WV WI WY
Don't see your state? Gold Medal Wine Club does not ship there. Browse wine clubs by state.
Join Diamond Series Wine Club
FYI: I find great wine deals so you don't have to. To keep me on the hunt, I earn a commission when you buy wine based on my recommendations.
Diamond Series Wine Club Review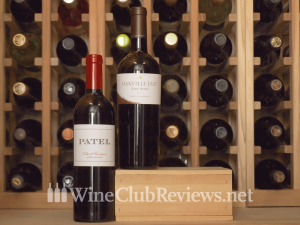 The Diamond Series by Gold Medal is their ultra-premium option and at this price-point, Gold Medal brings its customers the finest California wines, ready to drink or to take a nap in the cellar. Every wine in this luxury wine subscription is rated 93 points or higher and membership is limited to 500. Each quarterly wine club shipment (Feb, May, Aug, and Nov) features two noteworthy wines and their full-color tasting sheets giving you all of the info you need and want about the wines.
In 10+ years of reviewing Gold Medal Wine Club, we're sure they offer one of the best Ultra-Premium wine clubs. They constantly strive to wow their customers — and their customers' lucky gift recipients.
The Diamond Wine Club comes with several options:
The standard quarterly subscription is two bottles, pick Mostly Red or Always Red wine.
Upgrade to the four-bottle version double your fun.
Upgrade to the Plus Program which features wine of the same caliber as the regular membership, but there aren't enough to go around. The Diamond Plus Program members get these ultra-rare gems all to themselves.
Choose anywhere from 1-6 shipments, or an ongoing subscription until you cancel.
And of course, like any proper wine club, there are no sign-up fees and you can cancel any time.
Wine Review
My Diamond Wine Club
Wine Ratings
| | |
| --- | --- |
| Quality of Wine | |
| Price of Wine | |
| Wine Curation | |
Whenever a shipment of wine arrives from a wine club, we photograph it in various stages of unpacking and research the wines before we taste them. In this case, when we researched these wines, we discovered they could be aged, and might be even more phenomenal if we could exercise the discipline to age them.
Contemplating what the right move here was, we decided because we have the luxury of proper wine storage, we should age the wines according to the wineries' directions. We'll update this review a few years from now and tell you how completely amazing the wines are. We just drank the wines from the shipment we received in 2014 this year!
Most of the wine shipped in the Gold Medal Diamond club is suitable for aging if you don't drink it right away. That's probably not a surprise to you, as most wine in this price range is produced with the intention of aging it. Please note: if you do not have proper wine storage (consistent temperature in the mid-50s, dark, proper humidity, etc.) do NOT age these wines. Open them up, decant them for a few hours, and then enjoy.
We received Patel 2010 Cabernet Sauvignon from Napa Valley (retail price $110) and 2010 Oakville East Core Stone Red Wine from the Oakville AVA in Napa (retail price $125). Each of these exceptionally-pedigreed wines are from TINY productions (205 cases and 150 cases, respectively) and garnered top ratings from Robert Parker (94 pts) and Wine Enthusiast (95 pts) respectively.
Some of their more recent shipments include these droolworthy selections:
Yount Ridge 2014 Cabernet Sauvignon (Napa Valley, 250 cases produced). Winemaker Celia Welch earned 94 points from Vinous and 91 points from Wine Spectator for this gem.
Blackbird 2014 Paramour Red Blend (Napa Valley, 40 barrels produced). Winemaker Aaron Pott earned 93-96 points from a variety of wine critics for this cult-worthy red.
Modus Operandi 2016 Cabernet Sauvignon (Napa Valley, 225 cases produced). Winemaker Jason Moore earned 96 points from the Beverage Testing Institute for this opulent Cab.
Diamond Plus Selection — Talley 2016 Rosemary's Vineyard Pinot Noir (Arroyo Grande Valley, 138 cases produced). Talley Vineyards earned 95 points from Vinous for this delectable Pinot.
Membership Benefits
My Diamond Wine Club
Benefits Ratings
| | |
| --- | --- |
| Satisfaction Guarantee | |
| Customer Service | |
| Wine Education | |
| Convenience | |
Discount Opportunities. Gold Medal does not regularly offer an introductory offer, though during peak holidays like Valentine's Day, Mother's Day, Father's Day, and Christmas you'll find free gifts with purchase like gourmet truffles (chocolate) and wine accessories.
Gold Medal does offer discounts on reorders, while supplies last—buy 2-5 bottles more and pay the regular price, buy 6-11 bottles and save up to 10%, buy 12-23 bottles and save up to 12%, buy 24 or more bottles and save up to 15%. Four-bottle members save more on reorders.
Lastly, members-only special deals are limited. There are occasionally members-only sales. Since their wines are already very competitively priced, we don't mind that there aren't more offers coming from them.
Customer Service Record. In 14+ years of working with Gold Medal we have never had a single customer complaint. That's amazing to us. Our usual Internet sleuthing failed to turn up any customer complaints. Kudos to them!
Satisfaction Guarantee. In our eyes, this is the weakest aspect of the Gold Medal wine club program and it's why they don't have a 5-star rating from us. They say "Satisfaction Guaranteed" on their website, but what they really mean is that they believe you'll love what they ship, not that they'll replace anything you don't like as most other clubs of this caliber promise.
Their Return Policy: "If a shipment is damaged in transit we will replace the product at no additional charge. If the wine is corked from the winery, we will replace the bottle at no charge. On the rare occasion members receive the wrong product, a discount is offered, or the shipment can be returned at no-charge to the member."
That said, we'd be genuinely surprised and concerned if you received a stinker from Gold Medal.
Convenience. Gold Medal is a more old-fashioned company. If you need to hold your service for a vacation or want to cancel your membership you'll need to call and speak to someone during regular business hours. You can handle reorders yourself online, as well as see a record of the wines you've received and when you received them.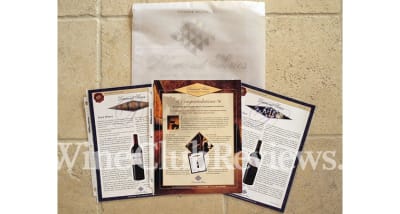 Wine Education. The Diamond Series from Gold Medal comes with specialized tasting sheets. For each wine you'll get the background on the winery, the winemaker, and of course, the wine. Professional reviews and winemaker tasting notes are included.
Gift Review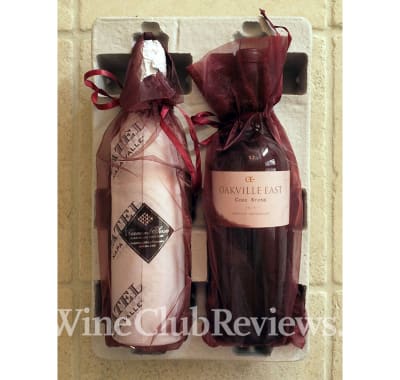 If you have a red wine lover you really want to impress, this is a fantastic wine club gift. Between the gift presentation and the incredible selection of wines, you'll be that wine lover's favorite person for a while. Four shipment gifts are "a year of wine" and would make the gift extra special.
The wines in the first shipment come wrapped in organza gift bags. Upgrade for a custom printed gift notice and an artist-designed gift box to make it extra awesome.
Who Should Join the Diamond Wine Club?
As a luxury wine club featuring boutique wines from California wineries, we think this club is perfect for:
Red wine lovers who prefer California wine to other regions
Entertainers who want to impress their guests
Anyone who wants to drink ultra-premium California red wine and doesn't want to have to find it themselves
Diamond Wine Club sounds good but it's not in your budget? Try their Platinum Wine Club.