Cabernet Sauvignon Club Review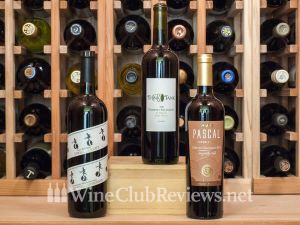 Arguably the King of Red Grapes, Cabernet Sauvignon holds the crown. A favorite of wine drinkers around the world, grown in nearly every wine region, and by far the most-produced red grape in the U.S., Cab has captured our hearts.
The best way to get your fix? Cabernet Sauvignon wine clubs, of course! There are so many ways to make Cabernet, the only way you know you'll sample them all is by joining a wine club that specializes in it.
The Cabernet Sauvignon Wine Club from Vinesse is a good value... if you're accustomed to drinking wines in the $12-15 range. This club isn't really for experienced or high-end Cab lovers, but if you like Cabernet (or even just Red wine in general) give the Cabernet Sauvignon Wine Club from Vinesse a go.
From their website:
About Cabernet Sauvignon Wine Club
Luxurious, refined and age-worthy, Cabernet Sauvignon can bring to mind snobby, solemn decanting rituals and pompous proclamations about "the superiority of the '82 versus the '61." The Cabernet Sauvignon Wine Club erases these preconceived notions about the varietal—offering simple, tasty juice that delivers full-bodied flavor with power and exceptional depth.
Loaded with red fruits (cherry and currant), Cabernet Sauvignon is meant for flavorsome meat entrees, like grilled rib eyes with peppercorn sauce. All the selections you'll receive come ready for immediate enjoy, or you can choose to cellar these vivacious reds for later enjoyment—whichever suits your style.
Even More to Enjoy
In addition, you'll receive wine tasting notes on each selection within your shipment. These individualized notes provide insights into the subtle variations of each wine — including what recipes pair well, detailed wine information, wine country touring tips, and additional hints to help you enjoy your wine to the fullest.