Champagne Club Review
Wine Club Overview & Details
Wine Club Rating:
This wine club is...
Summary
Wine clubs featuring sparkling wine and wine clubs featuring Champagne are rarer still. But no other Champagne club can match the curation of the Wine Access wine team, or the discounted prices.
What I Like
For the wine lover who drinks boutique wine and wants to explore Champagne, this club is perfect. It also makes a great gift.
Improvements
I have no complaints about this Champagne Club. Zero.
Benefits
Hard-to-find Grower Champagne

Great for gifts

Great price
Drawbacks
Champagne Club delivers to
AK AZ CA CO CT DC FL GA HI ID IL IN IA KS LA ME MD MA MN MO MT NE NV NH NJ NM NY NC ND OH OK OR PA SC TN TX VT VA WA WV WI WY
Don't see your state? Wine Access does not ship there. Browse wine clubs by state.
Join Champagne Club
FYI: I find great wine deals so you don't have to. To keep me on the hunt, I earn a commission when you buy wine based on my recommendations.
Coupons & Promo Codes
Deal Save $50
Get $25 each of your first two shipments when you join the Champagne Club. Click for this deal
Champagne Club Review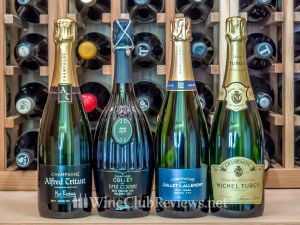 What is the Champagne Club from Wine Access?
Wine Access is one of the best places to shop for wine online. It's an online-only wine store that specializes in finding great wine, and then offers much of that wine at a discount. Their wine team is made up of sommeliers, led by a Master of Wine (there are less than 500 of them in the world), includes a Master Sommelier, and is exceptional at achieving the company's mission.
The Champagne Club from Wine Access is their newest offering, and it ships four rare bottles — a mix of "grower Champagne" and wines from the big Champagne houses — quarterly. Grower Champagne is the equivalent of "Estate Bottled" in the US, meaning the entity which grew it also bottled it on site at their vineyard. It is the stuff sommeliers go bananas over when they gush about Champagne. Sometimes they also ship rare bottles from the legendary Champagne houses, which includes vintage bottlings and special cuvées.
How much does the Champagne Club cost?
The Wine Access Champagne Club is $200-250 per shipment of four bottles. Shipping is included but sales tax is extra where applicable. The breakdown of the box I received included three bottles that retail in the $45-50 range and one 2012 that retails from $130-160 in the US. Champagne Club gift shipments are $250 each. Jump to the gifts section to read about why you should give this as a gift.
For most people, Champagne is a luxury reserved for special occasions. Some of this is due to the fact that most widely available Champagnes start around $70, some boast eye-popping figures ($200+ for a bottle) for celebrity-adorned options like Ace of Spades, and clever, consistent marketing tells you it's only for special occasions.
I'm here to tell you, if you regularly spend $50 on a bottle of wine — maybe your "weekend wine" — it's worth considering adding some bubbly to your regular mix.
I've yet to be sold on the merits of super expensive Champagne — Dom Perignon and Cristal are okay, but not worth the money — but when I think about the wines I've purchased in the $45-55 range, it's mostly small production red wines from California's Central Coast. For that price, I enjoy a good quality sparkling wine just as much.
Grower Champagne offers a similar quality and enjoyment level as those boutique red wines I like. Bonus: Champagne is generally significantly lower in alcohol than red wine, averaging 12% ABV.
Wine Access Wine Club membership benefits
My Wine Access
Benefits Ratings
| | |
| --- | --- |
| Satisfaction Guarantee | |
| Customer Service | |
| Wine Education | |
| Convenience | |
Any time you become a subscriber to a company's services, there should be a benefit to you for loyalty. Sometimes that benefit is discounted members-only pricing and sometimes that benefit is extra perks. Here are the membership benefits for joining or giving the Wine Access Champagne Club.
Climate-aware shipping: they'll either hold the wine until the temps are right, or they'll deliver the wine with cold-chain shipping to make sure it arrives in perfect condition.
10% discount on future purchases: any time you buy any wine (or gift) from Wine Access (other than your regular club shipments), you'll save 10% on your order. Shipping is always free on orders over $150.
Stellar satisfaction guarantee: if any bottle you order is not to your liking (in the club or in the store), they'll credit you towards another. This level of hospitality is common at wineries and in fine dining restaurants, but not at retail stores.
Champagne Club Wine Review
My Champagne Club
Wine Ratings
| | |
| --- | --- |
| Quality of Wine | |
| Price of Wine | |
| Wine Curation | |
Récoltant-manipulant (RM) is a French phrase which translates to "grower Champagne" in English. RM is where it's at if you want to be a cool kid in the Champagne world and you don't have a bazillion bucks to blow on bubbles. Eater has a nice article about it, but all you really need to know is that these Champagne bottles (around 10% of the Champagne imported to the US) are the region's small wineries, not the big "houses" or maisons (like Veuve Clicquot, Moet Chandon, Krug, Taittinger, Ruinart, etc.).
In the Wine Access Champagne Club you'll receive a mix of grower Champagne and something that's not a grower Champagne in your shipment. Rest assured, whatever it is, it's hard to get your hands on or worth the extra dough it costs.
The head of the Wine Access wine team, Master of Wine Vanessa Conlin, *loves* Champagne and this club is her baby. If anyone out there has a better sniffer for great Champagne value and better connections for acquiring it, I'd be surprised.
If you're not already a Champagne nut, there are a few things I want to go over before I provide my wine review:
Champagne is made in several phases. One of the trademark phases is called dosage where a mixture of sugar and wine is added into each bottle. Dosage is measured in g/L, but that isn't pure sugar. The final measure of a wine's sweetness (labeled as Sec, Demi-Sec, Brut, etc.) is labeled as dosage and reflects the total residual sugar in the bottle (sugars left over after fermentation, plus what is added during dosage).

For reference, Veuve Clicquot Yellow Label has a dosage of 10 g/L and Dom Perignon has a dosage of 5 g/L. The exact amount of dosage is not a sign of quality, rather just part of the "recipe" which makes the Champagne taste the way the winemaker wants it to — usually to balance acidity and maintain the "house style."
Most Champagne is a blend, not only of grapes (Chardonnay, Pinot Noir, and/or Pinot Meunier) and vineyards, but also of the current vintage and reserve wines. The blends of current and vintage wines are bottled NV; wines with a vintage (year) on them consist entirely of grapes from that vintage. The reserve wine is called a "solera." The concept is similar to the "mother" for those who bake sourdough bread or the starter for homemade Kombucha or Kimchi — it adds depth, complexity, and consistency to the wines they produce.

Each house has its own style and each vintage has its own mix. Often, and historically, these blends have been top secret. These days, consumers value transparency so there is more information available about the makeup of the blends (assemblage). I've included, where it's known, the blend of grapes and portion of reserve wine. This is more just nerd fodder (ahem, the Art of Champagne) rather than a statement about quality.
Whether a bottle is a vintage Champagne or non-vintage (NV) can determine its price, but I would argue it has little to do with its taste. A vintage Champagne represents a very good year in the vineyard (the French call this millesimé) and most houses do not produce a vintage Champagne every year.

NV Champagnes get the benefit of the solera system to add depth and complexity. Because NV Champagnes contain wine that is already aged, they have a much shorter shelf-life than a typical vintage bottling. As such, the drinking window on NV Champagne is 2-5 years from release, and I'd err on the lower side if you like a fresher wine.

Pro Tip: don't keep Champagne in your refrigerator (or any wine with a cork for that matter) for longer than a month — the cork dries out and lets oxygen into the wine.
Wine I've received from the Wine Access Champagne Club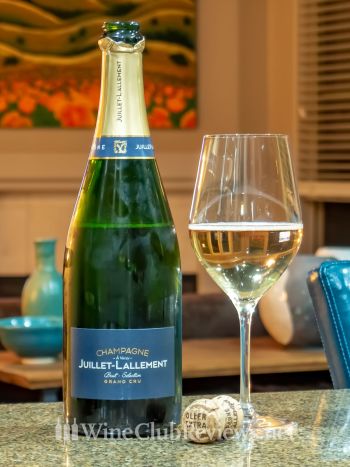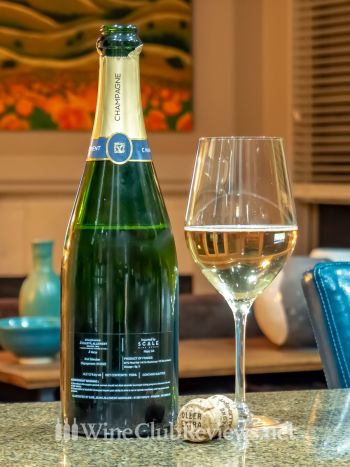 Winery: Champagne Juillet-Lallement
Wine: NV Juillet-Lallement Brut Sélection
Blend: 60% Pinot Noir, 40% Chardonnay (35% reserve wine)
Dosage: 8 g/L
Region: Grand Cru Verzy and Sillery (Montagne de Reims), Champagne, France
Retail price: $45-50
The Juillet-Lallement estate measures slightly less than 10 acres, spread across two appellations, both classified as Grand Cru. The average age of their vines is 40 years, but they still harvest a block planted in 1949. They grow 45% Chardonnay, 50% Pinot Noir, and 5% Pinot Meunier on chalky subsoil. The farming practice is "lutte raisonée" — not specifically organic, but typically avoidant of chemical interventions in the vineyard.
I absolutely loved this Juillet-Lallement and would call it my new favorite (previously NV Pol Roger Réserve Brut), but when I wrote this there were only five wine stores in the US that carried it, so it's not like I'll be drinking much of it. Which is a shame.
Wine Access Tasting Notes: "Aromas of yellow apple, quince, yellow flowers, and brioche rise with the Champagne's superfine bubbles, and the palate reveals biscuit with concentrated apple, pear, and citrus notes. The finish is suave and delicate, laced with fruit and chalk, while a modest dosage rounds out the mouthfeel."
For me, the nose was subtle ginger cookies and cinnamon. It was mild and balanced, creamy in the mid-palate with notes of apple and pear as it reached the back of my mouth. I enjoyed the mysteriously long finish, of depth and complexity. What I especially loved was that it was not yeasty or tart the way most Champagnes tend to be (one or the other, not usually both).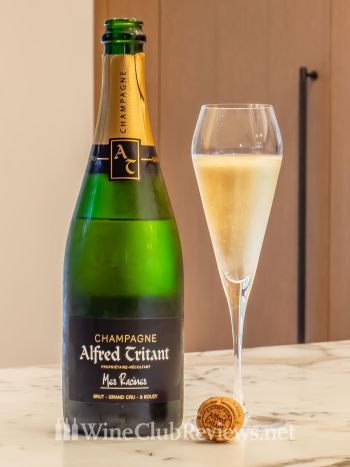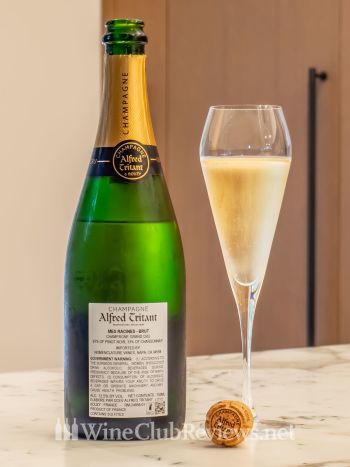 Winery: Champagne Alfred Tritant
Wine: NV Mes Racines Brut
Blend: 67% Pinot Noir, 33% Chardonnay (Undisclosed blend of reserve wines)
Dosage: 9 g/L
Region: Grand Cru Bouzy and Ambonnay (Montagne de Reims), Champagne, France
Retail price: $50-55
The story of Alfred Tritant is the story of most grower Champagne. Before the 1980s, most growers sold all of their grapes to the big maisons, like Moet and Veuve Clicquot. There was a cultural shift around that time, enabling the growers to hold back some, or all, of their grapes and start producing their own Champagne (this was the birth of the term récoltant-manipulant). Something that really stands out about Alfred Tritant is that their solera dates as far back as 50 years, and they've been bottling their own Champagnes since 1930.
The Wine Access tasting notes: "A medium lemon-straw in color with a fine mousse. Evocative aromas of fresh brioche, yellow apples, Asian pear, yellow flowers, and a hint of chalk. The palate shows a satisfying breadth, with the supple edges balanced by refreshing acidity. Flavors of Honeycrisp apple, blanched almonds, and fresh pastry are deliciously concentrated and bound together seamlessly. This is a full-bodied, richer style of Champagne with a beautifully long finish."
For me, the nose was predominantly apple and pear, with something I identified as baked brie in the mix. This was a bit more tart than the Juillet-Lallement and I remarked that it had "edges." There was a sharpness to the way it moved through my mouth that wasn't just about the bubbles. These types of wines are great with creamy or fatty foods as they cut right through the tongue-coating solids, like a mini palate cleanser between each bite.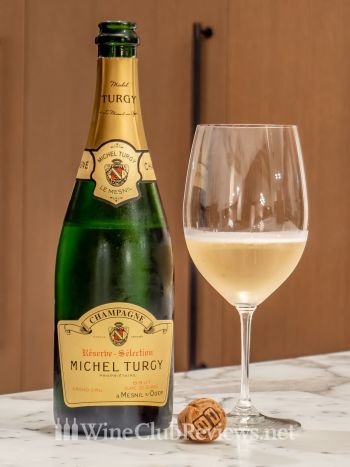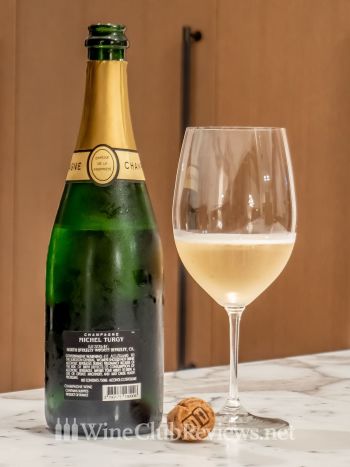 Winery: Domaine Michel Turgy
Wine: NV Blanc de Blancs Brut Réserve Sélection
Blend: 100% Chardonnay (30% reserve wine)
Dosage: 3 g/L
Region: Grand Cru Le Mesnil-sur-Oger, Champagne, France
Retail price: $48-50
For Champagne collectors, the word "Mesnil" evokes cult status. Two of the world's most coveted Champagnes hail from this area — Salon and Krug Clos du Mesnil (both of which cost at least $700 a bottle for the latest releases). For the Champagne insider, Domaine Michel Turgy is a well-kept secret, as its grapes are grown throughout this corner of Grand Cru Champagne Eden known as Côte des Blancs, and they charge a tiny fraction of the price.
Domaine Michel Turgy tasting notes: "Aromas of gardenia, honeysuckle, brioche. Flavors of lemon curd, sea salt, toast. Fine-grained and savory."
For me, the nose was all brioche, biscuit, and yeast. I tasted apple pie, cinnamon, and nutmeg (probably best characterized as "baking spice") with a little creme brulee running around in there. I missed the gardenia and honeysuckle all together, as well as the lemon curd.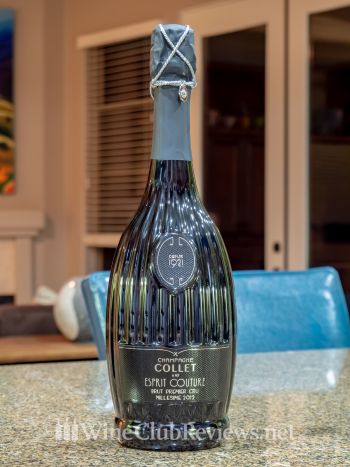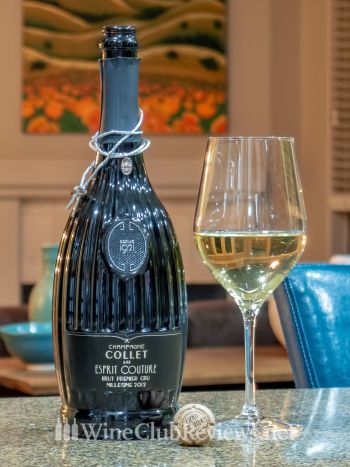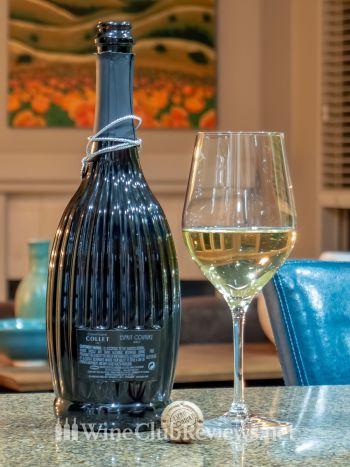 Winery: Champagne Collet
Wine: 2012 Esprit Couture Premier Cru Brut
Blend: 60% Chardonnay, 40% Pinot Noir
Dosage: Undisclosed (by law, less than 12 g/L to be called Brut)
Region: 11 different Premier and Grand Crus, Champagne, France
Retail price: $130-160
The Grand Poobah of the shipment was this spendy 2012 Grand Cru Brut. I call it this, in reference to the Flintstones, which in turn references Gilbert and Sullivan's The Mikado, not just because of its price, but also because of its package. It was dressed up just like its name, to appear as if it were Couture and it certainly left a visual impression. It was included in this shipment, I assume, at least in part because 2012 was a spectacular year in Champagne, possibly the best ever vintage (only time will tell).
Wine Access Tasting Notes: "The wine's delicate mousse releases a toasty nose of apple tartlet, blanched almonds, peach, and crème fraîche. Pineapple and lemon meringue highlight a tropical palate with notions of crushed stones, fresh cream, and sourdough toast. After a decade in Collet's centuries-old limestone cellars, this is a polished and sophisticated wine with another ten years ahead of it."
We very much enjoyed this Champagne, but it didn't leave us wanting more. I smelled lemon custard and baking spice, and tasted a bright, complex blend of toasted brioche and appreciable salinity. I enjoyed how it sort of melted in my mouth, dissipating slowly and gracefully. There were subtle hints of apple and cinnamon as it warmed up a skosh.
Is the Champagne Club a good gift?
Yes! All of The Wine Access memberships are now available as gifts — among the best wine club gifts on the market. As a general rule, if you don't know what kind of wine someone likes (but you know they like wine), buy them Champagne! A recurring Champagne club gift is perfection.
One of those weird, behind-the-scenes aspects of wine clubs is that the shipment prices for the better wine clubs typically vary. The companies don't want to be beholden to a specific price and would rather curate the right shipment. This makes gift-giving complicated because you're prepaying for a number of shipments, even when the company hasn't priced out some of those future shipments.
To deal with this, Wine Access has, unsurprisingly, enacted something unique and honorable in their wine club gift program. As the gift-giver, you pay the maximum expected price range, but at the end of the gift membership, the giftee will receive a gift card for the remaining balance (the difference between the maximum possible price and the actual price a member would have paid). Every dollar you spend on your gift goes to the recipient (especially since shipping is included).
For the Champagne Club, you can give the following gift subscriptions, delivered every three months:
Two shipments for $500
Four shipments for $1000
Six shipments for $1500
Eight shipments for $2000
Additionally, you can choose the date your gift recipient receives notice (via email) of their incoming gift. This date can be selected up to twelve weeks ahead of time (in case you're proactively gift shopping).
This detail is especially important because the gift recipient's membership doesn't start until they receive the gift notice email AND sign up for a Wine Access account to redeem the subscription. The gift recipient has six months to establish that account and claim the gift.
How does the Champagne Club compare to similar wine subscriptions?
The Wine Access Champagne Club offers only Champagne (no other sparkling wines) and is not customizable. There are very few similar subscriptions to compare it to, here are a few worth noting: Fat Cork, Henri's Reserve, and SingleThread.
Fat Cork. Until now, this has been the go-to for a grower Champagne subscription. I haven't reviewed it, but here are the details. Quarterly memberships start at $264 (for four bottles) and shipping is extra. They offer some members-only pricing when you buy additional Champagne from them, and if you buy five bottles you get a sixth bottle free. Shop it
Henri's Reserve. This is also a grower Champagne club, but it ships two of the same bottles in each box. Each shipment is $150 and can be shipped monthly, every other month, or quarterly. Save 10% on additional Champagne purchases from Henri's Reserve. Read my review or shop it
Singlethread. Healdsburg (Sonoma County) restaurant Singlethread has three stars from MICHELIN. They have a wine club which provides access to their acclaimed cellar, and one of their subscriptions is just Champagne (probably just grower Champagne, but it's not spelled out that way). Get one or two bottles for $125 each month and shipping is $30. Shop it

This club is so close in concept to the Champagne Club at Wine Access (with its own MICHELIN cred) you might be doing a double-take, but let me remind you that Wine Access includes shipping in their price and tends to price their wine below retail (as opposed to a restaurant who is likely charging at least retail, if not more). Fewer shipments of more bottles is also better for the environment.