International Series Wine Club Review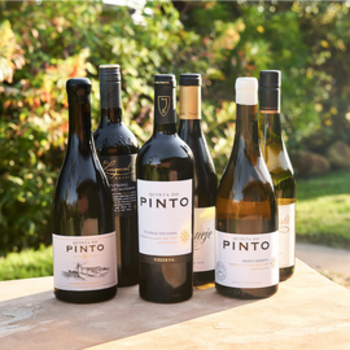 Wine Club Overview & Details
Wine Club Rating:
This wine club is...
Summary
This international wine of the month club is delivered quarterly and features wineries you can't buy from any other company in the U.S. Each shipment features a new winery and wine region.
What I Like
Whether you choose just the wine or you upgrade to include the regional gourmet treats with the Adventure Package, this quarterly wine club will take you on your own wine-drinking adventure around the world. Extensive regional and winery information goes out with each shipment, chock full of photos that help you feel like you've gone wine tasting in a far away land.
Improvements
This club doesn't have a 5-star rating. It doesn't ship ultra-premium wine and the price isn't amazing for what you get. Superlatives aside, the quality to price ratio is correct.
Benefits
Small International wineries

Selection is hard to find in US

Gourmet Adventure Package Add-on

Buy more, save more
Drawbacks
International Series Wine Club delivers to
AL AK AZ AR CA CO CT DE DC FL GA HI ID IL IN IA KS LA ME MD MA MN MO MT NE NV NH NJ NM NY NC ND OH OK OR PA RI SC SD TN TX VT VA WA WV WI WY
Don't see your state? Gold Medal Wine Club does not ship there. Browse wine clubs by state.
Join International Series Wine Club
FYI: I find great wine deals so you don't have to. To keep me on the hunt, I earn a commission when you buy wine based on my recommendations.
Coupons & Promo Codes
Deal Save 5% on gifts
Give a wine club gift of 4 shipments and save 5%. Click for this deal
International Series Wine Club Review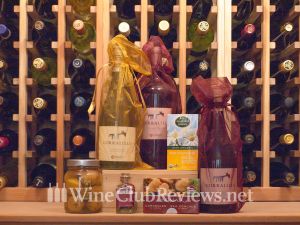 The International Wine Club comes with several options:
The standard quarterly subscription is three bottles, two red wines and one white wine (or rosé).
Upgrade to the Gourmet Adventure Package to experience foodstuffs local to the region the wine hails from.
You can choose red wine only, two will be the same.
Choose anywhere from 1-12 shipments, or an ongoing subscription until you cancel.
And of course, like any proper wine club, there are no sign-up fees and you can cancel any time.
Being a member of a Gold Medal Wine Club is like being a member of every winery wine club in California. Gold Medal wine club members get very similar pricing to the winery's own wine club members (sometimes better). Of course you do miss out on those fun wine-club pick-up parties, but then again, you get the wine shipped right to your door and don't have to lug it home!
Wine Review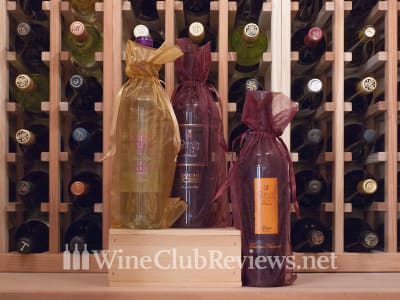 My International Club
Wine Ratings
| | |
| --- | --- |
| Quality of Wine | |
| Price of Wine | |
| Wine Curation | |
What's super important to know is that the wine you receive in the International Wine Club is always produced by a small wineries around the globe and could be labeled Artisan or Craft. Whether the owner/winemaker grows her own grapes and estate bottles them, or purchases them from high-quality vineyards to make at a crush pad facility, you'll never find mass-produced "factory wines" in your shipments.
The International Wine explores one winery at a time from a different wine region, usually somewhere lesser known. Recent shipments have featured: the Rosario region of Chile, the Padthaway and Frankland River regions of Australia, the Stellenbosch region of South Africa, the Rioja, Valdeorras and Duero regions of Spain, and the Duero Region of Portugal. We received a Portugal package and were quite pleased with the wines. They were unusual, but of high quality—this distinction is important because many people think if they don't like a wine, it must not be of high quality, when in reality it's just not suited to their palate.
The wines in the Portugal shipment were as much a delight as the food. The shipment featured three wines from a winery called Quinta da Pedra Alta in Douro, one of Portugal's most famous wine regions. There were two reds and a white to explore. The white, Branco Reserva, was light and very food friendly. It had very little fruit and a unique minerality I haven't encountered in other European whites. I enjoyed the adventure very much.
The red wines are also exciting adventures. I especially enjoyed the Tinto, a blend of 50% Touriga Nacional, 20% Touriga Franca, 15% Tinta Roriz, and 15% Tinta Barroca.
One of our favorite things about the Gold Medal wine club is how they really push hard on quality, but also on rewarding their loyal club members. Find a wine you love in this shipment? You can order more at further members-only discounted prices.
Membership Benefits
My International Club
Benefits Ratings
| | |
| --- | --- |
| Satisfaction Guarantee | |
| Customer Service | |
| Wine Education | |
| Convenience | |
Discount Opportunities. Gold Medal does not regularly offer an introductory offer, though during peak holidays like Valentine's Day, Mother's Day, Father's Day, and Christmas you'll find free gifts with purchase like gourmet truffles (chocolate) and wine accessories.
Gold Medal does offer discounts on reorders, while supplies last—buy 2-5 bottles more and pay the regular price, buy 6-11 bottles and save up to 10%, buy 12-23 bottles and save up to 12%, buy 24 or more bottles and save up to 15%. Four-bottle members save more on reorders.
Lastly, members-only special deals are limited. There are occasionally members-only sales. Since their wines are already very competitively priced, we don't mind that there aren't more offers coming from them.
Customer Service Record. In 14+ years of working with Gold Medal we have never had a single customer complaint. That's amazing to us. Our usual Internet sleuthing failed to turn up any customer complaints. Kudos to them!
Satisfaction Guarantee. In our eyes, this is the weakest aspect of the Gold Medal wine club program and it's why they don't have a 5-star rating from us. They say "Satisfaction Guaranteed" on their website, but what they really mean is that they believe you'll love what they ship, not that they'll replace anything you don't like as most other clubs of this caliber promise.
Their Return Policy: "If a shipment is damaged in transit we will replace the product at no additional charge. If the wine is corked from the winery, we will replace the bottle at no charge. On the rare occasion members receive the wrong product, a discount is offered, or the shipment can be returned at no-charge to the member."
That said, we'd be genuinely surprised and concerned if you received a stinker from Gold Medal.
Convenience. Gold Medal is a more old-fashioned company. If you need to hold your service for a vacation or want to cancel your membership you'll need to call and speak to someone during regular business hours. You can handle reorders yourself online, as well as see a record of the wines you've received and when you received them.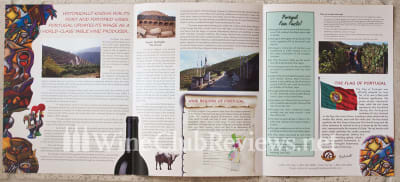 Wine Education. The International Series from Gold Medal comes with its own magazine called "Taste the Adventure." By far the most educational of Gold Medal's different wine club inserts, I learned so much about Portugal, its history, its economy, and its food and wine! They also included delightful recipes paired for these specific wines.
Who Should Join the International Wine Club?
As a value-priced wine club featuring boutique wines from International wineries, we think this club is perfect for:
Wine lovers who prefer an International selection of wine
Occasional wine drinkers who want to have a couple of nice bottles on hand all the time
Foodies who love to entertain (the wines are food-friendly)
Anyone who wants a good deal on hard-to-find wine from small wineries
International Wine Club sounds good but you prefer California wines? Try their Gold Wine Club instead (no adventure package option).
Gift Review
This is a really fun wine gift to receive—especially if the Adventure Package is part of the deal. Buy someone a year of food & wine travel by purchasing four shipments of this awesome wine club gift.
Wine gifts come in a gift box is designed by an artist. The custom-printed gift card matches the design on the box. The three bottles of International Wine Club wine are wrapped in organza wine gift bags.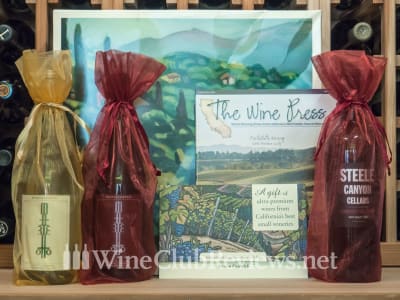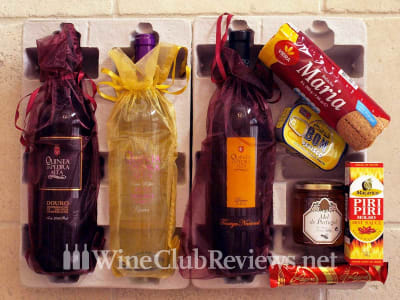 Good eats! The Gourmet Adventure Package Add-on
We love love love their Gourmet Adventure Package! It's so fun to try foods from different wine regions — our favorites so far were honey from Chile, Gooseberry Jam from South Africa, and Piri Piri sauce from Brazil.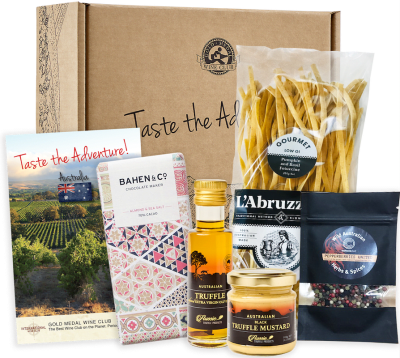 International Series Wine Club