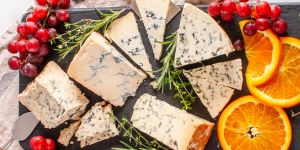 Blue Cheese & Wine Pairings
FYI: I find great wine deals so you don't have to. To keep me on the hunt, I earn a commission when you buy wine based on my recommendations.
If you're like most people, your exposure to blue cheese might be limited to Cobb salads, dipping sauce for hot wings, and exotic cheeseburgers. It lends a pungent, salty, tangy taste that complements many flavors, especially strong flavors.
If you've never tried it, here's the #1 rule: if you are allergic to Penicillin as I am, you should avoid "blue cheese." I ate a fair amount of blue cheese, always getting sick after, until I realized these two issues were connected. My cheese life is happier now, but I sure do miss those blues and greens.
What is blue cheese?
Blue cheese — or blue vein cheese — can be produced with cow's milk, sheep's milk, or goat's milk. The blue comes from cultures of Penicillium roqueforti (the same genus of mold that creates the similarly named antibiotic drug) and the final color may be blue, gray, green, or even black. The "veins" appear where the cheese is "spiked" to let oxygen in to encourage the growth of the mold inside the cheese (kind of like aerating your lawn). The most well-known blue cheeses are Roquefort from France, Gorgonzola from Italy, and Stilton from England.
This picture of blue cheeses of the world is from Cook's Illustrated and is part of a great article to learn more about the world of blue cheese.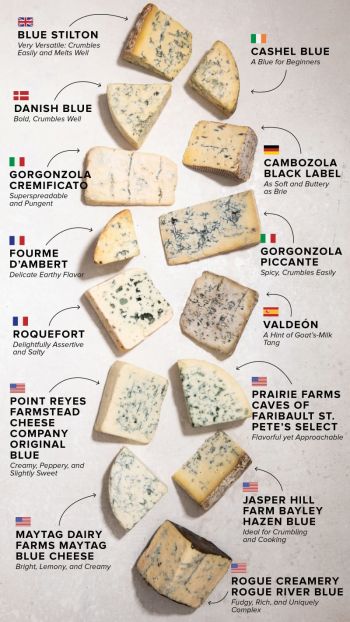 What does blue cheese taste like?
Like most cheeses, the kind of milk greatly influences the overall taste of a blue cheese — goat's milk cheeses are tangier, sheep's milk cheeses have a characteristic unctuousness, and cow's milk cheeses are creamier (tasting). Unlike other cheeses, the specific cultures used to make them blue also greatly influences the overall taste of a blue cheese. They tend to be salty and as the mold digests both protein and fat in the milk, a variety of other flavors emerge: savory, mushroomy, tangy, buttery, or herbaceous notes.
Classic Blue Cheese & Wine Pairings
While many people quickly think of pairing blue cheeses with red wine, they're overlooking the magic of a dessert wine with a blue. Here's what to know about selecting a dessert wine and a blue cheese.
Dessert wine is sweet and intended to be paired with sugary treats like chocolate, candied fruits, and fruit pies. This is in contrast with something like a Moscato, which can taste very sweet because it lacks sufficient acidity, but is not usually as sweet as a dessert wine. A good quality sweet wine made from any grape variety must have acidity to balance the sweetness — it's what keeps good dessert wine from being cloying.
There are a number of classic dessert wine styles:
One of the most expensive wines in the world is a dessert wine from Chateau d'Yquem, where a bottle of the current vintage costs $275-400 but collectible vintages dating back to the winery's start in the 1500s cost as much as $30,000 (for an 1847 in very good condition). You can usually find a decent half-bottle (standard for dessert wines) for around $30, but you can expect to pay more. You can buy full size (750mL) bottles and magnums, too.
Classic Blue Cheese & Wine Pairing Recommendation
When it comes to all things French, my first phone call is always to Laurent Yung, the founder and CEO of SomMailier. SomMailier is a wine club focusing exclusively on boutique French wine. Laurent Yung is the founder and CEO of this tiny operation. He is a 5th generation member of the Yung wine family from Bordeaux. Working with his family partners in France, he imports unique and (mostly) exclusive French wines to the United States. He sells these wines on his website and through his delightful wine club. My own experience with the wines from SomMailier is that they are little treasures, distinct from widely available French wines I've tried.
As I can no longer partake in the glory of blue cheeses, I asked Laurent to choose a blue cheese that would pair well with his delightful Sauternes L'Îlot de Haut Bergeron. He chose this Roquefort at iGourmet. (He also liked this blue cheese assortment, if want to try more than one.)
What makes Sauternes and Roquefort a magical pairing is how the sweetness of the wine contrasts the sharp and salty tang of the cheese without being overwhelmed by it. Simultaneously, the acid in the wine contrasts with the creaminess of the ewe cheese. Each has a long finish which allows for a continued exploration of the flavors together.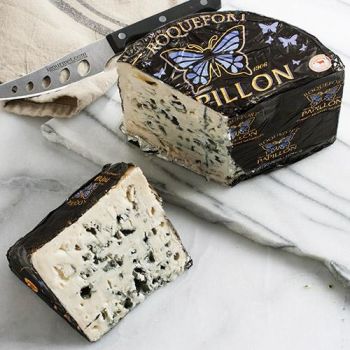 Buy it for $12.99
Roquefort Papillon Black Label AOP

Buy it for $38
Sauternes (Sweet) L'Îlot de Haut Bergeron 2016 (750mL)
"This world-famous Roquefort is a noble, all-natural ewe's milk blue cheese from the Auvergne region of France. Papillon (which means butterfly in French) wraps their top-of-the-line Roquefort in black foil to distinguish it from lesser brands.
Aged for over 4 months in the natural Combalou Caves, this exceptional Papillon Roquefort is distinguished first and foremost by its white curd and the intense blue which generously marbles its wide and numerous cavities.
The taste of a good Roquefort is similar, in terms of analysis, to a grand cru wine: balanced and fairly salty, with a big personality. It is great for melting, slightly granulated, and lingers in the mouth. In the mouth, its unctuous and supple texture melts deliciously with a recognizable taste, and leaves you with a powerful and lingering aftertaste."
"Tasting Notes: apricot, citrus, grapefruit and ginger aromas. Sweetness balanced with a touch of acidity and golden fruit like peach, and apricot drizzled in honey. Blend: 80% Semillon/20% Sauvignon."
"Sauternes is a French sweet wine from the Sauternais region of the Graves section in Bordeaux. Sauternes is made from sémillon, sauvignon blanc, and muscadelle grapes that have been affected by botrytis cinerea, also known as noble rot."