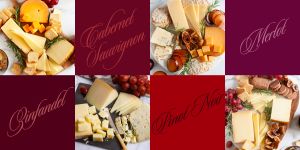 Red Wine & Cheese Pairings
FYI: I find great wine deals so you don't have to. To keep me on the hunt, I earn a commission when you buy wine based on my recommendations.
The intensity and tannins of red wine often leave a lot of room for cheese flavors to clash with wine. When it comes to red wine, lighter-bodied and fruity options with lower alcohol will do better with younger cheeses. Older wines go well with aged cheeses, heavy reds go better with stronger cheeses like aged cheddar or Grana Padano.
This guide contains my recommendations for pairing red wine with cheese and some detailed pairing recommendations.
About the Wine & Cheese in this Guide
To create a readymade wine and cheese pairing experience accessible to most people, I chose to work with the pre-selected cheese assortments at iGourmet. They have a rather impressive selection of cheese collections grouped under the heading "Cheese for Wine" that make a great jumping off point.
I contacted one of my most trusted wine club partners — The California Wine Club — to see if they'd be interested in helping me pair their wines with the Cheese for Wine assortments from iGourmet. They said yes! Lucky you!
The California Wine Club has several wine clubs and an online store. This small, woman-led business works with small, family wineries, seeking out great wines you'd be hard-pressed to find outside the winery tasting rooms.
As their name suggests, they offer wine from California, but they also have a Pacific Northwest Series and an International Series which brings in unique, artisanal wines not readily available in the US. Every wine I've tried from The California Wine Club has expressed the terroir of its origin, typicity of the grapes, and has been a delight to drink.
Please note: The cheeses and wines in this guide may occasionally go out of stock. It is entirely possible I will have not updated the guide to reflect those changes, though I will do my best to keep up. If a wine happens to have gone out of stock, when you reach the shopping cart at The California Wine Club, a suitable alternative will have been selected.
Storage & Serving Suggestions
Serving suggestions: If you're hosting a party you can open both wines and serve the whole assortment of cheese. Alternatively you can split the cheeses into two halves and try them with one of the wines on one day and with the other on another.
Once opened, chévre is good for about two weeks. Other cheeses will keep longer if stored properly. I store bloomy rind cheeses in air-tight containers alone, and semi-firm and hard cheeses go in a separate "formerly used for takeout" container. These aren't as air-tight as Tupperware style containers, allowing the cheeses to breathe and retain some moisture at the same time.
Pinot Noir & Cheese Pairing
Buy it for $34.99
Pinot Noir Cheese Assortment at iGourmet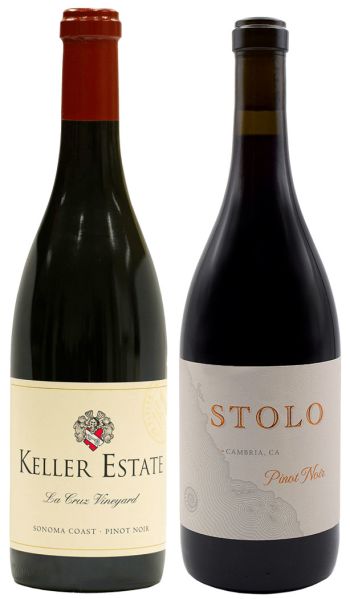 Buy it for $77
Wines selected for these cheeses by The California Wine Club
The Cheese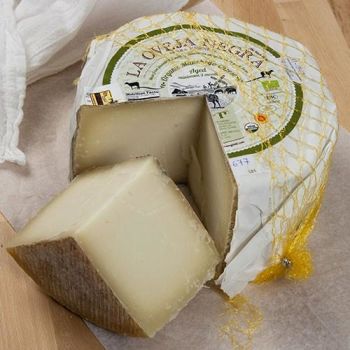 Manchego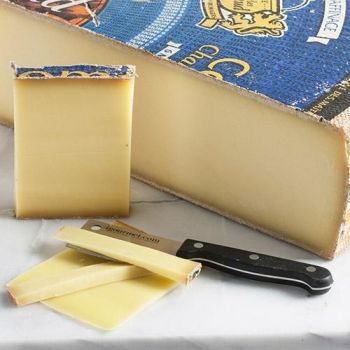 6-month Aged Comté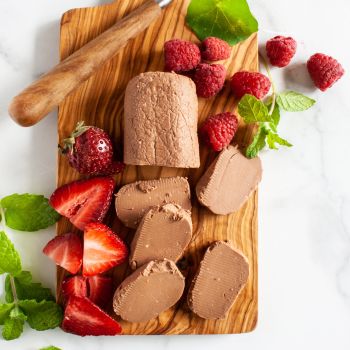 Capri Chocolate Chevré
The Pinot Noir Cheese Assortment from iGourmet includes: Manchego, 6-months Aged Comté, and a Chocolate Capri Log.
The Manchego DOP (Spain's Denominacion de Origen) is a classic Queso Manchego aged a minimum of 3 months. It's made from pasteurized milk produced by heritage breed black ewes that graze the Parra Family vineyard in La Mancha, central Spain. The cheese is semi-Firm, with exceptionally high moisture content giving it a creamy mouth feel despite its slightly crumbly profile. The cheese has a zesty, buttery, lanolin scent. Its flavor is nutty, herbaceous, sweet and savory with a slight saltiness. La Oveja Negra is moister, more complex, sweeter and less salty than factory-made Manchegos.
This Comté, made from unpasteurized cow's milk, is aged for six months, where it develops a tight-knit texture and satiny body. On the palate, one can detect notes of fruits, hay, and a slightly nutty, smoky flavor gained during the process when the curd is cooked.
The Chocolate Capri took 1st Place at the American Cheese Society Awards in the Flavored Goat Cheese category. If the notion of a semi-sweet chocolate goat cheese appeals to you, you must try this creation from Westfield Farm. Fresh goat cheese is blended with bittersweet Venenzuelan chocolate. Rich and creamy with a slightly goaty tang (iGourmet says it's addictive).
The Wine
For a red wine, Pinot Noir is quite versatile when it comes to cheese pairings. Some Pinot Noir can be more heavy-bodied and it's not a great fit for this particular pairing. The most suitable Pinot Noir wines are definitely bright, light-to-medium bodied options with smooth tannins.
The California Wine Club has selected two excellent Pinot Noir wines to pair with this cheese assortment.
Please Note: the Pinot Noir selection at The California Wine Club is currently unavailable. Most Pinot Noir wines that are fruitier and not earthier will be suited to these cheeses.
Stolo Vineyards 2018 Cambria San Luis Obispo County Estate Pinot Noir (Central Coast)
Winemaker's tasting notes: "Aromas of red cherry, vanilla, forest floor, and baking spices. Flavors of dried strawberry, dried thyme, and red plum. The texture is silky." 91 Points, Wine Enthusiast: "Quite light in the glass, this bottling offers wild aromas of rust, tarry earth, mossy forest floor, and crisp raspberry. There's a strong wood-spice streak across the palate, where toasted cedar and sandalwood flavors surround the black plum and white pepper flavors."
Keller Estate Winery 2016 La Cruz Vineyard Petaluma Gap Sonoma County Pinot Noir
Winemaker's tasting notes: "Dark cherry and dried cranberry give way to a dense, mouth-watering minerality and a fruit-driven mid-palate with a long-lasting finish of elegant tannins." 91 Points, Wine Spectator: "This elegant version lengthens out nicely, featuring plush red fruit and spice flavors, accented by toasty notes. Juicy mid-palate, with a minerally finish."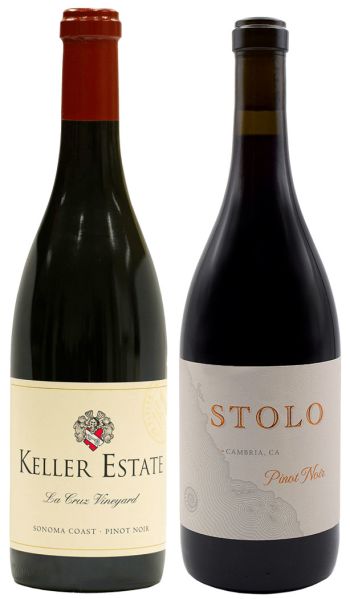 Buy it for $77
Wines selected for these cheeses by The California Wine Club


Each of these wines will bring out unique characteristics in each of the cheeses. Sheep's milk cheeses go really well with Pinot Noir and so does the sweet, nutty character of Comté even though it's made with cow's milk. The Stolo Vineyards Pinot will knock it out of the park with all three cheeses, and the cranberry and juicy mid-palate of the Keller Estate will be a great complement to the Chocolate Capri.

Serving suggestion: If you're not planning to drink both bottles on one occasion, split this pairing into two sessions, the Comté and the Manchego with the Stolo Vineyards wine and the Keller Estate Pinot with the Capri log.
Cabernet Sauvignon Cheese Pairing
Buy it for $39.99
Cabernet Sauvignon Cheese Assortment at iGourmet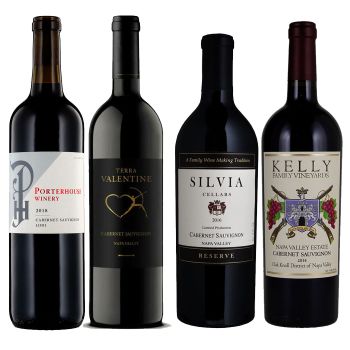 Buy it for $71
Artisanal Cabernet Sauvignon for these cheeses (left)

Buy it for $134
Luxury Cabernet Sauvignon for these cheeses (right)

The Cheese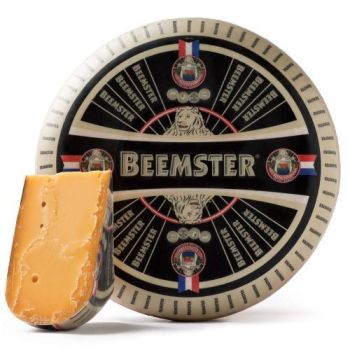 Aged Gouda
Piave Vecchio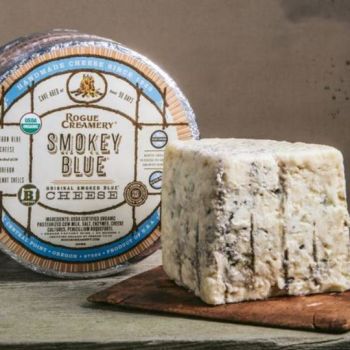 "Smokey Blue"
The Cabernet Sauvignon Cheese Assortment from iGourmet includes: Extra Aged Dutch Gouda, Piave Vecchio, and Smokey Blue.
Aged Gouda, one of the world's most sought-after cheeses, has been made in the Netherlands for over 800 years. Beemster makes theirs in North Holland, where the grazing land is pure and lush. Easy to distinguish, it is the dairy world's equivalent of a Rembrandt or Van Gogh. This edible opus magnum has been matured for eighteen months, allowing its body to develop a muted caramel color, matched by an intense flavor with a sweet finish. The transformation that mild, somewhat ordinary Gouda undergoes during its aging process is simply amazing. Aged Gouda has many layers of nuanced flavor, and its texture lends itself well to shredding or chunking.
Piave Vecchio (meaning Aged) enhances the already sweet, rich flavor of young Piave through the process of maturing. It has the texture of a young Parmigiano-Reggiano, not crystalline yet nor dry enough for grating, but heading in that direction. It has the toasted walnut character of Gruyere and the caramel-like sweetness of an aged Gouda. It is produced entirely from milk from the mountainous part of Veneto.
"Smokey Blue" is a classic, Roquefort-style blue cheese that is cold smoked for 16 hours with Oregon Hazelnut shells. The smoking process releases a sweet, creamy, smoky flavor that balances both the sharp blue flavor and sweet, creamy taste of the 100% natural, full-cream, sustainable milk from Bonanza View Dairy. It's a great "crumbler."
The Wine
When considering pairings for Cabernet Sauvignon, aged cheeses are always a great choice. Aged cheese brings an intense flavor that can hold up to a Cab. In some cases Blue cheese makes a great pairing for Cabernet and in other cases it does not. The Smokey Blue is very wine friendly, especially with Cabernet Sauvignon.
The California Wine Club has selected two pairs of Cabernet Sauvignon to pair with this cheese assortment — one is more modestly price and the other is a premium selection, including a 2014 Oak Knoll District gem.
Artisanal Cabernet Sauvignon
Porterhouse Winery 2018 Lodi Cabernet Sauvignon
Winemaker's tasting notes: "Deep burgundy color. Medium-bodied, with a soft texture and aromas of berry, spice, anise, and pepper. Flavors of black cherry, blackberry, and cedar lead to a finish with silky tannins and a hint of oak." Porterhouse Winery is a part of the Comartin Cellars family.
Terra Valentine 2018 Napa Valley Cabernet Sauvignon
Winemaker's tasting notes: "Not only is this a very good Cabernet, it is, given where the prices of Napa Valley versions have gone, nothing short of an out-and-out bargain. Brimming with loads of deep and juicy, primary fruit that steers it a bit more to succulence than its more-structured, Spring Mountain siblings, it keeps its tannins in comparative check and is striking in its fruity continuity and palatal length. Still, this is no simple fruit bomb that is meant for straightaway drinking, and it has the stamina, balance and sense of nascent complexity of a wine sure to age famously for six to ten years."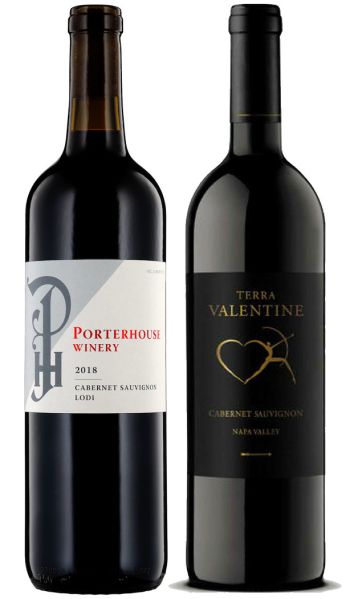 Buy it for $71
Wines selected for these cheeses by The California Wine Club


Parmigiano-Reggiano, frequently compared to Piave Vecchio, can overpower a Cabernet both in intensity and texture, whereas the Piave Vecchio will smoothly accompany these fruitier, less tannic Cabs. The Aged Gouda will harmonize with the Porterhouse bottle and the Smokey Blue will complement the Terra Valentine.
Aged Luxury Cabernet Sauvignon
Silvia Cellars 2016 Limited Production Napa Valley Reserve Cabernet Sauvignon
Winemaker's tasting notes: "This wine is rich and dark in the glass with aromas of coffee and blackberry. It is medium- to full-bodied, with velvety tannins that will gain even more complexity as time passes." 93 Points/Highly Recommended Decanter Magazine
Kelly Family Vineyards 2014 Oak Knoll District Napa Valley Estate Cabernet Sauvignon
The California Wine Club's tasting notes in 2021: "Bright aromas and flavors of boysenberry, cassis, and cherry with French oak back notes of vanilla bean and chocolate." Double Gold Medal, San Francisco Chronicle Wine Competition
Buy it for $134
Wines selected for these cheeses by The California Wine Club


These two aged Napa Cabernet Sauvignon offer a different perspective from the former pair. Aged wine pairs well with aged cheese because they are both fermented. The "tertiary flavors" that develop as a fermented product ages bring a different experience when paired with the selected cheeses.
Classic Red Wine & Cheese Pairings
If you want to build your own cheese assortments instead of relying on the suggestions above, I'd start with the Wine Enthusiast guide organized by cheese type rather than wine type. What follows is a summary of that guide with some additional information I find useful.
Fresh Cheese. Made from any type of milk, these cheeses are not aged and have a mild, slightly tangy flavor. Examples: Mozzarella, Burrata, Chévre (goat), Feta, Ricotta, Mascarpone, and Boursin.
Pair with these red wines: very young, fruity, unoaked red wines like Loire Cabernet Franc, Pinot Noir, Gamay, Valpolicella, and Zweigelt. I strongly recommend Natural red wine which tends to be bright like a white wine.
Classic combos: Nebbiolo with Feta or Loire Cabernet Franc with Goat Cheese.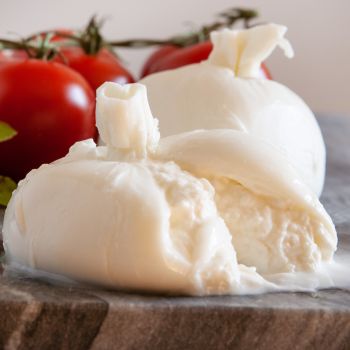 Burrata di Bufala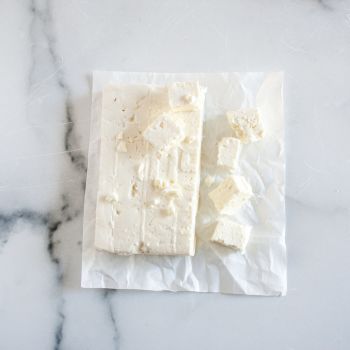 Valbreso Feta
Bloomy Cheese. Named for the bloom of white mold on the outside, these tend to be the richest and creamiest cheeses with a soft, spreadable texture. The rind is edible and contributes a strong, funky flavor. Examples: Brie, Camembert, Robiola, and Coeur du Neufchâtel.
Pair with these red wines: very young, fruity but dry, unoaked red wines like Pinot Noir, Dolcetto, Barbera, Gamay, Loire Cabernet Franc, Bonardia, Mencía, and Zweigelt.
Classic combos: medium-bodied red wine with modest tannin like Merlot or a rouge from Graves with Camembert.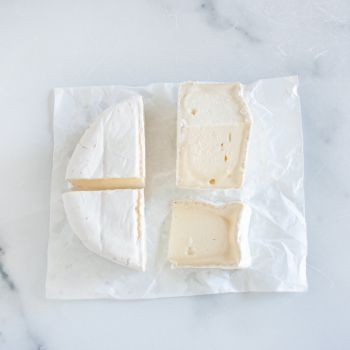 Locarno Brie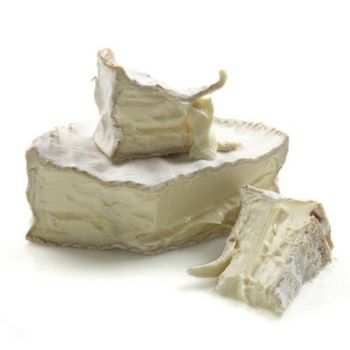 Brillat Savarin
Washed Rind Cheese. These cheeses are rich and creamy, soft or semi-soft, and have a trademark orange rind from the brine, beer, or wine it was washed in. Examples: Fontina, Époisses, Reblochon, Taleggio, and Munster.
Pair with these red wines: Beaujolais Villages, Pinot Noir, and Trousseau.
Classic combos: a medium-bodied Pinot Noir with high alcohol with Époisses (California recommended) and Reblochon and Aglianico with Taleggio.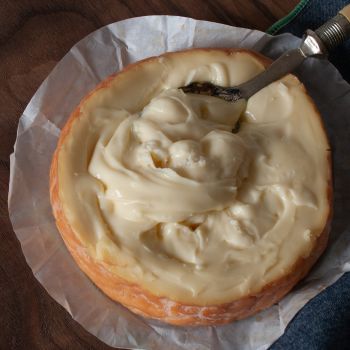 Époisses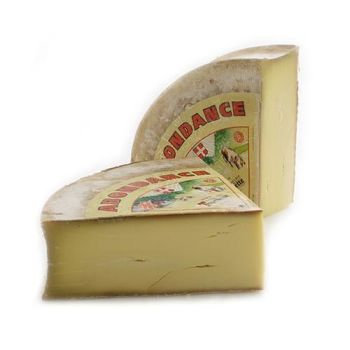 Abondance
Semi-soft Cheese. These cheeses tend to be creamy and fairly mild, great for melting and slicing. Examples: Gruyere, Gouda, Havarti, Provolone, Edam, and Mimolette.
Pair with these red wines: rustic, "crunchy" wines without much oak like Côtes de Rhône, Corbières, St-Chinian, Chianti, Mencía, and young Bordeaux blends.
Classic combos: Pinot Noir with Gruyere, Malbec with Edam, and Syrah with Gouda.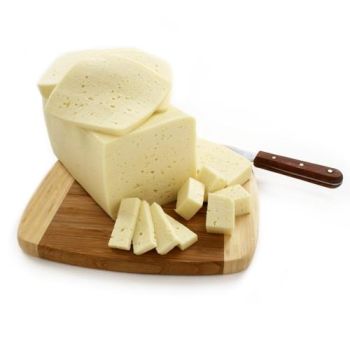 Havarti
Hard cheese. Hard cheeses have been aged, are quite firm, and tend to break into crumbles or shards. With nutty and complex flavors, they can also be pungent and salty. Examples: Cheddar, Double Gloucester, Parmesan, Pecorino, Manchego, Grana Padano, Emmentha, and Comté.
Pair with these red wines: bold red wines like Nebbiolo, Sangiovese, Aglianico, Rioja, and cool-climate Bordeaux.
Classic combos: Pecorino Toscano with Chianti Classico, Gamay Noir with Comté, and Cabernet Sauvignon with Aged Cheddar.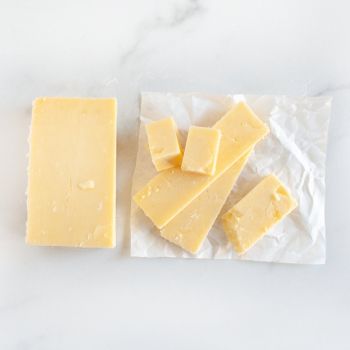 Mature English Cheddar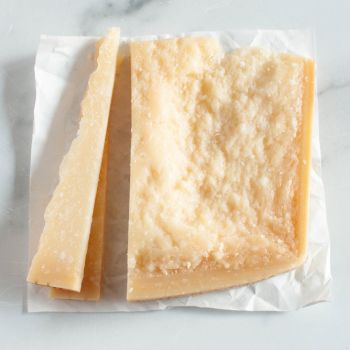 Parmigiano Reggiano
Blue Cheese. The texture of these cheeses runs the gamut and the intensity of the sharpness or tang varies by producer and type of milk used. Examples: Cambazola, Danish Blue, Gorgonzola, Roquefort, and Stilton.
Pair with these red wines: sweet, fortified red wines like Vintage Port or Banyuls.
Classic combo: Stilton with Port.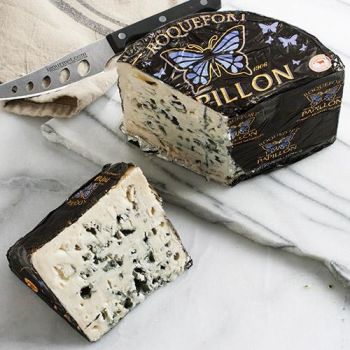 Roquefort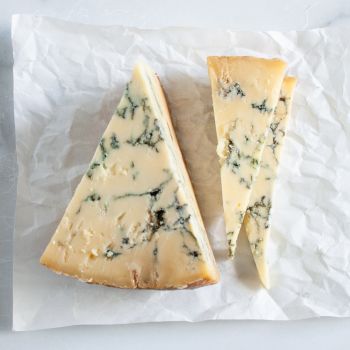 Stilton
More Cheese Assortments for Red Wine
If you prefer red wines other than Pinot Noir and Cabernet Sauvignon, iGourmet offers more perfect-for-your-favorite-red-wine cheese assortments for Merlot, Zinfandel, and Syrah.
Buy it for $29.99
Merlot Cheese Assortment at iGourmet
Cheeses Included: Beemster Classic Extra Aged Gouda (Northern Holland, The Netherlands), Montasio DOP (Venice, Italy), Manchego (Spain)
Buy it for $49.99
Syrah & Shiraz Cheese Assortment at iGourmet
Cheeses Included: Point Reyes Blue (California), Dairy Vale Vintage Cheddar (Australia), Idiazabal (Spain), and Trugole (Italy)
Buy it for $39.99
Zinfandel Cheese Assortment at iGourmet
Cheeses Included: Fiscalini Bandage Wrapped Cheddar Limited Edition (California), Artisan Raw Milk Manchego (Spain), Smokey Blue (Oregon)
Buy it for $79.99
Truffle Cheese Assortment at iGourmet
Cheeses Included: Boschetto al Tartufo Bianchetto (Italy), Raw Milk Gouda with Truffles (Holland), Moliterno Black Truffle Pecorino (Sardinia), Perlagrigia with Truffles (Italy), Black Summer Truffle Chevre (Provence, France)