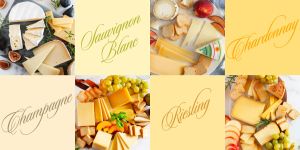 White Wine & Cheese Pairings
FYI: I find great wine deals so you don't have to. To keep me on the hunt, I earn a commission when you buy wine based on my recommendations.
There is a "frame of mind" to cheese pairing. In the book Cheese & Wine, A Guide to Selecting, Pairing, and Enjoying (by Janet Fletcher):
"Whether you are choosing wine to accompany a platter of cheeses, or selecting cheeses to enjoy with a favorite wine, the objective is the same: to 'do no harm' to the taste of the wine. When we talk about a successful cheese match, we mean that the cheese or cheeses do not diminish our pleasure in the wine. The wine tastes just as good with the cheese as it does on its own. Occasionally, but not often, a cheese may even enhance a wine."
Along these lines, white wines are the most flexible for pairing with the greatest number of cheeses. This guide contains my recommendations for pairing white wine with cheese and some detailed pairing recommendations.
About the Wine & Cheese in this Guide
To create a readymade wine and cheese pairing experience accessible to most people, I chose to work with the pre-selected cheese assortments at iGourmet. They have a rather impressive selection of cheese collections grouped under the heading "Cheese for Wine" that make a great jumping off point.
I contacted one of my most trusted wine club partners — The California Wine Club — to see if they'd be interested in helping me pair their wines with the Cheese for Wine assortments from iGourmet. They said yes! Lucky you!
The California Wine Club has several wine clubs and an online store. This small, woman-led business works with small, family wineries, seeking out great wines you'd be hard-pressed to find outside the winery tasting rooms.
As their name suggests, they offer wine from California, but they also have a Pacific Northwest Series and an International Series which brings in unique, artisanal wines not readily available in the US. Every wine I've tried from The California Wine Club has expressed the terroir of its origin, typicity of the grapes, and has been a delight to drink.
Please note: The cheeses and wines in this guide may occasionally go out of stock. It is entirely possible I will have not updated the guide to reflect those changes, though I will do my best to keep up. If a wine happens to have gone out of stock, when you reach the shopping cart at The California Wine Club, a suitable alternative will have been selected.
Storage & Serving Suggestions
Serving suggestions: If you're hosting a party you can open both wines and serve the whole assortment of cheese. Alternatively you can split the cheeses into two halves and try them with one of the wines on one day and with the other on another.
Once opened, the chévre is good for about two weeks. The other cheeses will keep longer if stored properly. Because it has a bloomy rind, I store the chévre in an air-tight container on its own and the semi-firm and hard cheeses go in a separate "formerly used for takeout" container. These aren't as air-tight as Tupperware style containers, allowing the cheeses to breathe and retain some moisture at the same time.
Sauvignon Blanc & Cheese Pairing
Buy it for $39.99
Sauvignon Blanc Cheese Assortment at iGourmet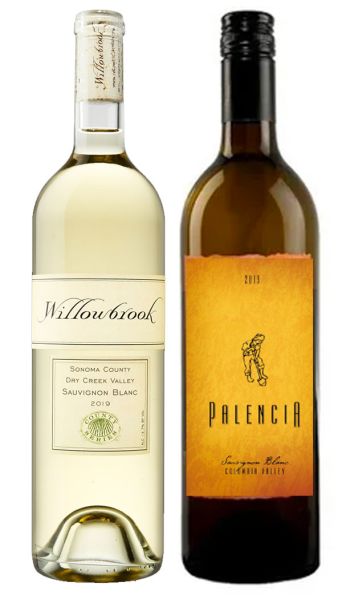 Buy it for $41.95
Wines selected for these cheeses by The California Wine Club

The Cheese
A large number of fresh, young cheeses pair well with Sauvignon Blanc, and "classic" pairings of cheeses readily available in the US include: Goat cheese (Chévre), Feta, Cotija, Mascarpone, Comté, Brie, Gruyere, Swiss, Havarti, Parmesan, and Monterey Jack.
The Sauvignon Blanc Cheese Assortment from iGourmet includes: Bûche de Chévre, Pecorino Toscano, and Montasio.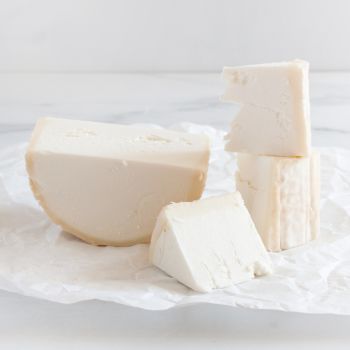 Bûche de Chévre
Pecorino Toscano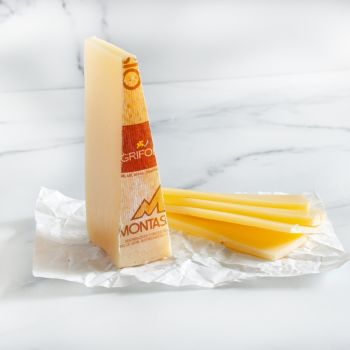 Montasio
Goat cheese is the go-to pairing for Sauvignon Blanc from any region. The more commonly seen style in America is a very fresh and tangy style of goat cheese, often made by Vermont Creamery, Laura Chenel, or Silver Goat. Some French companies produce this style of goat cheese, too, like Ile de France.
Another style of French goat cheese is labeled as Bûche de Chévre or Bûcheron and sold as a slice from a large log. This is what is included in the iGourmet Sauv Blanc assortment.
This Bûche de Chévre is from Poitou in the Loire Valley. It is aged for two months, during which time it develops a hard, edible crust complete with a bloomy, white mold coating. It is sharp and tangy (funky) near the rind and gets progressively richer and creamier toward the center. When enjoying this cheese, you savor a delightful combination of flavors and textures in each bite. Bûche de Chévre is a true delicacy that begs for a warm, crusty French baguette and a glass of perfectly paired wine.
Pecorino Toscano is a young 100% sheep's milk cheese, only about 40 days old when it arrives in the US from Tuscany, Italy. Pecorino Toscano Stagionato DOP is created from locally collected sheep's milk during September and June. As it ages, the cheese loses its milky white color and takes on a hay-colored, ivory hue. The sweet, silken texture of the original cheese slowly gives way to a sharp, zesty flavor with a brittle texture.
Montasio is a pasture-terraced mountain located to the northeast of Venice in the Friuli-Venezia region of Italy. Made in large wheels, the flavor of this cheese is nutty, and slightly fruity. Since the mountain milk from which Montasio is made is high in butterfat, the cheese has a richer flavor with hints of butterscotch.
The Wine
One of the more delightful pairing combinations for wine and cheese lovers is fresh cheese paired with bright young wines with a fruity palate. In the US, the most readily available wine that fits this description is Sauvignon Blanc.
Just as not all cheeses are created equal, not all Sauvignon Blancs are either. It is known by a variety of names including: Pouilly-Fumé (Chablis), Fumé Blanc (California), and Sancerre (Loire Valley). It's flavor profiles range from "green fruit" (apple, gooseberry, and cut grass) to "tropical fruit" (pineapple and passion fruit) to citrus (mostly grapefruit and lemon) but it can also be floral, steely, and vary in its brightness. A great resource for learning about Sauvignon Blanc from all its regions is Wine Folly.
The California Wine Club selected two excellent Sauvignon Blanc wines to pair with this cheese assortment.
Willowbrook 2019 Sauvignon Blanc from Dry Creek Valley in Sonoma County
Winemaker's tasting notes: "Our 2019 Dry Creek Valley Sauvignon Blanc displays beautiful aromas of lychee and orange blossom. On the palate the wine has interwoven flavors of apricot, pineapple and lemon rind well-balanced by expressive notes of gooseberry and fresh herbs which focus the soft mouthfeel. An almost-dry finish lingers, with flavors of lemongrass and almond complementing a refreshing crispness."
Palencia Wine Company 2019 Sauvignon Blanc from Columbia Valley in Washington
Winemaker's tasting notes: "This aromatic wine invites you into a juicy flavor gush with flavors of grapefruit, peach, pear and citrus. A delicate combination of Hungarian oak and tank fermentation brings richness and balance to the palate. The crisp, refreshing profile refreshes the palate."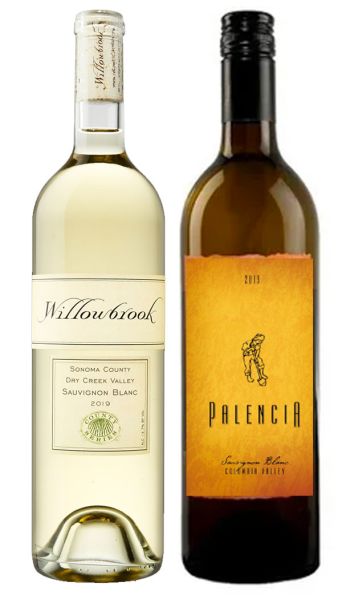 Buy it for $41.95
Wines selected for these cheeses by The California Wine Club


Each of these wines will bring out unique characteristics in each of the cheeses. The additional grassy and herbal notes in the Willowbrook will bring a different pairing experience than the richer palate in the Palencia Wine Company selection.
Chardonnay & Cheese Pairing
Buy it for $39.99
Chardonnay Cheese Assortment at iGourmet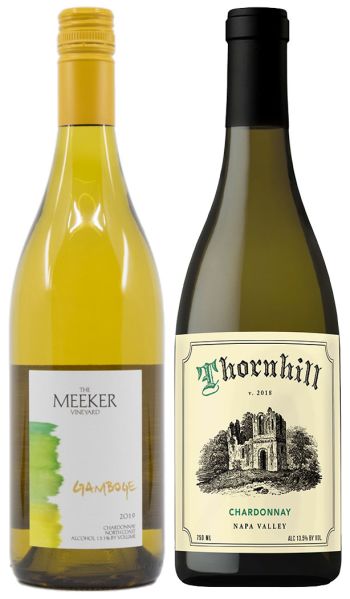 Buy it for $41.95
Wines selected for these cheeses by The California Wine Club
The Cheese
Chardonnay might just be the most cheese-friendly wine out there. The catch is that the Chardonnay comes in many styles and the match to the kind of cheese is critical. For example, while the cheeses in the iGourmet Chardonnay assortment are intended for lightly oaked, slightly buttery Chardonnay, the Kerrygold Dubliner can stand up to oakier Chardonnays and the Tarentaise will go best with an unoaked, fruit-forward Chardonnay.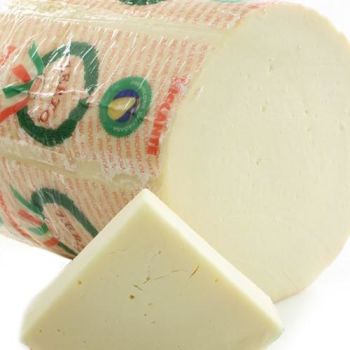 Provolone Piccante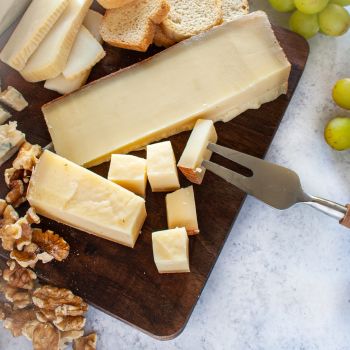 Tarentaise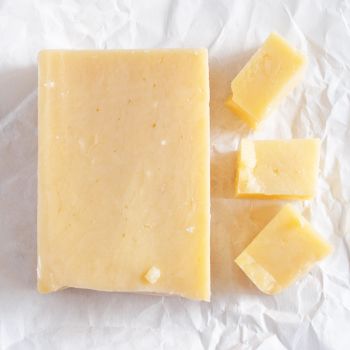 Kerrygold Dubliner
The Chardonnay Cheese Assortment from iGourmet includes: Provolone Piccante, Tarentaise, and Kerrygold Dubliner.
There are two varieties of Provolone (a Northern Italian cheese made from pasteurized cow's milk) — Dolce, meaning sweet, is the mild version and Piccante, meaning sharp, is its spicy, more aged counterpart. This Piccante version is rarely available in the U.S. and is more interesting than the mild Provolone most Americans have come to know.
This Tarentaise is made from unpasteurized cow's milk, has a natural washed rind, is semi-firm in texture, and aged for a minimum of nine months. Depending on the season, the flavor profile on Tarentaise can range from bright red berries and floral undertones to deeply brown butter and nutty to wonderfully savory and brothy.
Kerrygold — the dairy that produces that famous butter — also makes cheese. Dubliner tastes like a combination of a mature Cheddar and Parmigiano Reggiano (bringing a sweet aftertaste). In one bite you can taste the diversity of flavors – from nutty to sharp to sweet – that can only come from a natural cheese made from the milk of grass-fed cows.
The Wine
Chardonnay is so versatile that winemakers can make it taste like almost anything they want. It's the most widely planted white wine grape in the world, produced in almost every known wine region. California Chardonnay is known for being oaky and buttery, but increasingly common unoaked versions offer a more fruit-forward (apple, lemon, papaya, and pineapple) presentation. Some Chardonnay from Burgundy is called Chablis and is known for a "lean" and light style.
The California Wine Club selected two excellent Chardonnay wines to pair with this cheese assortment.
Meeker Vineyard 2019 Watercolor Series North Coast Gamboge Chardonnay
Winemaker's tasting notes: "On the nose this wine opens up with a waft of nectarines, peaches and orange blossoms all while being caressed by subtle notes of butter. The palate shows more of the same, along with subtle hints of jasmine and wet slate. No oak present."
Miller Family Wine Company 2018 Thornhill Napa Valley Chardonnay
Winemaker's tasting notes: "Notes of white fig, toasted cedar, and baked apple. Expressive and open on the palate, with rich fruit along with nutmeg and clove spices. Round in structure, with expressive depth on the finish."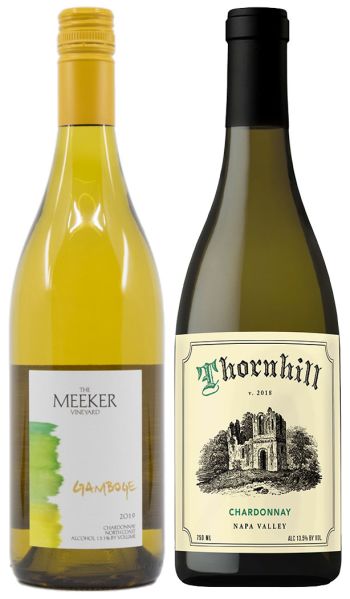 Buy it for $41.95
Wines selected for these cheeses by The California Wine Club


Each of these wines will bring out unique characteristics in each of the cheeses. The stone fruit profile in the Meeker will complement the Tarentaise beautifully and the intensity of the Thornhill will stand up to the Dubliner.
Classic White Wine & Cheese Pairings
If you want to build your own cheese assortments instead of relying on the suggestions above, I'd start with the Wine Enthusiast guide organized by cheese type rather than wine type. What follows is a summary of that guide with some additional information I find useful.
Fresh Cheese. Made from any type of milk, these cheeses are not aged and have a mild, slightly tangy flavor. Examples: Mozzarella, Burrata, Chévre (goat), Feta, Ricotta, Mascarpone, and Boursin.
Pair with these white wines: crisp, dry, and young wines like Albariño, Pinot Blanc, Muscadet, Vermentino, Verdejo, Arenis, Sauvignon Blanc, and young (unoaked) Chardonnay. Off-dry options include: Gewurztraminer or Riesling, especially for salty cheeses like Feta.
Classic combos: Chenin Blanc with fresh goat cheese or Soave with Mascarpone.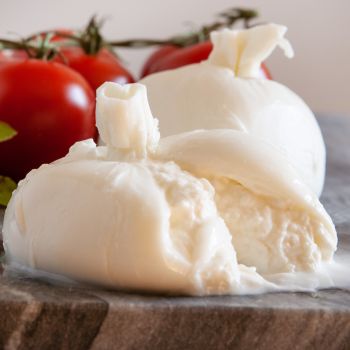 Burrata di Bufala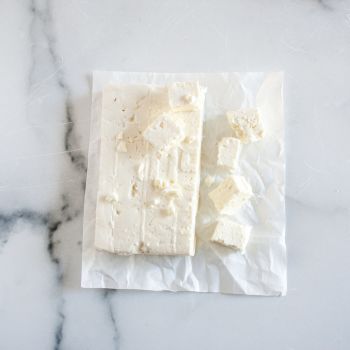 Valbreso Feta
Bloomy Cheese. Named for the bloom of white mold on the outside, these tend to be the richest and creamiest cheeses with a soft, spreadable texture. The rind is edible and contributes a strong, funky flavor. Examples: Brie, Camembert, Robiola, and Coeur du Neufchâtel.
Pair with these white wines: dry, sparkling wines made in the traditional method like Brut Champagne (NV for young cheese, Vintage for riper cheese); light-bodied wines like unoaked Chardonnay from Chablis or restrained Sauvignon Blanc like Sancerre; dry Riesling, dry Chenin Blanc, or dry Grüner Veltliner; and for more pungent cheeses, aged Semillon or medium-bodied Rhône varieties like Marsanne, Roussanne, or blends like Châteauneuf-du-Pape Blanc.
Classic combos: Sauvignon Blanc & Buche de Chèvre, Champagne with Camembert, and Pinot Blanc with Triple Cremes like Brillat Savarin or Saint André.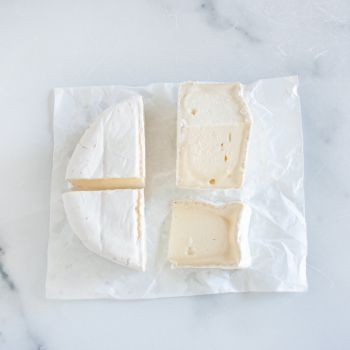 Locarno Brie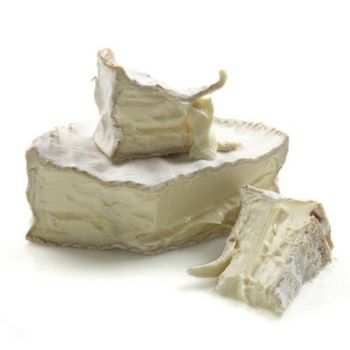 Brillat Savarin
Washed Rind Cheese. These cheeses are rich and creamy, soft or semi-soft, and have a trademark orange rind from the brine, beer, or wine it was washed in. Examples: Fontina, Époisses, Reblochon, Taleggio, and Munster.
Pair with these white wines: dry, sparkling wines made in the traditional method like brut Franciacorta and brut California sparkling wines; and dry and off-dry unoaked white wines like Gewurztraminer or Pinot Gris from Alsace, or Chenin Blanc from the Loire Valley.
Classic combos: Sauternes with Époisses and Gewurztraminer with Munster (the French kind, not the deli slices).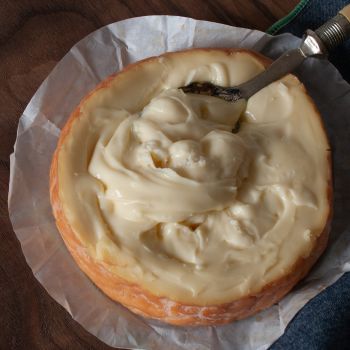 Époisses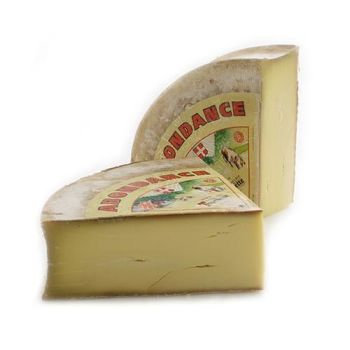 Abondance
Semi-soft Cheese. These cheeses tend to be creamy and fairly mild, great for melting and slicing. Examples: Gruyere, Gouda, Havarti, Provolone, Edam, and Mimolette.
Pair with these white wines: dry, lightly oaked wines like Chardonnay, Pinot Gris, and Rioja Blanco.
Classic combos: Riesling with Raclette and Gewurztraminer with Edam.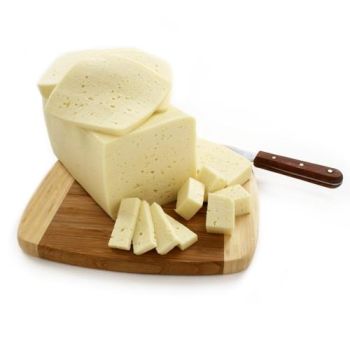 Havarti
Hard cheese. Hard cheeses have been aged, are quite firm, and tend to break into crumbles or shards. With nutty and complex flavors, they can also be pungent and salty. Examples: Cheddar, Double Gloucester, Parmesan, Pecorino, Manchego, Grana Padano, Emmentha, and Comté.
Pair with these white wines: Vintage (as opposed to NV) sparkling wines like Champagne or Franciacorta.
Classic combos: New Zealand Sauvignon Blanc with Mild Cheddar, and Alsatian Pinot Gris or Riesling with Comté.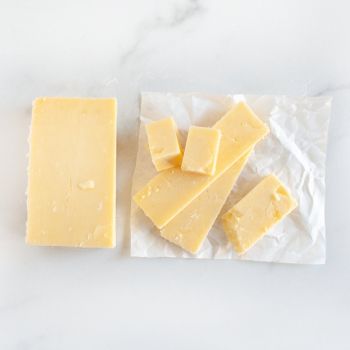 Mature English Cheddar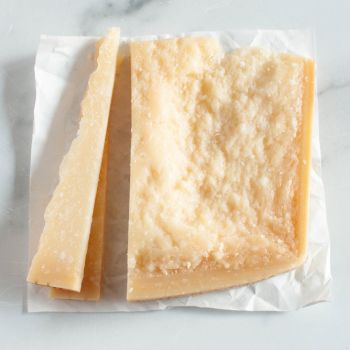 Parmigiano Reggiano
Blue Cheese. The texture of these cheeses runs the gamut and the intensity of the sharpness or tang varies by producer and type of milk used. Examples: Cambazola, Danish Blue, Gorgonzola, Roquefort, and Stilton.
Pair with these white wines: milder blues should be paired with the same wines as bloomy rind cheeses; Noble Rot sweet wines like Sauternes, Barsac, Riesling Beerenauslese and Trockenbeerenauslese for sharp, salty cheeses; and Dessert wines from dried grapes like Vin Santo and Jurancon and Late-harvest wines from Riesling or Gewurztraminer for cheeses that aren't over the top on pungentness.
Classic combo: Roquefort with Sauternes.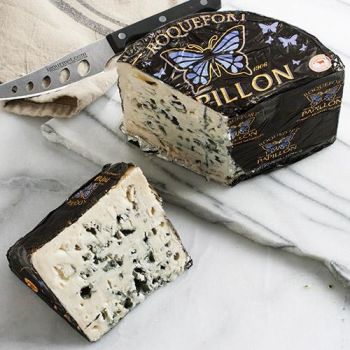 Roquefort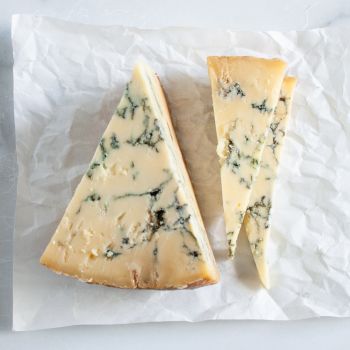 Stilton
More Cheese Assortments for White Wine
If you prefer white wines other than Sauvignon Blanc and Chardonnay, iGourmet offers more perfect-for-your-favorite-white-wine cheese assortments for Riesling and Champagne.
Buy it for $34.99
Riesling Cheese Assortment at iGourmet
Cheeses Included: Rauchkase (Germany), Comté Black Label Reserve (France), Crotonese (Italy)
Buy it for $34.99
Champagne Cheese Assortment at iGourmet
Cheeses Included: Chévre by Vermont Butter and Cheese (Vermont), Ivy's Cheddar (Somerset, England), Camembert (France), Fromage d'Affinois (France)