A Useful Guide to Valentine's Wine Gifts in 2021
At least through Valentine's Day, 2021 is going to look a lot like last year — and if last year taught us anything, it's that we need to be creative about bringing experiences we previously enjoyed in social settings into our home.
Fortunately, the wine industry has been all over getting fun wine experiences delivered and offering up virtual fun, too. These wine gift ideas work equally well for anniversaries!
FYI: I find great wine deals so you don't have to. To keep me on the hunt, I earn a commission when you buy wine based on my recommendations.
Valentine's Day Wine Gift Ideas: Wine Tasting at Home ♥ Wine Subscriptions ♥ Champagne Gifts ♥ Wine Gift Sets
Wine Tasting at Home
Whether your preferred place to sample wine is a tasting room, a wine bar, or your favorite restaurant… odds are good you haven't done too much of that this year.
If you're missing that wine flight fun, try a wine tasting Valentine's Day gift. You can choose a live tasting (probably not to be enjoyed on Valentine's Day), a recorded or self-directed one (both are easily enjoyed on Valentine's Day).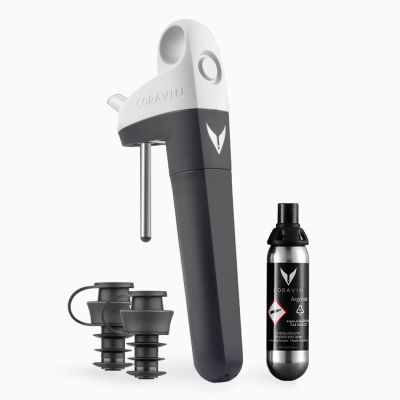 Buy it for $99.00
I want to make a suggestion
If you want to enjoy wine tasting at home — by yourself, or just you and your significant other — don't waste several bottles of wine, buy a Coravin.
The latest incarnation of the Coravin Wine System is a $99 gadget with no needle — it can be used on any kind of wine (except Sparkling wines) and lets you taste a few bottles on Valentine's Day and enjoy the rest of them for up to a month.
Pro Tip: The Pivot only comes with two stoppers! Buy an extra set so you have one for every bottle you open during your tasting.
Virtual Winery Tasting
Small wineries (and some bigger ones, too) make some of their best wines to be poured and sold only at the tasting room. This is one of the best reasons to go wine tasting. Unfortunately the Coronavirus has led to tasting room closures, cutting off our ability to taste the best of the best while frolicking in the vineyards.
The wineries caught on to this travesty early and started inventing all kinds of creative ways to help us wine fiends taste the juice at home. One of the most common is the virtual tasting. Order your wines online, schedule an appointment for a private tasting, and pretend those aren't the same four walls all around you. Unless you're planning a day-time tasting, you'll probably schedule this on a day other than February 14th — winery staff have Valentines, too.
Skipstone
A "Cult" California Winery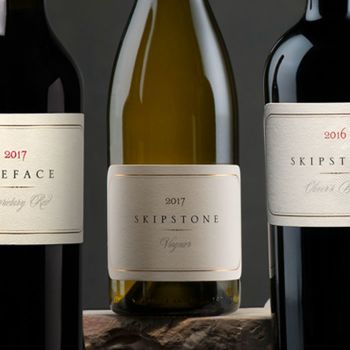 Get This Tasting: $299
Discover how Skipstone has built their amazing reputation by sampling these wines: 2018 Skipstone Viognier, 2018 Skipstone Preface Proprietary Red, 2016 Skipstone Oliver's Blend.
Matthiasson
A Michelin-Starred Darling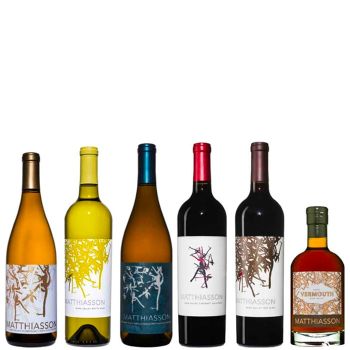 Get This Tasting: From $249
Matthiasson is offering a tasting pack of the six wines you would be poured if you visited their Tasting Room. Allow up to two weeks for delivery, and schedule a private tasting with them via Zoom.
Frog's Leap
Great Organic Winery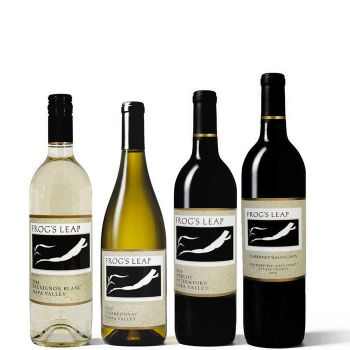 Get This Tasting: From $83
Choose half bottles or full size bottles for your tasting. Enjoy a free private wine tasting via Zoom. Interactive Tasting appointments are available daily at 11 am PST, 1 pm PST and 3 pm PST, with additional times available by request.
Clos du Val
Storied California Winery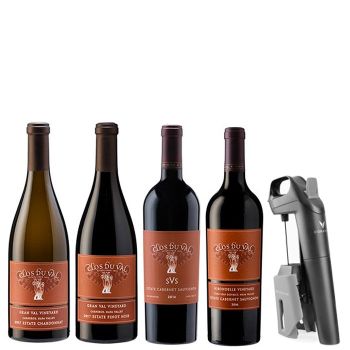 Get This Tasting: $385
This pack includes 4 current releases, a Coravin Model Three Wine System, and a complimentary Tasting at Your Table virtual tasting experience. Once you've made your purchase, they'll be in touch to schedule your live, personal tasting.
This is a small selection of what's out there. If you don't see one here for your favorite winery, please visit their website and see what they're offering — they'll be glad you did!
Please Select Your State
You may not be aware, but due to complex shipping laws, alcohol can't be sent to every state from every state. You don't need to worry... just select where you're shipping the wine to and we'll serve up a more personalized selection.
Recorded Wine Tastings (Perfect to Enjoy on Valentine's Day)
Not to be left out of the party, some wine retailers figured out they could hold live wine tasting events with important wine peeps (winemakers, critics, and celebrity winery owners), record them, and keep selling the experience over and over again. It just so happens that's a super convenient way to experience a wine tasting at home.
Wine.com has conquered this area with an abundance of wine sets and virtual tastings to choose from. Here are our top picks for Valentine's Day. See our other curated options or browse all of the options at Wine.com.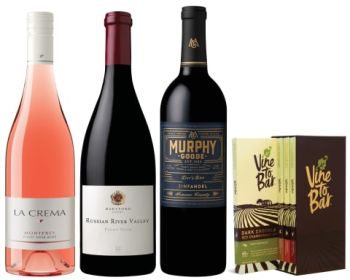 Buy it for $99.99
Vine to Bar Wine & Chocolate Pairing
Vine to Bar is the world's first dark chocolate made with Chardonnay marc. The Vine to Bar Chocolate Gift Box includes four flavors (enumerated in the next paragraph). They've also produced a tasting video to explain Chardonnay marc, describe how the chocolate was made and the reasoning behind the pairing.
Wine.com has paired this chocolate with La Crema Pinot Noir Rosé (paired with the Almonds with Pink Himalayan Salt), Hartford Court Russian River Pinot Noir (paired with the Tart Cherry & Cocoa Nibs), and Murphy-Goode's Liar's Dice Zinfandel (paired with Dark Chocolate and Chardonnay Smoked Salt & Cocoa Nibs).
Buy it for $99.99
Masters of Wine Tasting Set
Three Masters of Wine — Tim Marson, Bree Stock and Peter Marks — discuss the journey of attaining this status and taste three classic wines: L'Ermitage sparkling wine from Roederer Estate, Querciabella Chianti Classico, and Marques de Murrieta Rioja Reserva.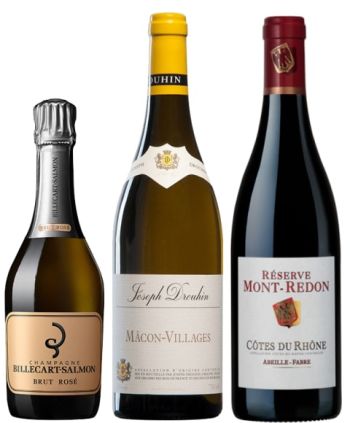 Buy it for $79.99
Windows on France Tasting
Kevin Zraly handpicked three terrific samples to introduce the essence of French wine: Billecart-Salmon Brut Rosé Champagne (half bottle), Joseph Drouhin Mâcon-Villages (Burgundy), and Château Mont-Redon Côtes du Rhône Réserve (Rhône).
Self-Directed Wine Tastings
Whether you're interested in a single-serving wine tasting or a blind tasting, there are some cool options for managing your own wine tasting experience at home.
The Palate Club
The Palate Club is a wine club that learns your preferences and ships you a personalized wine selection — but you don't have to be a member to try their awesome blind tasting box! Four half-size bottles, either all red wine or all white wine, makes for a fun experiment to test your knowledge and find out what you like with any preconceived ideas holding you back.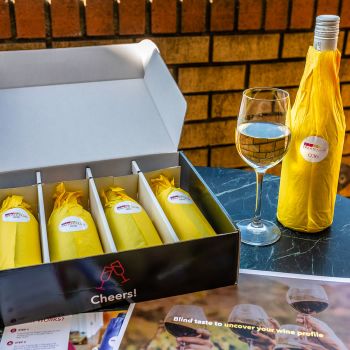 White Wine Blind Tasting Kit — Half Bottles
$49.00
Give Gift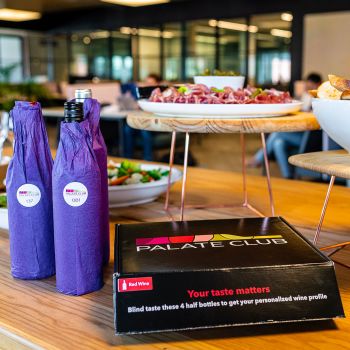 Red Wine Blind Tasting Kit — Half Bottles
$49.00
Give Gift

Wine Folly Guided Tastings
"Taste the right wines while grasping fundamental concepts in wine. This course allows you to practice at your own pace and put your knowledge immediately into action."
Choose between a three-bottle and six-bottle wine set, each accompanied by an online wine course with over two hours of video content. Courses include hand-curated bottles, tasting cards, maps, and 2+ hours of video course content. The video course is guided by award-winning wine communicator, Madeline Puckette, of winefolly.com.
A recommended gift has been removed because it is not available.
A recommended gift has been removed because it is not available.
In Good Taste — Mini Bottles!
Pick and choose your own wine tasting with these eight mini bottles (roughly six ounces each) of California wine. This eclectic selection includes familiar grapes and regions, and some that might be new to you, too. Buy one set if you want to share 3 oz of each wine, buy two sets if you each want your own full glass.
This interesting selection includes:
Sauvignon Blanc from California's Central Coast
Rosé of Grenache from Santa Ynez (Santa Barbara)
Pinot Noir from California's Central Coast
Syrah from California's North Coast
Cabernet Sauvingon from Napa Valley
Red Blend from Sonoma County
Cabernet Sauvignon from Paso Robles
Chardonnay from Sta. Rita Hills (Santa Barbara)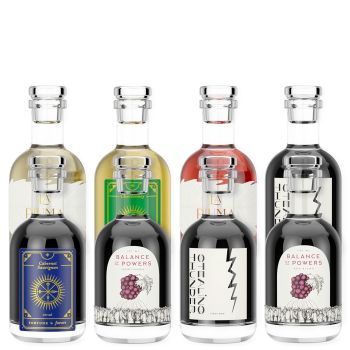 California Wine Tasting Flight Gift for At-Home Wine Tasting
$65.00
Give Gift

Wine Subscriptions
If a wine tasting at home sounds like a great idea, why not give yourself that treat every month? There is a wine subscription for almost every wine lover — whether you have a favorite or you're just interested in discovering new wine.
Here are six of our favorites:
Best International Wine Club
Professionals choose the wine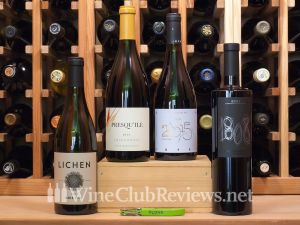 For You Save $20 and get free shipping on your first wine shipment. Use code SUBSCRIBE20 at checkout.
Best California Wine Club
Professionals choose the wine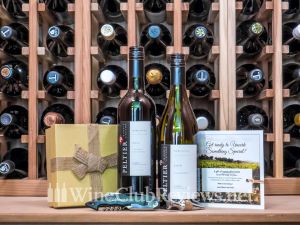 For Gifts Save 15% on all gifts from The California Wine Club. Does not apply to shipping cost. Until Oct 31. Use code BETTER at checkout.
For You Join the Premier Series Wine Club and get two bonus bottles in your first shipment. Until Oct 31. Use code BONUSWINE at checkout.
Best Personalized Wine Club
You choose your own wine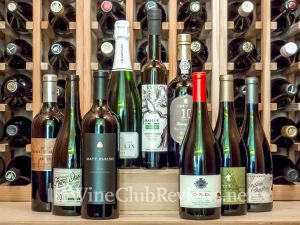 For You Save $100 on your first 6-bottle case, just $39.99. Shipping included. Voucher code is already entered. Click for This Deal.
Great Personalized Wine Club
Choose Your Own or Get Suggestions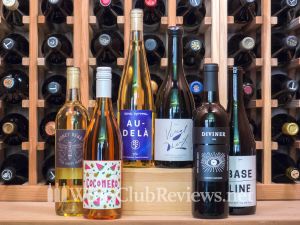 Exclusive Deal For You Join today and get four bottles for $24.95 and free shipping. Click for This Deal.
Best Wine Club for Discovery
Hard to Find Wines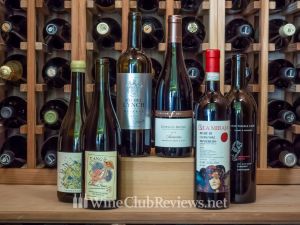 For You Save $25 on your first two shipments of any Wine Access wine club. Click for This Deal.
Highly-Rated Affordable Wines
Food-friendly Selections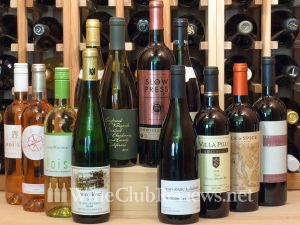 More Wine Subscription Ideas
10 Best Wine Clubs ♥ 21 Best Red Wine Clubs ♥ Best Splurgey Wine Clubs ♥ Best French Wine Club ♥ Best Italian Wine Club ♥ Organic & Natural Wine Clubs
Champagne Gift Baskets for Valentine's Day
If you're thinking about Champagne for your Valentine, might I suggest a little chocolate to go with it? I scouted out this selection of cool gifts of Chocolate & Champagne to make your night in a little more fun.
A recommended gift has been removed because it is not available.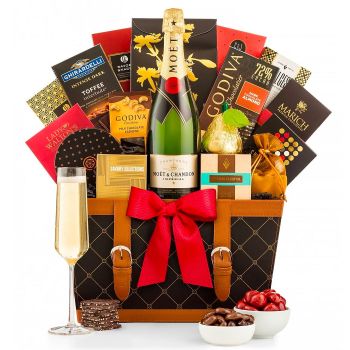 Champagne Wishes Gift Basket
$99.95
Give Gift

A recommended gift has been removed because it is not available.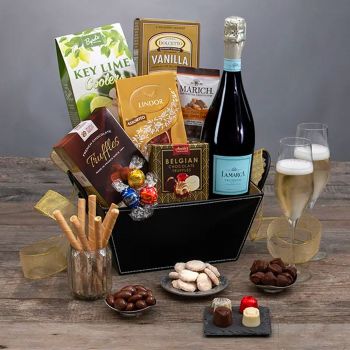 Prosecco & Chocolates Sparkling Wine Gift Basket
$99.99
Give Gift

A recommended gift has been removed because it is not available.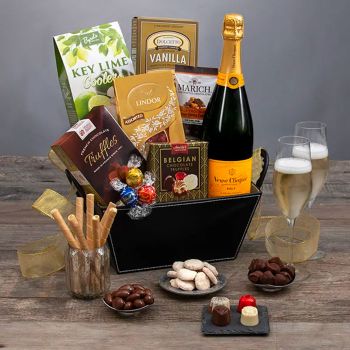 Veuve Clicquot & Chocolates Champagne Gift Basket
$179.99
Give Gift

A recommended gift has been removed because it is not available.
Looking for a grand gesture?
This Champagne gift is IT. A vertical of vintage Salon Champagne — two regular-sized bottles each of 2004, 2006, 2007, and a magnum of 2008.
"Considered to be the first Blancs de Blancs Champagne. First commercial vintage was 1921. They have vineyard holdings in Le Mesnil sur Oger and only make one wine : 100% Chardonnay from the original vineyard purchased by Aimé Salon, and a few other parcels in Le-Mesnil. Aged 10 years on the lees before release they are renowned for their aging capability and are highly sought after by collectors and Champagne aficionados."
Valentine's Day Wine Gift Sets
If sparkling isn't your thing, this selection of curated sets from Wine Access is sure to meet your needs (and wants). Any of these sets would be great for #DrinkFromHome, but buy yourself a Coravin Pivot to go with it and you'll be able to try them all in one night and revisit them for up to a month!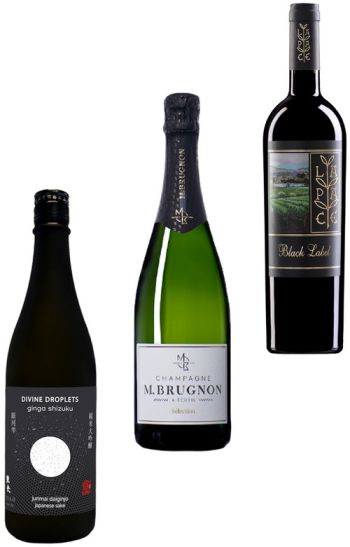 Buy it for $122

Wine for Takeout
Love it or hate it, Valentine's Day is still on its way and Wine Access wants you to be prepared. They've put together a collection of wines for people struck brilliantly by Cupid's arrow: NV Champagne M. Brugnon Sélection Brut, Toko Ginga Shizuku Divine Droplets Junmai Daiginjo Yamagata, and 2015 Podere La Pace Black Label Maremma Toscana Rosso Italy.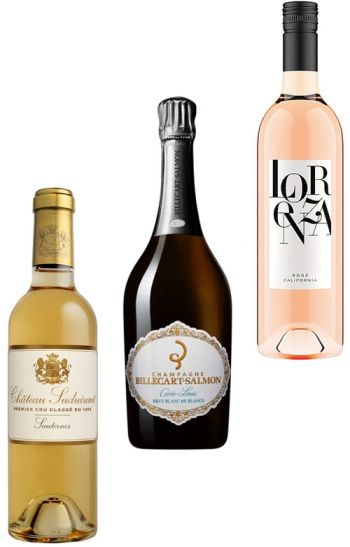 Buy it for $228

Wine Because You're the Third Wheel
If you're single and stuck in lockdown with a couple, be they your roommates or your parents, be sure to offer them a bottle or two of wine to acknowledge that this is kind of weird, you wish you didn't have to intrude on their personal space, but, hey, what can you do?
Wines include something for everyone: 2007 Billecart-Salmon Cuvée Louis Salmon Blanc de Blancs Brut Champagne, 2019 Lorenza Rose California, and 2007 Chateau Suduiraut Sauternes Premier Grand Cru Classe.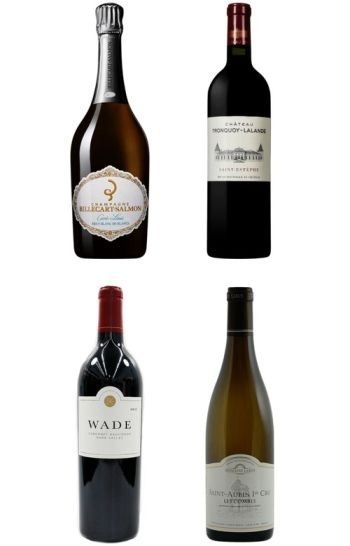 Buy it for $374

The Luxe Valentine
For the couple who normally likes to go "all-out" for Valentine's Day, getting it just right this year may pose a challenge. It's not the best time to hop a flight to Miami for a lavish dinner at Nobu, and arranging the usual private concert from John Legend aboard Richard Branson's yacht will be a logistical nightmare. Thankfully with this set, you don't have to skimp on the wine (and that's the most important part).
Wines include: 2007 Billecart-Salmon Cuvée Louis Salmon Blanc de Blancs Brut Champagne, 2015 Château Tronquoy-Lalande St.-Estèphe, 2013 Wade Cellars Cabernet Sauvignon Napa Valley, and 2018 Domaine Larue Les Combes Saint-Aubin Premier Cru.