A Useful Guide to Valentine's Wine Gifts in 2023
I don't know about you, but all of the constant turmoil has me craving the familiar. I am not really a traditionalist or lover of traditions, but my current vibe is "classic," so what better time to lean hard on tried-and-true wine gifts than Valentine's Day. Warm and cozy, intimate and luxe, these are the things I want for me and mine on the day dedicated to our beloveds.
I'm still avoiding crowded restaurants, and if you are too, or you just don't like the Valentine's Day restaurant rigamarole, turn on the jazz (I've been streaming Radio Swiss Jazz from Switzerland), crank up the fireplace (even just the one on the TV), and break out one of these perfect gifts for a romantic evening in this Valentine's Day.
Heads up!
You may not be aware, but due to complex shipping laws, gifts of alcohol can't be sent to every state from every state. You don't need to worry... just select your wine gift recipient's state and I'll show you which gifts you can have delivered there.
Valentine's Day Wine Gift Ideas
Champagne to Impress ♥ Wine & Chocolate ♥ Wine & Cheese ♥ Wine Tasting at Home ♥ Throwing a Party?
FYI: I find great wine deals so you don't have to. To keep me on the hunt, I earn a commission when you buy wine based on my recommendations.
Champagne to Impress
A marketing coup like no other (well, except maybe that of DeBeers diamonds), Champagne has managed to turn itself into the most romantic wine most of us can think of. I'm sure it's all of the associated fun — it's expensive and indulgent, that cork goes Pop!, and the bubbles put on a show. Regardless, nothing says "classic romance" like a bottle of bubbly.
Here is a selection of Champagne Gifts that are sure to wow and perfect to be enjoyed on whichever day you're celebrating Valentine's Day this year (it's on a Monday).
Shop for Champagne in Gift Boxes at Millesima
Millesima is a high-end French wine superstore, which is sort of a very American way to describe what Millesima really is — a world-class source for French wine. Here's a little video to help you understand what Millesima does better than anyone in the world…
While they specialize in Bordeaux, at their online store you'll discover an array of Champagnes to dazzle. From an approachable classic bubbly like the Gosset Grand Reserve Brut ($54.99, rated 90 points by Wine Spectator), a 2009 Vintage Pol Roger Cuvée Sir Winston Churchill 2013 ($375, rated 95 points by Wine Spectator), or go super luxe with the Cristal Vinotheque Rosé 2000 ($2125 / 750mL).
Champagne Gift Boxes at Millesima
Coravin for Sparkling Wines
Planning to open a second bottle? Keep it fresh for up to three weeks with a Coravin Sparkling wine preservation system.
Unlike a standard Coravin which pumps in argon as you pour out wine, the Coravin Sparkling doesn't get to work until you're done pouring wine. With a combination of the Stopper and the Charger, the air in your bottle of bubbly gets replaced with pure CO2, preserving the bubbles and freshness of the remaining sparkling wine.
Coravin Sparkling works on all kinds of sparkling wine and all bottle sizes up to a Magnum. Try it on your Champagne, sure, but you can also use it on Cava, Prosecco, sparkling wine from California — any method of making the bubbles.
Wine & Chocolate Gifts
A box of chocolates is definitely a classic Valentine's Day gift, but don't do it Forrest Gump style — pair it with a special bottle of wine and take it to a more refined level. These selections are meant to be an experience, rather than just a box of chocolate and a bottle of wine. Indulge your senses!
A recommended gift has been removed because it is not available.
A recommended gift has been removed because it is not available.
Some additional tidbits for wine and chocolate gifts...
Wine.com has an interesting selection of wine bottles with chocolates. Most of their wine and chocolate pairings are with Godiva or Neuhaus Belgian Chocolate. Browse the page to find your perfect Valentine's pairing.
Pro tip on pairing chocolate with Champagne: steer clear of the Brut Champagne options as the extra dry wine and the sweet chocolate will conflict (a demi-sec would be great). Fruity and off-dry wines go best with chocolate. According to Godiva, "Milk Chocolate is complemented by white wine, lighter red wines, and champagne, while Dark Chocolate pairs well with full-bodied red wines."
If you can't resist the ooh and ahh factor, have the Champagne first, maybe with some cheese, and the chocolates after dinner.
Make it a subscription! Keep the wine and chocolate indulgence going after Valentine's Day with a build-your-own wine and chocolate subscription from the International Wine of the Month Club. Choose your wine quality, add on a gourmet chocolate shipment, and choose your delivery frequency. From $111.90 to $144.90 per shipment.
Just the Chocolate?
Maybe you already have the perfect wine but just need the perfect chocolate? Check out the artistic and decadent options at Vosges.
"A collection worthy of gifting your supreme beloved. Inspired by Bastet, the fiery protector of women, children and family, this heart-shaped box is filled with our extraordinary limited edition chocolate collection inspired by Ancient Egypt. The goddess of women's secrets, fertility, music and health, Bastet is celebrated with chocolates made to revel in the above and the below." Some examples of what's inside this box of gems...
4x Madagascar vanilla bean marshmallow + burnt sugar caramel with pecans and walnuts + hibiscus flower pâte + 62% cacao dark chocolate + 23-karat gold

3x Raw honey + walnuts + orange zest + a whisper of fennel seed + 62% cacao dark chocolate encasement + 36% cocoa butter pink-hued white chocolate
Wine & Cheese Gifts
Another classic combination for a sensual wine tasting experience is to pair the perfect wine with the perfect cheese. You can go a few different directions here: learn about pairing and make your own choices, choose from the pairing ideas listed below, or make it easy and order one of these readymade wine and cheese pairing gifts.
Readymade Wine & Cheese Gifts
A recommended gift has been removed because it is not available.
A recommended gift has been removed because it is not available.
Make it a subscription! Keep the wine and cheese love going after Valentine's Day with a build-your-own wine and cheese subscription with one of these delectable services:
International Wine of the Month Club — Choose your wine quality, choose your cheese quality, and choose your delivery frequency. From $108.90 to $158.90 per shipment.
iGourmet cheese subscriptions — Each subscription offers curated selection of 3 different cheeses, each a half-pound cut and a newsletter to guide you through the included cheeses. $52-78/month.
Wine & Cheese Pairing Ideas
I've gone into greater detail in my extensive Useful Guide to Wine & Cheese Pairing, but I've excerpted some Valentine's-ready combinations of artisanal cheese from iGourmet and handcrafted wines from The California Wine Club and SomMailier for you here. You'll order these wine and cheese selections separately.
Sweet Wine & Blue Cheese
An obvious pairing for your sweetheart is sweet wine and blue cheese. One of the worlds' most classic cheese and wine pairings, you can't go wrong with this combination of Black Label Roquefort and 2016 L'Ilot de Haut Bergeron from Sauternes, handpicked by Laurent Yung, proprietor and 5th generation wine professional at SomMailier.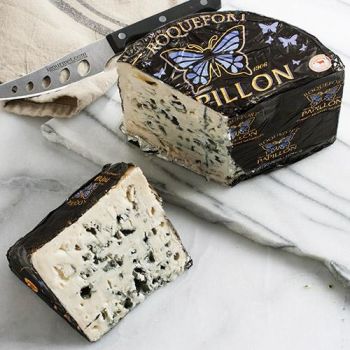 Buy it for $12.99

Buy it for $47
French Wine & Cheese
There are four classic French cheeses in the iGourmet assortment: Bûche de Chévre, Camembert, Ossau-Iraty, and Comté aged 6-months. If you want to get familiar with French cheese, this is a great place to start. Even if you already know a bit about French cheese, these selections will help solidify your basic knowledge, especially for wine pairing purposes.
I asked Laurent and his team to curate a selection of wines specifically for this cheese assortment. There are a total of five recommended wines for you to choose from. Since SomMailier has a minimum order of three bottles (it's more efficient to ship this way), they have also curated three-bottle sets to make things easier.
Learn more about this French Wine & Cheese pairing.
Buy it for $49.99
French Cheese Assortment at iGourmet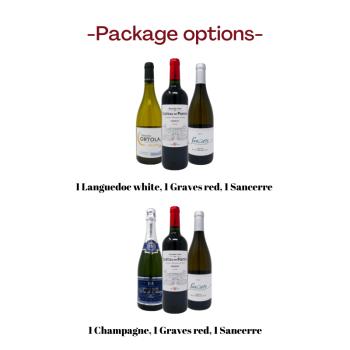 Buy it from $111
Wines selected for these cheeses by SomMailier
Make it a subscription
3-12 bottles, quarterly
From $99 / shipment
Read my SomMailier review
Wine Tasting at Home
If you can't get to wine country to celebrate Valentine's Day this year, spend a romantic evening (or weekend) curled up with your love, drinking wine. There are two ways to go here: wine flights (small bottles) or wine journeys (regular bottles).
Wine Flights
If your favorite thing order when you go out is a wine flight, it's time to try the wine flight experience at home. This selection of wine tasting gifts focuses on smaller sized bottles, so you can try more styles in one sitting. Don't forget to order enough for both of you!
Wine Journeys
Taste your way around the world with one of these hand-picked sampler gifts. Whether you want to explore Bordeaux, Italy, or California, you'll discover great producers from each region and deepen your love of wine.
Level Up with a Coravin
One way to enhance your at-home wine tasting is to do it with a Coravin. They have two kinds of wine preservation systems for still wine — the classic models, now called Timeless, use a needle inserted into a cork; the newer and more approachable version called Pivot which replaces the cork or screw cap in the wine altogether.
The primary differences between the Pivot and other Coravin models are twofold: you can preserve wine longer with the needle-based models, but the Pivot is easier to use and more practical for most wine drinkers. The other major difference between the Pivot and Timeless models is that the Pivot is 33% more efficient in its use of argon, reducing the cost of capsules over time.
Wine for a Party
Maybe for you Valentine's Day isn't a two-person event and instead you're throwing a dinner party — whether it's Galentine's or a group of couples, you'll want the right wine to keep the party going all night long. There are a bazillion readymade wine cases out there, but these six-bottle sets rise above the rest for food-friendliness, sommelier approval, and high quality.



$110 / shipment
Read my Firstleaf review

Make it a subscription (four bottles, monthly)
$89.94 / 6-bottle shipment
Read my Plonk review

Make it a subscription
Three, six, or 12 bottles, quarterly
From $110 / shipment
Read my SomMailier review
Still not sure?
Browse my whole selection of handpicked wine gifts and chart your own course.