Pinot Noir Series Wine Club Review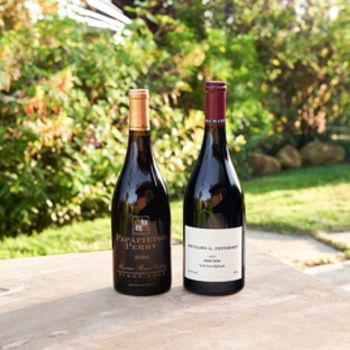 Wine Club Overview & Details
Wine Club Rating:
This wine club is...
Summary
Pinot Noir is one of the most beloved red wine grapes and this Pinot of the month club is the best one for discovering Pinot Noir from California, Oregon, and Washington. Discover boutique wineries producing world-class Pinot Noir in Santa Barbara, Sonoma, and other regions around California. Stunning Pinot from Joseph Jewell, Dragonette Cellars, and Kessler-Haak to name a few.
What I Like
I'm a big fan of Pinot Noir in general, and I love how Gold Medal sources award-winning selections from small producers I may not have heard of or haven't had access to for purchasing. A membership with the Gold Medal Wine Club Pinot Noir Series takes Pinot lovers on a trip to the West Coast for wine tasting without leaving home. Check out their Pinot selection.
Improvements
As a general rule, I think Gold Medal Wine Club has little they can do to improve. Whether you're buying for yourself or as a gift, they've really done a lot to create a wine club worth joining.
Benefits
One of few Pinot Noir clubs

Great selection of artisan CA & OR Pinot

Buy more, save more
Drawbacks
Pinot Noir Series Wine Club delivers to
AL AK AZ AR CA CO CT DE DC FL GA HI ID IL IN IA KS LA ME MD MA MN MO MT NE NV NH NJ NM NY NC ND OH OK OR PA RI SC SD TN TX VT VA WA WV WI WY
Don't see your state? Gold Medal Wine Club does not ship there. Browse wine clubs by state.
Join Pinot Noir Series Wine Club
FYI: I find great wine deals so you don't have to. To keep me on the hunt, I earn a commission when you buy wine based on my recommendations.
Coupons & Promo Codes
Deal Save 5% on gifts
Give a wine club gift of 12 shipments and save 5%. Click for this deal
Pinot Noir Series Wine Club Review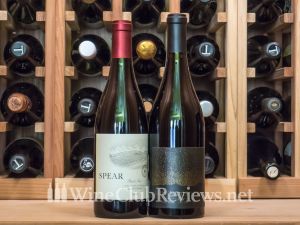 The Pinot Noir Club by Gold Medal is one of their premium-level clubs and at this price-point, Gold Medal brings its customers impressive California wines, ready to drink now or to rest a bit in the cellar. Each shipment contains two noteworthy Pinot Noir wines and their full-color tasting sheets giving you all of the info you need and want about the wines.
In 10+ years of reviewing Gold Medal Wine Club, we find they constantly strive to wow their customers — and their customers' lucky gift recipients.
The Pinot Noir Wine Club comes with several options:
The standard subscription is two bottles. You can upgrade to four bottles (2 of each).
Get delivery monthly, every other month, or quarterly.
Choose anywhere from 1-12 shipments, or an ongoing subscription until you cancel.
And of course, like any proper wine club, there are no sign-up fees and you can cancel any time.
Wine Review
My Pinot Noir Club Wine Ratings
| | |
| --- | --- |
| Quality of Wine | |
| Price of Wine | |
| Wine Curation | |
We're big Pinot Noir fans around here. We belong to a couple of winery wine clubs that focus primarily on high-end Pinot Noir and it's a go-to at our house for dinner time. Needless to say, we consider ourselves pretty well versed in Pinot, and especially what makes a great Pinot.
When we comb through the Pinot Noir shipments we haven't received from Gold Medal, we get excited about what they're offering. Gold Medal's Santa Barbara HQ gives them killer access to the latest and greatest of Sta. Rita Hills Pinot Noir (made famous by Jim Clendenen of Au Bon Climat, Frank Ostini of Hitching Post Wines, Richard Sanford of Sanford Wines, and Ken Brown of Ken Brown Wines). While most of the new world is going gaga over Pinot Noir from Oregon for how much it can resemble Burgundy, we're fixated down here in Southern California where Pinot Noir is often a rich, fruity, juicy and delicious wine style in its own right.
But, never fear! You'll get selections from other great Pinot regions, too.
Some of their more recent shipments include these droolworthy selections:
Bee Hunter 2015 Pinot Noir (Mendocino County, 400 cases produced). 96 points Wine Enthusiast and Double Gold at the American Fine Wine Competition.
Rockburn 2016 Pinot Noir (Central Otago, New Zealand). 97 points and Platinum Medal from Decanter Asian Wine Awards.
SAMsARA 2013 Pinot Noir (Sta. Rita Hills, 220 cases produced). 93 points from Vinous and 91 points from Robert Parker's Wine Advocate.
Tiny House 2016 Pinot Noir (Russian River Valley, 220 cases produced). 91 points from Jeb Dunnuck and 90 points from Wine Enthusiast magazine.
Membership Benefits
My Pinot Noir Club
Benefits Ratings
| | |
| --- | --- |
| Satisfaction Guarantee | |
| Customer Service | |
| Wine Education | |
| Convenience | |
Discount Opportunities. Gold Medal does not regularly offer an introductory offer, though during peak holidays like Valentine's Day, Mother's Day, Father's Day, and Christmas you'll find free gifts with purchase like gourmet truffles (chocolate) and wine accessories.
Gold Medal does offer discounts on reorders, while supplies last—buy 2-5 bottles more and pay the regular price, buy 6-11 bottles and save up to 10%, buy 12-23 bottles and save up to 12%, buy 24 or more bottles and save up to 15%. Four-bottle members save more on reorders.
Lastly, members-only special deals are limited. There are occasionally members-only sales. Since their wines are already very competitively priced, we don't mind that there aren't more offers coming from them.
Customer Service Record. In 14+ years of working with Gold Medal we have never had a single customer complaint. That's amazing to us. Our usual Internet sleuthing failed to turn up any customer complaints. Kudos to them!
Satisfaction Guarantee. In our eyes, this is the weakest aspect of the Gold Medal wine club program and it's why they don't have a 5-star rating from us. They say "Satisfaction Guaranteed" on their website, but what they really mean is that they believe you'll love what they ship, not that they'll replace anything you don't like as most other clubs of this caliber promise.
Their Return Policy: "If a shipment is damaged in transit we will replace the product at no additional charge. If the wine is corked from the winery, we will replace the bottle at no charge. On the rare occasion members receive the wrong product, a discount is offered, or the shipment can be returned at no-charge to the member."
That said, we'd be genuinely surprised and concerned if you received a stinker from Gold Medal.
Convenience. Gold Medal is a more old-fashioned company. If you need to hold your service for a vacation or want to cancel your membership you'll need to call and speak to someone during regular business hours. You can handle reorders yourself online, as well as see a record of the wines you've received and when you received them.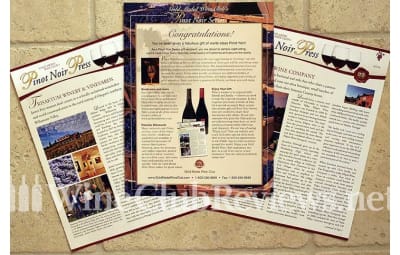 Wine Education. The Pinot Noir Series wine club comes with a two-page brief on each wine included in the box. called Pinot Noir Press. They discuss at length the winery and winemakers, and then a section covering all the essentials about the wine itself.
Who Should Join the Pinot Noir Wine Club?
As a premium wine club featuring Pinot Noir wines mostl from California, we think this club is perfect for:
Pinot Noir lovers (duh)
Red wine lovers who prefer California wine to other regions
Entertainers who want to impress their guests
Anyone who wants to drink high-end Pinot Noir and doesn't want to have to find it themselves
Pinot Noir Wine Club sounds good but you want more than just Pinot? Try their Platinum Wine Club.
Gift Review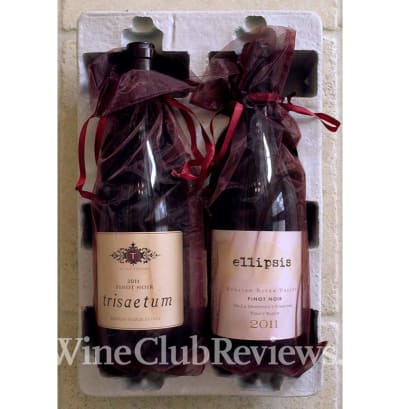 If you have a Pinotphile you really want to impress, this is a fantastic wine club gift. Between the gift presentation and the incredible selection of wines, you'll be that wine lover's favorite person for a while. Four shipment gifts are "a year of wine" and would make the gift extra special.
The wines in the first shipment come wrapped in organza gift bags. Upgrade for a custom printed gift notice and an artist-designed gift box to make it extra awesome.
Pinot Noir Series Wine Club