Your Complete Mother's Day Wine Gift Guide for 2018
Buying Mom wine for Mother's Day is a great idea. After all, the Interwebs proclaimed it the drink of all moms when the term "Mommy Juice" went viral.
You're on WineClubReviews.net, so you most likely started your gift search looking for a wine of the month club and you've certainly found the best website to research wine subscriptions. If you're like many of our readers, you may not know how much a wine membership costs, so here's the skinny:
Wine club subscriptions that will bring ongoing joy to your mom typically start around $150 for three shipments (can be monthly, bi-monthly, or quarterly). You can spend a lot more depending on how long you want her to get wine and what kind of wine she likes.

A Super Deal on Boutique, California Wines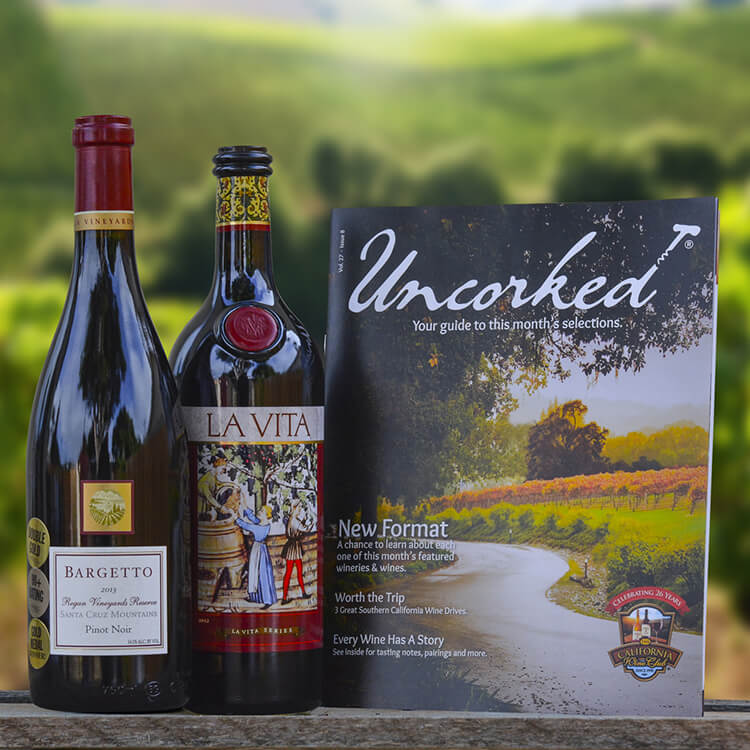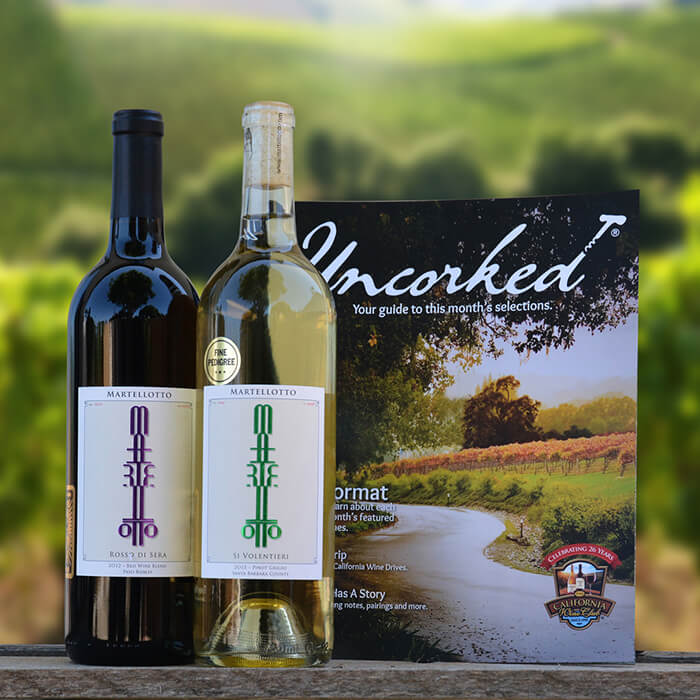 The best wine club deal for Mother's Day is from The California Wine Club. They are offering 15% off all of their gifts, from any club and for any length. This is the best deal you'll get this Mother's Day on a premium two-bottle wine club.
Some sample 3-month gifts (with shipping):
Another option, specifically for Premier Series gifts: When you purchase a 3-month or longer wine club for your Mom, she'll get a bonus month — that's a value of $53.95! Give 3 months and she gets 4, give 5 months and she gets 6, etc.

Go Over-the-Top with Bubbles & Rosé
Our newest wine club partner is Vinley Market, a beautifully-branded start-up wine club with women in mind. The prerequisites of great quality wine and an affordable price are met with their Bubbles & Rosé Club, and the monthly delivery of a sparkling wine and a dry rosé (never a White Zinfandel) will make Mom feel loved over and over again.
Conveniently priced at $40/month + shipping, you can buy a 3-, 6-, or 12-month gift. Save 10% with promo code WCR2018.
Try This Fun & Affordable Wine Club
Wine Awesomeness is a three-bottle monthly wine club that's easy on your budget but won't send Mom swill. It's a themed wine club where each shipment offers a unique perspective on a series of wine. Whether it's a journey to somewhere like South America or all about pairing wines with Grilled Cheese, the full-color booklet with stunning photographs, recipes, and even music-pairings on Spotify is sure to make Mom feel special every month.
3-month gifts start at $135, including shipping, and if you buy a gift this Mother's Day, she'll get a bonus bottle of wine in her first box.
A Wine Subscription is Over Your Budget?
No worries, we understand completely and want to help you get Mom an awesome wine gift anyway. We've prepared a selection of one-time gifts that you'll be thrilled to give. We've focused on gifts that many moms will love, but if you know a bit about your Mom's wine preferences, and are unsure of what to give, feel free to send us a message or chat with us if you need more help.

One-Time Sparkling Wine & Candy Gifts
Every celebration is brighter with a bottle of bubbly, but a sugary kiss to accompany it satisfies mom's sweet tooth, too.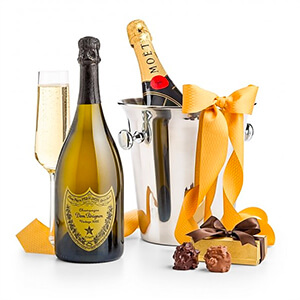 Champagne & Chocolate
A pairing of champagne and rich gourmet chocolate truffles. Includes the chiller.
From $70 at GiftTree
Choose your price by selecting the champagne: Fils Gallant ($70), Moët & Chandon ($125) or splurge on Dom Perignon ($250) and even Cristal ($375). Shipping is $14; next-day delivery is available.
Sparkling Wine & Luxury Gummies
Paper Crane Blanc de Noir Sparkling and Sugarfina wine-flavored gummies.
$65 at Winc
Winc's Paper Crane is a Méthode Champenoise bubbly hailing from Sonoma County. Sugarfina makes artisanal candies and this gift includes three varieties of champagne-flavored gummies.
Vintage Champagne & Truffles
A beautiful pairing of two vintage Champagnes — one 96-point and one 95-point — with Santa Barbara's best chocolate truffles, made by Jessica Foster Confections.
$99 at Gold Medal Wine Club
Shipping is $14.50 to most locations.

One-Time Gifts for Sweet Wine Mamas
Whether it's a Moscato or a different off-dry white variety, sweeter wines are popular with American women.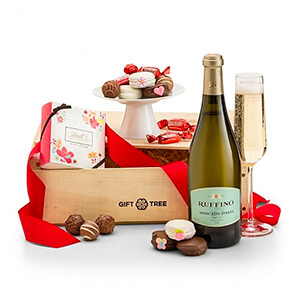 Moscato, Macaron & Truffles
A delectable pairing of Ruffino Moscato d'Asti, French macarons, and Lindt chocolate pomegranate truffles.
$80 at GiftTree
Packaged in a tres chic wood crate and accompanied by a complimentary card, you really can't make Mother's Day gifting any easier than this. Shipping is $14 and next-day delivery is available.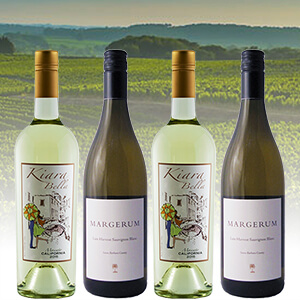 Four Bottles of Sweet Sippers
She'll love these boutique California sweet wines (two bottles of each) from top California wineries.
$40 at The California Wine Club
A Late-Harvest Riesling from Margerum, one of Santa Barbara's most-respected wineries, is sure to delight. Kiara Bella Moscato is produced by Paso Robles' beloved Le Vigne Winery. Shipping is $14 to most states.

One-Time Luxurious Wine Gifts
Sometimes a woman is so amazing, extravagance is what's called for... and we found luxury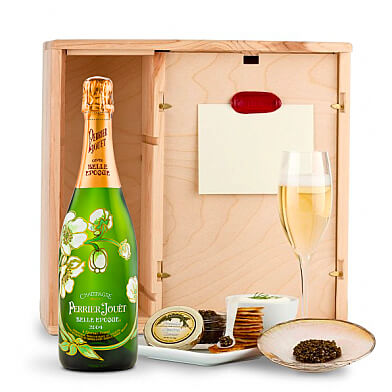 Champagne & Caviar
The ultimate in luxury is fine Champagne and Osetra caviar. We think Perrier-Jouet Fleur Belle Epoque is perfect for Mother's Day.
$600 at GiftTree
A wood gift crate packed with Champagne and everything needed to enjoy two ounces of Osetra caviar — creme fraiche, handmade Russian bilinis, mother-of-pearl and sterling silver caviar service for two. Choose another impressive Champagne if she has a favorite.
Over-the-top Wine Basket with Kistler
Cakebread Cellars Chardonnay, Sokol Blosser Pinot Noir, and your choice of a luxury-class wine. Accompaniments worthy of a queen.
From $490 at GiftTree
Top-of-the-line Chardonnay not her thing? GiftTree offers an astounding selection of luxury wines. You can also pick among Opus One, Silver Oak, Far Niente, Merryvale, Leonetti, Quintessa, and so many more. Price varies according to your selection.