Virgin Wines Club Review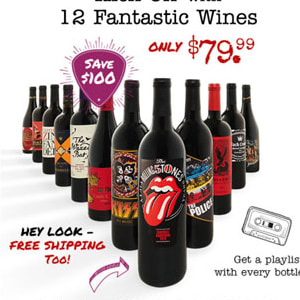 Wine Club Rating:
Summary
This 12-bottle wine club is one of the more fun affordable wine subscriptions. It features value-focused white and red wines from around the world. Their $12 international wine selections typically offer better value in white wine than red. Take advantage of their introductory offer of just $79.99 for a case, but be warned, you are signing up for recurring shipments at $149.99 per case.
What We Liked
We've received many shipments of wine from the Virgin Wines parent company over the years, but we continue to hold the club in relatively low esteem. It's perfect for a wine lover who wants an inexpensive selection of International wine delivered to their door every quarter. It's not a good fit for anyone who likes wine that sells above $15 at the grocery store.
Improvements
Because of the success of the Virgin Wines club, many other wine clubs are competing with 12-bottle case clubs priced around $170 per quarter (including shipping costs). Some of them are offering much better quality wine for that price so we know this company could, too, but it's worth trying with that $79.99 introductory pricing.
Wine Club Shipped to
AZ CA CO CT DC FL GA ID IL IN KS LA ME MD MA MI MN MO MT NC ND NE NH NJ NM NV NY OH OK OR SC SD TN TX VT VA WA WI WV WY
Don't see your state? Virgin Wines did not ship there.
Wine Clubs by State
This wine club is no longer available
Try one of these top-rated wine clubs instead?
About the Virgin Wines Brand
Virgin Wines is another franchise in the Virgin family of companies (including music label Virgin Records, Virgin Atlantic, and Virgin Galactic). As with all of their brands, the nearly 20 year old Virgin Wines club is fun, and better still it pairs wine from around the world with rock and roll legends.
Now, to be clear, Virgin hasn't entered into the wine business themselves, they've partnered with a company who handles wine acquisition, customer service, and shipping details for them. It's unclear whether anyone at Virgin has anything to do with the selection of wines each quarter.
Virgin Wines Introductory Offer
Many wine subscriptions offer a killer deal to get you to try the wines. Like all of these clubs, if you take advantage of this introductory offer, you are automatically enrolling in their wine club. This means you'll automatically get quarterly wine shipments for $149.99 + $19.99 shipping until you cancel.
Special Offer - $79.99 with Free Shipping!
12-bottle Case of Wine = 3 bottles of rock & roll wine + 9 bottles of regular club wine — Save $100
Choose red wine, white wine, or a mix of red and white wine
Important! This introductory offer is $79.99 for the first shipment, including shipping. This is an introductory offer and after the introductory shipment, you'll receive a case of wine (12 bottles) every quarter for $149.99 + $19.99 shipping until you cancel. If you don't cancel before your next shipment is inbound, you either keep the next case or you are responsible for return shipping costs and a restocking fee.
Virgin Wines Wine Review
My Virgin Wines
Wine Ratings
| | |
| --- | --- |
| Quality of Wine | |
| Price of Wine | |
| Wine Curation | |
Unlike similar quarterly case clubs, Virgin Wines is more fun (if you are into rock and roll). Of course it's going to be more fun, the Virgin brand is always about fun and irreverance. To spice things up, Virgin has gone back to its roots by offering a music theme. First, they include three rock and roll wines that come in the introductory shipment. These wines are provided by a company called Wines That Rock and are not representative of the regular shipment wines, but two out of three (in the vintage we tried) were quite good.
To keep the music theme going, they also offer a Spotify playlist for each bottle of wine they ship (not just the rock and roll wines). We cruised through some of the lists and found they were all suitable rock and roll playlists themed around the wine. If you're not familiar with Spotify, don't worry, it's an easy to use music streaming service (meaning you play what you like on demand, unlike the radio which plays what they like when they want). You can either download the app to your phone or simply use their web player (a Spotify account is required, but free).
One thing that sets Virgin Wines apart from other wine clubs is their unprecedented buying power. You won't find any boutique, small-production, or even medium-production wines in these shipments. You will find many wines not offered by anyone else because Virgin Wines' wine partner has bought up the entire production allotment. You will also find some wines that are available elsewhere, but not at these prices.
We've been drinking Virgin Wines on a regular basis for 13 years now. We've never been particularly impressed with the quality of their wine. For a while the wines were getting better, but it seems to have plateaued with a recurring selection of popular varietals and regions that have broad appeal for the American wine drinker.
It used to be the case that Virgin Wines couldn't be beat on price. These days there are several wine clubs that are competitive in the under $15 per bottle range.
Let's go into a bit of detail about the wine selection at Virgin Wines. Most of the wines, for which you will pay around $14 per bottle in the future, are of a fair value for the price.
The white wines tend to be one of three things: very bright (acidic), tasting of alcohol, or very plain. This makes them generally food-friendly.
The red wines tend to be medium bodied (even varieties that should be full-bodied), on the sweeter side (think Meiomi Pinot Noir, not dessert wine), and rarely taste like the varieties they are made of.
The lists below were the wines available via Virgin Wines in the introductory shipment last time we checked (not the wines we received). Please note, we can not be sure these are the wines you are going to receive. You will receive a similar assortment.
All Introductory Shipments Include These 3 Red Rock 'n Roll Wines
KISS Malbec 2017, red wine from California (Paso Robles)
Rolling Stones Cabernet Sauvignon 2016, red wine from Washington state
The Police Red Blend 2016, red wine from California
Red Wines
Bambera de Barbadillo (Red Blend) 2017, red wine from Spain
Saserello IGT Sicilia 2017, red wine from Italy (Sicily)
Black Crown Cabernet Sauvignon 2016, red wine from Washington state
Affogato Red Blend 2017, red wine from Italy (Puglia)
Capital Z Zinfandel 2017, red wine from California (Lodi)
Rex Mundi Cuvée Cathare 2016, red wine from France (southern France)
Anarquista Garnacha 2016, red wine from Spain (Catalyud)
Lobo e Falcão 2017, red wine from Portugal
The Waxed Bat (Red Blend) 2018, red wine from Argentina (Mendoza)
White Wines
Don Cayetano Chardonnay 2017, white wine from Chile
Fabulo Prosecco Spumante NV, sparkling wine from Italy (Conegliano and Valdobbiadene)
Sunday Bay Sauvingon Blanc 2017, white wine from New Zealand (Marlborough)
Goldstrike Chardonnay 2017, white wine from California (Lodi)
Bees Knees Chenin Blanc Viognier 2017, white wine from South Africa
Le Prince de Courthézon Cotes-du-Rhone Blanc 2017, white wine from France (Rhone)
Palacio de Menade 2017, white wine from Spain (Rueda)
La Roccaccia Verdicchio di Matelica 2017, white wine from Italy
Sentiero dei Pini Pinot Grigio 2017, white wine from Italy
Virgin Wines Membership Benefits

My Virgin Wines
Benefits Ratings
| | |
| --- | --- |
| Satisfaction Guarantee | |
| Customer Service | |
| Wine Education | |
| Convenience | |
A top-notch Satisfaction Guarantee policy earns top ratings here. Anything wrong, including you just didn't like it, they'll refund the bottle.
"How does your money-back guarantee work?
It's simple. We want you to enjoy every bottle you buy from us. If you are not completely satisfied with any wine, for any reason, just let us know and you'll be refunded in full."
We look at three areas when evaluating the discount opportunities offered by a wine club. Is there an introductory offer to sweeten the deal? Are there discounts available for buying more of wines you loved in your shipments? Are there special discounts only available to members?
Virgin Wines has one of the top introductory offers available but does not offer discounts on reorders. You do get access to members-only deals at their wine store.
When it comes to convenience, Virgin has made great strides over the years. You can now manage your account online, including vacation holds, and you'll get shipping notifications with tracking numbers when the wine goes out for delivery. Note: You still need to call during business hours to cancel your membership.
Virgin Wines no longer sends out glossy color cards with their wine club shipments. To get detailed tasting notes about the wines, the wineries they come from, the winemakers, and the wine regions you can go online to your Virgin Wines account. When you look up each wine, you'll also find a link to the curated playlist at Spotify.
Virgin Wines, does not have a good customer service record. Most of the complaints are related to this: People didn't understand they were signing up for an ongoing subscription when they ordered the introductory case for $79.99 — you are signing up for an ongoing membership and your credit card will automatically be charged on a quarterly basis until you cancel. On a related note, some people did not cancel until AFTER they were told their next shipment has been prepared and billed, however the terms of service are quite clear regarding these issues:
"I will get a reminder before the above payment method is automatically charged – and will always have at least 10 days' notice to skip, change or delay selections (online or by phone). I can also cancel my membership anytime by contacting customer service."
We chalk both of those sets of problems up to folks not reading the fine print or trying to get a too-good-to-be-true deal and ignoring the other details.
What we can't ignore though is the number of people who complain about delayed or missing shipments, as well as shipments that are prepared and billed after actual cancellations. We see far fewer of these complaints than we used to, but they still come in.
Who Should Join the Virgin Wines Club?
Despite their very appealing advertising touting a $79.99 case of wine, the Virgin Wines Club is not for everyone.
Here are some wines that people like that are similar to Virgin Wines in quality and taste: Barefoot Wines, Yellow Tail, and Apothic Wines. With Virgin Wines, you'll get a more International selection and a larger variety of grapes than you do buying each of these brands.
In wine clubs, as in the rest of life, you get what you pay for — if you don't normally buy wines at this price point, we don't think this is a good fit for you. You might want to try one of our other affordable wine clubs instead.
Is Virgin Wines a Good Wine Club Gift?
No, Virgin Wines does not make a good wine subscription gift. Primarily this is because there is no pre-paid subscription option, you can't include a personalized gift message, and there isn't any gift wrap in the first shipment. Here is a list of our favorite wine clubs for gifts.